With the rising population, the demand for buildings and apartments is increasing. Not just that, workplaces and commercial buildings are also constructed worldwide.
This has both pros and cons. The increasing number of factories and facilities are giving employment to people but making the living conditions worse.
Today's air quality is slowly deteriorating due to the rise in pollution and less greenery due to deforestation.
Moreover, according to a recent report, it has been found that more and more people are suffering from respiratory diseases that are making people seriously ill.
AirDoctor by Idealliving
September 13th – 27th
The air inside our house is more polluted than outside due to less circulation. You can control indoor quality better by using air purifiers in your house and commercial space.
There are plenty of air purifiers that are available in the market today. I compared two popular air purifiers for extra-large rooms, AirDoctor 5500 and BlueAir Protect 7710i.
Start with the short comparison chart and jump below for a full review.
Product
Filters
Filters
2 Pre-Filters, 2 Carbon/VOC Filters, 2 UltraHEPA filters
SmartFilter (Pre-Filter, Polypropylene Air Filter, Carbon Filter)
Coverage 5x/hour
Coverage 5x/hour
868 sq. ft.
674 sq. ft.
Coverage 2x/hour
Coverage 2x/hour
2170sq. ft.
1685 sq.ft.
CADR (Smoke)/CFM
Fan Speeds
Power Consumption
Power Consumption
10 - 100 watts
8 - 76 watts
Noise Levels
Noise Levels
30 - 50 dB
25 - 53 dB
Dimensions
Dimensions
16" (D) x 16" (D) x 29.75" (H)
33.9 (H) x 13.4 (W) x 13.4 (D) in
Weight
---
 AirDoctor 5500 Vs. BlueAir Protect 7710i/7770i – Design Comparison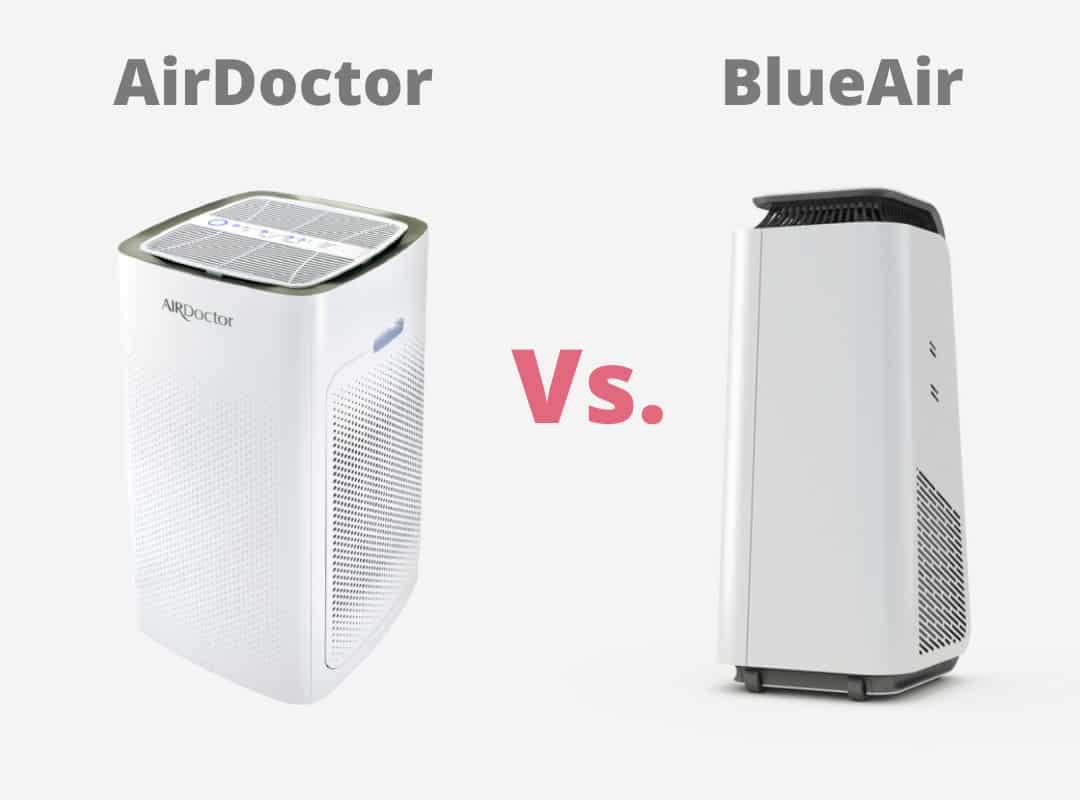 AirDoctor 
Despite its size, the AirDoctor 5500 air purifier for extra-large spaces is compact and brilliantly fits all areas. It is 28.75" tall, and the width and depth are about 16".
The manufacturers of AirDoctor AD5500 have made it unique and good-looking. It is highly versatile and can fit in every decor quite amazingly. The air inlets are on both sides of the unit, and the air outlet is through the top.
As it weighs 33 lbs, it is equipped with wheels at the bottom of the air purifier and handles on the side, making it easy to move from one place to another.
---
BlueAir 
BlueAir Protect 7710i is the winner of the IF Design Award 2021 and Reddot 2021. That tells a lot about it.
It is available in 2 versions – model 7710i with LED display and 7770i with LCD screen. Both look great and are positioned at the top of the air purifier.
This BlueAir model is 34 inches tall and 13 inches wide. So it's not that bad at all and as it looks really good, you can find a place for it in any area of your home.
It weighs 43 lbs, which is pretty heavy, but it has a cool feature – hidden casters to move it.
Conclusion
As it is hard to compare designs, there are a lot of subjective opinions, so I won't do that. But I can measure the size, weight, and quality of materials.
AirDoctor is a bit wider but a lot shorter, and it weighs a lot less. I know both have casters, but what if I want to move it downstairs or upstairs? That can be a trouble for both, especially BlueAir with its 43 lbs.
---
AirDoctor 5500 Vs. BlueAir Protect 7710i/7770i – Functionality And Features
AirDoctor 
AirDoctor 5500 can clean spaces up to 868 sq. ft. large 5x/hour and 2170 sq. ft. 2x/hour. That's pretty impressive, as few air purifiers can do that. So that means if you put it in an 868 sq. ft. large room, the air will be cleaned 5 times or once every 12 minutes.
AirDoctor 5500 has all the features you may need, and the best is an auto mode that works together with an air quality monitor so you can see the current air quality in your room.
Top Features:
Whisper jet fans.
Night mode helps you to dim the light and reduce the noise.
Automatic mode will filter the air, sensing the quality of the air.
The timer can be set up for 24hrs.
6 fan speed settings.
A filter change indicator will help you know when to change the air filters.
Despite its large size and powerful performance, noise levels are only between 30 and 50 dB. That's incredibly low because there are a lot of small air purifiers with a lot higher noise output.
Also, energy consumption is very acceptable. The lowest speed will consume only 10 watts, while 100 on the highest fan setting. So that's between $0.5 and $8 per month. If you run it on auto mode, you could probably find yourself somewhere in the middle, so no more than $4 – $5. That's unbeatable for such a large-scale air purifier.
CADR (smoke) 560 cfm.
BlueAir 
BlueAir Protect 7710i can clean spaces up to 674 sq. ft. every 12 minutes and 1685 sq. ft. large spaces once every 30 minutes.
Both screens have an excellent air quality indicator bar that shows colors from red to blue based on your air quality, similar to what AirDoctor does.
Top Features:
360° air distribution back in the room.
Advanced sensors. See the level of dust, pollen, mold, smoke, and other particles in your air in real life on your mobile phone.
Filter real-time usage monitor. No more guessing whether you need to change the filter tomorrow or a month later; check the filter monitor and see exactly how dirty your filter is.
App and voice control.
Wifi.
Timer.
3 fan speed settings.
BlueAir air purifier produces low 25 – 53 dB(A) noise and consumes 8 – 76 Watts of energy. Using it on auto mode all day long could cost around $4-5 per month.
CADR (smoke) 435 cfm.
Conclusion
As for features, the BlueAir model has all that AirDoctor has and more. 2 great options for the screen, wifi, mobile app, and real-time filter data. Yes, you may say that's too much; I need to clear the air. So here you have the option to choose.
As for performance, AirDoctor is far in front as it has a higher CADR rating and can clean larger spaces. It also has 6 fan speeds compared to BlueAir's 3.
The noise level is very similar, and so is energy consumption. Both are superb for such powerful air purifiers.
---
AirDoctor 5500 Vs. Blue Air HealthProtect 7710i/7770i– How Do They Work?
Air Doctor 
AirDoctor 5500 has three-stage filtration:
The pre-filter is the first stage. The larger particles, such as dust, dirt, and pet hair, get collected. This filter is washable and can be reused again.
The next stage is the dual carbon/VOC filter. This filter filters out harmful gases and odors from the air.
Lastly, the air passes through the UltraHEPA filter that cleans the air by removing 99.97% of the smaller particles of 0.003 microns in size. It also traps 100% of particles in size 0.3 microns in size.
And that's not all. AirDoctor 5500 has two of these three-stage filtration systems on both sides of the device.
AirDoctor 5500 filter helps remove almost 100% bacteria, viruses, pathogens, and allergens from the air and makes it extremely clean and pure.
BlueAir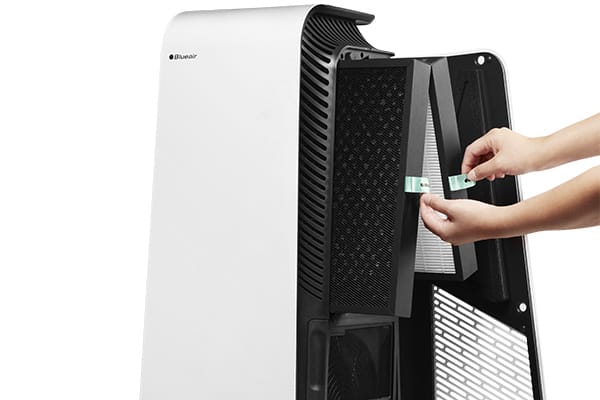 The Blue Air pure HealthProtect also has three-stage air filtration. This is more or less similar to AirDoctor but doesn't have an UltraHEPA filter.
Same as AirDoctor, the first stage in Blue Air Pure is pre-filters. It catches the larger particles before the rest of the air can go on to the next step of cleaning and filtration.
Secondly, the air is passed through a polypropylene air filter, which is filtered to remove odor and other gases that can harm the human body.
Finally comes the Smart filter that removes the other small particles from the air and makes it clean and pure to keep people safe and secure.
Conclusion
The Blue Air Pure HealthProtect is not as effective as the AirDoctor. AirDoctor 5500 can filter smaller particles, which is more powerful, using twice as many filters as BlueAir.
---
AirDoctor by Idealliving
September 13th – 27th
---
AirDoctor 5500 Vs. Blue Air HealthProtect 7710i/7770i – Which One Is Better?
The air purifier is one of the most necessary devices in every household and workspace. With the deteriorating air quality, we must take care of everyone's health by using air purifiers.
Considering the size, design, and functionality, both units are great.
Choose AirDoctor if you want to clean air in larger areas and for smaller particles such as bacteria and viruses.
Choose BlueAir if you want more modern features, such as monitoring filter usage or controlling the unit remotely with your phone.
Choose the one that suits you perfectly, depending on your needs and preferences.
---
I have compared AirDoctor 5500 to other brands as well. Take a look at them:
Also, if you like AirDoctor, read other models' reviews.