When you start looking for air conditioners for your home, the first thing to consider is the BTU level you want. The best one is the 8000 BTU, which is ideal for rooms of around 300 to 350 square feet, so make sure to check them out. If you want to know more about making this decision, keep reading our comprehensive guide.
---
Top 9 Best 8000 BTU Air Conditioners 
---
There are numerous 8000 BTU models available that you should consider when looking to purchase a new machine. If you know what models are currently available and what the pros, cons, and features of each one are, then the decision would be much easier for you in the end.
Here are just 9 of the top ones to look at when it comes to 8000 BTU window and portable models, such as:
1. Best Overall: hOmeLabs 8,000 BTU Window Air Conditioner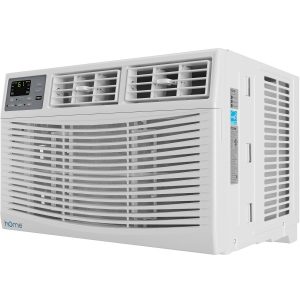 If only the best will do for your home, then this window-based machine would be well suited. hOmeLabs 8,000 BTU Window AC has an eco mode, dry, fan, and even cool modes to ensure you are comfortable all day long. This is easy to control, and the control panel is on the front, and there is a remote that lets you choose what mode you want on.
This has a sleek and elegant design, which means it can easily be used in your bedroom or even in the office.
Pros
Energy Star rated
Quiet at 59 dB for highest fan level
Easy and fast installation
Cons
The adjustable vent can only be adjusted left or right
Verdict: For those who only want the best, this model might be perfectly suited for you, especially if you have a larger budget.
---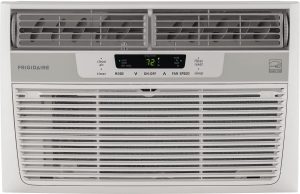 Another good option is this one from a top brand, and the design is simple yet sleek. The controls are on the front, making it easy to use, and the remote can also be used to make the required changes. Frigidaire 8,000 BTU Window AC can operate in fan-only mode if you don't need the room to be cool, and the side panels can be adjusted.
It also has a sleep mode that is the lowest mode it can be on, which means it will be very quiet and won't wake you up.
Pros
Programmable timer
Indicator for filter check, which is washable
Automatic restart
Verdict: If you don't need Wi-Fi capable, but want something that is easy to use and has a programmable timer, then this might be the right model for your home.
---
If you are looking for a portable air conditioner that would be affordable, this is the model. SereneLife Portable 8000 BTU AC has an elegant and simple design, and it can fit in the corner of any room, no matter where it might be. It has a 24-hour timer, and it has a dehumidifier, sleep, fan, and cool mode so you can pick what you want when you want it.
The controls are on the top of the machine, making them very easy to access, and there is even a remote control included.
Pros
Affordable
Easy to move around the home
Quiet
Cons
It needs to be close to a plug
Installation can be complicated
Verdict: For those who want a portable model that isn't overly expensive, make sure to have this model on your list.
---
---
When you need a good model that will cool down the room quickly, this machine would quickly do the job. The thermostat is programmable, and you can set the various settings for 24 hours at a time. In addition, this one is smart home and Wi-Fi capable, which means you can make changes from wherever you are.
Friedrich Chill Premier 8,000 BTU Window AC has a simple design, and it is straightforward to use, especially if you have the right application downloaded.
Pros
5-year warranty
It can be operated using a smartphone application
Sleep setting
Verdict: If having an air conditioner that can be attached to your smart home is important to you, then make sure to check out this model.
---
5. LG 8,000 BTU Window Air Conditioner with Heat
For those who want to have their air conditioner also heat the room and not just cool it, this might be the perfect model. The design is simple, and the operation is effortless, and it has a remote control that you can use. This one has a heat, fan, cool, and energy-saving mode so you can control what you want easily.
LG 8,000 BTU Window AC comes with everything you require to install it, so make sure to get it done quickly.
Pros
Easy to use
Simple design
Programmable timer
Cons
Not Wi-Fi capable
Can only handle heating a room of 150 square feet
Verdict: If you want something easy to install and simple to use, you need to check out this model.
---
Another model from a top brand in the world is this one, and it is a portable option with a sleek, modern design. The control panel is located on the top, keeping children away from it, and it has a remote control. This comes with a window kit if you want to install it that way, and it uses a single hose.
Frigidaire 8,000 BTU Portable AC is also extremely quiet at 53 dB for the highest fan setting, which means you can sleep comfortably with it in your bedroom.
Pros
Can be moved around your home
Easy to set up and install
Automatic restart
Sleep mode
Cons
Heavy
Requires an electric plug nearby
Verdict: For those looking at only portable options, this one might be great if you want something with a modern and sleek design, which is also easy to use.
---
If a brand isn't a factor and you don't mind a modern design, this black model might work perfectly. This one can handle a larger room of around 400 square feet, and it can also act as a dehumidifier and fan for your home. It also has a sleep function that would optimize all settings to ensure you get the best sleep you possibly can.
TOSOT 8,000 BTU Portable AC comes with remote control, and the control panel is located on the top so you can easily access it to make the necessary changes.
Pros
Ideal for larger rooms
Very quiet
Child lock
Dehumidifier
Verdict: If you need something that will act as a dehumidifier while sleeping, you might want to consider this option as one of the top ones.
---
Another simply designed model comes from another well-known brand, and this one is a portable option. However, it can be installed to push all of the water outside, and the control panel is found on the top. It has a remote to change the temperature without moving, especially if you want to increase or decrease it.
BLACK+DECKER BPACT08WT Portable AC is easy to use, and it can be pushed all around the home depending on where you are sitting and where the cool air needs to be.
Pros
Easy to move around your home
Simple to use and install
24-hour timer
Cons
Ideal for only rooms of 150 to 200 square feet
Verdict: Make sure that if the brand is something important to you, you check out this portable option that is simple to use and install.
---
This is the last model, and it also comes from a popular brand, with this one being a portable air conditioner. This one is sleek in design, and the control panel is found on the top of the machine to make the changes. It also has a simple-to-use remote control, which makes it perfect for anyone of any age.
Honeywell 8,000 BTU Compact Portable AC can be purchased with Wi-Fi or no Wi-Fi capability, depending on your needs and preferences.
Pros
Easy to install
Portable design
Simple maintenance
Can choose between non-Wi-Fi enabled and Wi-Fi enabled
Verdict: For those who want the option of having a Wi-Fi-enabled model or one that doesn't have Wi-Fi, then you should definitely ensure that you are checking this one out.
---
8000 BTU Air Conditioner Buying Guide
You should always make sure that you are looking at all of the top 8000 BTU air conditioner models available. This would help you make the best choice for your needs, so keep reading on to find out more.
Types of 8000 BTU Air Conditioners
There are a few different air conditioners that you can use when it comes to 8000 BTU, including both portable and window-based. The portable ones can be moved from one room to another easily and don't require many installations. The window ones would need to be installed in the window and removed before winter starts to keep it in good condition.
---
Features to Look for in an 8000 BTU Air Conditioner
You might want to consider so many features when it comes to getting your new 8000 BTU air conditioner. Unfortunately, if you don't know what these are, then you can't use them to narrow down your list, and some of them include:
Energy Efficiency Ratio (EER) – You need to find out what the EER is of every model so you can choose the one that would be the most energy-efficient. This would mean saving more energy while cooling down your home without increasing your utility bills.
Controls – Also, consider the controls and how easy they would be to use, especially if it doesn't come with remote control. You want to think about if it comes with remote control and uses a smartphone application to change the settings.
Wi-Fi Enabled – Another feature you might want to get is having one that can connect to the internet. This would make it easier for you to connect your entire smart home to one system and then make the necessary changes.
Eco Mode – This mode is not all models have, but those that do are more focused on eco rather than cooling. However, this doesn't mean that they don't cool down the home just as well as others, but they do it in other ways.
Remote – Whether the machine has a remote control or not is another important factor, so make sure that it does. This would allow you to make any changes to the temperature and even turn the machine off without moving.
Noise Level – The amount of noise that the machine makes is also important, so make sure that you are checking this out. This is important if you would be using the machine in your bedroom or office where you need a bit of quiet.
Dehumidification – Another thing you want to look at is whether the machine would have a dehumidifying mode. This means that it would ensure that any extra moisture in the air would be taken out, making everything more comfortable.
Heat Mode – The last feature you want to consider is whether the machine has the heat-based mode, which means it can heat a room as well. This is something to consider if you live in a colder area and don't want to spend more money on a heating system.
Ensure that these features are there in all of the machines you are looking at and that you are using them to narrow your options down.
---
8000 BTU vs. 6000 BTU Air Conditioner
If you are cooling a small apartment, then a 6000 BTU air conditioner would work ideally for your 250 square foot area. The 8000 BTU would be better suited for a bit larger, including 300 to 350 square feet. They both come in the window and portable models, so the only difference between the various models is how much area they can easily cover.
---
8000 BTU vs. 10000 BTU Air Conditioner
Another thing to consider is the difference between the larger 10000 BTU air conditioners against the 8000 BTU models. The larger model is perfect for 400 to 500 square feet in size, while the smaller model is ideal for 300 to 350 square feet. Make sure that you are looking at which one would work best in the room you are using.
---
FAQ
How do I choose the right BTU level for my room?
The BTU level that you need would depend on the size of the room you are living in. For example, if you live in a small room of around 150 square feet, you can use a 5000 BTU one and 6000 BTU for 250 square feet. The 8000 BTU is ideal for an area of 300 to 350 square feet of area.
Why do I need a Wi-Fi-enabled air conditioner?
If you don't want to have your air conditioner on all day, but want to turn it on before you get home so the area will be cool, then you want it to be Wi-Fi enabled. This would mean you can download and install an application on your phone to make it easier to control.
Can I install the air conditioner on my own?
This can be done by yourself if you know what you are doing and have the right equipment. Ensure that you are getting a model with an installation kit included when buying it. If you have any questions or concerns, you might want to halt the installation and contact the experts.
How do I know if I want a portable model or a window-based one?
The first thing you need to look at is just how much space you have available and the price. Then, you should think about if you want one you can store inside and that would require a hose to be run out of the window or not. Also, you should consider if you want to have one that doesn't require much effort in installation and so much more.
---
Conclusion
There is a lot to consider when looking at the 8000 BTU air conditioners, including if you want one installed in the window or a portable option. It would help if you also found the right model with a high EER, which has the right types of controls you might want. Finally, don't be afraid to do your own research if you try to find the perfect model for your home.