If you don't mind having a different design, then the VEVA 8000 elite pro series air purifier would be great for you.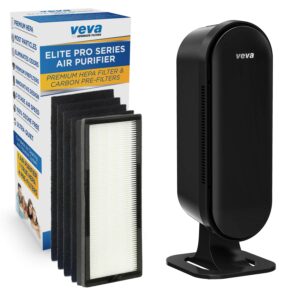 This is perfect for a smaller room or apartment, and you can place it on the floor or a table with an attachable base. There are 2 filters inside this small air purifier that give an added layer of protection and help increase air quality.
Pros
Highly effective against allergens
Chic and sleek appearance
Easily placed anywhere with the base
Cons
It looks more like a speaker
---
VEVA 8000 Elite Pro Series Air Purifier Design, Size, and Placement
The VEVA 8000 elite pro series air purifier is often mistaken for a speaker, which means you can easily place it anywhere in your home. This is very small, and it has a base and suction cups that you would need to use to keep the machine standing upright and operating. This will be something that you can stick in the corner and forget about it until you have to replace one of the filters. This can handle a room of up to 325 square feet, and it is perfect for your apartment or even a small bedroom.
---
How VEVA 8000 Elite Pro Series Air Purifier Works and What Sources of Indoor Pollution it Destroys
There are 3 different filters that this small machine has, which means there is no way any allergens or particles are missed. These include:
Pre-filter – When the air initially goes into the air purifier, it will hit the pre-filter. This is where the larger pieces and particles are collected and cleaned out of the air before going on to the next step.
HEPA filter – If you want to eliminate all allergens of any size, you need to make sure you are getting a model with the HEPA filter. This filter can take care of dust, mold, allergens, and much more.
Activated carbon – This is almost a standard feature in most air purifiers since this helps get rid of any odors in the air. No more worries about if the air will smell stale or even of pet-related scents when you have this installed.
The VEVA 8000 elite pro series air purifier will be a good bet no matter what you need to get rid of in the air. Even though it is small, it is also mighty, so go ahead and buy it for your small space now.
---
VEVA 8000 Elite Pro Series Air Purifier Key Features
The key features are always something you need to make sure you are thinking about when comparing air purifiers. Some of the top features you will find in the VEVA 8000 elite pro series air purifier are:
Automatic shut-off when the front panel is open

3 settings of the fan for any usage

It can be used as a tabletop model or even a tower one

Easy to use

Switches for turning it on and off and for the fan speed

Additional filters are given with the purchase of the machine
There are plenty of features that everyone needs to know about, and if you don't know what they are, you can't make the right choice. Why not enjoy something stylish, effective, and small enough to place anywhere without worrying about it that you can use without breaking the bank?
---
VEVA 8000 Elite Pro Series Air Purifier Noise Level
This is a tranquil machine, and you won't have to worry about making too much noise while sleeping. It can be used in any room where there isn't much space but too much dust and allergens in the air to be healthy. It is noisier when the medium and higher settings are on, but nothing will disturb you while you are sleeping or even when you are in the office working since it is only at 40dB. Why should you have to worry about the noise when you can put this in a corner and forget about it?
---
VEVA 8000 Elite Pro Series Air Purifier CADR and CFM
The VEVA 8000 elite pro series air purifier says it can clean a room of around 325 square feet, often the same size as other more expensive models. However, the ACH of this model is 4X, which means it can take in and clean the air around 4 times every hour, which is better than other options. The CFM for this model is 135, around the same as other models costing much more. If you are looking for something that isn't going to be expensive, but that will work and the more pricey options, then this is the way to go.
---
VEVA 8000 Elite Pro Series Air Purifier Maintenance and Upkeep
This machine's maintenance is straightforward to manage, and you don't have to worry about a thing. 3 replacement filters come with the machine when you order them, which means you need to change them every 6 months. This can be done easily by opening the front panel, taking out the filter, and placing another inside. However, at the same time, you should make sure that you are wiping down the inside to get all of the dirt and debris cleaned off, and this should be done every month or so.
---
---
Final Thoughts
If you are searching for something that will be affordable while working in a small space, then the VEVA 8000 elite pro series air purifier is perfect. It has a chic design, which means you might even forget it is an air purifier, and your guests might think it is a speaker. It has a base that will keep it upright along with some suction cups to keep it even more secure, so go ahead and look at this as an option. If you feel it's the option you were searching for, then get it for yourself.