When you think of the most important aspects that safeguard your overall health, among other things, safe, pure, healthy germ-free drinking water strikes your mind, isn't it? I mean, you would not want to put your health at risk and the health of your family and loved ones at stake by compromising on the quality of drinking water! This is how crucial a role is played by pure drinking water in our lives.
We believe you should never compromise on the quality of drinking water simply because of a lack of awareness or knowledge. If you are seeking the best purifier that can deliver highly filtered drinking water, then you are just at the right place.
Starting from product features right up to the precautions to look out for before purchase and a lot of other eye-opening information related to purification, we have got you covered! So what are you waiting for? Read on to find out more and say goodbye to water impurities forever!
Here we have listed our most recommended sediment filters and a detailed analysis of every aspect of the products, including their disadvantages.
9 Best Sediment Filter for Well Water
---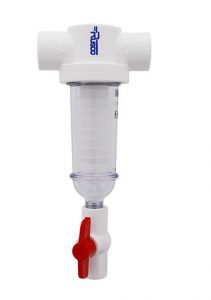 This has a 100-micron filter mesh screen and gives you a flow rate of about 25 gallons per minute, which is a pretty decent performance. This is ideal for filtering out coarse sediments and impurities without the need for cartridge replacement. Sediments are filtered by a polyester mesh screen. The sump is transparent and made of polycarbonate. This also has a monitoring system of trapped sediments through the transparent sump. It is suitable and compatible with PVC lines. Its approximate dimensions are 5.75-inch width × 17-inch length. It is made of high-impact durable materials. A filter mesh screen is made of highly molded polyester.
Pros
This is a perfect option if you have a well water system as your main water supply source.

 

It can filter large quantities of large-sized sediment particles.

 

The filter screen is easy to clean.

 

The filter mesh screen can be re-used.

 

Many people do not know that the Rusco Spin Down Separator effectively removes the Sulphur smell in the water.
Cons
The mesh filter has to be cleaned thoroughly and flushed every week.

 

If not chosen according to specific individual requirements, this Rusco Spin Down Separator can be a misfit, resulting in very low and feeble water pressure.

 
---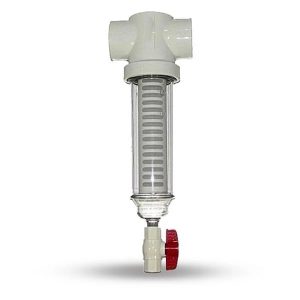 This separator uses a clean and easily replaceable screen made of polyester, which can filter a large number of sediments and impurities. Yes, the sediment will have to be occasionally cleaned. It can be done simply by opening its red valve at the bottom so that the water pressure can flush out impurities without requiring you to do anything else! It also comes with the added benefit of a clear sump housing that allows you to see and even monitor any trapped contaminants. It provides clog-free protection for your water system. It is made of high impact, strong, molded, and non-corrosive housing with high durability range. The Soft pro-spin-down sediment filter provides a hugely diverse range of flow rates, filter screen types, and even different plumbing port sizes. You can choose a filter from this range according to your needs. It even comes in different sizes to suit your needs. It has a flow rate ranging from 1GPM right up to 100GPM. The maximum water pressure it can provide is 150PSI.
Pros
You can wash the reusable polyester sheets without buying new filter cartridges after every wash.

 

This is convenient and economical since it is not expensive and works as a single-use cartridge.
It is made of noncorrosive and molded material, which has long durability.
It has a straightforward way of flushing out toxic solid particles by opening the bottom valve and using water pressure for a flush out.
Cons
The video instructions that come with this filter often differ from the written instructions in the manual. This may be problematic for users who want to install the setup manually by themselves.

 

Cleaning and preparing the system for first-time use is time-consuming.
---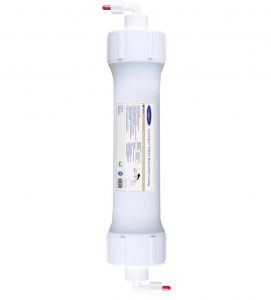 It has a lean and very stylish design and comes with good performance. It costs about $49, which is a pretty affordable price for such a beneficial product.
Pros
You can get this filter at a pretty decent and reasonable price.

 

The filter is pretty efficient in terms of performance output.
Cons
It is not exactly a disadvantage, but it is highly recommended to buy a leak detector valve along this filter to prevent property damage or flood damage. Although the leak detector is an optional purchase, it is up to you. But certain unpredictable situations like, for instance, errors in installation, among other circumstances, may cause considerable flood damage. So buying a leak detector may keep you safe from unwanted emergencies.
---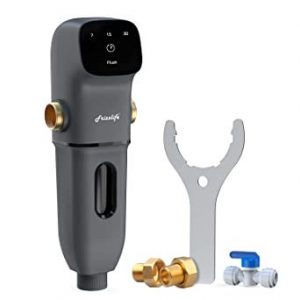 It has a mesh filter made of stainless steel and a 40-micron pore size. The 40-micron pore size efficiently removes about 99% of course sediments from the water supply. This filter is also suitable for water with mud and turbidity. It has burst-proof housing made of lead-free brass parts. It can automatically flush and backwash itself after every preset. It is BPA-free and is based on the principle "Install and Forget." So it is mainly automated, requiring little to no manual labor. It is very easy to maintain and comes with an intelligent user interface. The interface allows users to activate the system and select flush interval periods just by clicking a button. Thus it greatly reduces any physical or manual labor.
Pros
It is durable, crack-proof, and leakage-free, making it reliable and sturdy.

 

It has successfully passed the 900 psi water hammer tests 1,00,000 times, which makes it a big nod for purchase!

 

It is easily installable.

 

It has hassle-free automatic flushing, cleansing, and backwashing itself post every preset. Thus it is quite easy to maintain.
Cons
This filter may be a little expensive for some buyers.

 

The automatic scraper often poses a problem. It sometimes only cleans the bottom part of the filter mesh leaving the upper part dirty and uncleaned. The upper part of the filter has to be manually cleaned then.
---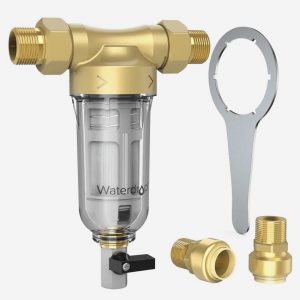 This sediment filter lies in a non-BPA German-made outer case. It implements a backwash spin-down sediment filter instead of the ordinary filter. It has a pore filter size of 50 microns, and the filter is made of 316L Molybdenum alloy. It is effective against the presence of rust and even smaller impurity particles.  It comes with four types of connection fitting parts (1" MNPT, 3/4" MNPT, 3/4" FNPT, and 3/4" plumbing fittings.). So it can fit into any type of water tube. It provides users with a great variety of sizes to choose from. Installing it is very simple and hassle-free.
Pros
A 50-micron filter size means it can filter sediments in huge bulk quantities.

 

The heavy-duty plastic housing of the filter makes it durable.

 

It uses a spin-down sediment filter in place of ordinary filters. Hence, it has been subjected to a lot of voltage, explosion, and pressure tests, making it a better, more reliable product.

 

It also has reasonable pricing.
Cons
The size of this filter is small and not too big. So if there is a big muddy well, the filter needs to be washed several times a day. Manually, of course.

 
---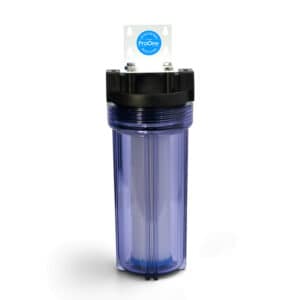 It uses a single-stage filter process. It has a nonwoven pleat and comes with heavy-duty housing. It implements a 5-micron inline water filter. It has a 3/4" port size for both inlet and outlet. It is designed to remove heavy sediments and particulates only like dirt, sand, rust, and debris. Quick Connect fitting parts are available as optional purchases with the filter.
Pros
It has a pretty reasonable cost and does a very efficient job protecting your drinking water from potential damage possibilities from sediment over accumulation.

 

It works equally great with the city water supply or well water system.
Cons
Some connection fitting parts are available with this filter, although it is entirely optional. The parts increase performance efficiency. But that might be a little heavy on the pocket since the original price of the filter itself is neither too high nor too cheap.

 
---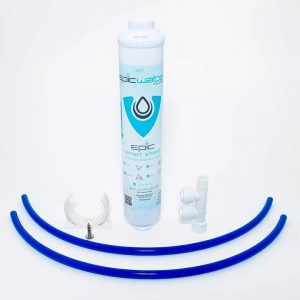 This has a 5-micron pore-sized filter. It comes with a spun polypropylene filter sheet. This kit falls under the category of depth filter cartridges. It is preferable for regions with heavy sediments. Treated city water or well water may cause water taste to deteriorate. This filter prevents taste deterioration and enhances water quality and taste. It removes impurities as small as 5 microns. Its approximate sizes are 10" in length × 2'' in width. It has a 3/8-sized port filter.
Pros
This filters out sediments as small as 5 microns, which is about 20 times lesser than the diameter of a single human hair strand. Quite cool, isn't it?
Cons
This filter is designed primarily for non-silt water. So it does not work for water with high salt concentrations. Water taste is likely to get decorated after a year or after prolonged use.
---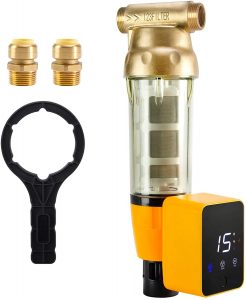 It weighs about 4.25 pounds. So it is pretty lightweight. Its filter mesh is made up of stainless steel with a head made of brass machine. It is made of pressure-resistant and durable materials. It has explosion-proof transparent housing. It works equally well with copper, PEX, and CPVC pipes. It has an integrated auto flushing system with an automatic scraper that reduces human effort. It is fairly simple to install and provides a maximum flow rate of 35GPM. It even comes with lifelong tech support from iSpring to help users with any difficulty.
Pros
It can be installed easily with no need for glue or welding.

 

It is made of pressure-resistant and durable materials with a lead-free brass metalhead.

 

It has a filter screen made of stainless steel. So it is reliable in terms of longevity and durability.

 

Also, it provides a high flow rate of about 35GPM.

 

It has an automatic flushing facility and provides options to switch between automatic, semi-automatic, and manual modes on the HD touchscreen.
Cons
It is expensive and, unfortunately, not cost-friendly.

 

The filter fittings are not suitable for PVC lines.

 

The scraper is hard to operate since it is made of polished plastic. A more textured material would be preferable.

 
---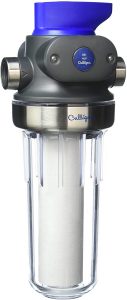 This is made from stainless steel and has a clear transparent color. It comes with a filter life timer. It provides a unique, innovative valve-in-head bypass shut-off feature to ensure easy and hassle-free cartridge change. It provides a 3/4" port size for both inlet and outlet. The filter system includes a P5 cartridge, mounting bracket, and housing range.
Pros
It is quite easy to install, has a pretty innovative design, gives a premium quality performance, and on top of everything, it is cost-friendly and will not cost you a fortune.

 

You can get an efficient product at a pretty reasonable expense.
Cons
It is not compatible with certain house water systems. So please check the specifications before purchasing, according to your house needs. Otherwise, you may have to spend a lot of money purchasing accessories to make them suitable for your house-specific needs.
---
Sediment Filter for Well Water Buying Guide
---
What is Sediment Filter?
You would never want even the tiniest of germs or any other impurities to contaminate your drinking water, isn't it? You will always ensure your safety first. Sediment filters are a great way to ensure that your drinking water is safe from any kind of contamination. To put it simply, a sediment filter is a net that, as the name suggests, filters the clay, dirt, sand, dust, etc., when the water passes through it, thus rendering your water safe and healthy to consume.
---
How does a sediment filter work?
Now that you know what a sedimentation filter does, it is perfectly appropriate to ask how it works. We know a water purifier makes drinking water fit for consumption. A sediment filter is just one important part of the multiple sub-systems the entire water purifier is made up of. It is an essential part of the chain. Sediment filters are placed at an appropriate point of your home receiving water supply. It pre-filters your water to be effectively purified by other subsystems of a water purifier. So basically, sediment filters highly contribute to the initial purification in the entire purification process. It performs this filtering process by mechanical filtration where unwanted particulate matter like rust powder, clay, dust, dirt, etc., are removed mechanically without chemical treatment. You can draw an analogy by comparing it with a window in your room. You want the cold breeze to enter the room but do not want the mosquitoes to come along with it.
---
Do I even need a sediment filter for well water? If yes, why?
Whether you rely on well water or city water supply, installing a sediment filter is the wisest decision. This is because, apart from the risk of water contamination, these particulate pollutants like clay, dust, dirt, or even rust powder ( which may result from galvanized plumbing) have very high chances of clogging your plumbing lines. So you may have to call your plumber quite often. Moreover, the contaminants can enter your water-using appliances like a geyser, dishwasher, or coffee machine and cause irreparable damage by rubbing against the fine moving parts of the machines, causing scratches, resulting in you having to spend a fortune on getting new appliances. Isn't it a wise choice to install a sediment filter instead? This will save you a lot of unnecessary bad investments in the long run.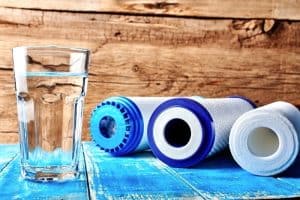 ---
Sediment Filter Types
 Nobody would love to gulp down a glass of water and get a handful of dust and sand particles instead! These filters have a filtering size of about one micron, meaning that they can take out particles that are over one micron in size. They do not filter bacteria, chemicals, or any other microscopic organisms. However, they can very efficiently remove solid particulates like sand, silt, often tiny gravels, rustic particles, or any other solid impurity that dirty the water. Sediment filters come in various shapes, sizes, and designs, but all of them fall under 2 chief categories— Surface filter cartridges and depth filter cartridges.
Surface filter cartridges
They are also widely known as pleated filters. All the filtration that it does is completed almost perfectly on the surface layer of the filter membrane only. Here, nylon or Teflon, etc., sheets are pleated or joined end to end, maximizing the effective filtration surface area. So when solid impurities get stuck on the sheet's surface, they form a layer, which in turn helps to aid in further filtration of incoming pollutants. These surface filter cartridges are mainly used for filtration within about 30 to 500 microns, but they can be used in sub-micron ranges just as efficiently. One great advantage of this filter is that it can be washed off whenever the surface membrane gets clogged with impurities, and the cartridge can be reused again. On top of that, it provides really fine filtration results.
Depth filter cartridges 
They are often also called spun or melt-blown cartridges. They implement a beautiful method of effective filtration in which the larger impurities get sucked out at the surface level, and the smaller ones are chucked out at, the lower level near the core. So it purifies stepwise, evidently being able to purify a larger range of impurity sizes, meaning that you can opt for depth filter cartridges if a variety of particle sizes need to be filtered(which may vary from supply to supply). They remove more sediments. Oh! They can also be used for a longer time before getting all used up.
---
What to consider before buying a well water sedimentation filter?
Deciding the type of filter

 
Firstly, before any other considerations, you need to select the right kind of the whole house well water filter based on the impurities in your water supply. For instance, if your main water line is under the Municipality, you need to go for a filter that removes minerals, chlorine, and chemicals. On the other hand, if it is linked to private water well, go for a filter that sucks out iron and the hardness of the water.
Size of filter!
This is a crucial consideration. A large sediment filter is the best since it delivers an increased water supply, but other things are to look for. Please check the port size of the filter you want to buy because this will determine the pressure of the water supply in your household and the rate of flow. Usually, we recommend a 4.5''×20" sized filter to be ideal for an average-sized family, while 25 gallons per minute and 1.5-inch filters are sufficient for a larger home. Buy as per your need!
Check the life and longevity of your well water sedimentation filter.
The longevity of your filter is determined by the quality of water it has to purify until it needs to be replaced. If the water has more impurities, you need to look for a purifier with a  long lifetime. In comparison, if it has relatively lesser impurities, a filter with moderate longevity can work just fine. So checking the impurity level in your water supply is a must-do before purchasing your filter!
Is it NSF certified? Check!
Lastly, after all the factors are considered, you just cannot afford to miss out on this! Please do not forget to check if the filter you are purchasing is an NSF-certified system. This certification just implies that the filter is used, tested, verified, and approved by the authorities, so it is safe for you to use it. You can verify this by simply checking if the filter seal has NSF certified symbol.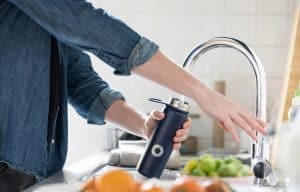 ---
FREQUENTLY ASKED QUESTIONS
Are sediment filters worth it?
You do not wish, even in your wildest dreams, to sip water just to end up with more sand in your mouth than water itself! You would want to consume the best quality drinking water without compromising on its quality and without putting your health at stake. Are any further justifications needed as to why sediment filters are not only worth buying but also a mandatory purchase? We have listed our most highly recommended sediment filters in detail above, and we have shared our honest feedback and opinions with you about their actual price, special benefits, product description, and even the disadvantages to help you out! We have covered all the aspects of individual sediment filters in-depth, starting from their design right up to their defects. So you can see and verify for yourself which products suit your needs the most and decide accordingly.
Is a sediment filter required for a water purifier?
As we have mentioned earlier, sediment filters form the first initial purification stage to enable the other subsystems to perform further purification effectively. You can think of it like this. Your stomach can easily digest food that is properly chewed and then swallowed. If you swallow the food without proper chewing, the digestive enzymes will have a tough time digesting the massive food particles. The same is the case with sediment filters. Since water purification is a chain process, incoming water must be adequately filtered by passing through the sediment filter at the initial stage. After that, the subsystems at the next chain level can further purify water very easily and conveniently without any hassles. So sediment filters are necessary for the water purifier to deliver optimum quality drinking water.
Are sediment filters capable of removing iron?
Good question! Iron in the water supply can be categorized into two types— red water iron and clear water iron. Wondering what these are? Redwater iron is the iron primarily found in water when the iron gets oxidized. And oxidized iron always appears in water in sediment form. You can see the reddish-brown tinge of iron if you take a glass full of red iron water. While clear water iron is the iron found in water that has not yet oxidized itself. Sediment filters can remove red water iron by a decent amount, but they cannot filter out the clear water iron. So we suggest you analyze the ratio of red water iron to clear water iron in your water supply. Please note that it is pretty common to find both types of iron in your incoming water supply. That is, if there is red water iron in your water, likely, it will also contain clear water iron and vice versa. Hence, you have to note the concentration of which iron type is higher and decide accordingly. So if your water has a higher red water iron concentration than clear water iron, go for sediment filter cartridges. And if it has higher clear water levels, opt for iron filters and purifiers.
Does sediment filter reduce TDS?
TDS stands for Total Dissolved Solids and refers to the total amount of impurities, including organic and inorganic materials like metals, salts, minerals, and ions present in water. TDS in water can come from absolutely anywhere, ranging from natural warm water springs right up to chemicals used to treat water in industries or municipal services. It can even come from your house's plumbing work. Any substance other than a water molecule, if present in water, falls under the category of TDS. It is also crucial to mention that measuring the amount of TDS in water is not exactly the most accurate way of judging the quality of water you consume. In fact, on the contrary, the main content of TDS in water is often mostly minerals, which are not harmful for consumption and, in fact, enhance the water quality. Trace minerals are always beneficial for aiding your body's different metabolic activities and growth functions. Therefore, TDS is quite helpful for your health and is an overall desirable drinking water component. But to answer your question, no. Sediment filters are incapable of removing TDS in water.
How often should I change my sediment filter?
How often you should change your sediment filter depends entirely on the water quality that your filter has to purify. However, it is usually seen that 6 months to 1 year is the ideal time after which you should change your filter. This is the most commonly observed time interval for changing the filter. However, this may not always be true. The best way you can find out the right time to change the filter is to see the water flow pressure of your house. If the water pressure starts to drop after a certain period, you should know, for sure, that the impurities have settled on the surface of the filter mesh to the extent that has rendered the filter non-functional, and it is high time to change your filter now.
---
Final Word
Having pointed out and covered almost every possible aspect of buying a sediment filter, we would say at last that you can buy a sediment filter because it will never be a bad investment in the long run, even if some filters are a little expensive. On the contrary, the filters save you a lot of bucks in the long run, which might otherwise be wasted in unnecessary emergencies caused due to the absence of a sediment filter! So you are now pretty sorted and good to go to buy your water sediment filter!