Bacteria and viruses are the tiniest particles of all available airborne particles. They can be as small as 20 to 250 nanometers. (0.02 – 0.25 micrometers). Covid (SARS-CoV2) particle size ranges between 0.06 and .14 microns.
Most HEPA air purifiers can trap 0.3 microns in size particles so that they won't help with bacteria and viruses.
But what can help?
Air purifiers with UV light (it produces a lot of positively and negatively charged ions that kill airborne pathogens) and air purifiers with more powerful filtration than HEPA filters.
Here is a quick overview of the best air purifiers for bacteria and viruses
NOTE: Air purifiers are sorted by how well they can help against bacteria and viruses. We included many other things to compare, such as capacity, what else they can remove from the air, and so on, but the main attention was how good they are against bacteria and viruses. 
---
Top 8 Air Purifiers for Bacteria And Viruses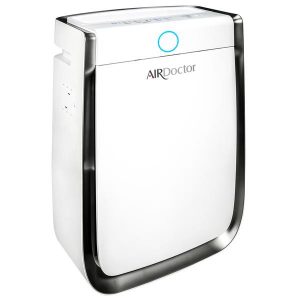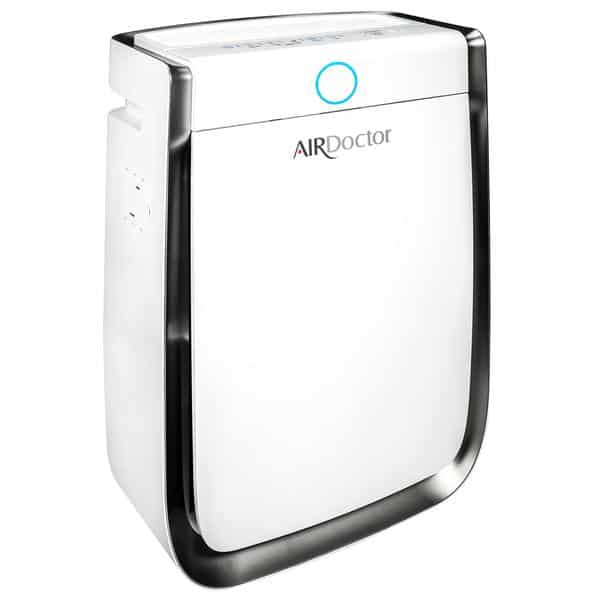 AirDoctor 3000 is one of the few models tested for the Covid-19 virus in an independent laboratory. And results show that it can remove 99.97% of the SARS-CoV-2 from the air.
And that's not all. It can clean 99.99% of airborne particles in size of 0.003 microns, including dust, pollen, smoke particles, bacteria and viruses, and much more.
AirDoctor 3000 uses its patented UltraHEPA technology, which is 100 more effective than HEPA filters. It also has a 1.1lbs activated carbon filter to trap odors and gases and a pre-filter to trap larger particles like dust and pet hair.
AirDoctor not only traps particles by sucking them through the filters but also emits charged ions into the air to catch airborne particles in the air and kill them.
AirDoctor 3000 can clean 1,274 sq. ft. area 2x every hour or 505 sq. ft. 5x per hour. For larger spaces, I recommend AirDoctor 5000 model.
And behind the advanced filtration, it has many features to make your life easier, for example, auto mode so you can turn it on, and it works automatically by measuring how clean or dirty the air in your room is.
Read the full AirDoctor 3000 review.
Pros
Caches the tiniest airborne particles
Laboratory tested to remove Covid-19
Auto-Mode & 
Air Quality Sensor
Air Quality Monitor
Cons
No remote control and wifi
---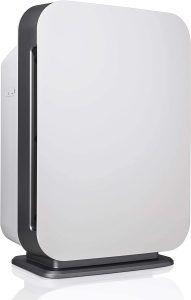 Alen Breathesmart 75i is proven to eliminate up to 99.9% of harmful particles as small as 0.1 microns. It has 3 filter options – Fresh, Pure, and Pet. They all are great so if you have pets, choose Pet, otherwise, you can take Fresh or Pure.
It also has an ionizer that helps to remove bacteria and viruses. Can it eliminate Covid-19 as well? Alen Breathesmart 75i went through bioaerosol lab tests and proved to eliminate 99% of the covid-19 particle size range (.06 – .120 microns).
Alen Breathesmart 75i can clean spaces up to 1,300 sq. ft. every 30 minutes or 520 sq. ft. 5x hourly.
It has many smart features, such as a particle sensor, which allows you to see how clean or dirty the air is with LED color rings, and the Alen Air app.
The downside of this air purifier is the initial cost which is even double of other air purifiers on this top.
Pros
Lifetime warranty
Auto mode
Low power consumption
Wifi connectivity
---
3. Next-Gen PCO Air Purification: Puraclenz P1500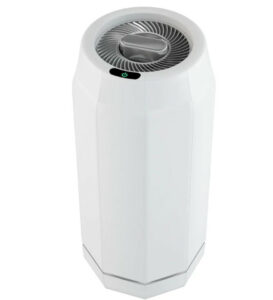 Puraclenz is a new brand in the air purifier market, and they are going in another direction with its patented technology. Puraclenz P1500 is equipped with PCO cells and UV light that generate ions.
Thanks to its aerodynamic conical shape, which maximizes contact time with reactive titanium dioxide surface, it generates many more ions than other air purifiers. This technology produces zero ozone emissions. And ions are dispersed in a room with 360-degree rotation.
Puraclenz has made independent tests and is proven to stop mold growth, 99% effective against viruses and bacteria.
Filter air purifiers suck particles and trap them in filters, but Puraclenz emits ions and purifies air at the source. Puraclenz has one filter – a pre-filter to trap large particles such as dust.
But it has its downsides and is great for viruses and bacteria; it is bad for pet dander, pollen, odors, and smoke.
Also, the company claims they are cheap maintenance as no filters need to be replaced. But you will have to replace the cell once every 2-3 years, which is not cheap.
Pros
Generates ozone-free ions
Cleans also surfaces
Great for viruses and bacteria
Cleans up to 1,500 sq ft.
Table, Wall, or Ceiling Mount Options
Power consumption is only 15 watts
Cons
Can't filter pet dander, pollen, strong odors, and smoke particles
The cell doesn't last forever
---

Air Oasis is similar to Puraclenz air purifiers. It emits ions in the air and surfaces using AHPCO® (Advanced Hydrated Photocatalytic Oxidation) and Bi-Polar® ionization. It also has UV light.
Air Oasis is laboratory tested to kill 99% of mold, viruses, and bacteria. It also breaks down VOCs on a molecular level.
Air Oasis is easy to use; it doesn't have any fancy features. Similar to Puraclenz. The only difference is that it produces a tiny amount of ozone (less than 0.05 parts per million (ppm)) which is EPA and OSHA standards, so safe to use.
It consumes only 15 watts of electricity and doesn't require filter change, so it is cheap to maintain. Once every 2 years, you will need to install a new cell, which costs around $140.
The downside of this air purifier is the same as for Puraclenz air purifier – it doesn't destroy dust, pollen, pet dander, smoke, and odors.
Read the full Air Oasis air purifier review.
Pros
Lifetime warranty
Power consumption is only 15 watts
Very small and compact size
Cleans also surfaces
Cons
Can't filter pet dander, pollen, strong odors, and smoke particles
AHPCO® cell doesn't last forever
---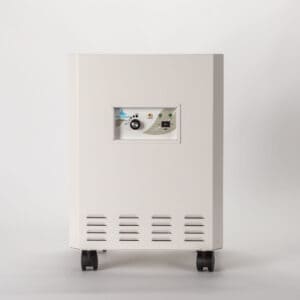 EnviroKlenz didn't pay any attention to design as it looks simple and is quite heavy compared to competitors. It is also louder than other air purifiers.
But it can clean large areas up to 1000 sq. ft. with 3-5x air exchange. EnviroKlenz's main part of the air purifier is Air Cartridge. It includes innovative earth mineral technology capable of destroying VOCs, chemicals, and other tiny pathogens.
EnviroKlenz uses an H11 HEPA filter and UV-C bulbs to catch dust, dander, pollen, viruses, bacteria, and mold.
EnviroKlenz is tested in all kinds of tests, for example, Air System Plus Microbial Reduction Rate Test, to prove it is good.
It doesn't have any fancy features as competitors, so it will fit best for those who need a simple but powerful air purification system.
Pros
Third-party tested and validated
5-year warranty
Metal Body
Cons
Bulky and large size
Loud
Expensive
---
Medify air purifiers are made in the USA, and the MA-40 model is no exception. It is also the company's bestseller, and for a reason.
It has 2 filter technology options. One is H13 HEPA which is not good for bacteria and viruses. And the second option is H14 HEPA + UV light. Both options also include a pre-filter and carbon filter.
Option with H14 filter traps odors, VOCs, smoke, pollen, smog, pet dander, dust, and more. Thanks to UV light also kills bacteria and viruses.
It can trap 99.99% of particles down to 0.1 microns in size. Medify MA-40 can clean 840 sq. ft. large spaces in 30 minutes or 336 sq. ft. 5x hourly.
It has many great features, such as a timer, sleep mode, filter indicator, child lock, etc.
Read the full Medify MA-40 review.
Pros
Lifetime warranty
Many great features
Tempered Glass Touchscreen Technology
Cons
Pre-filter is not dedicated
---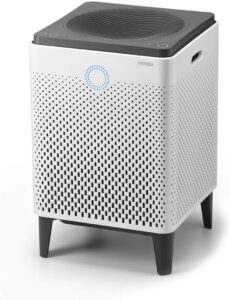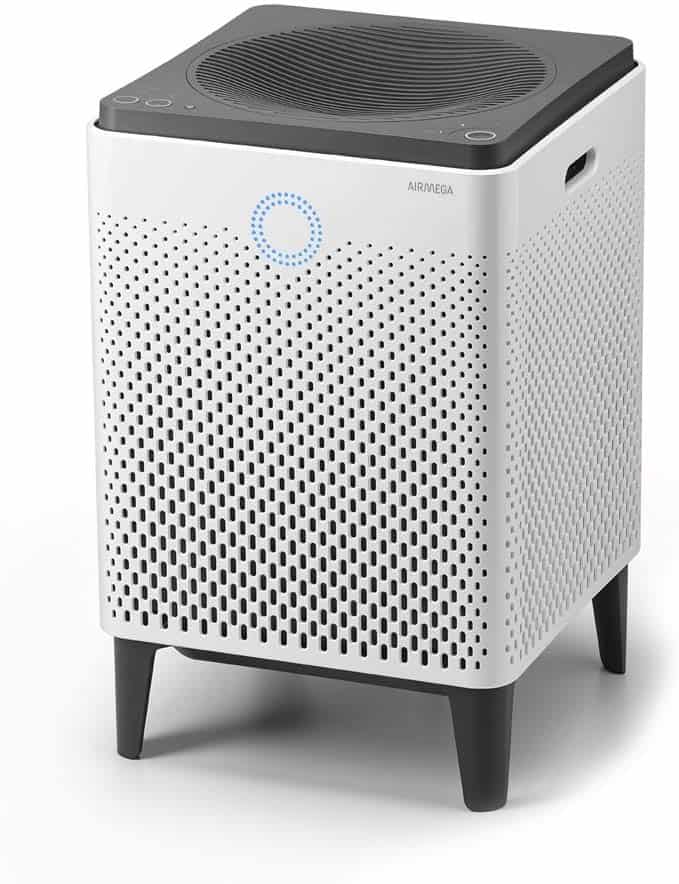 Coway AirMega 400 is independently tested (by Korea Conformity Laboratories) to remove 99.98% of SARS-CoV-2 (COVID-19) and 99.97% of nano-particles down to 0.3 microns.
It has a pre-filter that removes large dust and hair particles, a green true-HEPA filter to remove ultrafine particles, and a carbon filter for VOC and odors.
Coway AirMega 400 can clean 624 sq. ft. large spaces 5x every hour or 1,560 sq. ft. in 30 minutes.
It has many smart features, such as real-time air quality monitoring, sleep mode, auto mode, and eco mode.
Pros
Real-time air quality monitoring
Smart Mode
Tested to eliminate Covid-19
Energy efficient
Cons
Expensive
Bulky and large size
---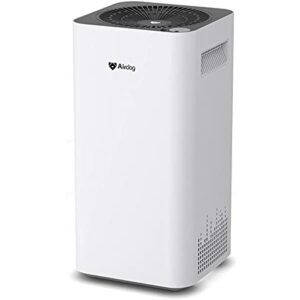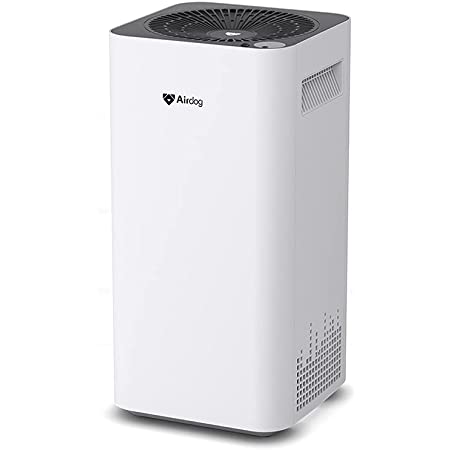 AirDog X5 can't trap as small particles as AirDoctor, but it still has 20 times better purification than HEPA filters. It can trap particles of sizes as small as 0.0146 microns.
It combines 5-stage filtration, including pre-filter, wireframe, ionic field, collecting plate, and catalyst filter.
Combining all systems together with AirDog X5, you will be protected against dust, pollen, hair dander, kitchen fumes, smoke, bacteria, and viruses.
Other air purifiers emit ions in the room to kill airborne particles, but AirDog does it all inside the plates and emits only fresh, cleaned air.
AirDog X5 air purifier can clean 675 sq. ft. area 2x every hour or 270 sq. ft. 5x per hour. For larger spaces, I recommend the AirDog X8 air purifier.
Behind purification, AirDog also includes modern features such as auto mode based on air quality, wifi to connect it with your phone, and an app. The app lets you watch your air quality current rate and the last 15 days' graph and control the unit.
Pros
Washable Filters
Cheap Maintenance (Don't need to buy filters)
The simple and easy-to-use app
Auto mode
Cons
More expensive than competitors (but no filter replacements)
---
Air Purifiers for Bacteria and Viruses
How Do Bacteria And Viruses Get Spread?
Bacteria and viruses are spread in the air from one person to another by coughing and sneezing, kissing, and touching. They also spread with food, water, pets, and insects.
Bacteria and viruses can live unspecified time on surfaces that people, when touched, can then be transferred further.
---
Most Common Airborne Bacteria and Viruses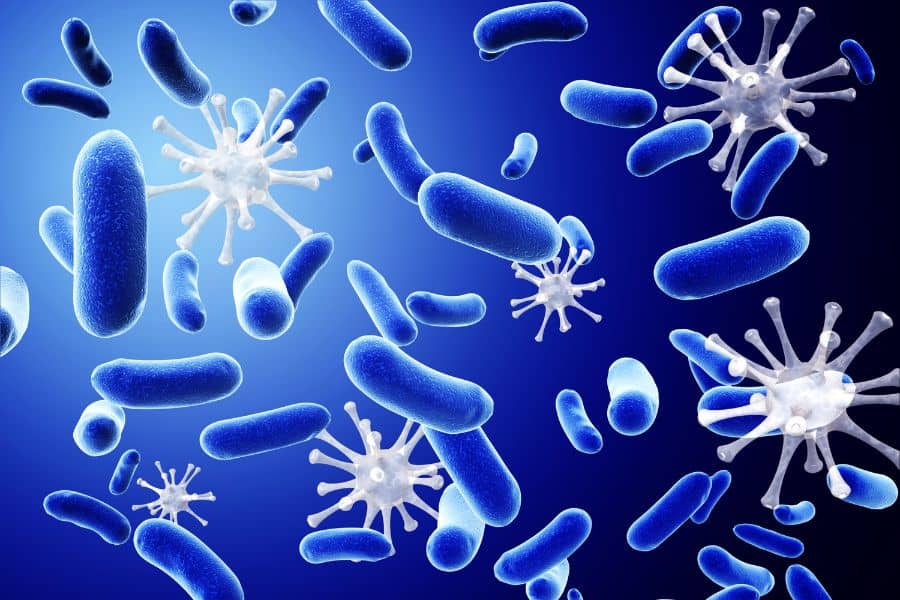 Influenza or the flu
Common cold
Measles
Whooping cough
Chickenpox
Covid-19
---
Do Air Purifiers Remove Bacteria and Viruses?
Yes, air purifiers can remove bacteria and viruses but not all. Most air purifiers can't remove them.
But those who can eliminate all viruses and bacteria floating in the air reduce the air's allergens, toxins, dust, and debris and give your family a higher quality of air to breathe.
---
Things To Look For In an Air Purifier For Viruses And Bacteria
There are a few things you should check. If the air purifier emits ions or it is a filter air purifier or combines both. Based on that, you should check the following things:
Emits Ions
Ionizer air purifiers have 2 options. First is when they emit positively or negatively charged ions into the air to kill bacteria and viruses, second is when air goes through the air purifier, and bacteria and viruses are killed inside the air purifier.
The first option is better because it can kill bacteria and viruses faster and on surfaces.
The main thing you must be aware of is ozone. Most of these air purifiers emit ozone, and many can be harmful. Ensure the ozone they emit is less than 0.050 parts per million (ppm).
California is the first state that bans air purifiers that produce harmful ozone. So if you see that the air purifier can't be shipped to California, that's a stop signal.
Filter Air Purifier
Most air purifiers use standard true-HEPA filters, and they cannot eliminate bacteria and viruses because they can't trap such small particles. But there are air purifiers with advanced filter technologies such as AirDoctor's UltraHEPA.
So make sure to check how small particles filter air purifiers can trap. They must be below 0.25 micrometers, ideally below 0.02 micrometers.
Combines Both
An air purifier with filters and an ionizer is usually the best as it can trap bacteria, viruses, and other airborne particles.
In this situation, a true-HEPA filter is OK because it can trap 0.3-micrometer large particles, and bacteria and viruses will be killed by ions. Of course, it is better to pick better filtration air purifiers.
If you choose this air purifier, ensure it emits no ozone or less than 0.050 parts per million (ppm).
Other things to look for in air purifier for viruses and bacteria are not as important and depends on you personally, whether you like smart features or not, what you need and what not.
---
Conclusion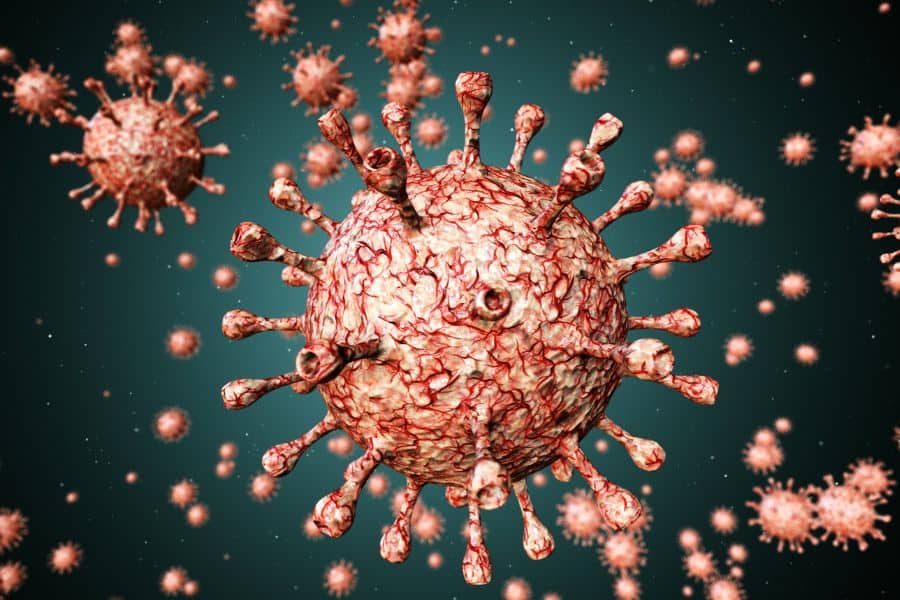 So these are the top air purifiers for bacteria and viruses. You should consider yourself if you need to filter only bacteria and viruses or other contaminants from the air.
Making this top, we also considered the size of the room air purifiers could handle, additional features, price, maintenance, energy consumption, and more.