If you want to give your baby's room a bit of extra heat, you will want to think about getting a heater. There are so many options that you would pick and choose from that you need to know about. Not only should you know what the top models are, but some of the factors to consider and even how to baby-proof it.
Here is everything that you need to know about some of the top baby heater models to check out, so keep reading our comprehensive guide to finding out everything you would want to know.
---
Top 9 Best Heaters for Baby's Room Reviewed
---
You need to ensure that you are looking at the best models that are out there so that you can keep your baby not only warm but safe. Here are 9 of the top models to check out, such as: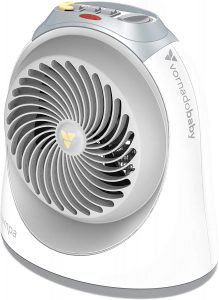 This model has been specifically designed for use in children's rooms and nurseries. It can gently circulate the heat while staying quiet, and it has 2 settings for heat. There are cord storage and a child-lock that makes it safe and secure. It also has a 5-year guarantee, and this model would be straightforward to use.
This model has a huge array of safety features to know about, like housing cool to the touch, overheating protection, tip-over automatic shut-off, and child locks.
Pros
Very quiet
Cord storage keeps anyone from tripping on it.
Dual fan and heat settings
Cons
Anyone, including children, can change temperature.
Verdict
If you want some of the best safety features available, this model would be great, especially since it is very quiet.
---
Runner Up: PELONIS Portable 2 in 1 Vortex Heater with Air Circulation Fan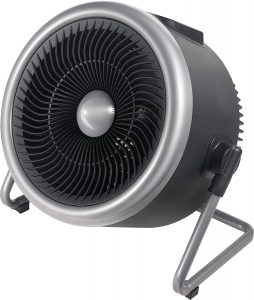 This model will heat up in 2 seconds, and you can choose from 2 heating modes. It also has a low and high cooling mode, and this will fit in with the décor in your home at any time. It has a handle this in built-in to make it easier to move around, and the holder is rotating so you can pick the angle it would be facing.
The thermostat is adjustable, so you can choose the optimal temperature on the control panel that is digital and easy to use.
Pros
Affordable
Easy to use
Lightweight and portable
Cons
Some don't blow out enough heat.
Verdict
If you are looking for something that will heat up very quickly and be easy to use and move around, this will be the best option.
---
Best Budget Option: Honeywell HCE100B Heat Bud Ceramic Personal Heater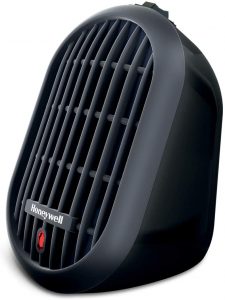 This model is energy efficient, and this is extremely easy to use since it heats up quickly. This has 2 different heat settings and buttons that make it easy to control, along with cool-touch housing, tip-over switch off, and overheat protection.  This will be ideal for small rooms or even for your office or apartment if you want to save on money.
Pros
Affordable
Lightweight
Small
Cons
Not ideal for larger rooms
Verdict
If you don't want to spend a lot of money, this will be a good model to check out since it is easy to use.
---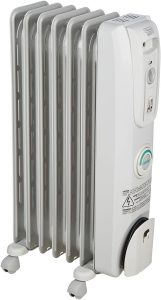 If you want one filled with oil and that is still child-friendly, then this model is great. However, it is more ideal for smaller homes, and it has a thermostat that you can easily adjust. It also has 3 heat settings to choose from with an oil reservoir that is completely sealed.
There are smart-snap wheels that you can use that would make this much easier to move around from room to room. This model also has the ComforTemp that lets you turn the machine on with saved settings.
Pros
Affordable
Energy efficient
ComforTemp lets you save the temperature settings.
Cons
The night light can be annoying.
Verdict
If you don't mind having an oil heater, then this will be affordable and easy to use the option that you should definitely check out.
---

It can cool down or heat a room evenly and quickly to give you a comfortable environment. It is also energy efficient, and it can be programmed to hit and then maintain your chosen temperature in the heat mode. This doesn't have any blades, exposed heating elements, and it will turn off if it tips over, which makes it safe for pets and kids.
This model has temperature settings that start between 33°F to 99°F, and it comes in gray or black.
Pros
Quiet
Sleek design
Easy to use
Verdict
If you don't mind spending a bit of extra money, then this sleek and elegantly designed model might be something for you to check out.
---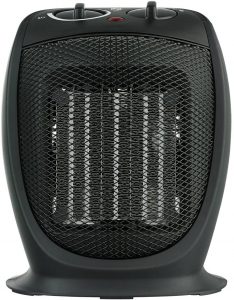 If you want a ceramic heater that you can easily move around, this will be great. It has a fan and 2 heat settings that you can choose from, along with the thermostat being adjustable. This is also compact and lightweight, and it can heat the room extremely quickly. This model has a high and low setting, and the high setting can heat the room fast, but it takes a lot of energy.
Pros
Lightweight
Easy to move around
Quick at heating up the room
Verdict
For those who can sleep with a bit of noise, but want something that will heat the room quickly, then this would be the right option for you.
---

If you want an energy-efficient model, then this is one of the top ones to check out. It also an even airflow that will help with heat distribution, and the price is affordable. This can lower the temperature of any room along with heating it, which is very quiet.
This can easily be placed in the corner of any room without noticing it, especially if you are using it in the nursery.
Pros
5-year warranty
Ultimate overheat and tip-over protection
Balanced heating
Cons
No timer for delayed turn-on or turn-off
Verdict
Perfect for those who want to save space and save energy. Also, design is different than competitors so may be a cool design attribute.
---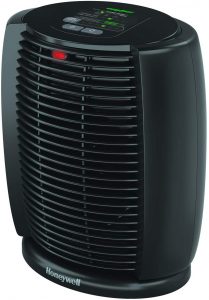 This will be an easy to use model, and the buttons and settings are on the top. The thermostat is programmable, and there are 2 heat settings that you can choose from. This has plenty of great safety features like cool-to-touch casing, automatic shut-off protection, and even tip-over protection.
This is also efficient in energy usage so that it won't cost a lot of money to use or or run.
Pros
Can handle large rooms
Energy efficient
2 heat settings
Verdict
This is going to be a great option that you can check out if you want a warranty covered model that won't be dangerous to any baby while creating the most comfortable temperature.
---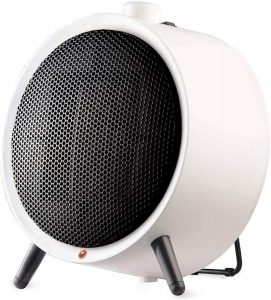 If you want something that will be small but powerful, then make sure to check out this model. This has an overheated, cool-touch, and automatic tip-over shut-off feature to ensure that your child is going to be safe. It has an adjustable thermostat, and you can easily choose the most comfortable temperature for space.
It also has a 3-year warranty, and this is going to make it much easier for you to keep the room warm after the machine gets going.
Pros
Easy to move around and carry
Very powerful heater
Adjustable thermostat
Verdict
If you don't mind the machine being slightly noisy, this small portable option would be great for all nurseries or bedrooms.
---
Baby's Safe Heaters Buying Guide
There is so much that you will want to think about when it comes to buying the right heater for your baby. You need to know why you want to keep the nursery warm, along with the factors to choosing the right heater. Keep reading on so that you can get all of your questions answered.
Keeping the Nursery Warm
No matter if you have a newborn infant or if your child is a toddler, you want to keep them warm since it can help keep them healthy. Babies have physical limitations that would compel both parents to have the warm at a warm temperature. This is because they can't regulate their own body temperature like adults can, and they lose heat faster. If the baby was premature, they don't have as much body fat to help with insulation, and they can't tell you when they are cold.
To keep the room's ideal temperature, you need to ensure that they are dressed appropriately using a suit with the feet and hands covered along with a warm hat. However, the baby will move around with the blankets covering them, which means that having an extra heater in the room would make it much easier.
Using a space heater will ensure that you don't have to increase the temperature throughout the home. You want to keep the room somewhere in the range of 68°F and 72°F to keep your baby warm and healthy.
What to Look For When Buying a Space Heater For a Nursery
You want to think about and look at numerous factors when it comes to buying the best space heater to be used in the nursery. Some of the top factors to consider includes:
Safety features – You want to look at various safety features that would include turning off if it tips over, overheats protection, and much more. The more safety features you have, the more safe and secure you will feel using it in your nursery.
Technology – You also want to think about the technology used since there are different types of heaters. Some of these are good, like ceramic and radiant heaters, since they can be good for the entire room. Also, you want to think about what type of material is being used in the heater, like oil or ceramic.
Design – The design will also be important since they have features that can be an easy installation, reduce noise, and even save some space. Think about getting a vertical one that would be moved around easily and something that can't tip over easily.
Heater size and heating capacity – You want to have a heater that will have a high capacity for heating up, which is directly related to the size. You should look for ones that are efficient if you are hoping to keep your utility bills low. If you are getting a machine that is 1500 watts, it can handle an area of 150 square feet.
Noise levels – Another thing to consider is the machine's noise level since you don't want it to be very noisy for the nursery. Ensure that you are looking for one that might not have a fan since they can tend to be quieter than those with fans.
These are just some of the top factors that you need to make sure that you are looking at, and it is going to be important when deciding which one to buy.
---
Benefits of Investing in a Quality Space Heater for a Baby's Room
You should know about numerous benefits when it comes to investing in one of these space heaters for the nursery. Some of them include:
Multiple heat settings – If you choose the right machine, it would have multiple settings for the heat you would choose from. This makes it easier since you don't need to worry about picking a comfortable temperature.
Tip-over protection – Also, these would turn off automatically when they tip over, which means you don't need to worry about any serious damage occurs.
Overheat protection – They also have the protection that would help the machine from getting overheated. This would turn it off after it reaches a certain level to again keep it from damaging anything.
These advantages are just a few of the top ones, and you should ensure that you know what they are when you are looking at buying a space heater.
---
How to Babyproof a Space Heater
Babies and children love to poke around with anything they can reach, which means that you need to baby-proof the space heater. Here are some steps that you can take to complete this, such as:
Placing the heater in a spot that the baby can't reach so it won't catch their attention or placing a gate around it to keep them away
Place a child lock on the settings panel to keep anyone who can't open it from making changes.
Ensure that the space heater you buy has the feature for tip-over protection that will let the power be cut off if it tips over or is at an angle
Ensure that you are using these tips to help keep your baby and nursery safe while it is in operation.
---
FAQ
What is the ideal temperature for the nursery?
You need to know what the ideal temperature would be for the nursery. It would be anywhere from 68°F and 72°F to avoid them getting overheated, especially if you are using long-sleeved clothing and putting blankets on top of them.
Are they going to be hot when I touch them?
These space heaters shouldn't be that hot when you touch them. They might be warm or uncomfortable, but they aren't going to burn you because they are just pushing out hot air. You should still avoid placing these close to the baby when they learn to crawl or walk to avoid any temptation or injuries.
Are these safe to be used in my infant or child's room?
You might be thinking about whether these will be safe, and they are provided you aren't using a gas-based one. Ensure that you are using one that is ceramic or that uses oil that is fully protected. If you are using the right type of space heater, it will be safe to use it overnight.
---
Conclusion
Ensure that you are using the right space heater for your nursery, which means finding one with some of the best safety features like automatic tip-over protection and much more. It would help if you also considered how to baby-proof the area so that they can't get the machine. The more you know about picking the right space heater, the easier it will be for you to make it safe and secure.