If you have pets, you know what pet dander and pet hair can do at your home. Pet hair is everywhere – on your clothes, furniture, and dinner table. Also, these particles may cause allergies, for example, red eyes and stuffy noses.
Besides, with pets comes odors, such as cat litter boxes, dirty carpets from accidents, and so on.
No worries, air purifiers will help you. Just pick the right one. Pet dander particle sizes are between 2 – 10 microns; most air purifiers can trap smaller particles up to 0.3 microns and smaller. Also, air purifiers will help you to eliminate odors.
Here is a summary of the 9 best air purifiers for pets.
But now, let's take a closer look at the top 9 air purifiers for pets, pet dander, hair, and odors.
Best Air Purifiers for Pets
---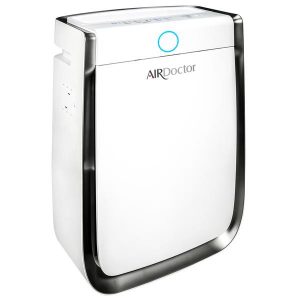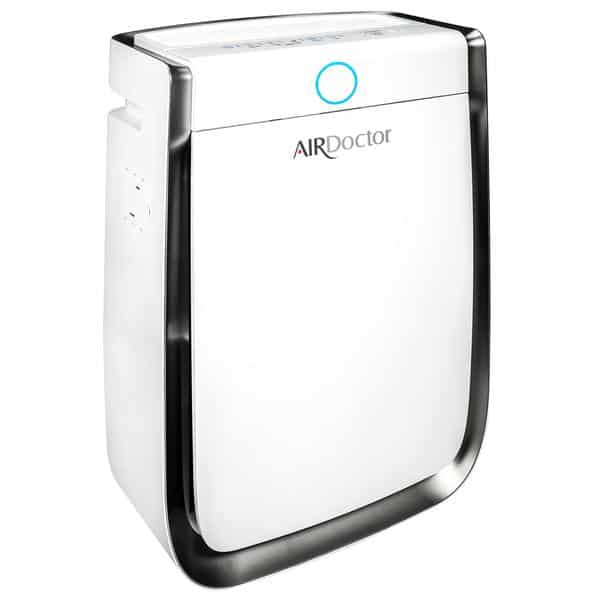 The number one air purifier to pick for pets is AirDoctor 3000. It covers everything you need. Powerful purification captures particles as small as 0.003 microns. As mentioned, the pet dander is 2-10 mic so that no particles will be uncaptured.
AirDoctor 3000 includes a large carbon filter to eliminate odors as well. It also has an ionizer to fight particles directly in the air and on surfaces.
When you have pets, you want high airflow, and AirDoctor has it. AirDoctor 3000 can filter 505 square feet large area 5 times every hour.
Besides that, it is also a quiet performer and energy efficient. It has smart features such as auto mode, an air quality sensor, a timer, dim lights, and more.
It doesn't require special maintenance. Clean the pre-filter when dirty, and change UltraHEPA and carbon filters when necessary.
The only thing this air purifier doesn't have is a remote and wifi. But with the auto mode, you don't even need them.
Read the full AirDoctor 3000 review and check other AirDoctor models reviewed.
Pros
Best for pets
Powerful
Smart features
Easy to maintain
Energy efficient, quiet performer
---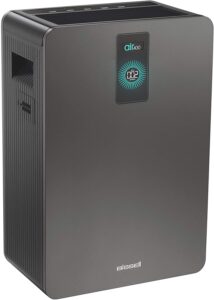 Bissell Air400 is the largest of Bissell air purifiers. It is made from metal, so it is very durable and long-lasting. It has a matte black color, opposite all other brand white, so it is fresh and new.
Bissell Air400 has a pre-filter, HEPA filter, and large carbon filter to trap pet dander, odors, and other airborne particles. It can trap particles as small as 0.3 microns.
It is powerful, with a high CADR rating (313 CFM), and can cover up to 500 square feet of large spaces, cleaning them 5 times every hour.
Bissell Air400 is not loud but not as quiet as AirDoctor 3000; it also consumes more energy but is still on the low side, so you don't need to worry about your electricity bills.
This model has smart features such as dim lights when it's dark, particle sensor, and auto mode.
By purchasing a Bissell air purifier, you support the Bissell Pet Foundation to help homeless pets.
Read the full Bissell Air400 review.
Pros
Durable metal body
High CADR rating
Smart features
Powerful fan
Unique design
Cons
Loud on the highest fan speed
No remote
---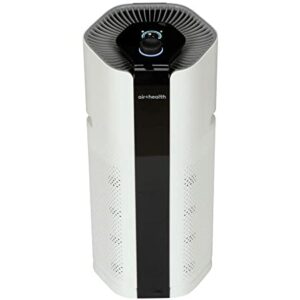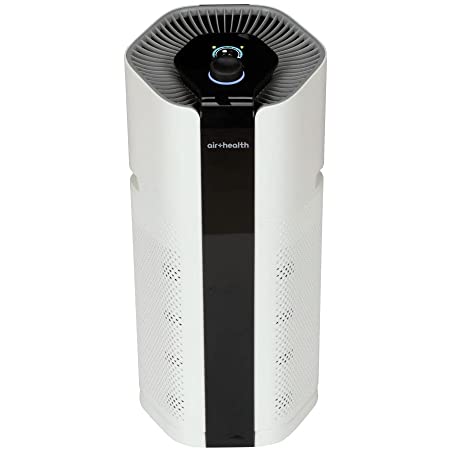 Air Health is not the most popular but, lately, a trendy brand. However, it. It has a long history and is a premier air remedy organization focused on air quality for everyone.
SKYE is the most popular and best air purifier from the Air Health brand. It has a tower design, and it is quite tall, so the best place for it is the floor.
It has a UV lamp in the middle and air filters around it, including a carbon filter, H13 HEPA, and a pre-filter. It can trap 99.9% of airborne particles as small as 0.3 microns. So it can easily eliminate pet dander and hair.
Air Health SKYE is also very quiet and energy efficient; it consumes only 10-50 watts depending on fan speed.
It can cover large areas, cleaning 435 square feet 5 times per hour; CADR rating is 293.
Besides that, it also includes many amazing features: air quality monitoring with 7 sensors and the Skye app, which works as a remote and screen. You can see filter life, UV lamp life, current air quality, fan speed, and more.
Read the full Air Health SKYE air purifier review.
Pros
Elegant design
Smart features
Quiet and low energy consumption
AHAM Verified, CARB Certified
Easy to use and maintain
Child lock
Cons
You can't buy filters separately – they come all together as a bundle
No sleep mode
---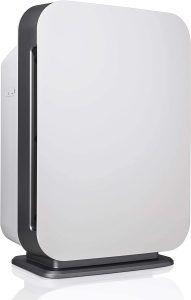 Alen Breathesmart 75i is huge; it is 27″ tall and 18.5″ wide. But not as heavy as it may feel; it weighs 27lbs. So you must figure out where to place it – unsuitable for small spaces.
It has 6 front cover color options – white, wood, grey, and other colors. So, at least you can fit it in various interiors.
Large size provides the best purification. It can capture 99.9% of particles in size as small as 0.1 microns. Besides pre-filter, you can pick 3 filter options; for pet owners, you should pick a pet filter.
Besides pet dander, this filter captures pet odors, dust, and allergens. Unfortunately, it doesn't have a separate carbon filter, so it is not suitable for heavy odors.
Alen Breathesmart 75i is suitable for 520 square feet of space, cleaning them 5 times each hour.
It is also a quiet performer and consumes 2-45 watts of energy, making it one of the most energy-efficient of all-powerful air purifiers.
it also has smart features such as auto mode, particle sensor,
Read the full Alen Breathesmart 75i review.
Pros
Various color options for the front panel
Energy efficient
Low noise level
Alen Air App
Cons
There is no separate carbon filter, so it is not the best option for odors
Large size
---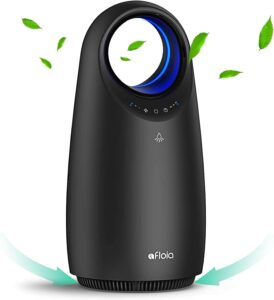 Afloia has a lot of air purifier options, and probably other models would also be great for pets.
Afloia Halo is a small, lightweight air purifier in black and white colors with a unique angelic design.
It comes with 3 layers of filtration: pre-filter, H13 HEPA, and carbon filter. So easily capable of capturing pet hair, dander, and odors.
Afloia Halo is not too powerful; its CADR rating is 126, and it can cover 215 square feet by cleaning the air every 15 minutes.
Afloia Halo is a simple air purifier without fancy features, so it doesn't have smart sensors or auto mode. But it has a timer and LED night light.
The best about this air purifier is its price; it is way below $100.
Pros
Unique design
Lightweight
Low power consumption price
Cons
No smart features
Covers small areas
---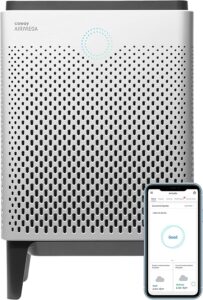 Coway 400S is the same as model 400, except it has app-enabled smart technology. Available in white and graphite colors, this bulky air purifier is perfect for spaces up to 624 square feet, cleaning them 5 times every hour.
Coway 400S has significant cleaning capabilities of cleaning 99.99% of particles as small as 0.01 microns. So, it easily traps pet dander, hair, and other allergens. It has filtered from both sides of the unit, so you get a double purification.
Behind powerful filtration, this model also hides smart features: app and voice control, eco mode, sleep mode, and more.
Pros
Real-Time Air Quality Monitoring
Coway IoCare Mobile App
Voice control
Very powerful air purification
Quiet even on high
Cons
Bulky size
The app could have more options
---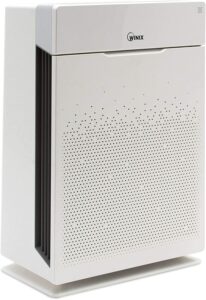 Winix HR900 is the next generation of the popular Winix 9500 air purifier. HR900 is specialized for pets, and it has a pet pre-filter to defend against pet hair and dander.
Unfortunately, it is not washable, so you will have to replace it often, as it is the first filter to trap all particles.
Next is a washable pre-filter, an activated carbon filter that reduces odors and VOCs, and a true-HEPA filter, which traps 99.97% of particles as small as 0.3 microns.
And Winix also has an ionizer to fight particles on the surfaces.
So it is a standard air purifier, except it has an extra pre-filter called a pet filter.
Winix HR900 can clean 300 sq. ft. large areas 5 times hourly.
Besides purification, Winix HR900 has an air quality indicator, smart sensors, and auto mode. Also, when it is dark, the air purifier activates sleep mode.
Pros
5 stage filtration
Smart features
Easy to use
Affordable price
Cons
Pet pre-filter must be replaced monthly
---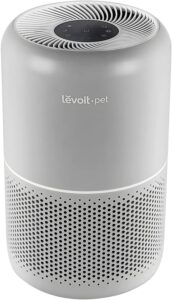 Levoit Core P350, as you may notice from the title, is specially made and designed for pet owners. It has a 3-stage filtration system.
It has a pre-filter, true HEPA filter, and the best one is a patented high-efficiency carbon filter to absorb all odors, including litter box smells. The carbon filter has 10x more carbon than other air purifiers.
Levoit Core P350 can filter airborne pollutants 5 times per hour in spaces up to 219 square feet.
It has a 360-degree air intake so that you can place it anywhere; it will suck air from everywhere.
Specially designed for pet owners, Levoit's Core P350 True HEPA Air Purifier's 3-stage filtration system efficiently captures pet fur, dander, and airborne particles. Its patented ARC Formula reduces pet odors, so your home always smells fresh.
Pros
Perfect for pet owners, it eliminates all odors
360-degree air intake
Sleek design
Quiet air purifier
Cons
No particle sensors
No auto mode
For small spaces only
---
The PureZone Air Purifier features a true HEPA filter that captures about 99.7% of pet dander, pollen, smoke, and dust. It also comes with a pre-filter and an activated carbon filter.
It covers small spaces, suitable for 120 square feet, cleaning air 5 times hourly.
It also comprises a UV-C light that captures and destroys microorganisms like viruses, bacteria, fungi, and germs.
The air purifier encompasses a noise level of just 30 dB, ensuring a peaceful night.
Moreover, it is easy to set up and comprises an automatic timer that can turn off the purifier after about 2, 4, or 8 hours of usage to save energy.
Pros
The strong carbon filter works to remove the odor.
The UV-C light captures and kills viruses and bacteria.
Quiet in operation
It comes with a 5-year warranty
Cons
The fan only works for a small room
No auto mode
---
Why Should You Buy An Air Purifier for Your Pet?
Get Rid Of Pet Odors.
Let us face the fact that regardless of how frequently your pets are bathed and cleaned, they tend to leave odors in your home. 
But with an air purifier, you can obliterate such odors instead of just covering them. So, go for an air purifier with a carbon filter. The larger and heavier it is, the better for odors it will be. 
Get Rid Of Pet Allergies. 
Pet dander is the main cause of allergies. Dander comprises microscopic skin that your pet regularly sheds, feces, saliva, urine, and proteins.
While this restoration process also exists in people and is normal, usually, we're allergic to the skin shedding together with saliva, urine, and others.
Thankfully, air purifiers with a HEPA filter can help you eliminate this problem.
Better Air Quality 
Without your pet odors and dander, your air will become fresh, and you can only achieve this with a high-quality air purifier for pet dander and odors.
Lessen Time Of Cleaning 
Even though there are no irritating and dangerous pet allergies, you'll still have difficulty cleaning your pet dander often.