Afloia is highly regarded as one of the more trustable brands of air purifiers and dehumidifiers. In addition, these units come with lifetime warranties by the brand, which shows that the company stands behind its products.
These units are made of premium quality materials that won't break down and continue to perform yearly. They have some suitable quality air purifier units available, and we are here to review them in detail to assist you in your buying decision. 
With Afloia, you will never compromise on the quality of air that you and your loved ones breathe. 
So, here are the top 7 best Afloia air purifier units to serve various purposes. Scroll down to get the full scoop. 
Best Afloia Air Purifiers 
List of the top 7 Best Afloia air purifiers in no particular order:
---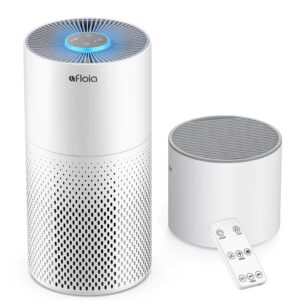 Pros
Quiet and energy-efficient.
Comes with timing functions.
It is equipped with a 1.9-liter water tank.
Perfect for pregnant women's and babies' bedrooms.
Cons
The fan becomes loud at high settings.
Afloia Kilo Pro air purifier is the best air humidifier and purifier in one machine. Its module is detachable and independent, plus you can easily remove it, and it will not affect your main unit. The good thing is that this unit has a remote control that helps you conveniently control this air purifier.    
Coverage Area
Coverage Area capacity at 162 square feet based on 5 times per hour air change means it can clean 162 square feet large area 5 times daily. 
The main competitor Okaysou AirMic4S covers 140 square feet of area.
Noise Level
This energy-efficient air purifier uses less power and generates only little noise. Less noise was produced at 55dBa. So you don't have to worry about using too much power or disrupting your sleep while it's working.
Thus, you can turn it on during your work because it will not disturb you. The company uses high-tech humidification that helps to fight against your dry skin. Plus, it will enhance the dry air around you. 
Therefore, you can say that it is the best product for pregnant women and your baby's bedroom. You can operate it for 24 hours and offer a timer setting with 2, 4, and 8 hours working. It is also equipped with a 1.9-liter water tank, ideal for medium-sized rooms.    
Afloia Kilo Pro Air Purifier comes with unique night 7-color lights, including yellow, orange, red, purple, blue, green, and cyan. In addition, you can switch colors according to your preferences.   
Filters
The company uses 3-layer filtration, including a pre-filter, HEPA filter, and carbon filter. These filters decrease the quality of air effectively.
Features
Three purifying settings: high, medium, and sleep

A system with three very effective Hepa filters

Three intelligent step times (2h/4h/8h)

360° air cleaning and absorption

7-color, unique nightlight
Verdict
This air purifier makes very little noise and consumes less energy than others. You can leave it on while working because it won't annoy you. It will also improve the dry air that surrounds you.
Overall, you could say that it is the perfect item for new mothers and the nursery.
---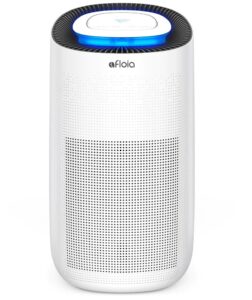 Pros
It comes with child locks to stop misuse.
A handheld ring makes it portable.
An auto deactivation feature makes it durable.
Energy-saving due to the speed adjustable option.
Cons
Filters come with less durability.
Are you looking for a safe air purifier for your children's bedroom? This is because the company constructed it with a child lock button. You have to push down that only for 3 seconds to activate. 
Moreover, it comes with an automatic mode and automatically adjusts the airspeed according to the environment.
It also decreases power consumption which makes it energy-saving and energy-efficient. On auto mode, it consumes 35 watts on average. 
Afloia Max air purifier can handle 350 square feet in large rooms 5 times or 875 square feet in rooms 2 times every hour. Competitor Bissell AIR320 handles 366 square feet.
Another good feature is that this unit comes with a colored display. It reflects the quality of the air according to an inbuilt sensor. The blue light indicates excellent, yellow shows average, and red tells you poor air quality. 
When you put the air purifier unit into auto deactivation mode, it automatically adjusts the wind speed. The air quality sensor automatically detects the value and sets it to the best mode to keep your air purifier.  
Afloia Max air purifier also features an indication red flash about filter replacement. It also comes with a handheld ring that makes it portable, so you can easily move it from one room to another.  
---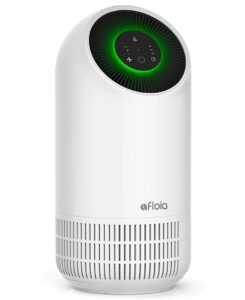 Pros
Modern and extremely portable

Featured with HEPA 3-layer filters.
Airspeed options are low, medium, and high.
Energy-efficient and faster purifier.
Three timer options and accessible in 3 colors.
Cons
Not a budget-efficient option.
Afloia Fillo air purifier comes with an outstanding design that is more reliable. Due to its durability, functionality, and appearance, the Afloia Fillo air purifier won the German iF-Design Gold award. 
With dimensions of 7L x 7W x 16H inches, the Afloia Fillo air purifier is suited for installation in tiny bedrooms or home offices without taking up excessive space on your work desk or bedroom floor.
It comes with speed adjustment, night light, and timer function. Once Fillo starts working, you will experience a powerful purifying day or night. 
You can switch its wind speed according to your wish. There are three-speed options: high, medium, and low. Additionally, the company uses a highly efficient true HEPA filter. This filter is equipped with 3-layer filtration; each layer cleans the air and gives you pure air.    
Filters
It also removes dust mites, pollen, pet dander, mold spores, allergies, bacteria, dust, toxins, and odors. Pre-Filtration, HEPA H13 Filtration, and Active Carbon Filtration are the three phases of filtration that eliminate more than 99.97 percent of the particles, smells, and tiny hair. 
Catches allergens and smoke. It is effectively enhancing the quality of indoor air. 0.1-micrometer particles and PM 2.5 air pollutants are filtered.
Coverage Area
The FILLO air purifier filters the air five times every hour in spaces up to 90 square feet and once every 30 minutes in areas up to 225 square feet, making the air healthier to breathe. 
Its main competitor might be Purezone Halo True HEPA air purifier covering 100 sq. ft.
Noise Level
The noise level is only 24 dB with no light interference. Install this personal air purifier in your bedroom. 
Power Consumption
It has a working power of 35 watts and uses less than 0.84 kWh of energy daily.
Features
3 Wind speed adjustment – Low, medium, and high wind speeds are available, and you can vary between them as you choose.
Excessively Effective – True HEPA filter has three layers of filtration, each of which can efficiently clean the air. Its potent filtration can lessen your air-related problems.
3 Timing Choices (2h/4h/8h) – When you leave your room or go to sleep, the air purifier can continue to function for a long time. Customize the air purifier's running time to enjoy your sweet night without breaking the bank.
A Soft Nightlight – You can use the light as a night light, which is quiet and won't wake you up.
Verdict
If you're looking for a portable air purifier with enough strength to provide immediate relief—even during flu season—the Afloia Fillo is the best option.
However, Afloia, an air purifier, is a good product for small rooms, roughly 200-800 square feet. As a result, it is not advised for large spaces, particularly those with high humidity and moisture levels.
Overall, it is worthwhile to have given its cost, portability, and effectiveness.
---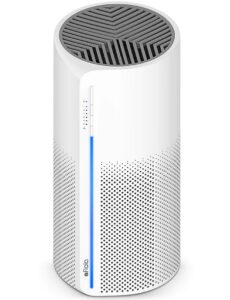 Pros
Comes with a unique night light design.
Inbuilt light for filter replacement indication.
It is featured 3 high, medium, and low fan speeds.
Adjust running time as 2, 4, or 8 hours.
Cons
Challenging to replace filters.
Miro air purifier is the cheapest model of Afloia company. This is a perfect option for your small-sized rooms. It helps to clean your environment and keep your skin dry too.
It cleans rooms up to 125 square feet every 12 minutes or 5 times per hour. Airdog X3 covers 129 square feet, but it is a more expensive unit.
Additionally, it comes with a powerful and quiet fan, and you can control the speed of its fan according to your environment. Furthermore, you can select the fan's high, medium, and low modes, giving you a more relaxing experience.   
This is such a quiet unit that you can place it in your working area; it will not disturb your work. Apart from offices, it is also suitable for your baby's bedroom and medium-sized living room. As a result, you can breathe fresh and pure air and protect yourself from multiple allergies. 
If you have planned to go outside for a short time, you can turn it on and set its time. Because it is equipped with three timed cycle features. So, you can adjust its running time from 2, 4, and 8 hours. 
The company uses a HEPA filtration system that is highly efficient. This filtration system consists of three layers. The air is crossed from three layers to give you purified air. 
There is also an indication red color light that tells you to change its filter. However, changing its filter every 3 to 6 months is recommended and depends on the air quality. 
---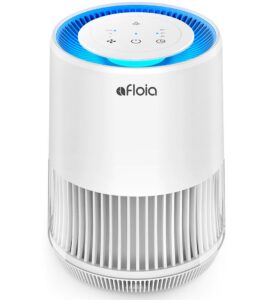 Pros
Comes with an intelligent sensor.
Sleep mode without any noise.
Adjust fan speed, light, and timing.
Automatic deactivation makes it energy-efficient.
Cons
Only suitable for small-sized rooms.
Do you want an ultra-quiet air purifier? Then, we recommend you go with the Afloia Gala air purifier.
It purifies the quality of the air with noiseless working. The noise level of this unit is less than 30 decibels, a category of a quiet rural area. 
It has the same power as model Fillo, so it covers a 90 square feet area 5 times per hour. As a competitor, I picked HomeLabs True HEPA, which covers 75 square feet and is a cheap unit.
In addition, if you want a more quiet environment, you can turn off all settings from its display and enjoy a good night's peaceful sleep.
Multiple customizations are available in this air purifier, making it energy and budget efficient. You can choose its fan speed according to your environment. You can select low, high, and auto speeds. 
The display comes with an ergonomic and intuitive touch display that permits you to configure auto deactivation settings after 8, 4, and 2 hours of continuous use. So if you have a pet or children in your home, this is the safest and pet-proof air purifier.       
---
Pros
Quiet

Ideal for spacious bedrooms

Multi-stage and ultra-power air purifier.
3 operation modes; sleep, high, and auto.
Seven color light changing options.
Use an intelligent detection system for air purification.
Cons
Only two speeds

There is little information in the user handbook
If you live in a large-sized bedroom and are looking for the best air purifier, the Afloia should be your priority. The Afloia is manufacturing the powerful, fully-featured air purifier that helps keep your environment clean and dry. This unit keeps you fresh and purifies the air you breathe. 
Moreover, the Mage air purifier by Afloia checks air quality and improves air quality. An inbuilt sensor detects the quality of the air in real-time. It also shows the air quality with red, yellow, green, and blue light. 
You can also turn off its light and use it as a soft light for a good night's sleep. This is also a quiet unit that will not disturb your sleep. Plus, you can use it in your working environment with comfort.
There is also an indication flash red color light that indicates to change its filter. However, it is recommended to change its filter every 3 to 6 months, plus changing filtration also depends on the air quality.
Filters
The company uses a 3-stage filtration system, including a pre-filter, HEPA filter, and an activated carbon filter. This 3-in-1 filtration design makes it unique compared to other air purifiers.
The powerful air purifier has cutting-edge capabilities to maintain clean indoor air. It features a 99 HEPA efficiency rating and removes odors and contaminants by 97 percent.
Coverage Area
This HEPA purifier can clean a room up to 352  square feet in only 12 minutes.
The multi-stage air purifier's superpower makes it appropriate for large or medium-sized rooms, including bedrooms, living rooms, and offices.
Medify MA-40 could be the main competitor covering 336 square feet of large rooms.
Noise Level
This powerful machine has an air quality sensor that, when activated, will turn your air purifier up to full speed.
So enjoy a new lifestyle—the best housekeeper for the family—while you sleep because it operates quietly at only 25db.
Power Consumption
Air purifiers made by Afloia Mage Air don't consume a lot of electricity. This is because Afloia Mage only has two speeds.
The device will conserve energy if you select auto mode, though. As a result, your electricity bill will be much lower.
Features
Air Monitoring Device – A built-in sensor allows the air purifier to monitor the air's quality continuously. You can quickly notice the air quality because it shows its value, and the indicator light has the correct hue (blue, green, yellow, or red). 
Light-On Button – You cannot adjust the light brightness for the first 30 seconds after the air purifier turns on.
A Soft Nightlight – You can use the light as a night light, which is quiet and won't wake you up.
Reminder for Filter Replacement – When the filter needs to be replaced, an LED indicator glows red. Depending on usage and air quality, we advise changing the filter every 3 to 6 months.
Verdict
Afloia Mage air purifier is a brand-new competitor on the scene. They provide a variety of air purifiers and already have many happy customers, whose number is steadily increasing. In addition to performing well in performance testing, it also conserves energy.
Overall, this is a fantastic item, and if any of the little disadvantages I mentioned in the review won't bother you, I think you should buy it.
---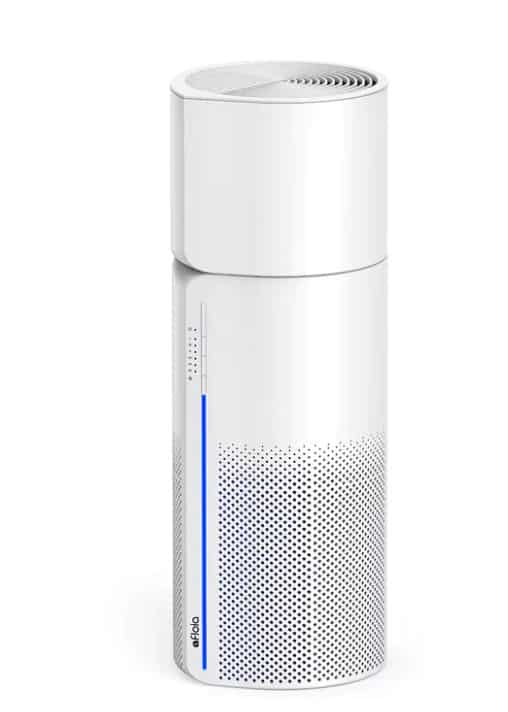 The most popular air purifier made by Afloia is called the Miro Pro. For a medium-sized room, this is the ideal choice.
Cleaning your surroundings and maintaining dry skin are both benefits. It also has a robust and silent fan that you can adjust to the speed that best suits the circumstances. 
Pros
A simple air purifier without numerous cutting-edge features

Good airflow

Air is drawn in from all directions.

12 hours of use

A minimal energy footprint
Cons
Does not use a True HEPA filter
Design And Size
The concept of modular design presents a standalone, separable humidifier module. The use of the air purifier is unaffected by removing the humidifier.
Superior Performance – Enjoy a healthier life with Miro Pro's "natural evaporation" function and mist-free humidification.
Energy Efficient – The Miro Pro 2-in-1 tabletop air purifier provides a more comfortable environment. 23W is the highest output power. Even running, add water to the humidifier from the top.
HEPA Filtration 3-IN-1 – three-stage filtration process (prefilter, activated filter, and HEPA filter). Each layer can efficiently clean the air, and its strong filtration can lessen your air-related problems.
Lamp at Night – a feature for optional lighting. Purify your room as you sleep with warm night light with two brightness settings for a more comfortable sleeping environment.
---
Filters
3-in-1 device (captures dust, pollen, mold spores, animal hair, smoke, household odors, and ultrafine particles PM 2.5)
---
Coverage Area
An air purifier and humidifier called the Afloia Miro Pro is intended for rooms up to 219 square feet. Ft. with CADR of 150 m³/h.
As a competitor, I picked AirDoctor 2000; it covers 244 square feet and has a similar CADR rating.
---
Noise Level
It is less than 30dB in low-speed mode, has better sleep, clearer sinuses when you wake up, less edema, and easier breathing all day.
---
Power Consumption
The Miro Pro is powered by a 23W engine and uses very little energy.
---
Features
Licensed by FCC, ETL, RoHS, and CARB

Sub-category Portable

Signal lights (filter change reminder)

Two years of warranty 

0.50 gal. of dirty storage capacity (4.0 pints)

1.9 liters of capacity 
---
Verdict
While the approach of this air purifier is a user-friendly concept, it would be a good idea to keep in mind that you cannot use the humidifier without also utilizing the air purifier, which is a drawback. 
Overall, because it lacks a True HEPA filter, it is recommended to opt for the true HEPA filters over the Miro Pro due to its far better filtration capabilities. 
---
Afloia FAQ
How Do You Reset the Filter Light On Afloia Air Purifier?
The power indicator glows red to indicate that the filter needs to be changed. If you can't replace the filter immediately, you can quickly turn off the annoying red light by resetting the device, but you'll need to remember to do so afterward.
The Afloia air purifiers can be reset by:
First, activate the power button (Filter button in Max air purifiers).

Hold for seven seconds, then let go.

Your air purifier will reset as a result.
---
Final Word
Therefore, is the Afloia Air Purifier a good investment? Generally speaking, yes. The drawbacks are hardly noticeable. And with a robust device, loud volume at high speeds is expected.
As you can see, we were mainly taken aback by the capacity. Most mid-sized filters can only handle one or two rooms, which can be restrictive. But on the other hand, Afloia can easily manage an entire apartment. 
Overall, the filtering system has several extra benefits built in. You do indeed receive a three-part solid design with a HEPA filter. In addition, you'll be able to use this air purifier immediately because of its simple-to-understand control layout!