Afloia is highly regarded as one of the more trustable brands of air purifiers and dehumidifiers. These units come with lifetime warranties by the brand, which shows that the company stands behind its products.
These units are made of premium quality materials that won't break down and continue to perform year after year. They have some suitable quality air purifier units available, and we are here to review them in detail to assist you in your buying decision. 
With Afloia, you will never compromise on the quality of air that you and your loved ones breathe. 
So, here are the top six best Afloa air purifier units to serve various purposes. Scroll down to get the full scoop. 
Best Afloia Air Purifiers 
---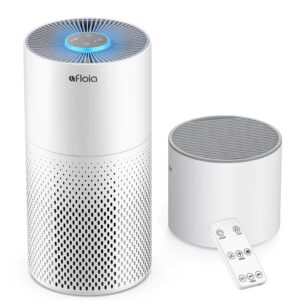 Afloia Kilo Pro air purifier is the best air humidifier and purifier in one machine. Its module is detachable and independent, plus you can easily remove it, and it will not affect your main unit. The good thing is that this unit comes with a remote control that helps you control this air purifier more conveniently.    
This energy-efficient air humidifier uses less power and generates only little noise. Thus, you can turn it on during your work because it will not disturb you. The company uses high-tech humidification that helps to fight against your dry skin. Plus, it will enhance the dry air around you. 
Therefore, you can say that it is the best product for pregnant women and your baby's bedroom. You can operate it for 24 hours and offer a timer setting with 2, 4, and 8 hours working. It is also equipped with a 1.9-liter water tank, ideal for medium-sized rooms.      
The company uses 3-layer filtration, including pre-filter, HEPA filter, and carbon filter. These filters decrease the quality of air effectively. Afloia Kilo Pro Air Purifier comes with unique night 7-color lights, including yellow, orange, red, purple, blue, green, and cyan. You can switch the colors according to your preferences.  
Pros
Quiet and energy-efficient.
Comes with timing functions.
Equipped with a 1.9-liter water tank.
Perfect for pregnant women's and babies' bedrooms.

 
Cons
The fan becomes loud at high settings.

 
---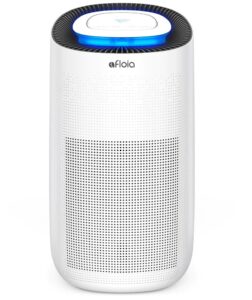 Looking for a safe air purifier for your children's bedroom? This is because the company constructed it with a child lock button. You have to push down that only for 3 seconds to activate. 
Moreover, it comes with an automatic mode, and it automatically adjusts the airspeed according to the environment. It also decreases power consumption which makes it energy-saving and energy-efficient. 
Another good feature is that this unit comes with a colored display. It reflects the quality of the air according to an inbuilt sensor. The blue light indicates excellent, yellow shows average, and red tells you poor air quality. 
When you put the air purifier unit into auto deactivation mode, it automatically adjusts the speed of the wind. The air quality sensor automatically detects the value and sets it to the best mode to keep your air purifier.  
Afloia Max air purifier also features an indication red flash that tells about filter replacement. It also comes with a handheld ring that makes it portable, so you can easily move it from one room to another.  
Pros
Comes with child locks to stop misuse.

 

A handheld ring makes it portable.

 

An auto deactivation feature makes it durable.

 

Energy-saving due to the speed adjustable option.

 
Cons
Filters come with less durability.

 
---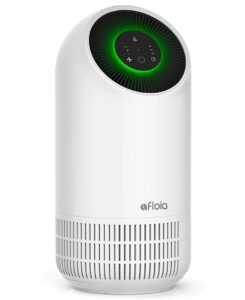 Afloia Fillo air purifier comes with an outstanding design that is more reliable. Due to its durability, functionality, and appearance, the Afloia Fillo air purifier won the German iF-Design Gold award. 
It comes with speed adjustment, night light, and timer function. Once Fillo starts working, you will experience a powerful purifying day or night. 
You can switch its wind speed according to your wish. There are three-speed options: high, medium, and low. Additionally, the company uses a highly efficient true HEPA filter. This filter is equipped with 3-layer of filtration, and each layer cleans the air and gives you pure air.      
In addition to that, three layers of filter are pre-filter, activated carbon, and HEPA genuine filters. When air crosses through these three layers, it automatically becomes pure. It helps to keep your skin dry and reduce moisture from the environment.  
The good advantage of using the Fillo air purifier by Afloia is that it comes with three timer options. You can customize its time and enjoy your good sleep at night. The three timer options are 2, 4, and 8 hours. 
Along with air purification, you can also use it as a night light. You can convert the main light into a soft light for the night. The fan is quiet, so it will not disturb you at night, enjoy a good night's sleep.  
It is accessible in three colors: cyan, black, and white. You can pick your favorite color also to decorate your living room. 
Pros
Featured with HEPA 3-layer filters.
Airspeed options are low, medium, and high.
Energy-efficient and faster purifier.
Three timer options and accessible in 3 colors.

 
Cons
Not a budget-efficient option.

 
---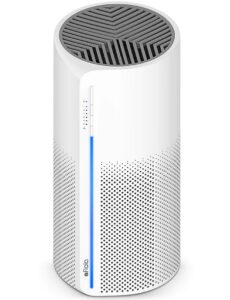 Miro air purifier is the most popular model of Afloia company. This is a perfect option for your medium-sized room. It helps to clean your environment and keep your skin dry too. This is a full-featured and powerful air purifier. 
Additionally, it comes with a powerful and quiet fan, and you can control the speed of its fan according to your environment. You can select high, medium, and low modes of the fan, which will give you a more relaxing experience.   
This is such a quiet unit, so you can place it in your working area; it will not disturb your work. Apart from offices, it is also suitable for your baby's bedroom and medium-sized living room. You can breathe in fresh and pure air and protect yourself from multiple allergies. 
If you have planned to go outside for a short time, you can turn it on and set its time. Because it is equipped with three timed cycle features. So, you can adjust its running time from 2, 4, and 8 hours. 
The company uses a HEPA filtration system that is highly efficient. This filtration system consists of three layers. The air is crossed from three layers to give you the purified air. 
There is also an indication red color light that tells you to change its filter. However, it is recommended to change its filter after every 3 to 6 months, and also it depends on the quality of the air. 
Pros
Comes with a unique night light design.
Inbuilt light for filter replacement indication.

 

Featured with 3 high, medium, and low fan speeds.
Adjust running time as 2, 4, or 8 hours.
Cons
Difficult to replace filters.

 
---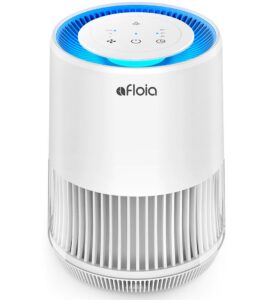 Do you want an ultra-quiet air purifier? We recommend you go with the Afloia Gala air purifier. It purifies the quality of the air with noiseless working. The noise level of this unit is less than 30-decibels, which is a category of a noiseless rural area. 
In addition, if you want a more noiseless environment, you can turn off all settings from its display and enjoy a good night's peaceful sleep. Multiple customizations are available in this air purifier, making it energy and budget efficient. You can choose its fan speed according to your environment. You can select low, high, and auto speeds. 
The display comes with an ergonomic and intuitive touch display that permits you to configure auto deactivation settings after 8, 4, and 2 hours of continuous use. If you have a pet or children in your home, this is the safest and pet-proof air purifier.       
Pros
Comes with an intelligent sensor.

 

Sleep mode without any noise.

 

Adjust fan speed, light, and timing.
Automatic deactivation makes it energy-efficient.

 
Cons
Only suitable for small-sized rooms.

 
---
If you live in a large-sized bedroom and are looking for the best air purifier, the Afloia should be your priority. The Afloia is manufacturing the powerful and full-featured air purifier that helps to keep your environment clean and dry. This unit keeps you fresh and purifies the air you breathe. 
Moreover, the Mage air purifier by Afloia checks the air's quality and improves the air. An inbuilt sensor detects the quality of the air in real-time. It also tells you the air quality with red, yellow, green, and blue light. 
You can use its auto mode, which automatically adjusts the fan's speed according to the quality of the air. The company uses a 3-stage filtration system, including a pre-filter, HEPA filter, and an activated carbon filter. This 3-in-1 filtration design makes it unique compared to other air purifiers.
You can also turn off its light and use it as a soft light for a good night's sleep. This is also a quiet unit that will not disturb your sleep. Plus, you can use it in your working environment with comfort. 
There is also an indication flash red color light that indicates to change its filter. However, it is recommended to change its filter after every 3 to 6 months, plus changing filtration also depends on the quality of the air.  
Pros
Multi-stage and ultra-power air purifier.
3 operation modes; sleep, high, and auto.
Seven color light changing options.
Use an intelligent detection system for air purification.
Cons
Not a value for money air purification.

 
---
Final Word
Today, the best Afloia air purifier is the Kilo Pro 2-in-1 air purifier and humidifier. And as the name goes, it is capable of air purification and humidification functions. 
There are three different timings and three different purification modes on the unit, and it comes with the True HEPA filtration system to ensure top-quality performance. 
You won't have to deal with any water mist humidification and can easily access all its control with remote control. And the best part is that it features a unique color-altering design.