The Airpura C600 is a particular type of air purifier, especially for indoor environments impure by toxic gases and chemical vapors. This air purifier's main thing is highly featured with a vigorous functional carbon filter of 26 lbs. It had 3 inches depth to soak up the gaseous pollutants as efficiently as possible. This Airpura has a very dominant motor and unchecked airflow to calmly and fastly clean the air in specific areas up to 2000 square feet.
---
Pros
Guarantees the effectual chemical absorption
Easy to choose a noise level and airflow
Most extensive room coverage of any of air cleaners
Low and medium settings available
Amazing warranty
MCS friendly
Five-year warranty for any parts
Ten years warranty of labor and motor
Free from plastic, silicone, or rubber in gaskets or internal parts
Cons
No filter change indicators
Heavy to lift
A little bit of work requires replacing the filters
Catch the airborne particulates 1 micron and greater
---
At present, the Airpura C600 air purifier is ideal for people who,
Suffer from the MCS, e., Multiple Chemical Sensitivities. Basically, it is troubled with eliminating several chemicals from their indoor environment.

Lives in an environment contaminated by weighty concentrations of toxic gases or chemical vapors

It needs an air purifier, which is accomplished

by

captivating a wider amount of chemicals before requiring a filter modification
Airpura C600 Design, size, placement
Airpura C600 has a simplistic round design without any unusual elements. Air inlets are all around the machine, using the large surface for maximum effect. Air outlets are on the top side of the air purifier.
The device is quite large and heavy. The weight is 45 lbs (20kg). To carry Airpura C600 from space to space, you will use casters. The purifier has no handles, so it's tough to lift it.
Measurements:
Height: 23 in / 58 cm
Width: 15 in / 38 cm
Depth: 15 in / 38 cm
How does it work?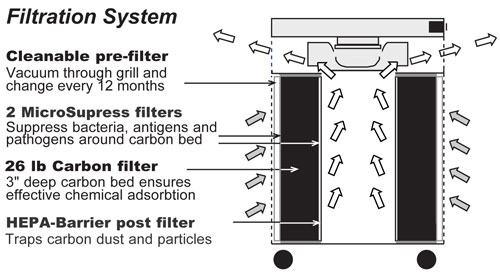 To guarantee the best effectiveness through the filtration process, the air that flows into the C600 moves through a pressure-sealed filter container equipped with three separate filters. These include:
Pre-Filter collects most large shreds and assists in extending the life of the HEPA and carbon filters.

Carbon Bed comes with 26 lbs. of premium-quality activated carbon; this filter accumulates and absorbs a mixture of chemical pollutants, odors, and tobacco vapor from the air.

HEPA-Barrier Post Filter traps carbon dust and particles.
Amazing features of Airpura C600 air purifier
The latest model of the Airpura C600 air purifier is a sturdily built machine. Absolutely, it is straightforward and easy to use, among other air purifier models. Of course, this is one of the leading brands than others regarding the noise level. For any odor, chemical abatement, the Airpura C600 is a wise choice to use. Some of the amazing features of the Airpura C600 air purifier for chemical removal are listed below:
2 anti-microbial filters

Variable fan speeds

Manual controls

Low noise level

Large room air purifier

Felt gaskets

Four casters

All-metal housing

360 d air intake and outflow

Pressure sealed filter chamber

Sealed motor chamber

Wall-mount option

Colors available such as cream, white or black

Sealed electrical chamber

Includes casters

Cleanable pre-filter

Optional UV lamp

Made in Canada

Five-year warranty

Effortless dial controls

Best for chemicals removal

26 lb activated carbon, filter, 3" deep

Micro-barrier particle post filter

Individually changeable filters

Maximum coverage up to 525 sq. ft (2 air changes/ hr)

Suggested coverage up to 525 sq. ft (6 air changes/ hr)

Specially designed to aid in the exclusion of deep chemical and gas removal

Catch carbon dust and particles 1 micron and greater

ETL certified, match to CSA C22.2 no 113 ANSI/UL 507

The unit includes HEPA filter, pre-filter, carbon filter, and micro-suppress filter
Airpura C600 Noise level
Airpura C600 can be quiet and can be loud. The minimum noise level is 28.1 dB, a maximum of 62.3 dB. Quiet Purification – the device's backward-curved impeller supports reduce vibrations and noise associated with standard air purifier motors.
Airpura C600 Maintenance and Upkeep
Pre-Filter can be swept clean and should be replaced every 12 months.
The carbon filter normally continues to work great for up to 2 years, depending on usage.
HEPA-Barrier Post Filter lasts about one year under regular use.
---
---
Summary
Therefore, the Airpura C600 is a specially designed air purifier for eradicating the gases and chemicals from the indoor air. This air purifier is highly suggested for polluted indoor environments by elevated absorption of gas vapors or chemicals produced from smoke or fire, perfumes, cooking odors, second-hand smoke, off-gassing of deadly gases, and cleaning products. Moreover, this Airpura C600 is also a brilliant option for use in MCS circumstances. But this small built appliance is not suitable for sub-micron element removal. If you are in require of an all-purpose air cleanser, this will get rid of the extensive amount of gases, odors, and chemicals as well as supply the astonishing airborne element removal, so it is mostly recommended the Airpura C600.
---
---
Airpura C600 Specifications
Model 

Coverage (sq ft / m2)

2000 / 185

Price

Filtration system

· A fan moves air through the filters

· Pre-filter

· Carbon filter w/26lbs activated carbon

· HEPA-barrier post filter

Purifies

Pollen, lint, hair, spores, mold, pet dander, dust mites, and most household dust, bacterias, and smoke particles. Removes heavy odors, germs, chemicals, and VOC's

Air change per hour (Based on an average coverage ~2000 sq ft)

2

Filters price

Filters cleaning and (or) change

Clean pre-filter regularly, replace it annually. Replace Carbon filter every 2 years. Replace the HEPA barrier annually.

Filters cost per year.

Min $242

Air delivery

Max 560CFM

Fan speeds

Variable

Noise level

28.1 – 62.3 dB

Controls

Manual

Air quality indicator

Filter change indicator

Auto mode

Programmable timer

Remote control

Carrying handle

Energy star

Energy usage (max)

120W

Voltage

120V

Ozone emission

None

Size (in / cm)

Height: 23 / 58

Width: 15 / 38

Depth: 15 / 38

Weight (lbs / kg)

45 / 20

Warranty

5 years on parts, 10 years on labor

Overall Rating (max 5)

15% Price/performance

5% Design

35% Performance

15% Features

10% Noise level

20% Maintenance & Upkeep