We already know that clean water is hard to find. There are several water contaminants found in nature and the ones that man creates. Arsenic is a semi-metal found in abundance in the earth's crust. Hence it becomes straightforward for Arsenic to enter the groundwater and contaminate it. Another common reason for Arsenic to contaminate drinking water is industrial waste. Arsenic is also used to make plumbing materials, and corrosion of these can also lead to water contamination.
Once you find that the water is contaminated with Arsenic, it becomes important not to consume it. This is because it may lead to many health issues. But once the contamination is noticed, you only have two ways to move ahead. One is to completely replace the source of water which is generally not an option for many. The other is to filter and remove arsenic from water. Let us now explore the top water filters to remove Arsenic.
---
Best Water Filters to Remove Arsenic 
---
1. Best RO system to Remove Arsenic: AquaTru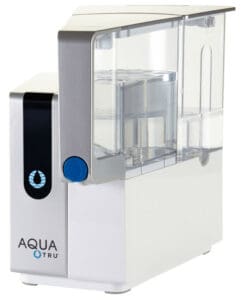 This countertop water filter system can effectively remove 99% of the total dissolved solids (TDS) from water. The AquaTru filter is a simple water filter that operates using electricity and does not need to be installed along with the plumbing system. All you need to do is fill it with water in the holding tank, and within 15 minutes, it will filter clean water in a separate tank.
The system has two pre-filters: a mechanical pre-filter and a reverse osmosis pre-filter. It also has a semi-permeable membrane with an activated charcoal filter. All these filters ensure that the water you receive in the end is clean.
Unlike the other RO systems, this efficient water filter wastes only 25% of the water during filtration. Its pre-filters may need to be replaced every 6 months; the membrane has to be changed after 2 years, while the carbon filter may need a replacement after 1 year.
Pros
It does not need installation
Good design
Does not waste a lot of water
Cons
Tends to remove healthy minerals from clean water
Only filters 1-gallon water at once
---
2. Best Water Filter Pitcher to Remove Arsenic: Epic Nano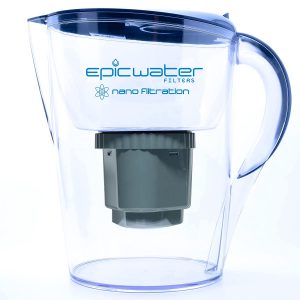 The Epic Nano filter pitcher is among the few water filters that can remove over 99.99% of the water contaminants. It can easily remove bacteria, viruses, heavy metals like arsenic, lead, iron, chlorine, fluoride, and other chemicals from tap water.
This pitcher is as effective as any other reverse osmosis water filter. Thus, the price of Epic Nano is more than any other water filter pitcher. Replacing the Nano filters will also be heavier on the pockets.
This can filter 10 cups of water, and each filter can clean 150 gallons of water before asking for a replacement. It takes about 10 minutes for the pitcher to filter out clean water. The Epic Nano is NSF/ANSI 42, 53, 401, P231, P478 certified.
Pros
As effective as reverse osmosis water filters
It is recyclable
Its filter life is double the regular pitchers
It comes with a digital indicator for filter life
Cons
Filtration is slow
Storage is less for a large family
Expensive pitcher and replacement filters
---
3. Best Countertop Arsenic Water Filter: Big Berkey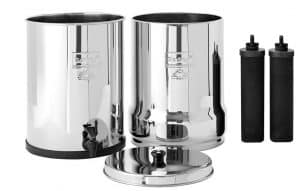 This Berkey countertop water filter is among the top preferences of many people. This filter does not have to be connected to the plumbing system or electricity. It works on the simplest concept of gravity for filtering the water. The Big Berkey claims to remove 270 impurities, of which arsenic is one. It removes 99.9% of arsenic present in water.
The Berkey filter consists of 2 and 4 elements, each of which has 6 different filtration systems. These filters are at the top and the bottom chambers of the unit. When water is poured into the top chamber, it must pass through all these filters before collecting in the bottom-most chamber ready for drinking.
Since this filter can clean water without electricity and a water line, it can be taken anywhere, even while traveling. All you need is a good amount of water to be filtered. The filters tend to last for up to 2 years. Since the entire process is manual clean water reaches the tank slowly.
Pros
Effective in removing arsenic
Easy to carry while traveling
Long life of filters
Cons
The filtration is slow
The Filter isn't certified
---
4. Best Value Countertop Arsenic Water Filter System: Crystal Quest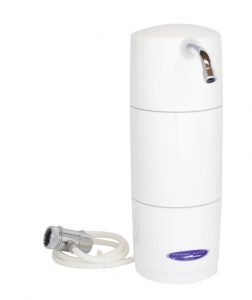 This beautiful looking single cartridge filter system is the best value for money. This filter uses a filtration process which uses the standard multistage process of filtration. However, it has a proprietary design that can remove arsenic from water and is also NSF/ANSI 61 standard certified.
The counter-top filter system from Crystal Quest is easy to install and can sit in one corner of the countertop. It can also filter water on demand and dispense water from the tap at the top chamber.
An easy pipe connects to the kitchen faucet, making the installation quick and effortless. This water filter comes in various colors and sizes for the user to pick from. The filter has 2 variants for alkaline and arsenic to choose from. This filter can easily filter 10,000 to 30,000 gallons before changing the filter. There are washable prefilters available that can further enhance the water filtration process.
The filters come in 2 kinds using the coconut shell filter and Redox alloy that effectively removes most heavy metals and other organic substances.
Pros
It is a compact unit
Easy to install
A cartridge solely for the removal of arsenic
Takes minimal space on the counter
Can easily connect to kitchen faucet
Cons
Could be better installation instructions
---
5. Best Under Sink Arsenic Water Filter: Crystal Quest Mega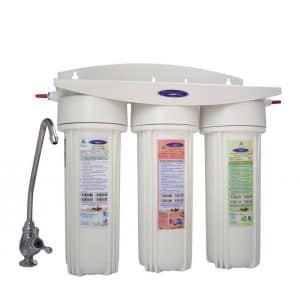 The Triple replaceable arsenic water filter from Crystal comes with 3 cartridges with an 8-step filtration system. This is also called the Crystal Quest Mega 3000. It saves the much-preferred counter space as it fits under the sink and is connected directly to the water plumbing system. The first cartridge is a multistage cartridge that employs the coconut shell with activated carbon and Eagle redox alloy. The second cartridge has a sediment filter to remove minute dust, dirt, sand, and silt particles. The third solid carbon cartridge removes the insecticides, pesticides, VOCs, and other industrial solvents, including arsenic.
The 8-stage filtration removes most of the impurities present in tap water. This filtration system is quick and easy to install. Using it is very smooth. It can be installed inside the refrigerators directly as well. All it needs is an additional hook-up which comes at an extra cost.
Pros
massive 8 steps of filtration in 3 separate cartridges
A neat unit that easily fits under the sink
Comes with all installation material
Can provide continuous filtered water for many years depending on the capacity
All filters are replaceable
Cons
Replacing the filters can be costly
---
6. Best Arsenic Water Filter for Small Houses: Crystal Quest Big Blue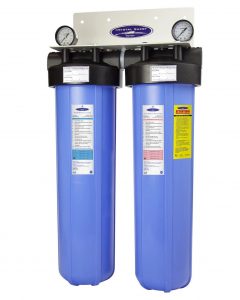 This big blue water filter from crystal quest comes in different variants to pick from. You can pick single, double, or triple cartridges. But if arsenic is the only concern you have, then luckily, even a single cartridge can efficiently remove arsenic from water.
The single-cartridge comes specifically with an arsenic reducing filter that removes up to 99% of arsenic from water. The second cartridge is a SMART cartridge with layers of GAC, ion exchange resin, and a bed of special alloy mix that removes other impurities from the water after flowing from a combination of tourmaline and ceramic balls. The final carbon block filter removes the insecticides, pesticides, VOCs, and industrial solvents.
It comes with a valve to detect leaks in the system, a UV water sterilizer, and a floor mount stand.
Pros
Multiple cartridges, each taking care of a set of impurities
If Arsenic is the concern, a single cartridge will solve the issue
Has additional functionalities like leak detection, water sterilizer, and stand
Cons
If you buy just one cartridge then other water contaminants cannot be removed
Pricier for additional cartridges
---
7. Best Whole House Arsenic Water Filter: Crystal Quest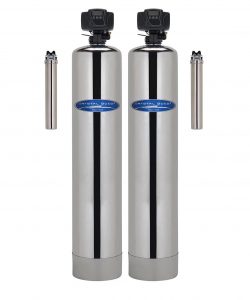 Considered as one of the top point-of-entry arsenic filters from Crystal Quest, this whole house water filter is what a home needs with arsenic-contaminated water. It comes with 3 filters: pre-filter, post-filter, and a filter dedicated for arsenic removal. It also comes with add-ons to pick from, like the water softener or the Granulated Active Carbon or redox filter.
All these layers of filter efficiently remove sand, silt, dirt, arsenic, and other contaminants improving the water quality. It can also remove pesticides, insecticides, VOCs, chlorine, and other industrial solvents.
There are multiple customization options for this water filter:
Capacity to pick from Resin of 1.5 and 2 cubic feet
Outer casing: Stainless steel and fiberglass
At $3000, this certainly isn't the cheapest water filter but offers great value for money. The installation is also difficult and requires expertise since it connects the whole-home water plumbing system.
Pros
2 resin capacities to pick from
Can be customized further
Installation is tricky but easy to follow from the manual
Cons
The budget needs to be higher
The additional filtration comes at a separate cost
---
8. Best Water Bottle: pH Revive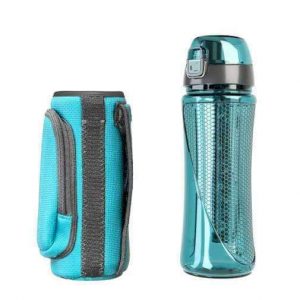 This water bottle claims to remove a wide range of contaminants from water. However, we feel that its filtration ability is limited. This bottle has filters made of small mineral balls that can efficiently filter arsenic, our point of concern in this article. These mineral balls are made of activated carbon which is already considered an effective way of removing arsenic. However, this bottle might not be the best to remove minute water contaminants.
Another way to use this bottle can be to use already filtered water that is free of other contaminants. The filters in this bottle will need to be replaced every month for effective filtration.
Pros
Provides instant filtration
Easy to use
Can be used by children
---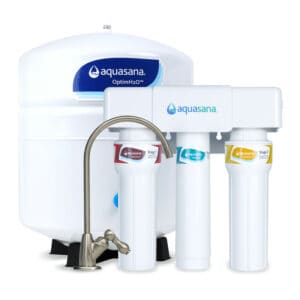 The reverse osmosis equipped Aquasana OptimH2O fits under the sink with a 3 filtration stage. It claims to remove 88 contaminants and gives pure, mineral-rich water for drinking. This water filter comes with a two-year warranty.
It uses the reverse osmosis process to remove over 90 TDS from water. It also comes with a storage tank that stores the filtered water for quick dispensing. This filter isn't certified but has been deemed effective by an independent NSF test. This filter can remove fluoride, arsenic chlorine, lead, and other difficult-to-remove contaminants.
Pros
Can remove 88 contaminants
Storage tank gives instant water from the faucet on demand
It comes with an instruction manual
Cons
It needs 4 different filters
Installation is not DIY and will need an expert
There is a possible dip in pressure
---
Water Filter to Remove Arsenic Buying Guide
---
Since we already know the available products to remove Arsenic from water, let us now dive deeper to understand the other factors to consider while buying a water filter.
What is Arsenic?
Arsenic is a metal element naturally found in the crust of the earth. Since it occurs naturally, it easily finds its way into the groundwater, land, and air. If a human comes in contact with Arsenic and consumes it, it is hazardous. Arsenic is also a major contaminant in industrial waste. If the industrial waste is let into water sources, it contaminates the drinking water.
---
Where Does Arsenic Come From? How Does Arsenic Get Into Water?
Arsenic can be found in groundwater throughout 25 states in America and Mexico, Argentina, Chile in South America. We know that Arsenic is naturally found in the Earth's crust, because of which it easily enters into the groundwater, and through any cracks in the bedrock, it enters the private well and water systems.
If the rainwater comes in contact with Arsenic, it will carry it along and store it. Arsenic is heavily used in alloying, processing glass, and tanning. These industries often leave the waste untreated and mix it with water sources. This results in the contamination of water.
---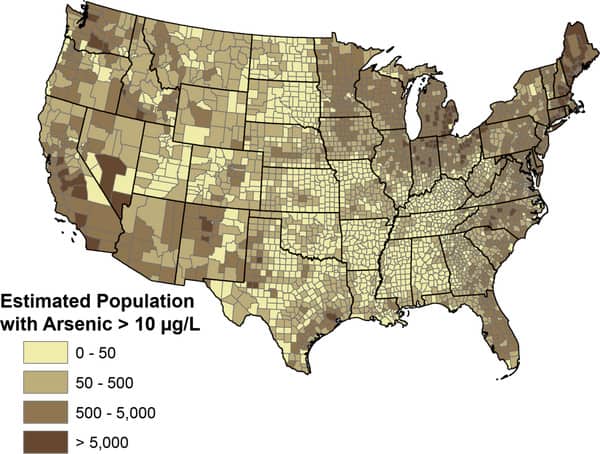 ---
Types of Arsenic in Water
There are 2 types of Arsenic found in water: Arsenic 3 and Arsenic 5. Arsenic 3 is the most dangerous and toxic form of Arsenic. It is also known as arsenite. Well, waters are likely to have arsenite. Arsenic 5 is formed when Arsenic 3 is oxidized with chlorine in the water. If the water's surface is aerated, then it most likely contains Arsenic 5.
This contaminated water can be used directly for drinking, preparing food, or crop irrigation and have a life-long health impact.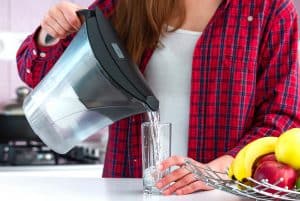 ---
How Does Arsenic Effects Health on Drinking Water?
A small amount of Arsenic does not impact your health immediately. However, continuous consumption or consumption of a high level of Arsenic can have short-term and long-term effects.
Short-term effects:
A high dose of Arsenic can cause vomiting, abdominal pains, and diarrhea. Muscle cramps and tingling effects are the other short-term issues of acute Arsenic poisoning.
Long-term effects:
Long-term Arsenic consumption will have visible effects on the skin. It changes the pigment color, creating hard patches on hands, particularly palms or soles. However, this can happen if you are continuously exposed to arsenic for over 5 years. These can be treated quickly if acted upon fast.
Fatal effects like skin cancer, lung, or bladder cancer have also been associated with Arsenic exposure for a long time. Arsenic mixed in water is known to be cancer-causing or carcinogenic. Other long-term effects include diabetes, pulmonary and cardiovascular diseases, and developmental delays.
If pregnant women consume Arsenic, it can result in high infant mortality. It can also cause damage to the fetus, which can cause cancer, heart attacks, lung diseases, or kidney failure at an early age. Arsenic is also linked with delayed cognitive and intellectual development in children.
---
How to Test Your Water for Arsenic
The best way to test your water for Arsenic is to buy a home test kit. This kit comes with a strip of paper which has to be dipped in water to get the result. Every kit will have a color chart indicating the level of Arsenic in water. When the strip is dipped in water, it will immediately change color to indicate the presence of Arsenic.
Usually, a kit will have 5 colors indicating a different level of Arsenic. White indicates 0, and a darker color indicates the ppm of Arsenic in water as per the chart. If you are looking to get detailed results of Arsenic contamination, you can contact a water testing lab. They will give you the exact amount of contamination in your water.
Note that the EPA's range of Arsenic in drinking water is 0, which means it should not be consumed. Whether you do a home test or a lab test, look at the best solution for Arsenic removal if there is an indication of Arsenic.
---
Best Methods to Remove Arsenic from Water
Arsenic from water can be removed using different ways, simple or complicated. Mere boiling the water will not remove Arsenic. Let's look at the different ways to remove Arsenic from water.
Water Filter: A water filter can be used to remove Arsenic from drinking water and other tap water. Various types of filters available in the market can remove Arsenic. It depends on the material of the filter and the process of filtration that sets each of these water filters apart. Two very common and preferred kinds of filters are:
Reverse Osmosis Filter: This water filter uses membrane-like structures to remove Arsenic and other impurities from water. This reverse membrane only lets water pass through it, filtering out all the impurities, including arsenic, within it. It is a very effective filtration system, and installing it will need you to follow instructions from the manual or just take a professional's help. This can cost you between $150 and $400.
Whole House Filters: Installing a whole house filter can help remove Arsenic from every water outlet in the house. The benefit of using this filter is that you get Arsenic-free water throughout the house, which is very effective.
Distillers: Distillers too are very effective in removing Arsenic from groundwater and well water. They use the basic concept of evaporation and collecting steam. Once the water is inside the distiller, it will convert water to steam keeping all the particle substances. All the steam is now collected in a separate tank to give clean and pure water for drinking.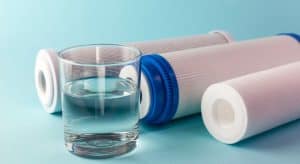 ---
What to Consider Before Buying Water Filter for Arsenic?
Type of Arsenic
As mentioned earlier, there are 2 kinds of Arsenic present in water. Most RO systems and other filtration systems can easily remove Arsenic 5. However, to remove Arsenic 3, you have to use one of these options:
Distillation
Activated alumina adsorption and iron oxide
Filtration and Coagulation
Oxidation and filtration
Arsenic 5 can, however, be removed using reverse osmosis and anion exchange. Hence it is important to determine the kind of Arsenic before looking for a solution.
POE vs. POU
Arsenic water filter systems are available for your entire house or just for your kitchen. This is the next thing to tackle whether you want it installed at the entry point or point of use.
We know that Arsenic in water can cause severe skin problems in the long term. Hence if you want to eliminate Arsenic from your bathing water or cleaning water, you will need a POE system. These are expensive, bigger, and need a lot of maintenance.
If that isn't something you are looking for, then a POU system has several options to choose from. The RO systems, distillers, water pitchers, countertops, under-sink filters are the various options to pick from. It can effectively treat drinking water and give you clean water for drinking.
Are there other contaminants?
Water has several contaminants present in it apart from Arsenic. Water may include iron, manganese, heavy metals, and other microbiological contaminants. City water may contain lead, sulfate, sodium, calcium, chlorine, nitrate, and other metals.
A vast majority of Arsenic water filters can easily remove these contaminants. Be sure to check your requirements while picking a filtration system for your home. RO systems distillers are capable of removing a wide range of these contaminants. But if your water has only Arsenic and a couple of other contaminants, you will be able to find cheaper options.
Filter Lifespan
The lifespan of a filter depends on the filtration system you have chosen. Most filtration systems mention the filter change period in their manual.
A filter may have one cartridge or multiple, and these will need replacement as mentioned by the company. Usually, a filter can last up to 6 – 12 months, depending on the usage. So, a multiple filtration setup would mean changing the filters a couple of times in the year.
Resin water filters also last a couple of months or many years, depending on the type of resin. A few resin-based filters can regenerate, but they waste a lot of water.
Flow Rate
This is a major concern when installing a whole-house arsenic water filter. When picking the water filter for your entire plumbing system, be sure to pick the right size. A smaller filter would mean low water pressure in the bath while someone is washing the dishes or doing the laundry. Be careful not to pick a bigger-sized filter as well. Otherwise, it will end up damaging the pipes with the heavy flow.
Consider the bathrooms you have or the water outlets in the house when picking the right filter.
Budget
Arsenic water filters range from $100 to almost $7500. Hence spending some time thinking about your budget is a must. If you are looking to buy filters for drinking water, i.e., point-of-use, then water pitcher, countertop filters, and under-the-sink filters are the best options. When looking for a point-of-entry solution, an ion exchange system or a whole house RO system can cost thousands of dollars upfront.
Along with the initial cost, you also need to consider maintaining the filters. Most of the filters will need a change of filters over time, which can be pricey depending on the type of filter used.
Charcoal filters are the cheapest filters, whereas distillers are the best option as they do not need any maintenance except cleaning.
---
People Also Ask
Is arsenic in water Safe?
As per EPA, Arsenic in water is not safe to consume. This is why it has declared a 0 presence in drinking water as safe. The presence of Arsenic in daily consumption of water for laundry, bathing, cooking, or cleaning is also not safe. Arsenic has many severe short and long-term effects on health. The long-term effects are irrecoverable.
Can you shower in water with arsenic?
Short-term exposure to Arsenic effects can be cured. However, long-term exposure to Arsenic contaminated water to the skin can cause skin cancer. This can happen if the exposure is for over 5 years. These effects cannot be cured; hence showering with Arsenic water is not recommended.
Is arsenic in bottled water?
Most branded bottled water is distilled water which means it is free from any impurities. Thus, a trusted brand of bottled water will not have Arsenic. However, there have been recent tests done on popular brands where it was found that the presence of arsenic in bottled water was above limits.
What would happen if you drank arsenic?
Drinking arsenic for a shorter period of time with high levels can cause diarrhea, vomiting, or pain in the abdomen. Once you face any such problems, visiting the doctor immediately can ease the symptoms.
What does arsenic taste like?
Arsenic is a heavy metal that does not have a taste or odor. Consuming Arsenic contaminated water will still taste like normal water. Hence the only way to detect Arsenic in water is by performing a test at home or through a lab.
Which form of arsenic is more toxic?
Arsenic can be found in 2 different types: Arsenic 3 and Arsenic 5. Arsenic 3 is considered to be more toxic than Arsenic 5. Arsenic 3 is inorganic arsenic that is absorbed rapidly in the blood. This is less stable and interacts with cellular molecules.
---
Final Word
In this article, we have explored the ways Arsenic contaminates water and how it impacts health overall. We have also seen various ways to test the presence of Arsenic in water and how to remove Arsenic from both drinking water and tap water.
Arsenic-free water is essential to living a healthy and disease-free life. You can use one of the above-listed water filters to remove Arsenic from your water.