Did you know that indoor air can be more polluted than outdoor air? According to the United States Environmental Protection Agency (EPA) information, our indoor air may be 2-5 times more polluted than outside.
Indoor air pollutants can cause asthma attacks, itchy eyes, sneezing, and runny nose. According to the American Lung Association, radon and tobacco smoke can cause even more dangerous health effects, including lung cancer.
The good news is that you can make your indoor air healthier by filtering out allergens, odors, and other pollutants from your space using an air purifier. Also, the EPA recommends using an air purifier.
Here are 20 of the best air purifiers available today in no particular order.
---
1. Best For Large Spaces: AirDoctor 5000 Air Purifier
AirDoctor 5000 is one of the most powerful yet, at the same time, quietest and most energy-efficient air purifiers on the market. It can keep the air clean in very large areas – up to 1,000 sq. ft. with 4x/ hour air exchange. 
Top Features:
Traps 100x smaller particles than True-HEPA filters

Air Quality Sensor monitors air quality in real-time

A lot of features include night mode and more. 
Consider also AirDoctor 1000 and AirDoctor 3000 models.
---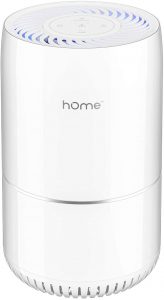 One of the best compact air purifiers is hOmelabs True HEPA Air Purifier. It is small in size, only 8 x 7.8 inches, but it features suitable air purification. It has a modern, attractive design and controls.
If you need clean air in a small room, hOmelabs is a top choice.
Top Features:
Attractive, compact size
Very quiet operation
Cool adjustable brightness night light
---
If you want an air purifier with all the latest technologies, then Molekule Air Pro is your choice. It has a smart sensor that shows real-time air particle & chemical levels, and the air purifier automatically adjusts its speed to trap those particles. And you can follow all data with your phone.
Besides the cool features, it also performs excellent by filtering spaces up to 1000 square feet with a powerful Multi-layer PECO-Filter.
Top Features:
Smart sensor with real-time data
Shows also relative humidity
360-degree air inlet and outlet
Attractive design
---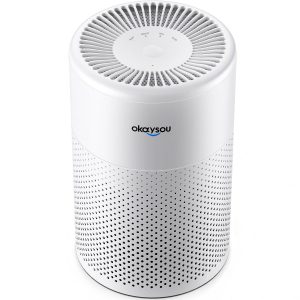 Okaysou Pega 100 air purifier consumes only 6W and it is super quiet – 22dB making it perfect for bedrooms. It has a smooth design, it is small in size. Okaysoue Pega 100 is equipped with a True-HEPA filter so it can filter bad particles from the air pretty good.
Top Features:
Awesome sleep mode
Small and Compact
Easy one-button control
---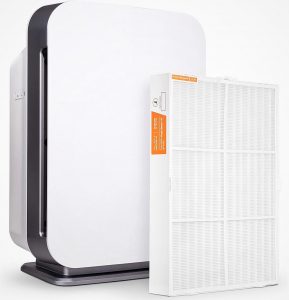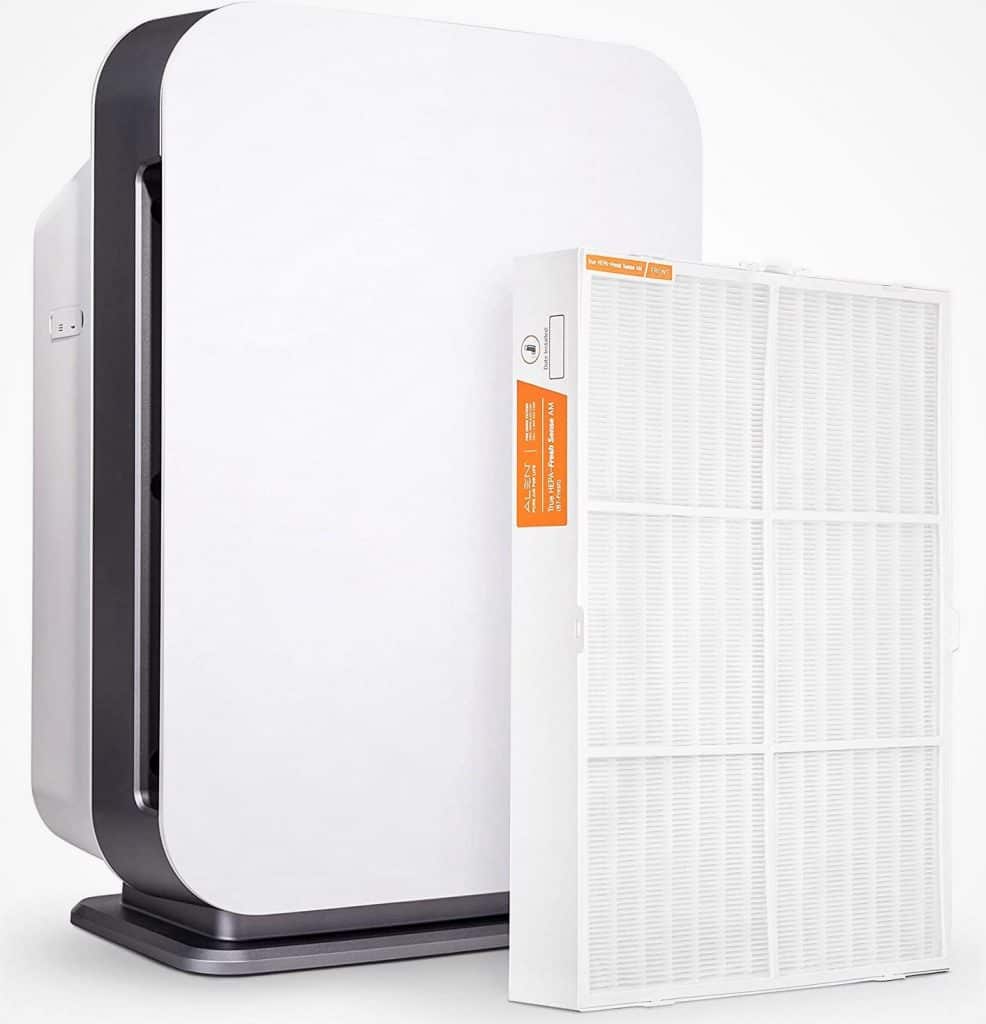 Alen BreatheSmart 75i is rated 91 out of 100 points on Consumer Reports making it one of the most recommended air cleaners. BreatheSmart 75i is suitable to cover up to 1300 square feet of large spaces, it has a sleek modern design, equipped with a lot of the latest technologies such as filter indicator, auto mode, and more.
Alen BreatheSmart 75i requires low annual maintenance and costs.
Top Features:
6 colors are available for you to choose
Energy Star qualified
LED color status shows you how dirty or clean is the air
---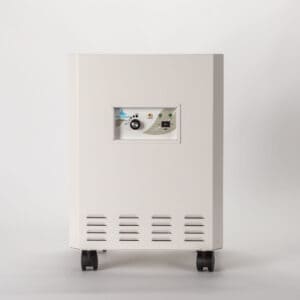 EnviroKenz air purifier uses patented earth mineral technology which can trap practically everything – gasses, bacteria, viruses, etc. The downside is the size and look. Maybe, some of you will like it but it is bulky and heavy, though casters help to move it around. Also, it is pretty loud compared to other air purifiers but you have to sacrifice something for such powerful purification.
Top Features:
Destroys even toxic industrial chemicals
Large capacity ~ 1000 square feet
best for odors
---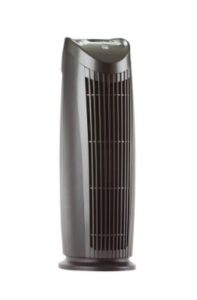 Thanks to Alen T500's space-saving design and powerful performance it is a very popular air purifier. It can purify spaces up to 500 sq. ft. large. It has 2 color options – black and white.
Alen T500 is not equipped with all the latest features but it has the most often used ones- timer and several fan speeds to choose from.
Top Features:
Saves space, is lightweight, and is easy to move around
Intuitive and easy to understand controls
4 various filter options for your individual needs
---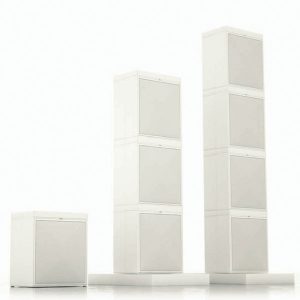 Air Oasis iAdaptAir® HEPA UV Air Purifier is available in 3 sizes – 250, 550 and 850 sq. ft. option. All 3 versions includes air quality phone app & smart controls.
All sizes are energy efficient – they use from 8 watts to 32 watts of energy.
Top Features:
Third-party lab tested
Use intuitive smart controls or app to control the cleaner
True HEPA & Carbon Filtration + Bi-Polar Ionization
---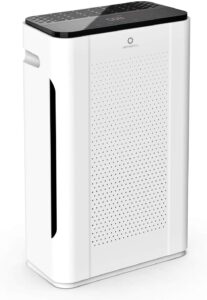 Airthereal APH260 is powerful enough to purify up to 400 sq. ft. large spaces in 20 minutes. Smart air sensors will automatically detect air quality and adjust the fan speed.
Airthereal APH260 air purifier comes with a True-HEPA filter but you can get also an H13 HEPA filter which will trap particles as small as 0.1 microns.
Top Features:
Available anion function
Filter change indicator, auto mode, sleep mode, timer, and other smart features
Low noise level
---
Thanks to Our Happi Air Purifier 5-layer powerful filtration technology it can trap particles small as 0.03 microns in up to 750 square feet large spaces 2x per hour. And it has an intelligent air particle sensor so you don't need to use any controls – it will automatically detect the quality of the air and adjust fan speeds.
Our Happi Air Purifier has also simple 3-button controls, a smart display, and a filter life indicator.
Top Features:
Buil-in LED screen shows also humidity level, temperature, and filter life
5-in-1 layer true HEPA H13 filter
Auto Mode only uses 35 watts
Check also My Happi Air purifier for smaller spaces such as bedrooms.
---
Germ Guardian AC5000 is one of the best-selling air purifiers in the world. It has an affordable price, a good filtration system, easy maintenance. It is simple without many features. Covers up to 193 square meters. Captures 99.97% of airborne particles as small as 0.3 microns and larger
Top Features:
Unit price and easy maintenance

UV-C technology

Slim design that saves space

Don't need the table; you can put it on the floor

Energy-star certified.
---
It has one of the best price/performance ratios. This air purifier can work great for rooms up to 538 square feet large. It has 6 fan speeds, air quality indicators, and many other features.
Top Features:
6 fan speeds

A lot of features – filter check indicator, timer, safety shutoff, auto mode, remote control

Well-made electronic controls

Carrying handle

Energy star qualified
---
13. Coway AP-1012GH Smart Air Purifier with HEPA Filter
Captures 99.97% of airborne particles as small as 0.3 microns and larger in spaces up to 256 square feet large. Coway AP-1012GH has a perfect filtration system and a lot of features.
Top Features:
Fashionable with a sleek black mirror effect

Many features – timer, auto mode, air quality sensor, etc.

Easy maintenance and long filter life.

Energy star qualified
---
Honeywell True HEPA Allergen Remover effectively captures up to 99.97% of airborne allergens, 0.3 microns and more prominent, that pass through the filters. For rooms up to 465 square feet. The HPA300 offers easy tap controls and an automatic shut-off timer.
Top Features:
The powerful, high CADR rating

Filter change indicator

Light dimmer

Energy star qualified
---
Healthmate Standart and Jr. air purifiers are all-steel construction with a powder coating paint finish. They have a tremendous 4-stage filter system. Removes 99.97% of all particles larger than 0.3 microns and 95% larger than 0.1 microns in rooms up to 938 square feet.
Top Features:
Excellent filtration

Very long filter life

Built of quality materials

Very well get rid of odors

Casters for easy move

Color choice
---
This air purifier has excellent multi-stage filtration. Captures 99.97% of the airborne particles as small as 0.1 microns in spaces up to 580 square feet.
Top Features:
Made of quality metal.

Powerful – 6 air changes per hour. Not many comparable air purifiers can do the same in a 500 sq ft room.

High CADR rating

Have casters for easy move

Energy star qualified
---
Great odor and chemical removal. Airpura C600 has a pre-filter, a carbon filter w/26lbs activated carbon, and HEPA-barrier post-filter – the powerful combination.
Top Features:
560CFM air delivery

Variable fan speeds

Long warranty

Casters
---
Alen calls their product one of the best air purifiers on the market today. And there is a reason. The air purifier has customizable HEPA filters, automatic smart sensors, quiet operation, and best-in-class warranty and performance. Best for large and open spaces up to 1100 sq ft.
Top Features:
Nine color options to personalize your decor today and in the future

Powerful and quiet fan

There are many great features – air quality monitor, auto mode, timer, etc.

Lifetime warranty

Lock button

Energy star qualified
---
Captures 99.97% of airborne particles as small as 0.3 microns and more extensive in rooms up to 450 square feet. Uses carbon pre-filter and True-HEPA filter.
Top Features:
Modern design, excellent electronic controls

A lot of features – air sensor, filter replace indicator, auto mode, remote control

Energy star qualified

High CADR ratings
---

IQAir HealthPro Plus air purifier is the world's most advanced air purifier. It has many #1 product reviews, and it is one of the best for allergies and asthma. This model is for spaces up to 1125 square feet.
Top Features:
Advanced filters system

6 fan speeds

Filter change indicator

Timer

Remote control

Carrying handle

5 years warranty