Back-to-college season is upon us, which means anxiety over the current pandemic for many students.
But even before this global health crisis, college dorm rooms were notorious for poor air quality. This is due to enclosed environments, shared bathrooms, and a lack of regular cleaning and laundry.
If you want to improve the air quality in your dorm room and protect yourself from bacteria and viruses, then you need an air purifier. Here are our top 8 picks for the best air purifiers for dorm rooms.
Best Air Purifiers For Dorm Room 
---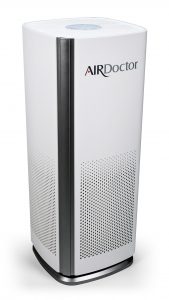 Keep the dorm room's air quality with the classic AirDoctor 1000 Air Purifier. This high-powered machine has enough electricity to keep bedrooms cool and living spaces clean.
Get exceptional cleaning capacities of four times per hour for 200 sq ft and two times per hour for 500 sq ft spaces.
Extraordinary performance
The AirDoctor 1000 starts with a cleanable pre-filter for larger particles. Then, it uses medical-grade UltraHEPA filters that are 100 times for efficient than standard HEPA filters.
Next, the VOC filter works to trap gas molecules and eradicate toxic fumes. Lastly, whisper jet fans blow out clean and fresh air.
Air quality sensor 
The Airdoctor 1000 has an automatic mode that will turn on when there is lower air quality. It uses sensors to monitor the air for bad air and other irritants, then adjusts filtration settings to clean things up.
Pros
Sleek design
Ideal for smaller dorms
Compact in size
It Can remove the COVID-19 virus
Cons
It could be a hassle to move the device around
---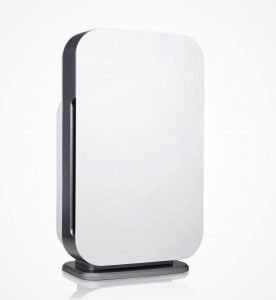 The Alen True HEPA (H13) air purifier would make a great 'breathing assistant' for dorms larger than 900 sq ft. The advanced particle sensor technology and medical-grade filtration are designed to capture up to 99% of dust particles down to 0.1 microns.
Better sleep with cleaner air 
This quiet machine emits soothing 'pink noise' for all speed settings. This air purifier has been proven to help people sleep better, having earned validation from SleepScore Labs.
Energy saver
The BreatheSmart 45i comes with five color-coded LED rings to let users know the status of ambient air inside the room. The automatic speed regulation feature keeps your machine running with just enough power needed for optimal efficiency.
Four-filter system 
The BreatheSmart 45i is the perfect air purifier for dorms. It has four different filter systems with unique functions, such as removing allergens like dust and mold and eliminating odors from pets, cooking food, or gas emissions.
Pros
Four-filter system
Capture 99.99% microparticles and pathogens using medical-grade True HEPA layer
Ultra-silent
Emits pink noise for better sleep
Cons
Expensive
It may be bulky for some
---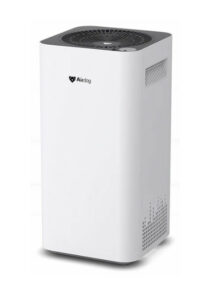 Airdog X3 is perfect for small rooms such as dorm rooms. It is not the smallest one, but that's for a reason; it comes with a 2lb activated carbon filter, which will eliminate smoke and odors.
Another filter is a graphene-infused filter – the first ever used with air purifiers. It is lightweight, durable, and dishwasher-safe. Yes, you can wash it; no need to replace it.
Airdog X3 can trap particles as small as 0.0146 microns; that's better than any HEPA filter. So Airdog X3 easily traps dust, dust mites, pet dander, mold spores, viruses, and bacteria.
Another great thing is that it consumes only 27 watts of energy. Airdog X3 has wifi and Bluetooth so that you can control it remotely.
Pros
No need to replace filters
Dishwasher-safe graphene-infused filter
Silent (under 30dB)
Ambient light shows air quality
Cons
Light can't be turned off, so be ready if you use it at night
A bit hard to remove the back cover
---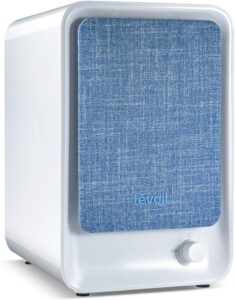 The LEVOIT HEPA Air Purifier is an excellent option for anyone looking to keep their indoor air fresh, clean, and healthy. This product includes the necessary filters to create high-quality room dehumidification while removing harmful toxins from the room's surroundings.
Three-stage filtering system 
This desktop air cleaner is made with the same filters you'd get from high-quality ones. Each unit is made with a pre-filter, a true HEPA filter, and an activated carbon filter piece. The true HEPA filter captures up to 0.3 microns particles and about 2.5 micrometers of delicate particulate matter (PM).
Aesthetic 
The LEVOIT HEPA Air Purifier features an ergonomic design with a cubic shape for better circulation and is 10 inches tall, making it a perfect fit under the desk or table.
Airflow system 
The LEVOIT LV-H126 is a desktop air purifier's outlet grill on the front and the fan speed dial. This new model has a back-to-front airflow system compared with a typical bottom air grill, making it easier for users to provide clean air directly.
Pros
Affordable price
Minimalist design
Efficiently takes out air pollutants as small as 0.3 microns
Easy to use
Cons
It only comes with basic features
Slightly higher power usage
---
5. Small but Powerful: Okaysou Pega 100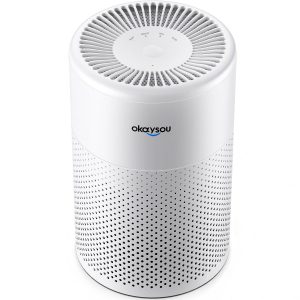 The Pega 100 is the perfect choice for small dorms looking to purify their bedroom, living room, or kitchen without too much space. This little machine can be quiet throughout use and refresh the surrounding air five times per hour.
Ultra silent 
The Pega 100 barely feels functions because of its ultra-silent feature. But it comes with a powerful fan.
On sleep mode, it only hums at a low 22dB and can refresh a little room air five times per hour—even when spinning at high speeds.
Ease of use 
The Pega 100 is a small, lightweight device that is easy to operate. There's only one button to change the fan speeds and turn the device on or off.
The filter indicator tells the user when filters need a replacement, so there's no guessing about whether or not to change these.
Advanced filtration system 
This air cleaner uses a three-stage advanced filtration to capture pet dander, dust and mold, and other microscopic particles such as VOCs less than 0.3 microns in size.
This air purifier can take out pollen or smoke because it's equipped with an H13 True HEPA Filter which works alongside its pre-filters.
Pros
Easy to set up and use
Compact in size
Easy to operate
The highly efficient three-stage filtering system
Energy-efficient
Lightweight and portable
Cons
It may not eliminate pet odors
Ideal only for small spaces
---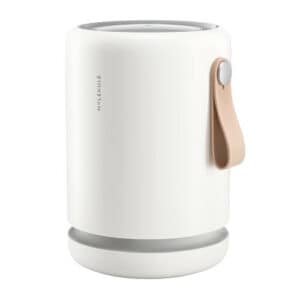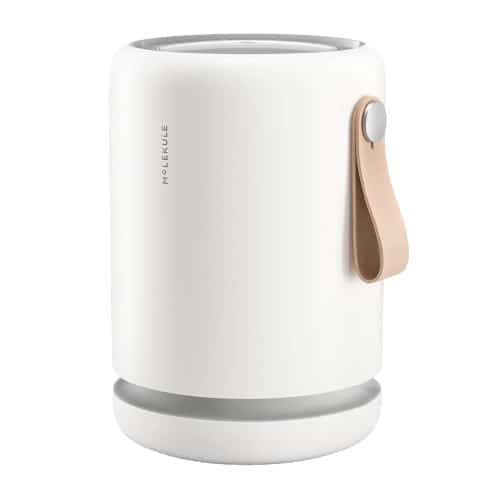 With its new air purification system, the Molekule Air Mini+ offers a better experience than its predecessor, the Molekule Air Mini.
This innovative device has a unique mechanism that senses the space's atmosphere and adjusts fan speed accordingly. It covers up to 250 sq ft with a particulate sensor and auto-protect mode to detect large particles.
Innovative features 
With its cutting-edge technology, the Molekule Air Mini+ not only purifies small dorm rooms but also keeps track of how many particles are in there.
When Auto-Protect mode is turned on, this advanced air cleaner has an automatic fan adjustment feature for when the room is too dusty or has a high amount of pollen in the ambient air.
Compact in size 
The Molekule Air Mini+ is a sleek and portable air purifier you can take anywhere in the house or office. Its user-friendly interface makes it easy to use by anyone. It weighs seven pounds making this air purifier an ideal desktop air cleaner.
Destroy molecular pollutants
The small fans act as a vacuum to pull ambient air into their filters. The Molekule Air Min+ has five fan speeds to give any room an extra cleaning boost.
It's embedded with photoelectrochemical oxidation (PECO) filter to cleanse ambient air from molecular pollutants when reacting with UV light. It also removes microscopic pathogens such as bacteria, fungi, and viruses.
Pros
Compact and lightweight
Control device using the Molekule app
Easy to set up
Superior PECO filtration
Cons
The fan may be a bit loud even at the lowest setting.
---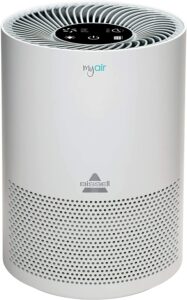 This innovative 3-in1 filter design combines high efficiency (HEPA) layer with activated carbon with the finest precoat for large particles. This air purifier protects the space from pollens and microparticles like hairspray particles and pet dander.
Low Noise 
This air purifier is ideal for nurseries, small offices, and nightstands. It only uses 30 decibels when placed on sleep or low setting.
Space efficient  
The Bissell MYAir air purifier weighs 4.6 lbs and is only 12 inches tall. It works great as an aesthetic appliance to complement most interior designs.
Pros
Easy to set-up
Quiet on low setting
Great alternative for 'white noise machine
Can turn off night light even when it's on
Cleans air very quickly for smaller spaces
Cheaper filters compared to others in the market
Cons
Loud when placed on a high setting
It May is not efficient in removing pet odors
---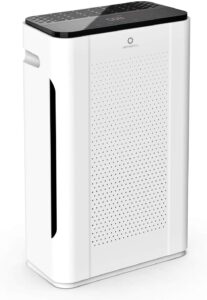 The Airthereal APH260 Air Purifier is a small but powerful dorm room air cleaner to supply rooms of up to 400 sq ft with clean, filtered, and fresh air. With CADR rates at 150 CFM, this device never rests on its laurels and changes the mode based on the room's current air quality.
Advanced filtration system 
The three-stage mechanical filtrations: a pre-filter, a true HEPA filter, and an activated carbon layer combined in a single cartridge, provide filtered air free from dander, pollen, molds, and odors. The remaining two are electronic filters for extra ozone safety.
Automatically measures surrounding air quality. 
The Airthereal's intelligent design automatically monitors the air quality in the surrounding air, and the Smart Control works to monitor and customize air purification accordingly.
Replaceable air filters 
Keep this air purifier running smoothly by replacing the filters regularly. Flashing notifications on the device enable users to anticipate the next filter replacement.
Pros
Exceptional filtration system
Affordable
It doesn't emit loud noise even at the lowest setting
---
Air Purifiers For Dorm Room Buying Guide
The size of the room affects how well an air purifier works. Bigger spaces need larger models, so buying a machine that operates more than 20% to 40% of its capacity is ideal.
Each air purifier carries a unique mechanism for filtering the air. Some are specifically geared to capture smoke or pet dander, while others have an odor-reducing feature.
Identifying predominant pollutants will help streamline air purifier choices.
---
What Are Air Purifiers For Dorm Rooms?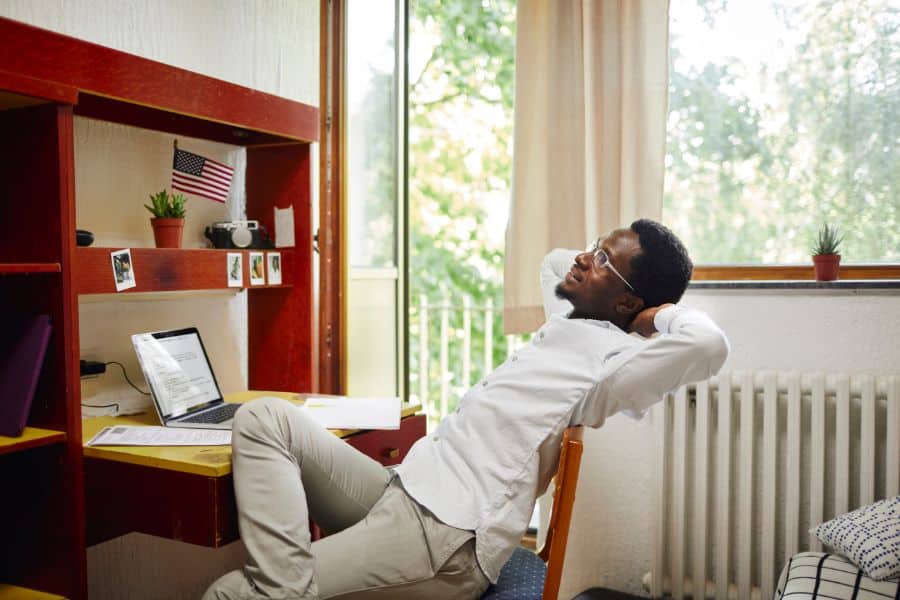 Ideally, dorm rooms would require air purifiers with True HEPA filters. This type of filer captures 99% of particles down to 0.3 microns in size, including most allergens and mold spores.
Several innovative models come with automatic monitoring features to help adjust the air filtering speed accordingly.
---
What To Look For In An Air Purifier For Dorm Room
Look for features from this checklist to streamline a suitable air purifier customized to specific dorm room needs.
Room size: The air purifier's capacity and effectivity will depend on the room size.
ACH (air changes per hour): Show how often an air purifier can filter the air within an hour.
CADR (clean air delivery rate): shows the efficiency of air purifiers based on m3/h and CFM. Ideally, an air purifier for most dorm rooms needs four air changes per hour.
Filter replacements: Most HEPA filters and activated carbon are replaceable. Check for availability if these will be locally or internationally sourced.
---
Benefits Of a Dorm Room Air Purifiers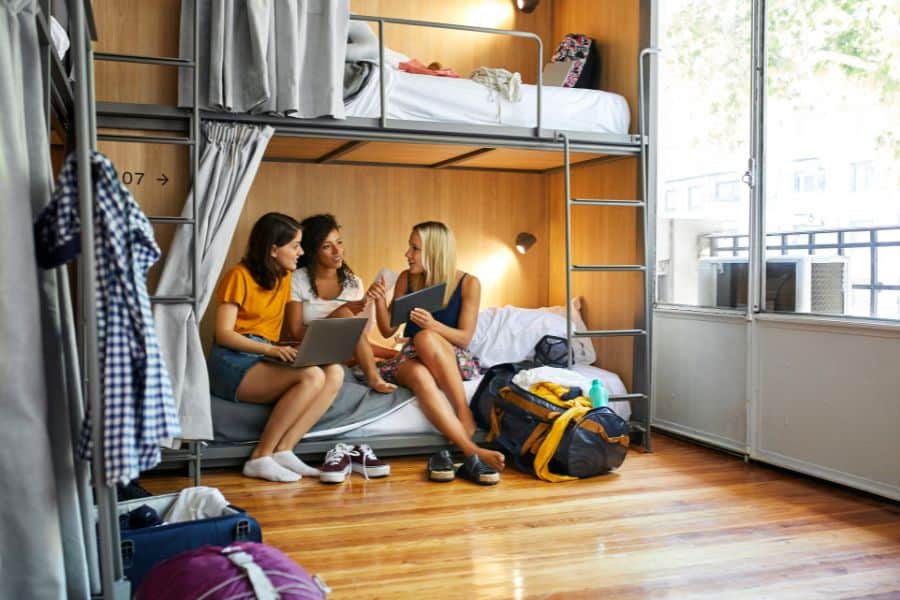 Circulating air in highly crowded places like dorms is harmful substances detrimental to health.
Air purifiers eliminate indoor pollutants and prevent triggering respiratory infections or worsening symptoms for people with asthma.
---
Common Questions About Air Purifiers and Dorm Rooms
Are Air Purifiers Allowed in Dorm Rooms?
Air purifiers are encouraged in dorm rooms, and these devices work hard to clean up the atmosphere, which is good for everyone staying within the quarters.
It's best to look for air purifiers that deliver the necessary filtering systems and keep air pollutants at bay.
Do air purifiers help in dorms?
An air purifier is a great way to keep dorm rooms free from viruses and bacteria. However, it does not instantaneously keep all microbes from circulating in the surrounding air.
It is still best paired with proper practices recommended by the Centers for Disease Control & Prevention (CDC).
How can I improve the air quality in my dorm room? 
Leaving wet towels crumpled in a heap, hanging around, or draping over wood furniture can create an environment conducive to mold growth. The added moisture made by leaving these towels could worsen air quality.
Minimize molds in the air by opening the windows and doors when possible. Air purifiers allow good air circulation to flow and stop growths from forming in a closed space. Run a small or box fan with an open window for extra ventilation if needed.
Why is my dorm room so dusty? 
Just like how your clothes accumulate dust after wearing them once, so does furniture. People's natural skin cells and fibers can settle on carpets or other surfaces in a room, leading to increased contaminants.
These microparticles could linger in an enclosed space such as a dorm room and trigger allergic reactions for those with sensitive respiratory systems.
No matter how well an air purifier is designed, there will always be some failure if the filter can't catch all those pollutants. Dust, pollens, and microbes could settle on surfaces of furniture, beddings, and other items we use.
Using a traditional duster or cotton cloth is a common mistake many of us make when cleaning our homes or office. These don't work because they only spread the dust around and agitate it back into the air rather than picking it up.
Microfiber cloths do a fantastic job holding onto particles, so use them dry and dampen them with water for greater efficiency.
---
Conclusion 
An air purifier will always be necessary for an enclosed space like a dorm room. Dorm rooms are notorious for being dirty and having harmful contaminants like smoke or viruses, putting everyone in this space at risk for respiratory problems and allergic reactions.
Purchasing a high-quality and efficient air purifier will continuously provide clean indoor air for better breathing and a healthier mind and body.