Clean air was something that everyone took for granted. We all knew it existed, but many don't realize how vital this precious resource is to our health and well-being.
Air pollution is becoming a common occurrence in several parts of the world. With this, the air quality in numerous homes and office spaces has drastically reduced with tiny particles from combustion engines, trucking exhausts, and burning fossil fuel in the surrounding air.
A reliable air purifier prevents these pollutants from circulating in any space and provides continuous clean and fresh air. Here are nine air purifiers to maintain air quality in small areas.
No time to read? Check our Top 3 Air Purifiers List 
Cleans 505 sq ft 5x per hour
Removes 99.9% of airborne particles down to 0.003 microns in size
CADR: 326 CFM
Best Air Purifiers For 500 Square Feet Reviewed
---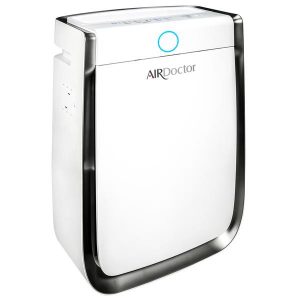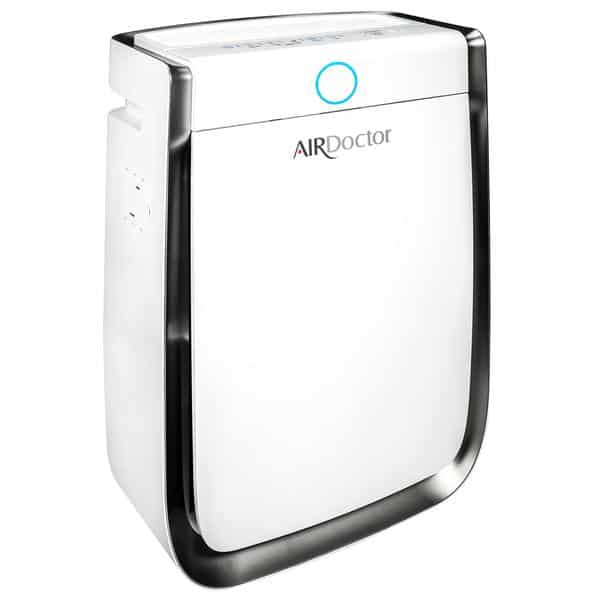 The AirDoctor 3000 Air Purifier sports a good design that makes it easy to control from any angle. It rolls out a low-hum when turned to its lowest setting while efficiently maintaining the surrounding air quality.
4-level filtration process 
The AirDoctor 3000 is a fantastic air cleaner capable of removing particles of up to 0.003 microns. Microparticles such as dust, pet dander, pollen, molds, bacteria, viruses, and chemical fumes are easily filtered by this device.
Real-time sensor
The AirDoctor 3000 is embedded with a sensor that measures the quality of its surroundings. The LED disk at the top indicates how good or bad it finds the current room conditions.
Flush out negative ions 
The built-in ionizer keeps the surrounding air fresh by taking out negative ions. It is also CARB-approved, ensuring emitted ionized air is safe for daily use.
We wrote a full in-depth AirDoctor 3000 review before.
---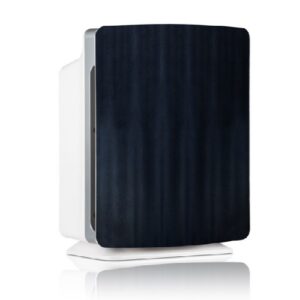 The Alen BreatheSmart FIT50 air purifier features improved technology over its predecessor. It comes to par with other brands in performance, ease of use, and intelligent operation while offering excellent warranty coverage.
Aesthetic and functional 
The sleek and high-end feel of the Alen BreatheSmart FIT50 makes it a joy to use.
High-Quality
The Alen BreatheSmart FIT50 is a well-built machine that's easy to carry and use. It has an ergonomic handle at the back of the unit, perfect for moving anywhere in the house.
Safe around kids 
The BreatheSmart FIT50 has safety features, including a vent guard and cutoff switches to prevent kids from prying into the machine.
---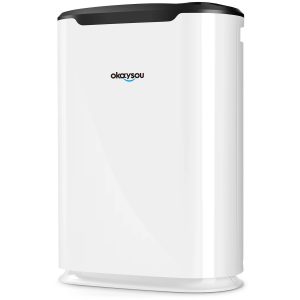 The advanced motor and unique internal design of Okaysou AirMax8L create a more efficient system while projecting clean air without much noise.
Ultra Duo filtration system 
Each device is equipped with an Ultra Duo filtration system combining these five filters in one powerful piece of equipment: a washable pre-filter, H13 True HEPA Filter, blue filter, cold catalyst filter, and honeycomb-weaved activated carbon to get rid of virtually all airborne pollutants effectively.
High-quality and innovative 
The AirMax 8L has an innovative motor with 45 vanes that work together to take in even more air. Other fantastic features include a child-lock and sleep timer.
Better sleep 
The AirMax 8L only produces 22dB of noise while running on low mode, so sleep becomes easier even when running the whole night. It comes with a modern design fit for any interior theme.
---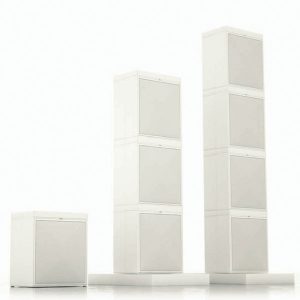 The iAdaptAir L HEPA UV Air Purifier is an intelligent home cleaner using an advanced filtrations system to manage mold, microbes, and other small particulates such as odors and dust.
Cleaner air 
The iAdaptAir L air purifier uses a patented process that involves UV light for fresher air.
Child-lock feature 
Use this feature to keep prying hands from changing the current settings. The iAdaptAir L air purifier maintains the ambient air inside the room clean and fresh throughout use.
Aesthetic display and notification
The iAdaptAir L air purifier has a sleek display setting complete with a shutdown timer, fan settings, and notification for filter replacements.
---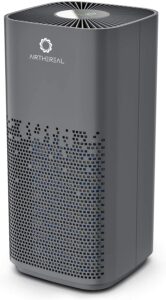 The Airthereal AGH380 air purifier is medium-sized and measures 9 inches on each side, 24-inch in height, and 7 pounds in weight, ideal for spaces not larger than 550 sq ft.
Optimum performance 
The AGH380 air purifier is perfect for large rooms covering living, kitchen, and office spaces. It has a CADR rating of 224 CFM (380 m³/h) and has enough power to recirculate air for mid-sized rooms.
Auto mode 
The fan speed of this air purifier will adjust automatically to maintain a healthy level in any room. Once the environment is balanced, it'll slow down on its own.
Works hard without the noise 
The AGH 380 air purifier will only yield a 22 dB sound when sleep mode is on.
---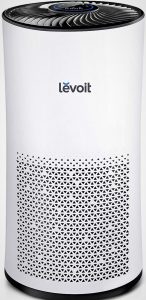 The Levoit LV-H133 air purifier is lightweight and high-performing, removing up to 99% of allergens and other polluting particles. It comes with a 3-filter system and auto mode.
Fit for large spaces 
The LV-H133 air purifier is the perfect air purifier for large open spaces. It carries a CADR rating of 466 m³/h (274 CFM), providing fresh and healthy surroundings in as little as 30 minutes.
Auto comfort mode 
With an Auto Mode in place, this air purifier will automatically detect your home's environment and adjust the fan speed so you can always enjoy fresh without worry.
Easy to operate
The LV-H133 air purifier is one of the most convenient air purifiers on this list. Along with an easy-to-use interface is the device's ability to notify users when filters need to be replaced. Once filters are changed, press the filter button for three seconds, and it's good to go again.
---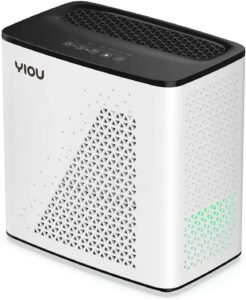 The YIOU Air Purifier uses a 3-stage filtration system fit for spaces of up to 547 sq ft. It can purify the room twice every hour and works efficiently for 24/7 usage.
Air quality indicator 
The YIOU air purifier has a high-precision laser sensor that will glow red, yellow, or green to indicate poor/good airflow quality. It can also be used as an energy-efficient lighting system by illuminating the room's atmosphere.
Best for sleep 
The YIOU air purifier can hum only at 20dB in sleep mode with the indicators half on or off and no buzz beeping sound effect. You may also use timer settings from 1 to 7 hours to set it on automatically when it's time to sleep.
Clear toxins 
The YIOU air purifier helps in the prevention of allergies and asthma. It has a CADR of 140 CFM, which can remove smoke from fires and pollen or dust particles to make homes pollutant-free.
---
The Honeywell InSight HPA530 HEPA Air Purifier is ideal for large rooms of up to 500 sq ft. It uses a HEPA filtration system to remove dander, pollen, dust, and other pollutants in the surrounding air. The innovative air quality sensor makes it easier for users to identify air quality throughout use.
Efficient air circulation 
The Honeywell InSight HPA5300 can easily clean large rooms up to 4.8 times an hour. The activated carbon pre-filter helps capture micro airborne particles while reducing odors and VOCs and emitting fresh air daily.
Big on energy savings 
Honeywell InSight HPA5300 makes it easier to save on energy, and it's good for the environment. This product earned an ENERGY STAR label by meeting strict U.Ss EPA guidelines.
---
Air Purifiers For 500 Square Feet Buying Guide
The first step to choosing an air purifier is identifying the requirements. Many factors determine which type will work best, so take some time and research before making any decisions.
What is the best way to determine what air purifier size fits a specific space? Do this by measuring the total number of square feet in each room. Choosing an appropriate air purifier will be easier once this is determined.
Small air purifiers cover smaller rooms of about 200 sq ft.
For spaces with 300 to 400 sq ft, using a medium air purifier covers these areas well.
Large air purifiers are ideal for a larger room ranging from 500 sq ft to 1500 sq ft.
Every air purifier comes with unique features and filters. Some three-system filtra ions cover basic cleaning of molds, dust, pet dander, and microbes around 0.03 microns. For extensive filters, like those with activated carbon or ozonizer, these air cleaners have four to five filtration systems capable of clearing out chemical solid fumes and microbes of about 0.01 microns.
---
What To Look For In An Air Purifier For 500 sq ft Rooms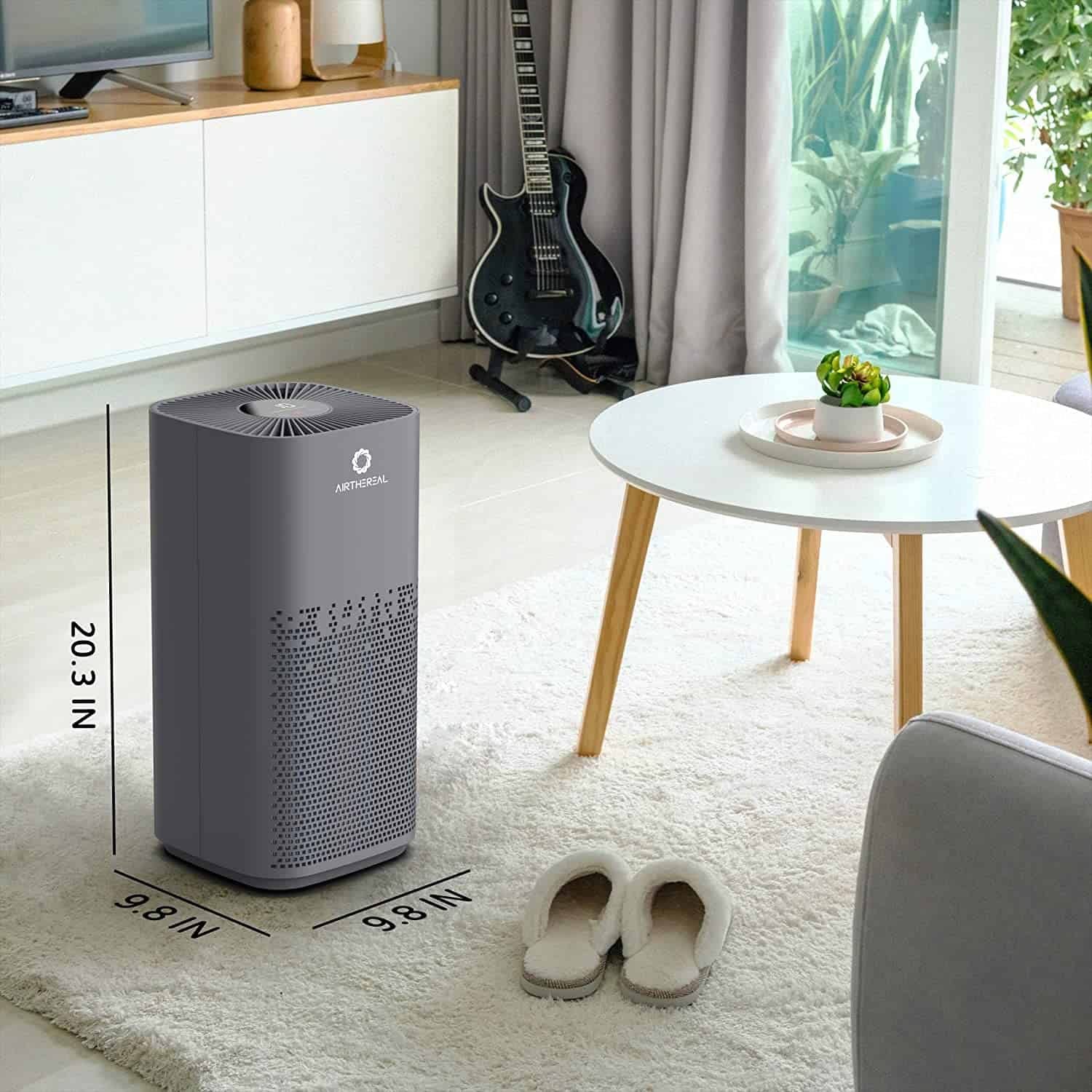 Large rooms have higher levels of ambient particles. Whether from ventilation systems or just natural breathing, these small objects can find their way into any space.
Here are a few guidelines to help streamline options and get the best air purifier for any space to avoid being overwhelmed.
Filtration system 
The most important part about any large room air purifier is the filters. More than half of all brands use a True HEPA filter to handle 0.3 micron-sized particles well.
Basic air purifier filters usually have a three-stage process. However, advanced filtra ions systems have added UV filters, activated carbon, and ionizer. Depending on your needs, talk to a professional and see if having these added filters will be most beneficial.
Chemical absorption 
People living in heavily polluted locations near highways, industrial plants, or urban cities have higher VOCs in ambient air. An appropriate air purifier will help maintain indoor air quality to avoid developing any respiratory problems or allergies. Activated carbon filters in air purifiers can counter these toxic gases in the surrounding air.
CADR rating
The CADR rating greatly measures how well a particular air purifier captures dust, smoke, and pollen.
Standard air purifiers typically have a CADR of 200. Larger rooms ranging from 500 to 1000 sq ft will require higher CADR ratings of more than 200 to clean air pollutants effectively.
Look for air cleaners with 300 to 350 CADR ratings. Or you can opt to purchase devices with lower CADRs but still come up to a 300+ range when combined. However, the latter option may put an added cost on the electricity bill.
---
Benefits Of a 500sq ft Room Air Purifiers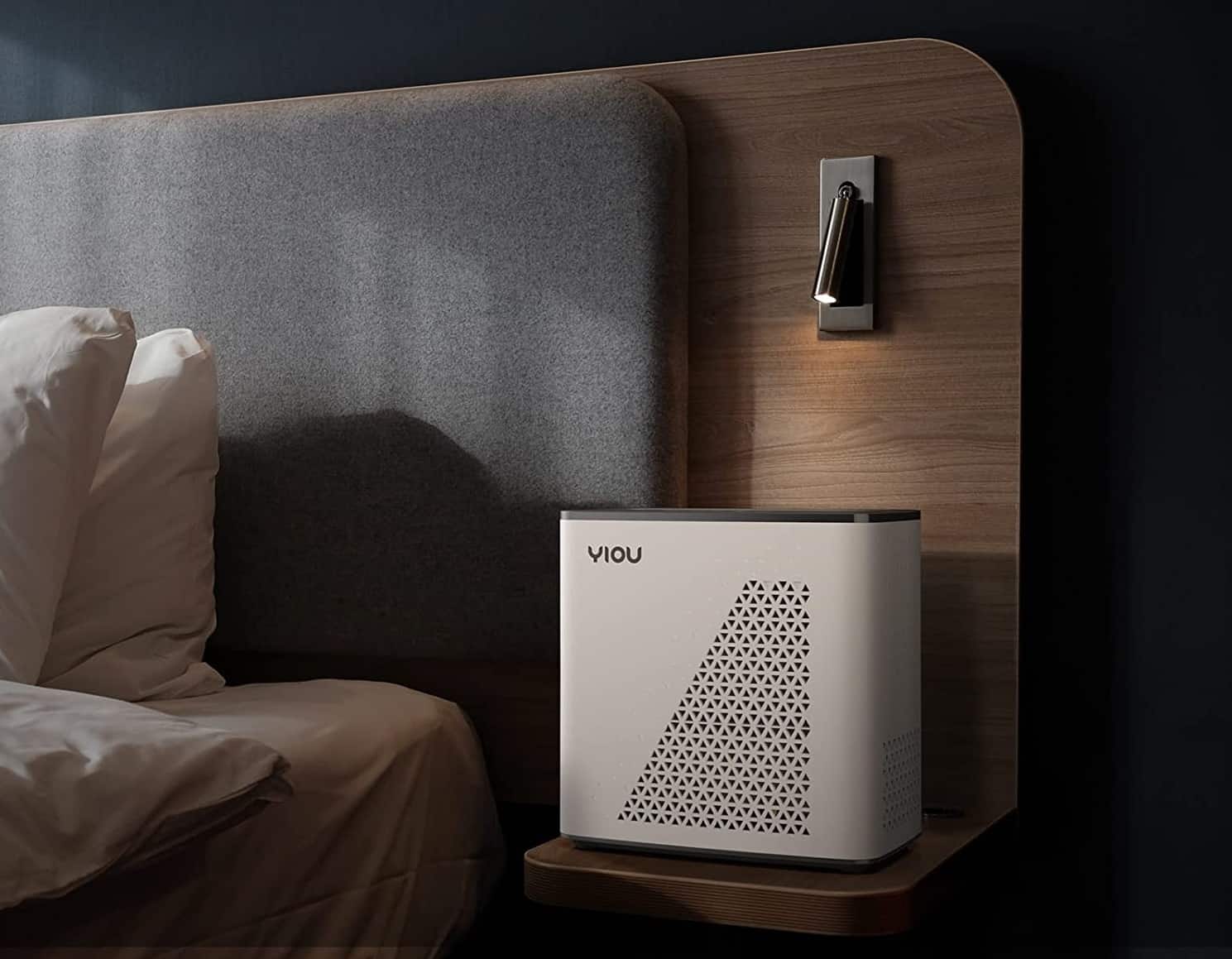 The most efficient air purifiers on the market can filter harmful particles suspended in the indoor atmosphere. Advanced air purifiers have high-quality filters to eliminate common ambient air pollution.
Allergens like pollen and pet dander could also trigger individuals with asthma. Investing in an air purifier is a great way to keep any space clean and allergen-free.
Air pollution has been shown to increase stress levels. However, clean air produced by air purifiers ensures pure oxygen is needed for the body to function its best mentally and physically.
Indoor allergens can trigger allergies or hay fever. People with asthma may experience a runny nose and itchy eyes, which lasts up to several weeks due to the inflammation caused by bad air condition. To avoid disrupting sleep, using an air purifier throughout sleeping time decreases surrounding allergens in the air. 
---
Conclusion
Lack of proper ventilation is a common reason homes and offices have poor air quality. Filters for each air purifier vary, so check with the manufacturer for replacement periods and supplies.
Air is vital to our being. And if access to fresh a d clean air may be hard to come by for some people, the good news is that there are devices called purifiers that remove pollution from indoor spaces and make them healthier for everyone to enjoy.