Whirlpool Whispure AP51030K Air Purifier Review
The Whirlpool 510 (AP51030K) Whispure true HEPA air purifier is made for rooms up to 500 square feet (46.5m). This unit is within a $200 – $350 price range and has excellent ratings. Let me show you it is worth your attention.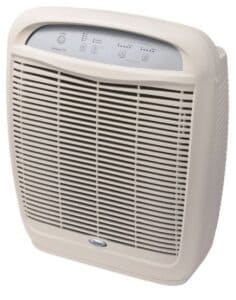 Pros
It covers quite a big space.
High CADR ratings
The filter system really works, ideal for allergy, people living with asthma, and general air quality.
The HEPA filter should be changed only once a year.
Sleep mode
Cons
Loud on the highest speed
---
Whirlpool 510 Design, size, placement
Whirlpool 510 is quite big as a room air purifier. It looks like a heater, not very stylish. But it is a brilliant design, the air inlet is in front, but the outlet is on top. So you can place it close to the wall, which allows you to save space. Also, Whirlpool 510 has built-in handles to transport the air purifier. Weight is 25lbs (11.3kg), which is ok for this size air purifier.
Height 24in (61cm), width 20.5in (52cm), depth 10in (25.4cm).
How it works and what sources of indoor pollution destroy
Whirlpool AP51030K has a fan that moves air through 3 filters. A fan is a weak part of this unit. Many customers had problems with noise coming from a fan. That is because the fan is not balanced. If you have one of them, then you got a brack. Mine works very well.
The Whirlpool 510 has a 3-stage filtration system. Pre-filter captures large particles and helps to extend HEPA filter life. A carbon filter eliminates odors. The carbon filter is too thick to eliminate the high amount of odors, but the low ones get rid of very well. The middle is a true HEPA filter, and it filters 99.97% of particles that are 0.3 microns and larger.
So with Whirlpool 510 filter system, you will eliminate dust mites, mold spores, pollen, tobacco smoke, pet dander, low odors, and other microscopic irritants that can pollute your indoor air aggravate allergy and asthma symptoms.
Whirlpool 510 Features
This unit has electronic controls and 4 fan speeds. The buttons are plastic and look cheap, but I think you will not play with them very much.

The turbo setting is good for fast cleaning. It is loud, though.

An outstanding feature is sleep mode. When you push it, the purifier

switches automatically to the low setting for 8 hours. After 8 hours, it goes back

to the previous setting.

2 Separate Filter Replacement Lights indicate when to replace the HEPA filter or charcoal pre-filter

Built-in Handles to transport the air purifier to any room in the house.

Manufacturer's 5-year Limited Warranty

Energy star qualified
Whirlpool 510 Noise level
It's quiet in the-the low setting, annoyingly loud in the top one.
I may suggest using a medium setting during the day and low in the night. Use the highest speeds only for specific circumstances.
Whirlpool 510 CADR
CADR: Pollen scores 401
CADR: Dust scores 325
CADR: smoke scores 315
If used in a recommended size room of 500 square feet and say ceiling height is 8 feet, this air purifier gets rid of smoke, dust, and pollen in just 10 minutes. Really amazing. Imagine how good it works in smaller rooms.
Whirlpool 510 Maintenance and upkeep
The manufacturer recommends changing the pre-filter every 3 months. I suggest vacuuming this filter every 2 weeks. That will save you money. Of course, they are not very expensive, the 4-pack costs around $30.
The HEPA filter should be replaced once a year. 
Filters change easily.
Whirlpool 510 is energy star qualified. Deficient energy consumption for that big unit.
---
Whirlpool 510 Summary
The Whirlpool 510 is a true HEPA filter air purifier with one of the best value general air purifiers on the market. It covers 500 square feet of space and costs between $200 – $350.
---
Whirlpool 510 Specifications:
| | |
| --- | --- |
| | |
| Capacity | 500 sq. ft. / 46.5m2 |
| Height | 24 in / 61 cm |
| Width | 20.5 in / 52 cm |
| Depth | 10 in / 25.4 cm |
| Weight | 25 lbs / 11.3 kg |
Power Consumption

Max 39 watts

Noise Level

Max 49 dBA

CADR

Pollen / Dust / Smoke
401 / 325 / 315

Controls

electronic

Warranty

5 Years

Power Requirements

110-120V

Ozone emissions

Zero