Using the tap water without filtering it might put your family's health at risk. The city water has a substantial amount of chlorine and fluoride.
You might also be an adventure lover and frequently go out on adventures. If that is the case, you need to fix that freshwater dilemma you might face so often.
In both these scenarios, Gravity filters are the best way to go.
Gravity-based water purifiers are economical, keep your water safe to drink, and are very convenient to use.
Overwhelming gravity water filters available in the market make the buying decision a bit challenging.
---
Top 8 Best Gravity Water Filters 
---
1. Best Rated Gravity Water Filter: Big Berkey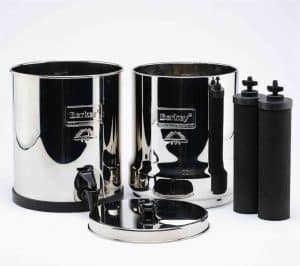 Firstly, this is capable of purifying your water more than most of the filters out there. So, whether you think about the filters that go in your refrigerator or the ones that go under your sink, Berkey has the most potential out of these.
Secondly, if you go through a ton of water, your cost per gallon reduces significantly. If you want to ensure you don't find yourself constantly replacing filters, this one is a good option.
Thirdly, most of the time, when these filters change, you don't even know it, and you end up drinking low-quality water.
But with the Berkey, you have some tests that can help you determine if it is still filtering efficiently.
The Berkey filters out the most than other filters, it has the longest-lasting filters that will work for gallons, and then you can always test to make sure if the filter is still working or not.
It can filter out pathogenic bacteria and viruses. They even sell these little on-the-go Berkeys that you can take camping, and they will even filter out any water that is not healthy.
Additionally, the Berkey is also capable of removing 99 percent chlorine and lead. It also removes VOCs, which most filters don't. Apart from this, the list of items that the Berkey Filter can remove is very long.
Moreover, the black filter inside the Berkey is cleanable. So, once you feel like the system has slowed down, you can clean these up, and it will start filtering faster again.
Now, because this is a gravity filter, you need to fill in the top basin. And then the water goes down through the layers of filters to the bottom where you can collect water to use from.
Pros
Additional arsenic filters can also be added.
The per-gallon cost of water is 1.6.
Can remove pathogenic bacteria and viruses.
Cons
It takes up counter space.
The kids can quickly drain water from this.
Summary:
The Berkey Gravity Water Filter makes your water the cleanest it can get, making your family's health is a top priority. The big thing about the Berkey is that the black filter elements inside the black carbon filter elements can even filter out some viruses that most filters cannot.
---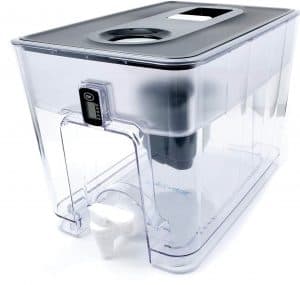 Water is essential for life, and we use it daily. This is a water filtration system set up for filtering existing tap water. Epic Pure is designed to remove 99.99 percent of all tap water contaminants, including bacteria, giardia, cryptosporidium, viruses, and over 200 tap water contaminants.
The device itself has an excellent little water dispenser here on the lower portion. The upper half is where you fill the upper reservoir through its hole.
Furthermore, the water initially collects in the upper portion and passes down through the filters for storage and drinking. The Epic Pure water filter comes with removable nano filters that just screw directly onto the bottom of the upper reservoir.
You also get an intelligent digital water timer on the front that tells you how many days you have been using the filter and when to replace it. It is recommended to change these filters after a cycle of 90 days.
This can hold up to 8.5 liters of water which can be placed on your countertop or in the fridge if you like cold water.
Pros
Eco-friendly.
Reusable.
Digital filter timer.
Removes more than 200 contaminants.
Cons
Small size.
Filters need replacement often.
Summary:
Every Epic Pure water filter dispenser you buy helps replace one thousand single-use plastic bottles. Epic Pure also has a fantastic recycling program that gives you a free water filter once you send them back four of your used water filters.
---
3. ProOne Big+ Gravity Water Filter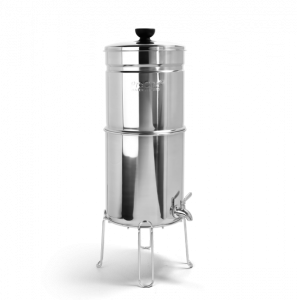 The ProOne Big+ is a life-saving device. One of the most harmful contaminants that come in your tap water is chorine. Although this is used to disinfect your city water and kill all the pathogens, it still leaves traces behind.
So, you are drinking something that can potentially kill all the good bacteria in your body too. So, the next most important thing you need to filter out from your water is fluoride.
Besides these, you need to make sure pesticides, bacteria, heavy metals, lead, pathogen parasites, nitrates, and more than 200 plus harmful things are eliminated from your water. The
It can hold up to 3 gallons and can filter it out in one hour. The water tastes fantastic and is very different from other filtered water out there.
This difference is easily noticeable. It uses the gravity system, which means water moves from the uppermost portion and filters down into the bottom-most cavity.
There is a huge price point difference between the ProOne and other filters of this league. However, you will find that it costs less but still does a beautiful job.
The next thing that you will love about the ProOne is that it has all white ceramic filters. With these ceramic filters, you don't need to buy separate fluoride filters. These are all in one. These filters are also interchangeable with a couple of other famous water purifying filters.
The body of this filter is made out entirely of stainless steel. Even the spigot is of the same material. Inside, you will find that the stainless steel is coated with silver that protects bacteria from forming inside.
Pros
Long-lasting filters.
Multi-purpose filters.
Stainless steel design.
Silver coated inside.
Ceramic filters.
Good for prominent families.
Cons
Not suitable for small families.
Summary:
ProOne Big+ filters out 98.9 percent of these contaminants for you. It is suitable for larger families because this filter can give you 4 or more gallons per day easily.
---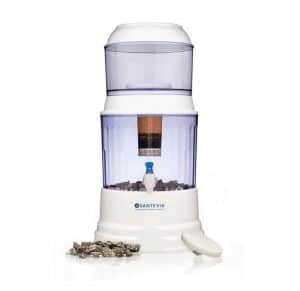 The Santevia Water filter was introduced in the market after much research, tests, and experiments. It does what it claims to do and is very convenient to use. You don't have to set up some complex mechanism to get this to work.
The filter has a 0.3micro-ceramic filter on the top, removing sediments, rust, bacteria, and other floating particles.
Then you have a six-stage filter underneath it. The first layer is activated alumina, which removes up to 99% of fluoride and does not put aluminum back in the water.
Then there is activated carbon, which does the bulk of the work to remove the bacteria, chlorine, pharmaceuticals, trihalomethanes, odors, taste, and all the other junk in there.
Next, there is another part that removes heavy metals from the water. In the end, you have fan stones that can suspend or neutralize other heavy metals as well as oxygenates.
To add to this, some stones will add calcium and magnesium, and other trace minerals in there. Finally, natural silica or sand acts as a polish to the water and an overkill secondary water filter. Finally, at the bottom, you have stones.
Next, the Santevia filters have a life span of 12,00 liters which is around four months of usage in a household of three people.
The Ceramic filter on the top is good for one year, and the stones at the bottom are good for two years. This does end up costing more, but you get what you pay for.
The Santevia can filter around 2 liters of water/ hour. This is not a lot, but it is based on the philosophy that a slow pass through the filter will allow it to do its job.
Pros
Provides premium minerals like water.
Clear and see-through design.
Multiple layers of filters.
You get what you pay for.
Cons
Filters need to be changed annually.
Not cost-efficient.
Summary:
The Santevia Alkaline Gravity Water Filter comes highly recommended for those who want premium filtered water but also want something budget-friendly.
---
5. Zen Water Systems Countertop Filtration And Purification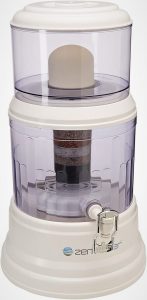 The Zen Water Systems Countertop Water Filter can transition your tap water into healthy premium mineral-like water that will keep you and your family out of harm's way. It comes with a trusty white ceramic filter that is attached to the bottom of the filter.
Activated charcoal, ceramic filters, and silica work together to remove the usual 200 plus toxins from your tap water and add the necessary minerals to make your water super fresh.
Most people who use water filters and purifiers are concerned with how often they have to change their filters. Unfortunately, some units on the market require a monthly and even a weekly change.
But the Zen Water Purifier uses ceramic filters, which can easily last up to 1,000 gallons. In addition, it means you only have to change your filters annually, significantly reducing the cost per gallon.
The Zen Water Filtration System is also straightforward to set up. The manual is very detailed. You start with dipping the ceramic dome in cool, clean water for about 15 minutes.
Next, you rinse the five-stage filter for 15 minutes to make sure if there are ant sediments or lost pieces, they wash out. After this, you take out the zeolite rock face, turn it upside down, and then pry off the bottom with a screwdriver.
You have the rocks in there, rinse them thoroughly, and boil for 15 minutes. Next, wash the tanks and then attach the spigot to the bottom very tightly with the help of the O ring and the magnetic nut.
Then, assemble all reservoirs, place the stones at the bottom, and the rest are pretty easy to follow.
Once assembled, you are ready to get all that tap water turned into refreshing spring water.
Pros
Ceramic Filters.
5-part filter system.
Countertop system.
Preserves flavors.
Summary:
The Zen Water Purifier is a countertop filter that looks appealing and performs multiple functions in just one unit. It filters your water, purifies it, adds minerals to it also makes it more alkaline.
---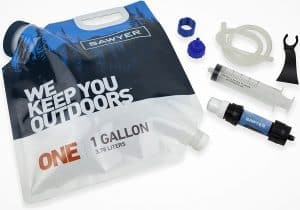 It is convenient and does an excellent job of providing you with drinking water on the go instead of making you go back to the water source plenty of times.
Let us talk about the one-gallon bag itself first. Now, filling this bag up is not super convenient. Just dunking it into the water source will not help. You need to have a smaller container to help you fill this up. It takes a lot of time to fill in a gallon with a small container. The handle placement concerning the water nozzle is also a little awkward.
One of the other things that come with this bag is the Sawyer mini, modified to make it more convenient for gravity filtration.
You can screw this onto the filter bag and then run the water out of the filter and into your desired container. Of course, it can also be opened and closed according to your users also.
The flow rate is a bit slow but remember, the slower the water flow, the more authentic the filtration water. It gives out water consistently. Next, you have a hose that can be screwed onto the filter to hang your filled bottles eventually.
You also get the backflush syringe, a double side threaded coupler that allows you to flush using a smart water bottle.
Pros
Easy to use.
Consistent water flow.
Suitable for backpacking.
Great quality.
Cons
Inconvenient bag.
Limited application.
Summary:
The Sawyer Gravity Water Filtration System is a classic must-have for your water filtration needs during camping. This filter is a perfect option for backpacking, especially if you are going on a group. It can fill up to one gallon of water.
---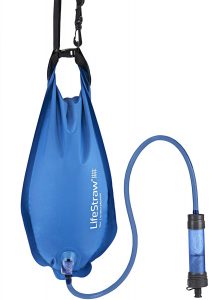 LifeStraw filter features a dual filter combination. It can filter up to 25 gallons and remove chlorine and heavy metals from the water.
Then you have the microbiological filter that is good for up to 500 gallons which equals three years of fresh drinking water.
It can remove all parasites, bacteria, e-Coli, giardia, and protozoa from the water. This way, you can make sure you have nice and clean drinking water.
The unit itself has very lightweight and can roll up into a compact unit. Once fully assembled, detach the hose. It is essential to protect the clean end from contaminated water while filling at all costs.
Make sure that the cap is on. The nice thing about this filter is that there are a few different ways to use it.
You can use it as a receptacle. You can use the water filter straw individually, too, with any other unit.
It features a massive opening in the bag, making it very easy to collect water. On the other hand, filter bags with small tiny spaces can make it difficult to collect water, especially in shallow conditions.
It has a nice long handle making it easy to scoop out water. Then, fold it from the top and clip it. Make sure you prep the filter properly before you start the filtration process.
Hang the gravity filter in a high place and let the filter do its job. To stop the filtration process at any point, all you have to do is re-cap, and this way, the water will remain in the bag. In addition, it gives you the option to filter water as you go.
Pros
Large opening.
Easy to collect water.
Multi-purpose straw filter.
Consistent water flow.
Summary:
LifeStraw Flex Advanced Water Filter is a common and trusted choice of filters amongst campers. It might not be the fastest filter out there, it takes around 40 minutes to filter one gallon of water, but it is nice because it filters a good amount of water at once.
---

The Gravity BeFree Water Filtration System from Katadyn is a lifesaver for backpackers and campers alike. It comes in different versions, and you have a personal 0.6-liter bottle, then there is the 1-liter bottle and the 3 liters bottle.
The filters can clean up to a thousand liters depending on the quality of water you are filtering.
Then, you can either scoop it in or use a container to pour water into the bag. The scooping technique is challenging to fill in from shallow areas because the mouth is too small.
It might take multiple attempts to fill the bottle. Then, just screw on the filter and drink the water straight out of the bottle or hang it up in camp and have it filter your water while you do other stuff.
The filtration speed on this one is pretty fast. It will filter around two liters in a minute if you squeeze it. The material is urethane or a type of polyurethane, but it is BPA-free.
Pros
Fast filtration.
Convenient to carry.
Lightweight.
Simple process.
It can be heated to 140 degrees Fahrenheit.
Cons
Small opening to fill in water.
Easy to get punctured.
Summary:
The Katadyn Water Filtration System is ideal for camping for larger groups. The process to use this is very simple. First, you need to screw off the filter and fill the bag with water.
---
Gravity Water Filter Buying Guide
What is a Gravity Water Filter? 
There is a lot of different type of water filtration processes out there. As the name suggests, a gravity water filter uses gravity to pull water down through layers of filters, purifying and filtering it in the process.
---
How Does a Gravity Water Filter Work? 
Gravity water filters purify water through a multiple-stage water purification process. The number of stages may depend on the kind and number of filters in your specific model. The system proceeds without using any harmful chemicals or a power source like electricity or gas.
Initially, you fill up water in your unit through the top. Once the water is added, gravity pulls it down. The water then goes through different filters and stages.
If your device has a ceramic filter,2, then that successfully filters out almost all impurities. In addition, some have separate carbon filters, sediment filters, and even fluoride filters.
Once the water passes through these stages, all the impurities that need to be removed are removed. The foul taste and smell also reduce to a below identification level. Next, most filters use stones and sand to add extra minerals to your water, giving it the desired freshwater taste.
Essentially, gravity pulls water downwards, making it go through filtration and purifying stages in a gravity water filter.
---
Types of Gravity-Fed Water Filter Systems
You will find that there are two types of gravity-fed water purification systems. One
is the countertop type, and the other is the hanging and or bottle type.
Talking about the countertop water filtration systems, these are ideal to use indoors in the comfort of your home.
Ideally, you need to place it in your kitchen near your tap area so that it is easy to be refilled. These types are primarily for indoor use; some units can be kept in the fridge, but that's the maximum flexibility you get.
The countertops come in different materials, shapes, and sizes, from BPA-free plastic to stainless steel bodies.
The other primary type you have is the hanging gravity filter. These are made explicitly as travel gear to use outdoors while hiking, camping, or just adventuring alone or with your friends.
These come with plastic foldable lightweight bags that you use to fill in water. You attach a filter to the lower end of the bag with a hose that delivers water into your desired container.
The hanging types also come in different shapes and sizes. From personal use bottle sizes to one gallon, it just depends on your use.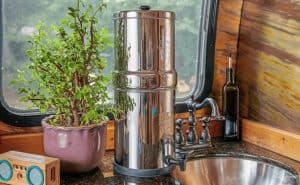 ---
Advantages & Disadvantages of Gravity Water Filters 
Like all things, gravity water filters have their advantages and disadvantages too.
The first and foremost advantage that you get has safe and healthy water to drink at all times. We all should know by now how tap water is not safe to consume, mainly because of all its chlorine.
Impurities in the water like metals, bacteria, and viruses all get filtered, and you get safer water to consume. If this is not enough, know that these gravity water filters help you save a lot of money.
Bottled water is expensive to consume; annual costs can be reduced a lot. Also, gravity systems do not use any power source to filter your water for you. It also enhances the taste of your water significantly.
Now, you also should be aware of the few disadvantages using a gravity filtration system might have. However, there is no doubt that it saves up on bottled water costs and stays environmentally friendlier than other options.
However, it still needs filter replacements very often. Some compared to the others cost less or more. You also need to be very vigilant to find out when it is time to change that filter. These filters also take up quite a lot of time, so it can be a long process to go through.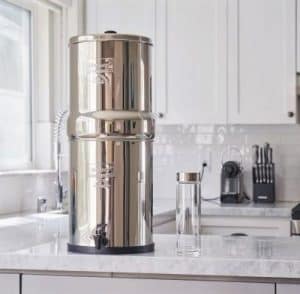 ---
Things To Consider Before Buying a Gravity-Fed Water Filter
Indoor Or Outdoor:
Before deciding on your filter, you need to know where and what to use it for. Do you want it for your everyday household use? Do you want something only while you are outdoors, adventuring into the wild, or camping?
If you want an indoor use filter or an outdoor use filter depends on answers to the above questions.
For everyday household use, you need to get an indoor countertop gravity water filter. And for outdoor usage, you should go for the hanging gravity filters. These are lightweight and convenient to use during your adventures.
Filter Media & Lifespan:
Different models out there have different life spans on them. This mostly has to do with the life span of your filter.
Some units have filters that can filter through 1000 gallons, and then some need to be changed weekly instead of annually. However, most people go for filters that last longer as it reduces the cost per gallon immensely.
Next, what media do you want your water being filtered through? Sand? Ceramic? Rocks? Carbon? All these have different uses and give different results. Usually, ceramic filters with additional layers of sand and rock filters are the best mediums to filter your water.
Filter Effectiveness:
How effective is that filter? You need to do a thorough check on the effectiveness of your filters. Suppose they are doing what is being claimed or not. You also need to be very careful and change filters on time to ensure maximum effectiveness.
Gravity Systems Flow Rate:
The more layers of filtration, the cleaner your water is. But, this also then takes up more time. Most filters out there that are doing a good job will take time. For example, you have some outdoor filters that give water at a 2 liter/ minute rate. Then some take 3- 6 hours to filter out a gallon of water.
Portability: 
Do you need a portable filter? For outdoor uses, you might. Simply opt for a hanging kind. These are lightweight and foldable, making camping convenient.
If you want an indoor filter, you don't need something that you want to move around frequently. Choose accordingly.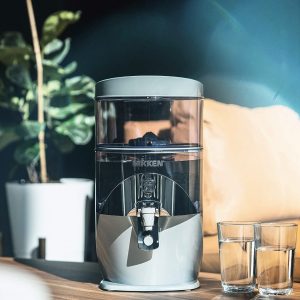 ---
FAQs
Are Gravity-Based Water Purifiers Good?
Yes, if you use ones with a sound filtration system, they can be effective. They are more environmentally friendly and also safer than tap water.
Will A Gravity Water Filter Soften Water?
No, water filters cannot soften hard water. You need a particular machine system setup for that.
How Do You Use a Gravity Filter?
Using gravity filters is very simple. You start by priming and assembling it according to the instructions in the manual. Then, all you have to do is pour in water and replace the filters timely. After that, the gravity system does the rest by itself.
Which Is Best, A Hanging Water Filter Or a Countertop Water Filter?
There is no comparison between the two. So, does the answer depend on what do you want to use it for? For indoors, countertops are the best, and for outdoors, hanging gravity filters.
How Do You Know When to Change Your Filters?
You need to be very careful with this. In most filters, you don't have a direct indication system. However, with some units, you can do quick tests to determine, and some have a digital timer that helps you keep track of your filter.
Most often, when the water flow gets too slow, the filters are too dirty. So keep an eye out for that.
Why Is It Important to Change the Filters?
If you don't change filters, you might end up getting dirtier water than tap water. This is because the filters stop working after some time.
How Much Does a Gravity Filter Cost?
Gravity water filters can cost anywhere between $50 – $500+ with an annual cost of $70-$150.
How Often Should You Clean Your System?
Ideally, you need to clean your system once a month.
---
Conclusion
So, there you have it. Our top 9 gravity-based water filters and purifiers are suitable for indoor and outdoor uses. Sift through all this information and trust us, you will find the most suitable gravity water filter for you in the list above!