If you aren't getting enough heat in your car while driving it or when it first starts up, you will want to have a portable car heater available.
You should have one of these in your vehicle at all times in case of any emergencies, which means you need to know how to pick the right one.
Here is our comprehensive guide to helping you choose the right model for all of your needs, so keep reading on to find out more.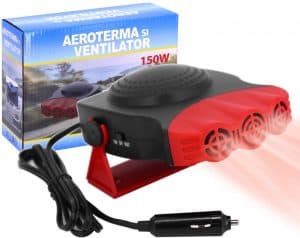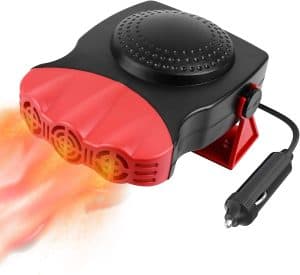 Top 10 Best Portable Car Heaters 
It can be complicated and confusing when looking at and eventually buying a portable car heater.
However, if you are aware of some of the top models, then it can make it easier, here are a few of our top models, including:
If only the best will do for you, this model will be ideal, and it can be plugged into the cigarette socket to power it. This would be ideal for your car and traveling and camping so you can get the warmth that you need. The car can be heated up within 1 minute, and it will also help to clear the fog and ice off the windows quickly.
This is a 150W device, and you should make sure to plug it in when you are using it and then store it away when not in use.
Pros
Affordable
Sturdy
Easy to use
Cons
Doesn't spread air very far
Verdict
If you don't mind the design but instead want something sturdy and easy to use, this will be the model for you.
---
If you want something that will be mounted to your vehicle's dashboard, this might be the right model for you. This can blow not only hot air to warm up the area but also a cold area to cool it down during the summertime as needed. It uses an arm to adjust it as needed to direct it to the right area, making everything much easier when using it.
This can be used at any angle possible, which means you don't have to worry about whether or not it can reach the location you want it to.
Pros
Adjustable arm
Easy to use
Budget-friendly
Cons
Some items are missing from the box when delivered
Verdict
For those who want something that can be adjusted easily, then make sure to have this model written down on your final list.
---
3. Best Budget Option: Gardwens Portable Car Fan with Air Purification 2 in 1 Fast Heating & Cooling Function
If you find yourself without an air conditioner during the summer, then this heating and cooling fan is going to be perfect. This will be great since you can attach it to the roof or even on the window to keep it upright, and then you will be able to adjust the angle you want. This heats up within a few seconds, and it will help with defrosting as well as keeping your entire car warm.
Pros
Easy to use
Lightweight
No set-up required
Verdict
If you search for something that you can easily mount in your vehicle and forget about, this is the right model for you and your needs.
---
4. Tamehom 150W Portable Cooling & Heating Fan
If you are going to use the heater for defrosting your vehicle, this might be the right model to put on your list. It is easy to use, and you can turn the heater back and forth from the windows to face you to get the heat in all areas. It can also help cool down the car, and it is built using the highest quality materials possible.
This would be great for any vehicle size, including an RV if you want to help crank up the heat or the air while driving.
Pros
Great for defrosting
Easy to maneuver
Affordable
Cons
Heavier than other models
Verdict
If you are looking for something that you can move around and make defrosting your windows easier, then go ahead and check out this option.
---
5. WizPower 12V Car Heater
For those who want a sturdy and stylish looking machine, this one is ideal, and it has a boxed shape and can easily be mounted on your dashboard. This can be used with your cigarette lighter socket, and it doesn't even take 1 minute for it to start heating the surrounding areas. This will be extremely durable, and all of the wiring and cords are created to prevent fires and other issues.
Pros
Affordable
Lightweight
Sturdy design
Verdict
If the size doesn't matter to you, then go ahead and check out this model that might suit your needs since it can heat up within 1 minute.
---
6. Drtulz 150W 12 V Red 2 in 1 Heating and Fan
If you search for something that will be easy to use, this model might perfectly suit your needs. It is easy to change between fan and heat and turn it off, and it starts heating the air within 1 minute. This is made with high-quality plastic to keep it from getting overly warm, and it will be able to handle significant drops as well.
This can be mounted wherever you want it to, so make sure to find the ideal place so it can reach all angles.
Pros
Budget-friendly
Lightweight
Easy to use
Cons
Uses an adhesive sticker for mounting
Verdict
If you don't want to deal with a lot of buttons or switch from hot to warm, this is one of the top models that should be on your list.
---
When it comes to getting the simplest designed machine, this is the best one, and it can easily be moved around to get different parts of the car. This is a 150W device, and it is going to work for not only small vehicles but also for your RV or even your SUV. This will be a great heater, and it can also give you some cool air during the hotter parts of the summer, especially when the sun is blaring down.
The rotary holder allows for 180° movement, so you can use it for defrosting the windows as well as heating your area.
Pros
Affordable
Stylish design
Easy to use
Cons
Heavier than some other options
Verdict
When it comes to buying a car heater, this might be one of the top options to look at, especially if you want something stylish and easy to use.
---
You must be keeping your car warm enough to keep the snow and the ice from collecting during the winter. This model would help you with that, and it can heat up very quickly, and it can be moved around at a 360° angle so it can get every nook and corner. The cables are made using pure copper to avoid any fire damage, and the plastic is high-quality as well.
Pros
High-quality build
Affordable
Lightweight
Cons
Not heat as well as others
Verdict
This affordable model might suit your needs for those who need something easy to install and use.
---
Another great option that you can check out is this one, and you can use the convenient handle to move it around, so you don't burn yourself. This will be easy to change up between on and off and heating and cooling based on your needs. The high-quality plastic used for the body is heat resistant, and you can use this in your RV, SUV, or a vehicle of any size.
Pros
Convenient handle
Easy to use
Affordable
Verdict
Go ahead and check this model out if you have a small budget, and if you don't want something overly complicated to use.
---
If you want something that will stand out from the other car heaters, this model would be perfect for you. This would heat up in only 5 seconds, and you can easily adjust the angle from the back without burning yourself. It can be mounted in a wide variety of ways to make it easier for it to reach all of the angles in your car, no matter where they are. It also has a head attachment that you can use to direct the airflow up or down.
Pros
Can be mounted in various ways
Easy to use
Sleek design
Verdict
When style and usage come together, this is the model you get, and it will be unique and elegant.
---
Portable Car Heaters Buying Guide
When you are searching for the right portable car heater, there is so much that you are going to want to consider before you buy anything. If you know why you would need one or the advantages and the types, it will make it much easier for you to choose about buying one.
When Do I Need a Car Heater?
If your current built-in heating and cooling system don't work in your vehicle, then this would be the right time to buy a car heater. Also, if you want some extra help in defrosting the windows during the winter or if you aren't getting enough heat in the back, then this is the best way. If you feel that you need any extra heat or even cooling for your car, then go ahead and buy one and install it.
Advantages of Using a Portable Car Heater
There are numerous advantages that one should think about when it comes to using a portable car heater, including:
Allows you to pinpoint the location where you want the extra heat
Helps with defrosting the windows when you are dealing with snow and ice
Can help with keeping the windows defogged while driving
It doesn't cost as much as replacing the entire heating system
Can give extra heat during the winter
Go ahead and ensure that you know all of the various benefits that you can enjoy when you have a portable car heater installed in your vehicle.
Types of Portable Car Heaters
There are a few different types of portable car cooling and heating devices that you should know about, such as:
Windshield mounted – If you want something that would be easy to install and use, you want to look at the options you can install on the windshield. These are often simple to use and can be used only when the car is running.
Propane – Another good option that you can opt for is one that is run by propane, but these aren't often used while the vehicle is running. These are easy to use and should be used at night or when you are stopped.
Ensure that you know what the right type of heater will be for your needs and which one you will want to buy.
Factors to Consider When Looking for a Portable Car Heater
When you are looking at the various models, there are some factors that you would need to look at before you can narrow down your list. Some of these factors include:
Heater type – Think about the type of heater and what else it can do, including cooling down the car during the summer.
Car size – You would also need to find the right model that would fit the vehicle that you are driving, especially if you have a larger car.
Noise – Another thing to think about is how noisy the machine will be and what you can handle, especially if you will be traveling and people will be sleeping.
Heating capacity – You also need to know the capacity for heating to know what it would be able to handle, helping you determine the size needed for your car.
Energy efficiency – You also want energy efficiency, so find out just how much energy it needs to operate and how fast it would heat up.
Knowing the factors that would help you make the right choice is important, ensuring that you know the various factors.
---
How Do Car Defrosters Work?
If you are looking for something that would help with defrosting the windows, then this is ideal. These work by pointing the hot air at the windows so that the ice and snow can be melted away so that the driver can see. These work great and should be used during the winter, especially when you start up the car.
Are Portable Car Heaters Safe?
Most people wonder if these heaters will be safe to use, and the answer would be yes. These can just be plugged into your cigarette lighter socket to be powered, and they can help with defrosting windows and even increasing the overall temperature in the vehicle. Make sure that you are using the machine as directed to be sure you are preventing damages.
---
FAQ
Do these work in heating my vehicle?
These are a great alternative to cranking up the heat in your car since you can adjust where the heat needs to go. They are ideal for defrosting windows along with giving heat boosts to you.
Can I sleep while my portable car heater is running?
You should avoid falling asleep while these portable devices are running, especially for long periods of time. They might get overly warm, which means they would shut off, or they can cause damage.
How do I mount the car heater?
The majority of them would come with the mounting devices you would need to install, and they might come with adhesive strips. You would need to remove the covering and then place it where you want it to be, and then let it go.
When should I use one to help defrost my windows when I start up my car?
If you are in a cold climate and ice, snow, or even rain on the windshield, you will use your car heater. It would help to not only break up the snow and ice, but it can also help you with any fogging that might make driving hard.
---
Conclusion
Ensure that you find the right portable car heater for your needs, including your vehicle's size and the amount of heat you need. These will be very safe to use, especially if you choose the windshield mounted options and use them as directed. Go ahead and pick one of these top models to purchase for your heating and cooling needs.