The increasing level of pollution in the air, both indoor and outdoor, is becoming a major issue nowadays. Since the air present indoors does not circulate as much as outdoor air, many air pollutants grow inside.
However, an air purifier can help you with this problem. It can freshen up stale air, which helps decrease the risk of health diseases that are caused due to indoor air pollution. These air pollutants can become a cause of neurological difficulties, and respiratory problems and exacerbate asthma symptoms. A high-quality air purifier will help remove a variety of indoor pollutants, making sure to keep you healthy.
Air purifiers can do wonders. They have filters like the true HEPA filter, which guarantees to remove up to 99.97% of airborne pollutants.
This might mean a lot for homes that get a lot of dust, particularly those near crowded areas. If you live in a big house, then indoor air pollution will be a concern for you and your health; that is why an air purifier for your space is necessary. We understand that you want to live a healthier life, which includes breathing clean air; that is why we made this helpful guide, particularly for you. If you want to know all about air purifiers, then you have come to the right place.
Best Air Purifiers for Large Rooms 
---
Continue reading the guide to select the most appropriate air purifier for your large room by looking at some of the best features. These features will help you make the right decision.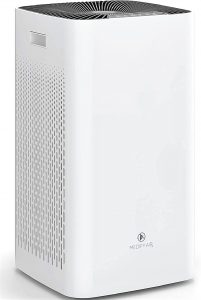 The Medify MA-112 v2.0 air purifier is a modern and sleek device that comes in two colors: white and black. Here are some of its most notable features.
Large body 
This Medify MA-112 air purifier has a larger body, carrying twice as many air filters. That is why it is the best purifier for a large room. This air purifier has a width of 15.7 inches and a height of 28.3 inches.
Filter
The Medify MA-112 v2.0 air purifier contains three filters, the activated carbon filter, prefilter, and True HEPA filter. The Medify MA-112 Air Purifier's activated carbon filter is included in the composite filter to neutralize VOCs and odors. This layer of the air purifier has activated carbon pellets instead of an impregnated-type filter. These carbon pellets are more efficient and can capture odorous and gaseous substances with the help of the thousands of spores present in them. As a result, you will be able to breathe toxin-free and particle-free air.
Impressive CADR rating
According to the Energy Star certificate, the Clean Air Delivery Rate, or CADR Rating, for the Medify MA-112 is 450 CFM.
Noise Level (Db):
The maximum noise level of Medify MA-112 is 70dBA.
Pros
It is available in two colors.
It has a modern touch control panel.
It comes with a child lock feature.
It has a sleep mode.
Cons
It has no smart control.
It has no auto mode.
---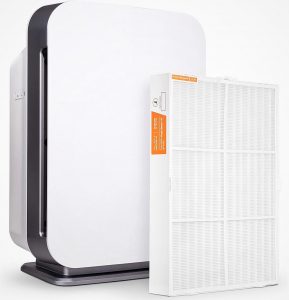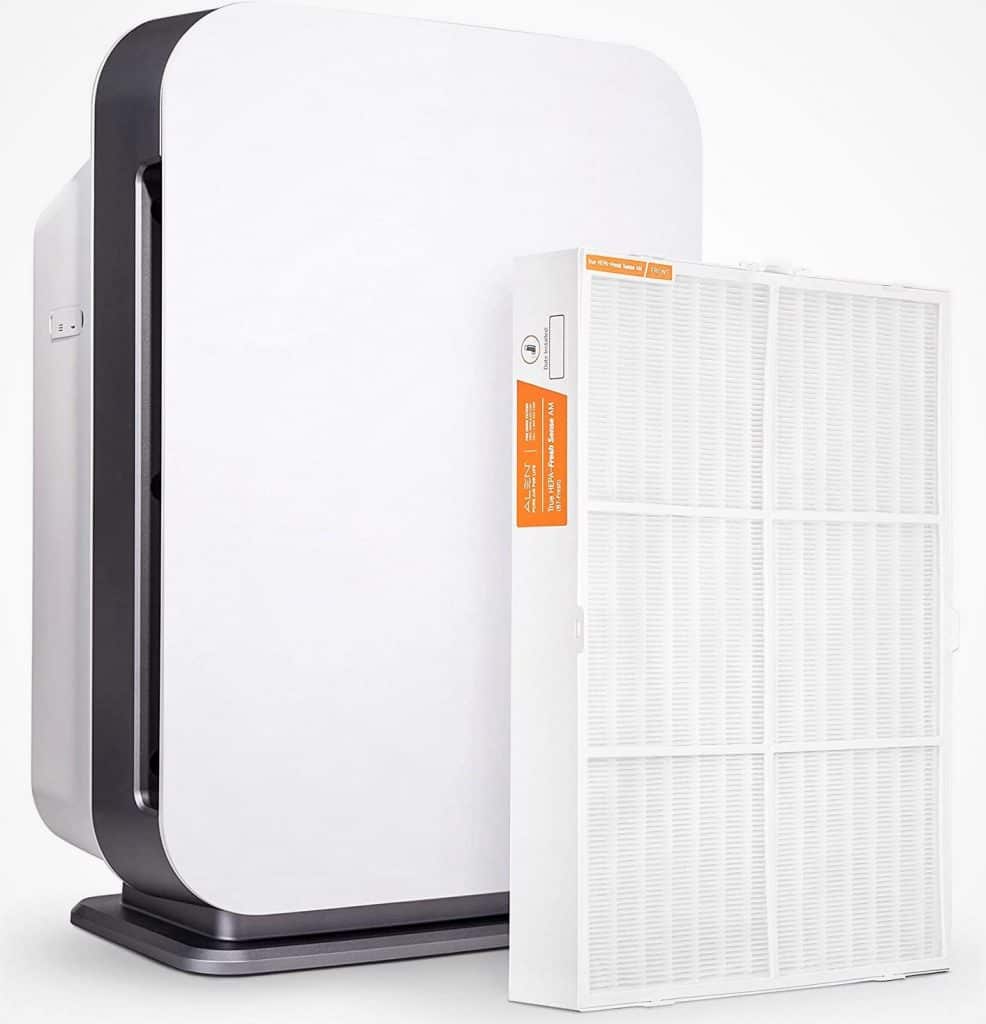 The Alen BreatheSmart 75i is one of the most efficient air purifiers in 2021.
Coverage area
This energy-efficient and powerful purifier covers an area of up to 1,300 square feet per 30 minutes.
Filters 
The Alen BreatheSmart 75i uses a single combination filter within the air purifier to purify the air. This air purifier has different types of filters that you can choose according to your requirements. There are three different sorts of filters available.
Allergies
Odor + Allergies
Allergies + Smoke + Odor
The Allergies + Odor + Smoke filtration system is the most effective and complete, including an activated carbon filter, HEPA filter, pre-filter. These filters provide complete spectrum protection against all forms of pollutants.
Noise Levels and Fan Speeds
The BreatheSmart 75i allows five fan speeds to choose from. The air purifier produces a sound that ranges from 25 to 49 decibels depending upon the speed of your fan. The sound level of 25 decibels is similar to whispering at a distance of a few feet and, therefore, it will not wake you up while you sleep. The sound level of 49 dB is comparable to that of a refrigerator.
Many users may be able to sleep through it without difficulty. The sound that BreatheSmart 75i produces is Pink noise. This sort of noise has a lower frequency and is thought to promote better sleep.
CADR rating 
The Alen BreatheSmart 75i has an impressive CADR rating of 400 CFM.
Pros
It is ideal for large rooms.
It comes with a lifetime warranty.
It contains air quality sensors.
Cons
The Alen BreatheSmart 75i is expensive as compared to other air purifiers.
---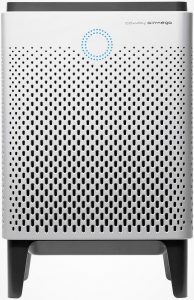 The Coway Airmega 400 Smart Air Purifier is an excellent choice for large rooms and comes in two colors: silver and graphite. It has a number of features, including:
Coverage area 
When used as directed, the Coway Airmega 400 room air purifier detoxifies at least twice an hour and can cover rooms up to 1,560 square feet.
Filtration 
The Coway Airmega 400 room air purifier contains two levels of filtration. These filters can catch 99.97% of air pollutants such as noxious fumes, volatile organic compounds, even as small as 0.3 microns.
Prefilters:
It contains a prefilter that can be washed and is present on each side of the unit. The prefilters can last a few years if not torn.
Max2 filters:
Under the prefilters, there are two Max2 filters, one on each side. These filters can last up to 1 year if properly maintained.
Noise level 
The noise level of this air purifier varies between 22 and 52 decibels (dB). So despite having a higher fan power, the Coway Airmega 400 is quiet and would not disturb your sleep.
CADR rating 
Although Coway does not specify it in their handbook, Independent testing indicates that the Airmega 400 Smart Air Purifier's CADR for smoke, dust, and pollen is 410 CFM.
Pros
It is energy efficient.
It comes with a five-year warranty.
It is WIFI compatible.
It can capture 99.9% of pollutants in the air.
Cons
The Airmega 400 smart Purifier filters have to be replaced after some time, which is a bit expensive.
---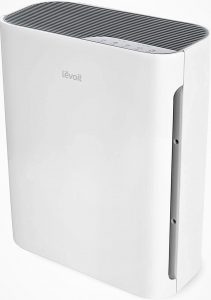 Levoit currently offers 15 air purifiers, with the Vital 100 fitting perfectly in the middle. It has decent filters and a good airflow rate, and it is completely free of ozone. In addition, this top-rated air purifier is reasonably priced. Let's look at some of the features it has:
Filters 
This air purifier includes a three-filter filtration system that works well. These filters contain a detachable prefilter, an H13 HEPA filter, and a honeycomb activated carbon filter.
Prefilter: The pre-filter is comprised of a foam-like substance that can be washed. You can enjoy fresh, odorless air by cleaning the pre-filter. If the filter becomes clogged, wash it or vacuum it regularly.
Honeycomb filter: The honeycomb structured activated carbon filter follows the pre-filter. This filter adsorbs undesirable scents using activated carbon pellets.
HEPA filter: Finally, there's the HEPA filter. With a 99.97 percent effectiveness, this higher-class H13 HEPA filter blocks tiny pollutants as small as 0.3 microns. You have to change the HEPA filter after every 6 to 8 months.
Coverage area 
The Levoit Vital 100 Air Purifier can purify an area of up to 300 sq ft to 500 sq feet that is why it is ideal for bedrooms, workplaces, and living rooms.
Noise level 
This Air Purifier is incredibly quiet during operation, especially at the lowest speed in which the machine produces 23dB of noise. This noise level is somewhat higher than a mild breeze in the trees, or a whisper heard from a meter away at 20dB.
The purifier produces 50dB at its greatest fan speed. This sound is comparable to that of light rain or a washing machine.
CADR rating:
It is 130 CFM on the CADR rating scale.
Pros
Prefilter is washable and detachable
It has touch control.
The design is compact.
It is 100% ozone-free.
Its maintenance cost is low.
Cons
It has no remote control.
It does not come with a pet lock feature.
It produces a loud sound at top speed.
---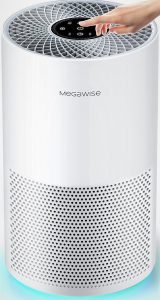 The MegaWise Smart Air purifier comes with a lot of unique features, such as:
Coverage area 
The MegaWise Smart air purifier has a unique fan structure with high efficiency and strong purification effectiveness. That is why it can clean larger rooms up to 1008 sq ft in a maximum of one hour and smaller areas of 504 sq ft in half an hour.
Filters 
It contains four filters that guarantee to get rid of 99.9% of air pollutants including, smoke, pet dander, pollen, and mold spores. It can filter larger particles and even the smaller ones up to 0.3 microns. Anybody looking to improve the air quality in their house would benefit from this product.
Noise level 
The MegaWise Smart Air Purifieroperates quietly and effectively, with noise levels as low as 24dB. 
Pros
It has dual composite filters.
It has a touch control system.
It has the option of a child lock.
The MegaWise Smart Air Purifier comes in three colors.
Cons
The only disadvantage of this air purifier is that the replacement cost of filters is very high.
---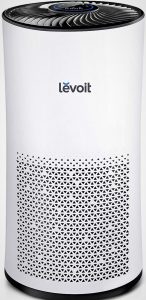 It is an ideal air purifier that filters particle and gaseous air pollutants without creating ozone or other potentially dangerous byproducts. That is why Levoit LV-H133 is the safest option.
Filters
This air purifier contains three filters: a true HEPA filter, a pre-filter, and an activated carbon filter. The prefilter carries huge air pollutants such as dust, hair, lint, and pet fur. The Levoit LV-H133 Air Purifier's true HEPA filter is used to catch and eliminate smaller particles up to 0.3 microns. Last but not least, there's an activated carbon filter. This filter absorbs cigarette smoke, household scents, kitchen odors, VOCs thanks to its granular activated carbon structure.
Coverage area 
The Levoit LV-H133 Air Purifier is best for large rooms and can cover 250 sq ft to 1030 sq ft.
Noise level 
The noise level of this air purifier does not surpass 54 dB. This is the sound of an average home conversation or numerous huge electrical transformers at a distance of at least 100 feet.
CADR rating 
This air purifier has a CADR rating of 235 CFM. 
Pros
It has low noise levels.
The filters of the Levoit LV-H133 Air Purifier can be easily replaced.
It has air quality sensors.
The air filter contains a built-in display.
Cons
It has no smart feature.
There is no remote control option.
---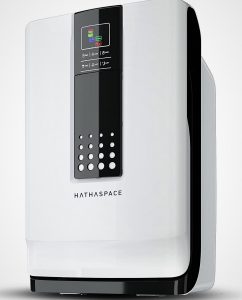 HathaSpace HSP001 Smart Air Purifier is a unique air purifier with a variety of features such as:
Filters 
This air purifier has a unique 5 stage air cleaning system. The pre-filter is equipped to remove large particles, while the True HEPA filter removes smaller air pollutants up to 0.3 microns. It also contains a cellular activated carbon filter that assists in removing gaseous pollutants such as smoke and VOCs. Other than that, it has an antibacterial filter that targets germs and bacteria. Last but not least, the ionizer removes the rest of the contaminants from the air.
Coverage area 
The HathaSpace HSP001 smart air purifier covers space from 350 sq ft up to 1500 sq ft.
Noise level 
The noise profile of the HathaSpace HSP001 starts at 21 dB and rises to 48 dB. That's quite an impressive amount of noise produced as compared to any other air purifier.
CADR rating 
The CADR rating of HathaSpace HSP002 is 160.
Pros
It has unique air filters as compared to other air purifiers.
It produces a shallow sound.
---
Air purifier buying guide
How much area can a large Air Purifier cover? 
If you are planning to buy an air purifier for your large room, make sure to buy a large one. A small air purifier won't cover much surface area in your room, which would kill the reason behind buying it. While on the other hand, a large air purifier can cover a 500 to 1000 sq ft area. That is why a large air purifier would be able to purify the air perfectly.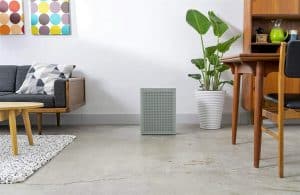 ---
What is maximum airflow in Air purifiers?
The rate at which air enters a purifier in a particular amount of time is known as airflow. Flow rate is generally expressed in CFM or cubic feet per minute. The most important aspect in determining the airflow of an air purifier is the rate of the purifier's fans, which pull air into the machine and then through the filters. A purifier's ability to consume dirty air determines how well it can return clean air to the room.
An air Purifier should have an ACH of four cycles per hour. Those with severe allergies may need to increase the ante to two cycles every hour or pay twice as much in purification to compensate. Maximum airflow is essential in an air purifier for it to function correctly.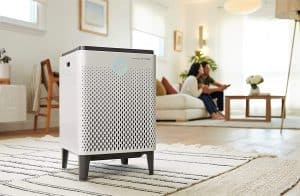 ---
Large Room Air Purifiers FAQ
Do air purifiers work in large rooms?
Any air purifier can remove dust, pollen, and other contaminants from the rooms in which they are installed.  However, you must ensure that the air purifier you purchase is appropriate for the size of the space. If you buy the improper air purifier model, the air in the room will most likely not be cleaned effectively.
It relies on the air purifier's power and how much space it is equipped to clean.
Can an air purifier be too big for a room?
If the air purifier's capacity or CADR rating is too large for your space, it will cause issues. If the CADR rating of the air purifier you're contemplating surpasses the room area by a significant amount, it might be too large for your room. It is always preferable to get an air purifier with a good CADR rating.
That is, having a slightly larger air purifier is preferable to having one that is too small for your room. If you try to save money by buying an air purifier that is too tiny for your space, you will be defeating the device's purpose. The purifier will be unable to filter the indoor air to an acceptable level. On the other hand, an air purifier device with a CADR rating slightly larger than your room size will operate flawlessly.
What Is The Best Large Room Air Purifier?
The Alen BreatheSmart 75i Air Purifier is energy efficient and powerful; that is why it can cover a large room up to 1300 sq ft. This air purifier comes with three filters that remove small particles, large air pollutants, dust, and any odor. It produces a shallow sound of 49 dB as compared to other air purifiers. It would help if you were assured that it would not wake you up at night while you sleep. Last but not least, its CADR rating is 400, which is very impressive.
Will a small air purifier work in a large room?
Small air purifiers are only suitable for spaces that are less than 300 square feet in size. If the room is any larger, you'll need a more powerful air purifier. A small air purifier will not complete the job. For rooms with less area, small air purifiers may be sufficient. Even if your bathroom is small in size, you can consider using an air purifier. The only time a small air purifier will work well in a larger room is if numerous similar air purifiers are positioned in various corners of the room.
Multiple tiny air purifiers in one location can outperform a single large air purifier at a high cost. Therefore, a small air purifier can work in large rooms only if the purifier capacity is matched to the size of the space in which it will be used. Therefore, purchasing an air purifier that is smaller for the size of your room will be a waste of money as it won't work efficiently.
Can you use 2 air purifiers in a large room?
Yes, you can, but the only thing to remember is that each air purifier is meant to cover specific square footage, so putting two devices in one room that are together too efficient to clean it is likely a waste of money. To avoid high costs, ensure that the coverage area is large enough to support two or more air purifiers. Furthermore, both air purifiers should use different filtration processes.
Is it better to buy a bigger air purifier?
It would be best if you always chose the air purifier that goes with the size of your room. If your room is small, go for a small air purifier, and if it is large, you must buy a large one to get maximum results. A small air purifier would not efficiently work in a large room, killing its purpose. That is why you must first determine the room's accurate size you wish to purify before selecting the appropriate air purifier size. Then you'll want to get an air purifier that meets or exceeds those requirements.
For the purest air, choosing the proper air purifier size is critical. An air purifier can technically be too large for a room. It will, however, clear the air effectively.
How long does it take for an air purifier to clean a room?
Cleaning a room with an air purifier might take anything from 45 minutes to two hours. You must consider the air purifier's purifying coverage, room size, and fan speed to get a better estimate of how long it will take to cover a space. While some air purifier companies claim that a whole room's air may be purified in as little as 30 minutes. However, this is only possible in small rooms. At the same time, an air purifier in a large room will take more time than that. That is why it's fair to expect the air to clear out after at least 45 minutes.
Does an air purifier make air dry?
An air purifier doesn't really eliminate moisture from the air. It can, however, make the air feel drier, mainly if your air purifier is too big in size for your room or is operating too fast. In the winter, air purifiers are frequently utilized to substitute ventilation. However, because chilly winter air is usually dry, the air cleaner is not to blame for the dryness. The air purifier can only trap pollutants such as dust, pet hair, mold, pollen, and so on; it can't remove moisture from the air. When the indoor air is cold, low humidity is more typical.
---
Final thoughts
If you are planning on buying an air purifier for a large room, you must go through this guide and consider every detail that can help you make the right choice.