We can do nothing about the outdoor air, but we can ensure that the indoor air we breathe is clean. Wondering how? By using an Air purifier.
Air purifier technology walked in over the years, complementing the need for clean air. Over the years, a lot of variants from different brands got launched.
Finally, however, we bring you a sneak peek of the best air purifier models, i.e., AirDoctor 5000 and IQAir HealthPro Plus.
Product
Filters
Filters
2 Pre-Filters, 2 Carbon/VOC Filters, 2 UltraHEPA filters
PreMax Filter, Granulated Activated Carbon Filter, Pelletized Chemisorption Filter, HyperHEPA filter
Coverage 5x/hour
Coverage 5x/hour
868 sq. ft.
450 sq. ft.
Coverage 2x/hour
Coverage 2x/hour
2170sq. ft.
1125 sq. ft.
CADR (Smoke)/CFM
Fan Speeds
Power Consumption
Power Consumption
10 - 100 watts
27 - 215 watts
Noise Levels
Noise Levels
30 - 50 dB
22 - 69 dB
Dimensions
Dimensions
16" (D) x 16" (D) x 29.75" (H)
H 28" x W 15" x D 16"
Weight
---
AirDoctor 5000 Vs. IQAir HealthPro Plus – Design Comparison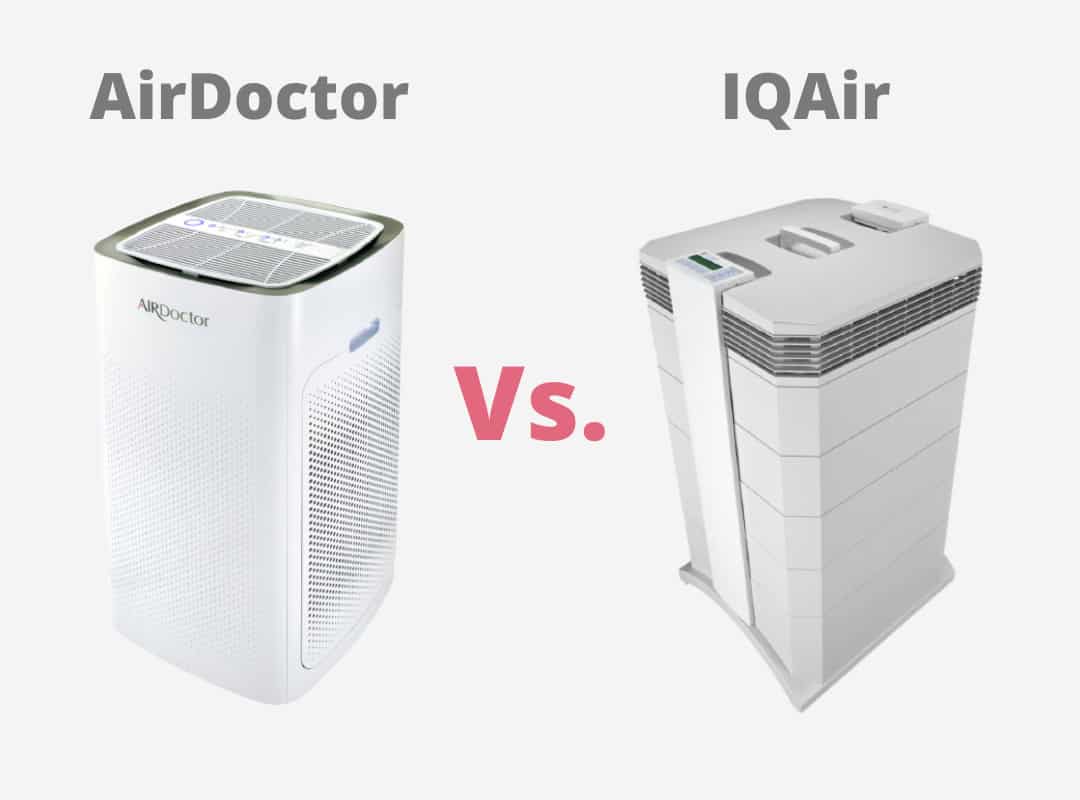 Air Doctor 5000 
Made to suit big spaces with high ceilings, the AirDoctor 5000 is designed with a white perforated external body. It comes in a single color, i.e., white.
The size dimensions of 16" (D) x 16" (D) x 29.75" (H) prove that the model is made to cater to wide spaces as well. Place it in a corner, and you can be assured that your living space is filled with clean air.
AirDoctor 5000 purifiers weighs 33 lbs. It may sound a lot, but it has casters, so move it quickly.
IQAir HealthPro Plus 
Made in a simple design, this air purifier can sometimes be mistaken for a tower cooler. It comes in a white body by standard with vents on the top.
Recently IQAir introduced the new Klaus Series to get this air purifier with a more elegant wood craftsmanship design. But you won't like the price, which is way above the $2000 mark.
This air cleaner is H 28" x W 15" x D 16" in size with a handle on top and wheels at the bottom. As the IQAir HealthPro air purifier weighs around 35 lbs, casters will help you move it around.
Conclusion
The size and weight are identical for both units. The difference is how they are designed. AirDoctor 5000 air purifier air inlet is from both sides and outlet through the top, but the IQAir air inlet is through the bottom and outlet through the four sides near the top.
So it may be better to keep the IQAir air purifier in the middle of the room because air will be distributed all around. It won't be good to keep it near the walls or corners because some air will go into the walls.
---
AirDoctor 5000 Vs. IQAir HealthPro Plus – Functionality
AirDoctor 5000
AirDoctor 5000 has a purifying capacity of 868 sq. ft. 5x/hour or 2170 sq. ft. 2x/hour.
With an air quality particle sensor installed, the machine can be called a smart one. It turns on the moment it senses that the air quality is dropping. It also adjusts the fan speed based on the air quality. The indicator on the machine displays the air quality.
It has six fan speeds, so you can also use it in smaller rooms using lower fan speeds.
The power consumption of the cleaner is the Lowest Speed-10 watts and the Highest Speed – 100 watts. So no more than $8 per month if working on the highest fan speed all the time. And the noise level is between 30-50dB.
IQAir HealthPro Plus
IQAir Healthpro Plus has a purifying capacity of 450 sq. ft. 5x/hour or 1125 sq. ft. 2x/hour.
IQAir Healthpro has an LCD that shows you information about fan speed settings, filter remaining life, timer settings, and language.
At the lowest setting, the power consumption of IQAir HealthPro Plus is 27 watts, and 215 watts is the highest. That is around $16 per month if you run it on Speed 6 all the time and a lot less if using it on lower fan speed settings. And the noise level is in the range of 22-57 dB.
Conclusion
AirDoctor 5000 can clean the same size space twice faster as IQAir HealthPro Plus. It also has an auto mode which IQAir doesn't. As a result, AirDoctor consumes less energy and is also quieter.
IQAir air purifier plus is the advanced timer. You can set different settings for each day. It also comes with remote control, unfortunately with limited functions.
Both air purifiers have filter replacement indicators, but IQAir has a better one because it shows the remaining hours for the filter, so you can know when you will have to change filters without surprise.
---
AirDoctor 5000 Vs. IQAir HealthPro Plus – How Do They Work?
Air Doctor 5000
AirDoctor 5000 comes with a multilayered filter system that consists of a pre-filter and a gas/VOC filter that helps clean the air from various pollutants, allergens, odors, and more.
Complementing these two filters stands the ultra HEPA filter that cleans the air from pet hair, cigarette smoke, bacteria, viruses, and more.
And these filters come from both sides of the unit. So, yes, you get a double guard.
Combined filters can clean up to 99.97% of the particles as small as 0.003 microns covering everything.
IQAir HealthPro Plus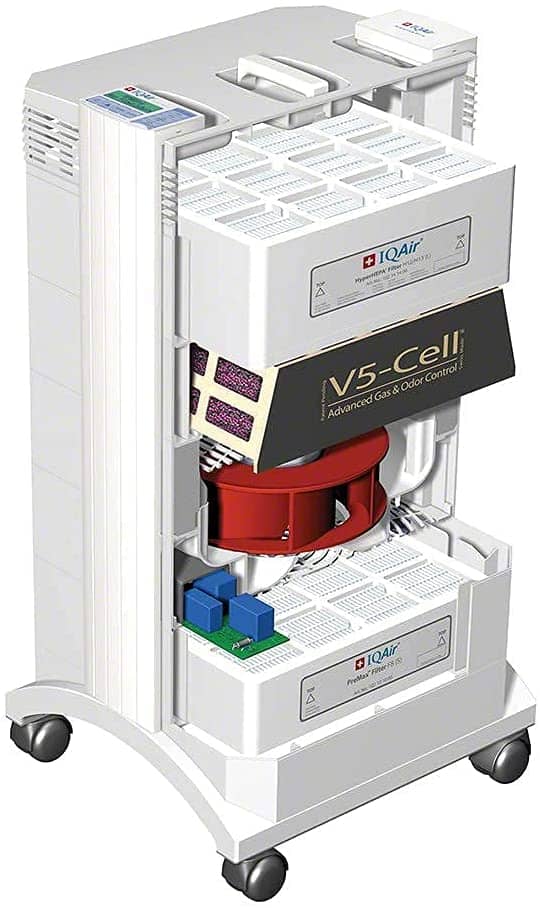 It consists of a PreMax filter to clean airborne pollutant particles, a Granulated Activated Carbon filter to clean the smoke, odor, etc., Pelletized chemisorption filter, and a HyperHEPA filter that ensures 99.99% purification of air.
The air purifier can capture 99.95% of the airborne particles as small as 0.003 microns.
Conclusion
By capturing almost all particles as small as 0.003 microns in size, these two air purifiers are far ahead of other air purifiers as they can capture only airborne particles in sizes up to 0.3 and 0.03 microns.
As for filter life, you will have to change AirDoctor 5000 filters more frequently than IQAir. However, IQAir claims that HyperHEPA can be used for up to 4 years. That's good because they are costly.
---
AirDoctor 5000 Vs. IQAir HealthPro Plus – Which one is Better?



Both models are powerful, effective, and suitable for all kinds of living spaces for air purification. AirDoctor is more powerful, so choose it for larger areas.
IQAir uses twice as much power on the max fan speed (215 watts) than AirDoctors's (100 watts). So you can save up to $100 per year just on electricity bills with the AirDoctor model.
If you are specific about the look and feel of the design, then AirDoctor 5000 is a better option. IQAir HealthPro Plus is not your pick if you are particular that the air purifier should fit into your living space design aesthetics. IQAir has a special wood design option but is significantly overpriced.
Taking all the aspects of design, performance, pricing, and utility, AirDoctor 5000 undoubtedly is the clear winner.
---
Please read this article for a full AirDoctor 5000 review, and I wrote it here for IQAir Healthpro Plus.
I have also compared AirDoctor 5000 to other brands as well. Read them here:
Also, if you like AirDoctor, read model 5000 compared to other models.