Air is life, but only if the air you breathe is clean and healthy. However, are you sure that the air you breathe is clean and healthy? Your answer would be maybe, isn't it?
That's because you know that the external air that your breath is polluted. But do you think that the indoor air that you breathe is clean and safe?
Yes, the outdoor air is filled with pollutants released from vehicles, factories, and more. But the indoor air is equally polluted. Shocked?
So, the indoor air you feel is clean because keeping the space clean is prone to get polluted. Yes, you read it right. The indoor air is prone to get polluted because of the allergens carried by the external air, the fumes released out of cooking, the carbon dioxide the people exhale, and more. No wonder that despite all the hygiene we follow, we frequently get affected by cold and other breathing problems.
We can do nothing about the outdoor air, but we can definitely ensure that the indoor air we breathe is clean. Wondering how? By using an Air purifier.
Over the years, complementing the need for clean air, the air purifier technology walked in. Over the years, a lot of variants from different brands got launched. Finally, however, we bring you a sneak peek of the two best air purifier models, i.e., AirDoctor 5000 and IQAir HealthPro Plus.
Product
Filters
Filters
2 Pre-Filters, 2 Carbon/VOC Filters, 2 UltraHEPA filters
PreMax Filter, Granulated Activated Carbon Filter, Pelletized Chemisorption Filter, HyperHEPA filter
Coverage 5x/hour
Coverage 5x/hour
868 sq. ft.
450 sq. ft.
Coverage 2x/hour
Coverage 2x/hour
2170sq. ft.
1125 sq. ft.
CADR (Smoke)/CFM
Fan Speeds
Power Consumption
Power Consumption
10 - 100 watts
27 - 215 watts
Noise Levels
Noise Levels
30 - 50 dB
22 - 69 dB
Dimensions
Dimensions
16" (D) x 16" (D) x 29.75" (H)
H 28" x W 15" x D 16"
Weight
---
AirDoctor 5000 Vs. IQAir HealthPro Plus – Design Comparison
Air Doctor 5000 design details
Made to suit big spaces with high ceilings, AirDoctor 5000 is designed in a white perforated external body.
The size dimensions 16" (D) x 16" (D) x 29.75" (H) proves that the model is made to cater to wide spaces as well. Place it in a corner, and you can be assured that your living space is filled with clean air.
AirDoctor 5000 purifier weighs 33 lbs.
It comes in a single color, i.e., white.
IQAir HealthPro Plus design details
Made in simple design, this air purifier can sometimes be mistaken for a tower cooler.
It comes in a white body with vents on the top.
The IQAir HealthPro air purifier weighs around 35lbs.
This machine is 28-inches in size with a handle on top and wheels at the bottom.
---
AirDoctor 5000 Vs. IQAir HealthPro Plus – Functionality
AirDoctor 5000
AirDoctor 5000 has a purifying capacity of 868 sq. ft. 5x/ hour or 2170 sq. ft. 2x/hour.
With an air quality particle sensor installed, the machine can be called a smart one. It turns on the moment it senses that the air quality is dropping. It also adjusts the fan speed based on the air quality.
The indicator on the machine displays the air quality.
It has 6 fan speeds
The power consumption of the purifier is Lowest Speed-10 watts and Highest Speed – 100 watts.
IQAir HealthPro Plus
The machine is capable of cleaning air within 1 hour in a 500sft space.
At the lowest setting, the power consumption of IQAir HealthPro Plus is 27 watts and 215 watts in the highest.
The machine should be manually operated.
The machine has an auto mode that allows the purifier to turn on when there is a drop in the air quality. However, if you wish to operate, you must use the remote control that comes with the product.
The machine has the operating and display panel on the topic.
---
AirDoctor 5000 Vs. IQAir HealthPro Plus – How Do They Work?
Air Doctor 5000
It has a multilayered filter system that consists of a gas trap and VOC filter that helps clean the air from various pollutants, allergens, odors, and more. Complementing these two filters stands the ultra HEPA filter that cleans the air from pet hair, cigarette smoke, and more. Completing these movable filters, the machine also has a permanent pre-filter.
When set in the automatic mode, the machine automatically increases and decreases the fan speed and purification process based on the air quality.
The air purifier has a Whisper Jet fan system that ensures that the machine is silent even if put on the fastest fan mode. The noise level in lowest fan speed is 30 dB, whereas the fastest fan speed is 50 dB
IQAir HealthPro Plus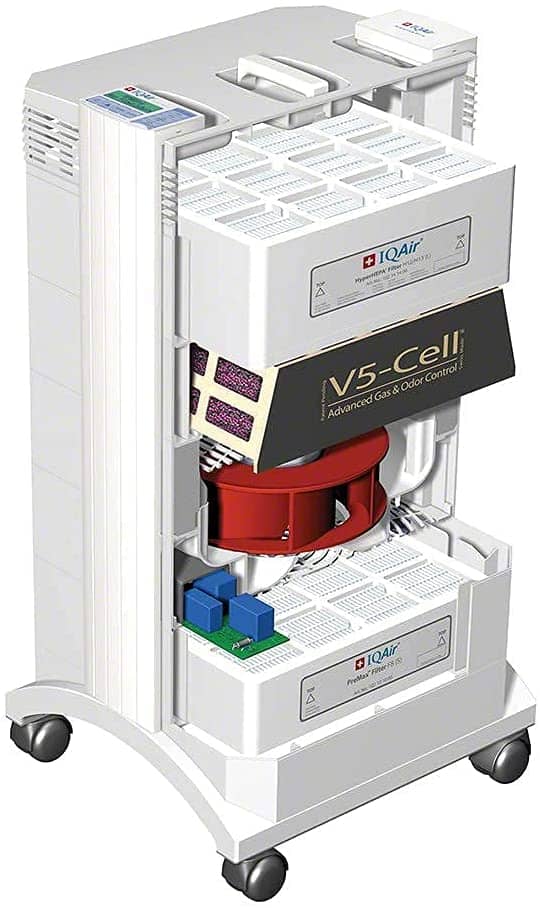 It consists of a PreMax filter to clean airborne pollutant particles, Granulated Activated Carbon filter to clean the smoke, odor, etc., Pelletized chemisorption filter, and HyperHEPA filter that ensures 99.99% purification of air.
The machine has the ability to capture airborne particles as small as 0.3 microns.
The aerodynamics fan design ensures that the machine performs silently. The noise range is 22 dB at the lowest setting and 69 dB at the highest.
---
AirDoctor 5000 Vs. IQAir HealthPro Plus – Features
AirDoctor 5000
It has inbuilt handles and recessed heels that make the machine portable. You can lift or push it to the desired corner of the living space.
It has a 6ft long power cord that makes the machine to be plug-in comfortably.
Built-in air quality particle sensor.
Auto mode + 6 fan speeds to choose from manually.
IQAir HealthPro Plus
It has a handle and wheels for easier movement.
Auto mode
Triple-Seal technology
320-degree air delivery
Programmable operating options
---
AirDoctor 5000 Vs. IQAir HealthPro Plus – Which one is Better?



Both models are equally powerful, effective, and suitable for all kinds of living spaces for air purification.
IQAir uses twice as much power on the max fan speed (215 watts) than AirDoctors's (100 watts).
If you are specific about the look and feel of the design, then AirDoctor 5000 is better. IQAir HealthPro Plus is not your pick if you are particular that the air purifier should fit into your living space design aesthetics.
When it comes to cost, AirDoctor 5000 definitely shines for the cost paid, where IQAir HealthPro Plus gives you a feel of being slightly overrated. Also, IQAir filters prices are much higher.
---
Conclusion
Taking all the aspects of design, performance, pricing, and utility, AirDoctor 5000 undoubtedly is the clear winner.
---
Air Doctor 5000 Compared to Other Brands