Are you looking for a budget-friendly yet high-quality purifier? If that's the case, look no further than the Germ Guardian AC4100 True HEPA Filter Air Purifier.
GermGuardian redefines what people should anticipate in a below $60 air purifier. The series of GermGuardian has been the point of reference for great budget cleaners, and the cheaper GermGuardian AC4100 makes every effort to do the same at a lower cost.
In this Germ Guardian AC4100 True HEPA Filter Air Purifier Review, we will show you everything that you need to know about it to help you decide whether it is the right product for you or not.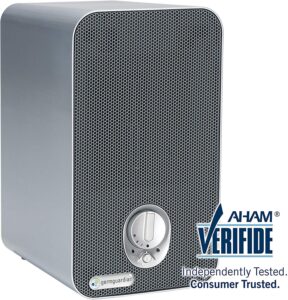 Pros
It is available at a very affordable price tag
Compact and portable
Energy efficient
Three fan speeds
Removes 99 percent of airborne particles
Sleek design
Cons
It doesn't have an air quality monitoring
It is quite loud when set on the highest settings
---
GermGuardian AC4100 Design, Size, and Placement
The GermGuardian AC4100 is a tabletop air purifier with a minimalistic and compact design. Its body, however, is made of plastic.
Moreover, this device features an output grill from the facade and another for air intake from the rear. The design concept can maximize the device's fan power.
Similar to other air purifiers made by GermGuardian, the AC41000 doesn't have a control panel. But there is one button and one switch at the front.
At only 4.85 pounds in weight and 11 inches in height, it's one of the most compact and smallest air purifiers available today. Its small size means that it can be discreetly placed in any part of your small office or home.  The GermGuardian AC4100 can be perfectly placed on the side table or desk.
---
GermGuardian AC4100 CADR And Coverage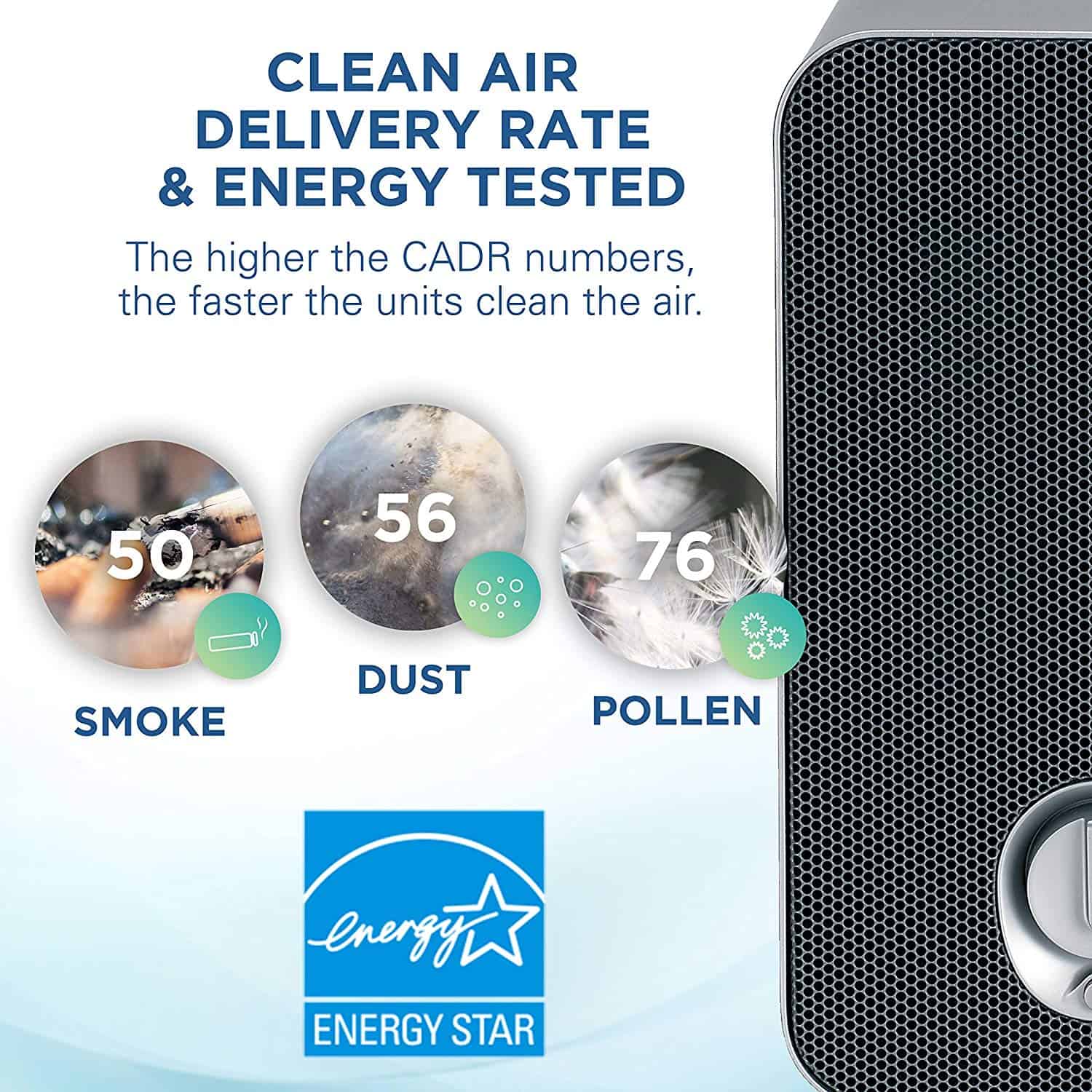 This air purifier's CADR is 50 CFM for smoke, 56 CFM for dust, and 76 CFM for pollen. Since its CADR is relatively low, the GermGuardian AC4100 is only suitable for rooms up to 100ft2 or smaller.
In other words, it can clean 60 square feet of room 5 times or 150 square feet 2 times every hour.
KOIOS EPI810 Air Purifier also covers the same area. Air Oasis G3 Series UV Ionic Air Purifier covers even smaller areas and is more expensive.
I think a better design has Pure Enrichment Purezone air purifier models Breeze and Mini Portable. They can cover the same size rooms and are more affordable.
Another great option is Bissell MyAir. It can clean 85 square feet of space. 
---
GermGuardian AC4100 Noise Level
The GermGuardian AC4100 air purifier is one of the quietest models you can buy. When this device is on the lowest setting, you will not be able to hear any sound.
But when running on high settings, the air purifier will produce a loud sound, which is sometimes difficult to ignore.
---
How does it Work, and What Sources of Indoor Pollution can it destroy?
This air purifier will cycle air via a copious layer of carbon, which is fit in between the true HEPA filter and an intake vent. The fan will then pull air through both filters and intake and then sanitize it with a UV light before producing it out to space again.
One of the most effective ways to eliminate tobacco smoke, cooking, pet dander, germs, molds, odors, pollen, and allergies is to set the air purifier at the highest speed.
But it would help if you dealt with its loud noise. However, if you want a quiet operation but an efficient air cleaning performance, you can always set the device to its lowest fan speed.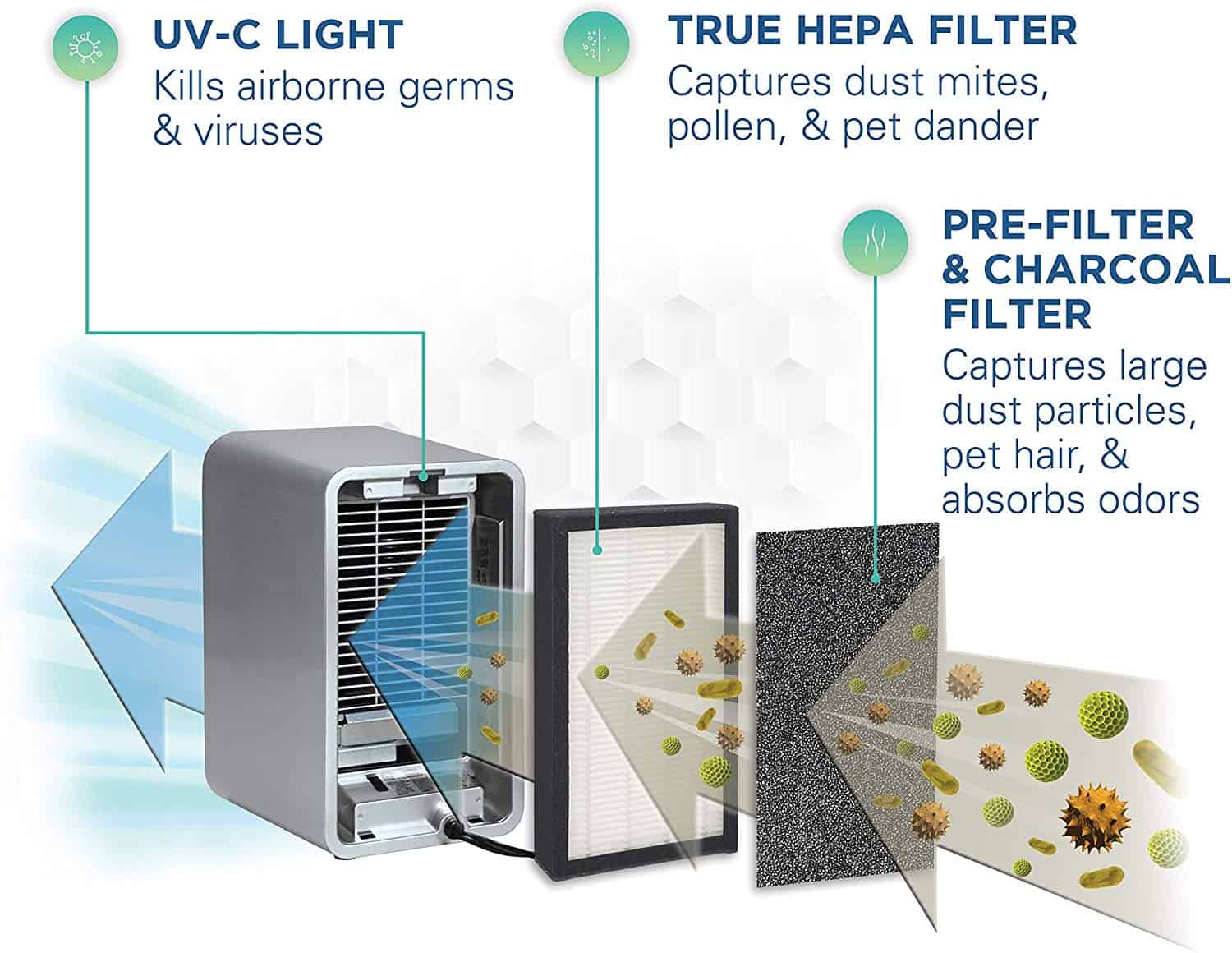 ---
GermGuardian AC4100 Key Features
As aforementioned, the GermGuardian AC4100 is a tabletop unit that is easy to move from one place to another, although it doesn't come with handles. What's more, it only weighs a bit more than 5 pounds.
This air purifier has an enticing price tag between $50 and $60. However, considering how powerful this unit is, it's quite reasonable. You can also save money because the filters last six to eight months.
The air purifier comes equipped with a carbon pre-filter that helps in eliminating odors. It also has a True HEPA filter that catches dust mites, pet hair, dust particles, and pollen.
On the other hand, viruses and bacteria of all types will be removed by UV-C light and titanium dioxides that thoroughly disinfect the air. This system looks simple; however, it remarkably keeps your space hypoallergenic, clean, and fresh.
The GermGuardian AC4100 is the perfect air purifier for people with serious illnesses or allergies who need a device that runs uninterruptedly.
This is because it possesses an Energy Star rating, meaning it meets the guidelines set by the United States EPA to be energy-efficient. So even though you use it 24/7, you can save on your electric bills.
Customer Support and Warranty
The GermGuardian AC4100 is labeled with a one-year warranty. In addition, it has excellent technical support based in the United States and is very responsive whenever you need help.
However, even though the tech support team is helpful, its warranty period is concise. 
This air purifier is very easy to use. It has one dial that you can use to choose the fan speed that you want. You can also utilize a button to turn the UV light on and off.
Even though it is your first time using an air purifier, you will not have a hard time using the GermGuardian AC4100.
---
GermGuardian AC4100 Maintenance and Upkeep
The GermGuardian AC4100 must be cleaned once a month. On the other hand, the filters should be cleaned once a month or already worn out. However, more frequent cleaning might be needed depending on the environmental condition.
When cleaning your purifier, unplug it to avoid any problems as a piece of advice.
Don't worry, because cleaning this device is pretty straightforward. You don't need to put in a lot of effort and time.
---
Summary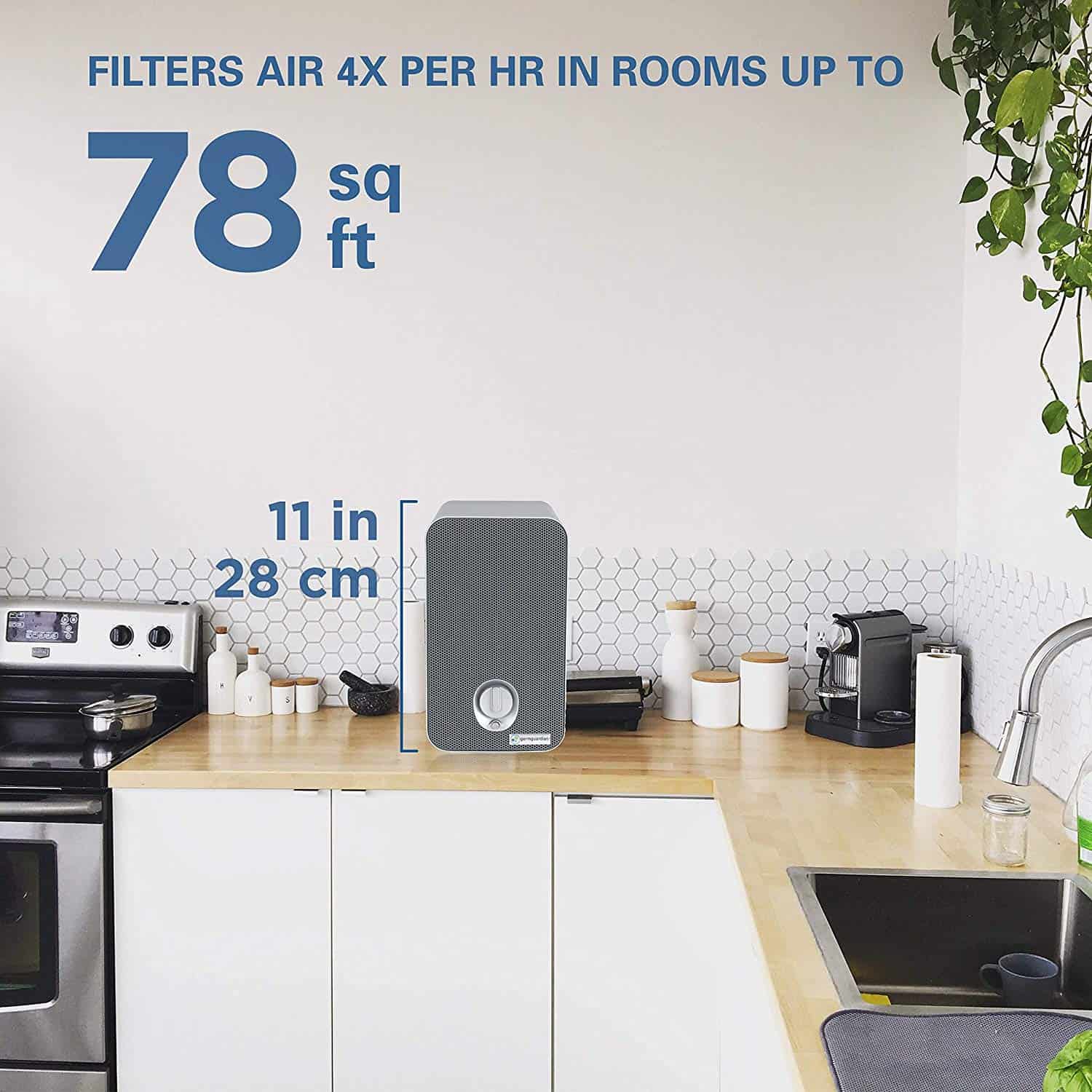 Without a doubt, the GermGuardian AC41000 is an excellent cleaner though it has only a smaller coverage. When set on the lowest setting, you can use this device at night while you are sleeping. But the high and medium speeds can make a little white noise that isn't audible.
On the other hand, this air purifier has some excellent features like a lightweight and compact design that allows you to transfer it quickly. It also has a filter replacement indicator light and a combination of HEPA and carbon filters to trap bigger particles.
There is also UV light technology that you can activate using the button below the dial. With this technology, the air will be sanitized and optimize the breathing environment for people with dust, smoke, pollen allergies, COPD, compromised immune systems, or other respiratory problems.
But unfortunately, this air purifier doesn't come with automation modes, sensors, and other smart features usually found on more expensive models.
All the perks mentioned above make this device the best air purifier for small rooms and personal use.