If your bathroom isn't always as warm as you want, you will want to start looking into getting a heater for the area.
However, you would choose from plenty of models, and you need to know which one will work the best for you. If you aren't sure what you should be looking for, you should keep reading to see what we thought about a few top models.
Here are the top 10 bathroom heaters we checked out and our comprehensive guide about them and how to make the right decision.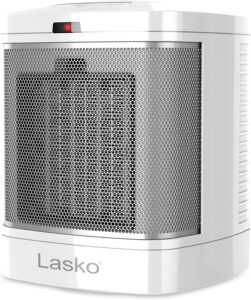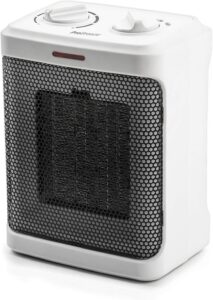 Top 10 Best Bathroom Heaters
You can always pick and choose from numerous models, which means you need to know some of the best models.
Here are just 10 of the top models of bathroom heaters that we checked out and our review of them, including:
If you are looking for something that you can quickly put on the counter or the sink, then the Lasko CD08200 bathroom heater would be ideal. This will be perfect for turning it on when you get into the shower so the machine's heat can go into the entire space. This means that you no longer need to be afraid of showering in the morning during the winter since this machine can get rid of the chill.
It is less than 8 inches in height and can be placed in the bathroom and any other room where a bit of extra heat would be welcome. This is something that everyone who bought it loved, and they took it with them from room to room in their home.
Pros
Extremely budget-friendly
Great for a small bathroom
1-hour timer
Cons
Can only use the 1-hour timer on high heat
---
If you have a room around 200 square feet or smaller, then the TRUSTECH 1500W space heater will be great. This can be easily used in the bathroom to heat the floor while you are showering or give some extra warmth while you are bathing. It weighs less than 3 pounds, meaning anyone can carry it around with them even when traveling if you want.
This heats up extremely quickly and has an automatic shut-off feature that turns it off if the device is tipped over. It has 2 settings for the temperature, which means that anyone will operate this no matter what.
Pros
Very lightweight
Extremely quiet
Easy to operate
Cons
The thermostat isn't very sensitive.
---
For those looking for something that you can easily put under your desk or on the shelf in the bathroom, then the Pro Breeze 1500W space heater will be ideal. It has a sleek yet elegant design so that you can use it anywhere in your home, and it uses ceramic elements to heat the area faster. You can easily change the temperature using the knobs on the top, and the thermostat keeps the room at the same temperature.
This is a great model that everyone who bought loved and would recommend to their family and friends who wanted something to add a bit extra warmth to their bathroom.
Pros
Affordable
Small enough for any space
Sleek design
---
If a fan heater is something that you want, then the DeLonghi HVF3555TB bathroom heater is something to check out. A foot pedal allows you to turn the oscillation mode on, and there are 3 heat settings and an adjustable thermostat. It also has a timer that is 24 hours and can be easily programmed to turn on whenever you are ready to get into the shower.
It weighs around 4.2 pounds, so you can easily move this from your bathroom when you are done getting ready and take it with you wherever you are heading.
Pros
Oscillating fan mode
24-hour programmable timer
Lightweight
---
Are you looking for a light, fan, and heater for your bathroom? If you are, then the Broan-NuTone 655 light and bath fan heater will be perfect. This can easily be installed in the ceiling, and the heater is 1300W, so it heats space quickly. It also has a fan that will move the heat around so that the entire bathroom is warming up, not just the lower section.
This works for a bathroom of up to 65 square feet, which means even your medium-sized bathroom would be covered. Those who used this thought it was straightforward to install and a worthy investment for their bathroom.
Pros
Easy to install
Includes light and fan
Cons
More expensive than other models
---
If you want something you can control using your smartphone, then the Heat Storm HS-1500-PHX wall-mounted bathroom heater would be great. It can be easily mounted onto the wall, and it uses infrared to heat the entire area, and you can change it to any temperature you want. This makes it easier to start the heater when you wake up or even before you get home if you want it to be warm in the bathroom.
Those who had this installed in their bathroom said it was the best purchase they have made lately and were impressed with how easy it was to use.
Pros
It can be operated using your smartphone.
Automatic shut-off when the desired temperature is reached
Cons
Extremely expensive
Slightly heavy
---
Another great option you can customize easily is the Air Choice infrared bathroom heater with remote control. This will be perfect for your bathroom and can heat it within seconds once you have turned it on. You no longer need to use the knob to decide if you want the low or high temperatures since you can choose exactly what temperature you want the room to be.
It is small enough to be placed in any corner, and you can place it under the sink in your bathroom or anywhere else you have space. This is something that many people were happy with and thought was one of their best purchases recently.
Pros
Comes with a remote control
Ability to change the temperature level
Sleek and elegant design
Cons
Heavier than other models
---
If you want something simple, the AmazonBasics 500W mini space heater will be perfect for all your needs. The design is essential; you can have it placed anywhere in the bathroom without worrying about falling over. It comes in a huge array of colors like black, blue, pink, and silver to fit your décor or your favorite color.
This is easy to use since you turn the button on and off, and this is going to work for a smaller bathroom or bedroom in your home. Those who bought this loved it and purchased another for other spaces or family members.
Pros
Extremely small
Tip-over protection
---
The Honeywell HHF360V digital mini forced heater would be ideal for those who want something simple yet digital. It is a round shape, which means you can put it anywhere, and the screen is easy to read, no matter how far away you are. In addition, it has 2 settings for the heat, and you can adjust the thermostat based on your comfort level or what you want it to be.
A handle makes this even easier to transport from room to room, and it has a 2 times overheat shut-off to prevent any damage. This is one of the best ones if you don't have a large budget but want something that will heat any small-sized bathroom.
Pros
Heat is spread around 360°s
Lightweight
Great design
---
If you aren't interested in finding something you need to prop up on the sink or even the floor, then the MIGICSHOW wall outlet heater will be something for you. It has a thermostat that can go between 60° to 90° with buttons that easily change it. You can also set the timer or turn the fan on and off based on what you are looking for at that specific moment.
It is also extremely quiet, so you don't have to worry about waking yourself up, which can be used at night. It has 2 heat settings that let you change what you want when you want without having to worry about anything.
Pros
Budget-friendly
Easy to use
Low noise
Cons
Not ideal for large spaces
---
Bathroom Heater Buying Guide
You always need to know what to think about when purchasing a bathroom heater, which means knowing some of the factors that would affect your decision. 
Why Should You Get a Bathroom Heater?
There are plenty of reasons you will want to think about getting a bathroom heater, and you need to know what they are.
Here are just 3 of the best reasons that most people use when they purchase one of these, including:
Warm space in the morning – Everyone knows that the mornings can be cold, and most people don't enjoy using a cold bathroom. However, if you have the right heater, it can be set to turn on in the morning and heat the entire space so you can enjoy the heat rather than get ready in the cold.
Easy to use – Depending on the model you opt for, they will be straightforward to use or install. There are so many options that you can plug into the wall and place on the sink or other sturdy area to warm it up. You don't have to worry about learning to use something complicated or over the top.
Affordable to maintain – If you are getting one of these heaters, they will be straightforward and affordable. This is important since you will want to know what needs to be done, and not many heaters require much maintenance.
Ensure that you consider all of this when making the final decision about whether or not you will have one installed or placed in your bathroom.
---
Types of Bathroom Heaters
You need to be aware of the various types of bathroom heaters you would pick and choose from. There are so many that you can opt for, but you need to know what they are, including:
Portable heaters – If you want something that you can move around easily, you want to go with a portable one. This can be plugged in a while using it and then stored or moved to another area for usage during the day.
Wall Heaters – If you already have an exhaust or cooling system installed in your home, you can install a wall heater. This would pump warm air directly into the room without you needing anything additional. Some models allow you to adjust how much heat you are letting in.
Heater/Exhaust fan – If you don't want something expensive, but something that will drag in the cool or warm air or take it out, then you want a heater or exhaust fan. This is the simplest method, but it requires installation, so talk to the experts about this before deciding.
Ceiling heaters – Another great option that you can have installed in your home is a ceiling heater. These typically come with lights and fans that can heat the room faster than other options and can't be adjusted as easily thought.
The more you know the various bathroom heating systems, the simpler it will be to decide which one you will buy.
---
Features to Consider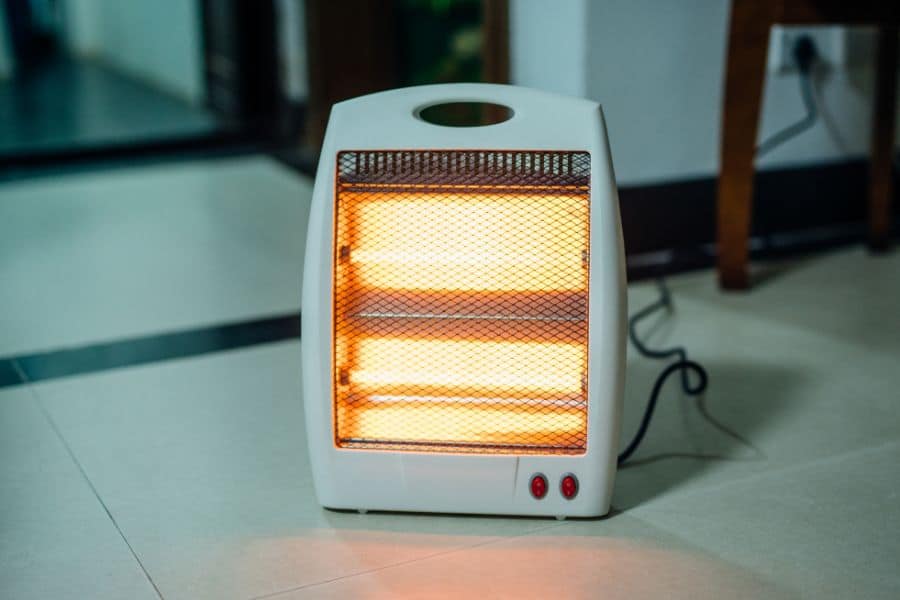 You would also want to know what features you want to consider when looking at the bathroom heaters. There is a lot to consider, such as:
Power output – You want to know how much power it will use and how fast it will heat the room. You will want one that can heat the small or large bathroom within a few minutes.
Functions – Also, consider what parts the heater has and how it can be used. Think about if you want one that would have a fan that could move and spread the heat out or want one that can have an adjustable thermostat.
Aesthetics – You also need to consider how it looks, so consider how it would look with your current décor. Find one that would fit within the space, which isn't going to be overly large for the area.
These are just a few top features that one should know about and consider heavily when deciding, so go ahead and look at what they are.
---
Best Location of the Bathroom Heater
There are many locations where you would be able to place the bathroom heater while you are using it. However, you should make sure that you know what they are, such as:
On the sink

On a high shelf

On the floor in a corner

On the wall

In the ceiling

Power plug
These are just some of the most common areas where the heaters will be placed, so you need to know where it is. You should avoid it being close to the water, especially if it runs, to prevent any damage or injuries.
---
Bathroom Heating Cost
If you are interested in the cost of heating your bathroom, it won't be overly expensive.
The first thing that you need to think about is the heater that you are going to use, and it would be priced based on the features and the size.
You also want to make sure that you find one that would give you the amount of heat you want without a lot of electrical output.
Heating a bathroom shouldn't cost you a lot every month, and your bill can go down if you use a suitable machine.
---
FAQ
What size bathroom heater should I go for?
You will want to see the recommendations for the bathroom heater in terms of space. You should also find out how big your bathroom is so that you can find one that would be able to cover the entire area easily and quickly.
Why should I choose a bathroom heater with an adjustable thermostat?
If the model you are looking at has an adjustable thermostat, you might want to opt for that. This will allow you to choose the perfect comfort level for you while in the bathroom and make it easier for you to use.
Why should I have a wall or ceiling heater installed?
If you aren't going to be using the heater in any other area or don't want something to move around, you want to install it in the ceiling or the wall. This will make everything easier for you, and you don't have to worry about turning it on or off while you are using it.
Why don't I want a large bathroom heater?
If you are looking at the sizes, you will want a smaller bathroom heater rather than a larger one. This is important because you don't want it to take over the entire space, and if you have a large one, it will generate too much heat.
The smaller models will be more accessible for you, and they can be moved around to different areas depending on where you are and what you are doing.
---
Final Thoughts
The more you know about bathroom heaters, the easier it will be to make the right decision. You will want to consider where you are going to place it, along with what features you are going to want.
The more you know about each model and what they offer you, the more you decide which one to go with. These are just a few of the top ones, so make sure to read about them and do the required research.