One of the best ones to check out is the SilverOnyx air purifier for those looking for an air purifier.
This is one of the top models on the market, and it will ensure that everything in the air is cleaned out so you can breathe easier and enjoy high-quality air.
This heavy-duty machine has 5 different filters to ensure that you have only the cleanest air throughout your home for your family.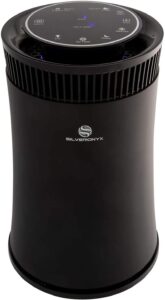 Pros
Accurate smart sensor
Design is sleek and elegant
Very quiet despite the advanced and brushless DC motor
Cons
The true HEPA filter isn't of the highest quality
---
SilverOnyx True HEPA Filter Air Purifier Design, Size, and Ideal Placement
If you are looking for something sleek and elegant, the SilverOnyx air purifier would fit the bill. This has a tower design look but isn't as off-putting as other models.
In addition, this can be moved around your entire home, which means it is lightweight and only 13" high, making it perfect for your bedroom or other smaller areas.
This weighs only 4 pounds, which means that even the smallest children in your home would be able to carry it around easily. It is a circular style, and you can easily see all the buttons on top, making it very simple to use and operate.
You can place this machine in nearly any room of your house, including your bedroom, the office, the kitchen, bathroom, and other areas, without worrying about looking out of place.
---
How SilverOnyx True HEPA Filter Air Purifier Works and What Sources of Indoor Pollution it Destroys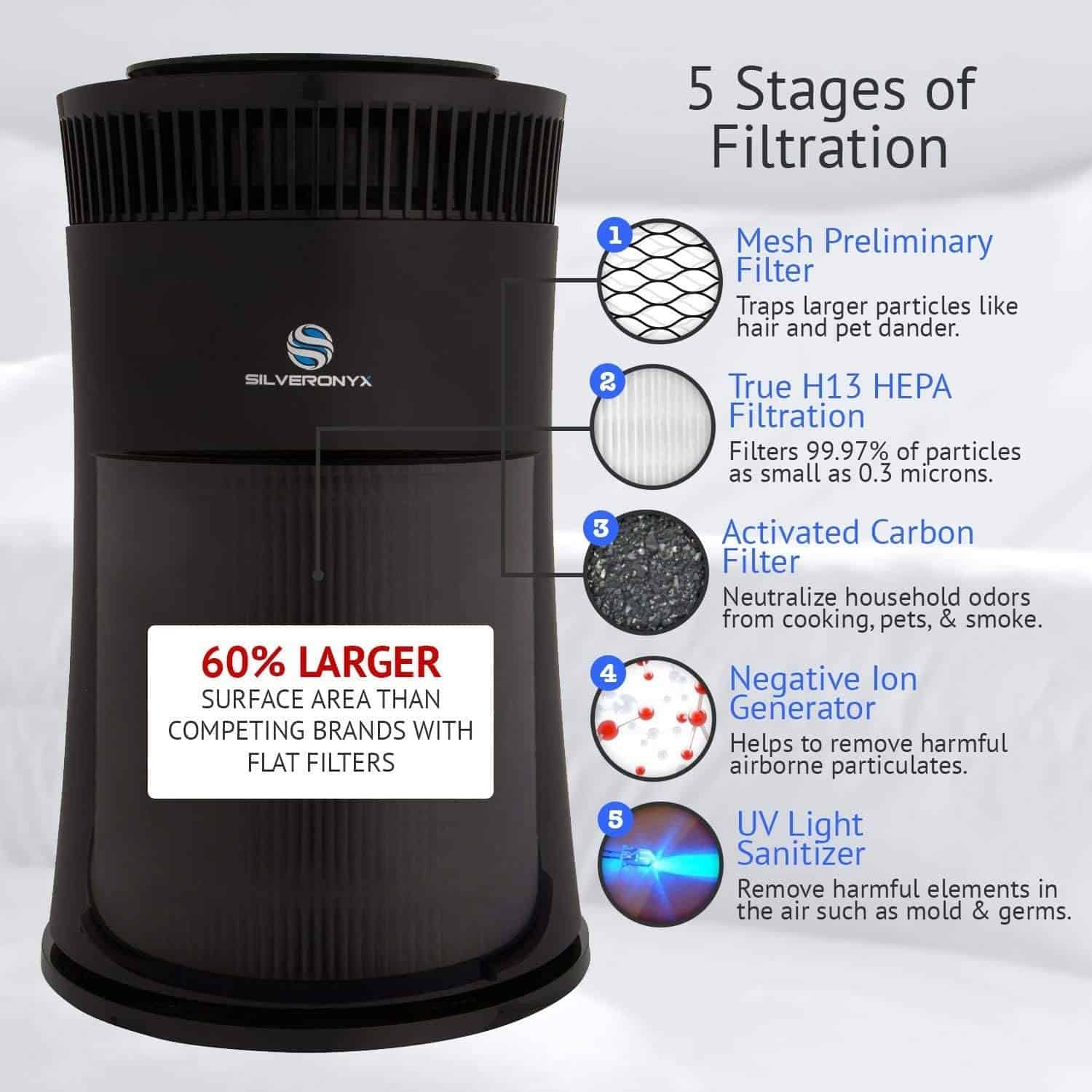 There are 5 filters that the SilverOnyx air purifier has, which means there are more levels for it to catch even the smallest particles. Here are the 5 different filters that it has:
These filters will ensure that nearly everything is removed from the air, from larger particles to the smaller ones that you can't see with the naked eye.
---
SilverOnyx True HEPA Filter Air Purifier Key Features
There are plenty of features that you can enjoy when you purchase and use the SilverOnyx air purifier, and you need to know what they are. Some of the top ones to know about include:
5 different filters to catch everything in the air

A smart sensor that can detect small changes in the quality of the air

On and off buttons for the ionizer

Light control for the control panel

Fan speed options

Timer for automatic turning off from 30 minutes to 24 hours

Electronic indicator for filter replacement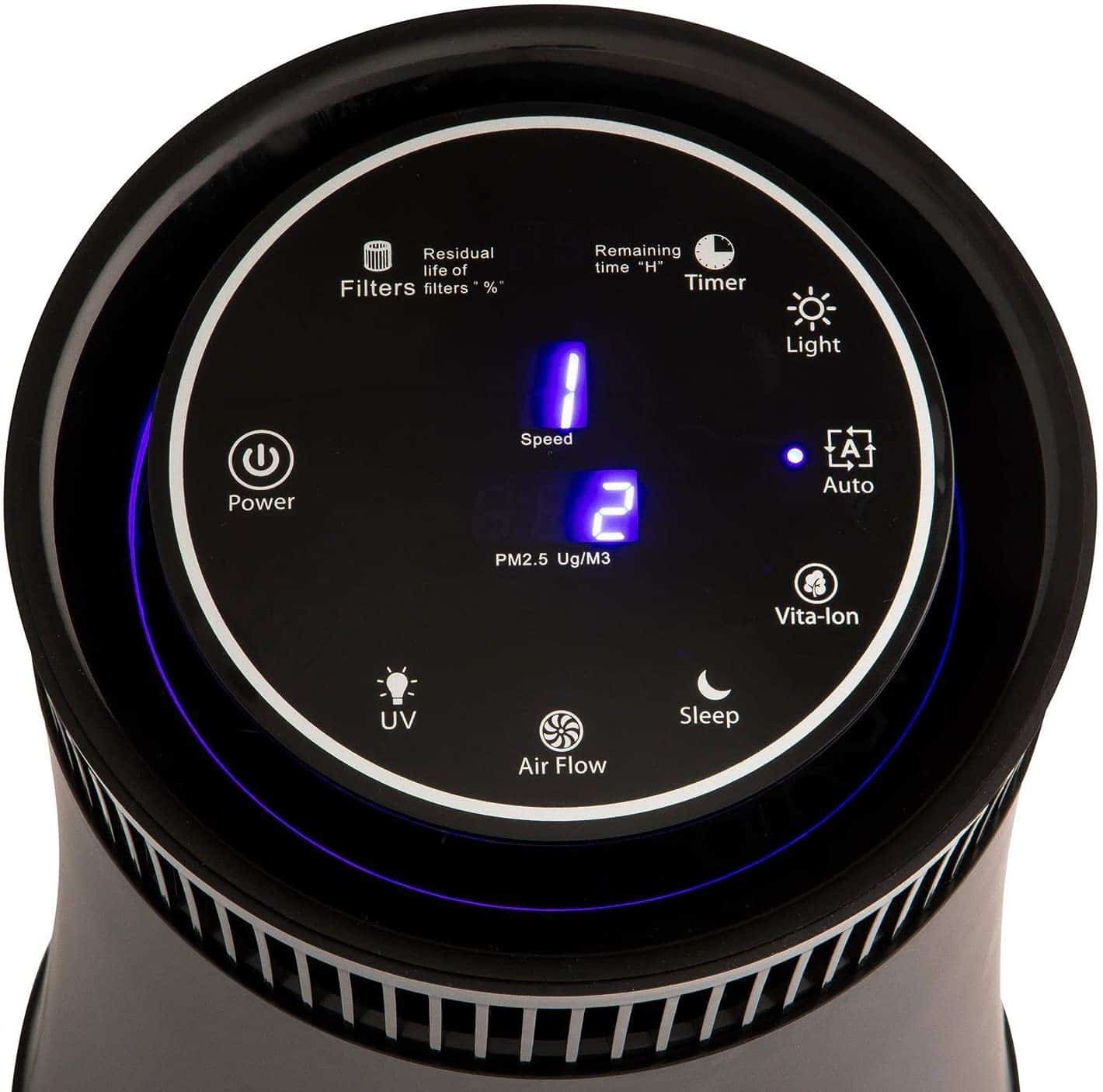 When you know the key features of the machines you are looking at, you can determine which one will be the best.
---
SilverOnyx True HEPA Filter Air Purifier Noise Level
The SilverOnyx air purifier's noise level depends on what level you use the fan on, but it is a quieter model for the most part.
If you use the lowest settings, the sound is around 25dB, while if you go for the highest one, it is around 56dB.
This means that it isn't the quietest model around, which means you might not want to use it in your room at night if you are a light sleeper.
---
SilverOnyx True HEPA Filter Air Purifier CADR and Coverage
This air purifier isn't working well in a larger room; instead, it can easily handle a room of up to 500 square feet 2 times per hour or 200 sq. ft. 5 times per hour. 
CADR is 83 CFM, slightly lower than some other models, but it will still do a good job cleaning the air around you.
Similar performance can offer Alen T500 True HEPA Tower, Levoit Core 300 air purifier, Oransi V-HEPA Finn air purifier, and Pure Zone Enrichment 3-in-1 air cleaner. 
---
SilverOnyx True HEPA Filter Air Purifier Maintenance and Upkeep
This machine might not need as much maintenance, but the big thing is there are 5 different filters you will have to replace.
You can easily take the filters out, and some of them can be rinsed, but others would need to be completely replaced, like the HEPA filter, at least 2 times every year.
Every other week, you will want to clean the filter's surface with a vacuum, but avoid using any water since the filter can be damaged, which would mean you have to replace it fully.
---
Final Thoughts
It would help if you thought about so many things about the right air purifier for your home, and this is our review of the SilverOnyx air purifier.
It is one of the highest-performing models on the market without spending a lot of money, and it has 5 filters to catch everything.
It is also small with a sleek design, which means you can use it anywhere in your home without ruining the décor of your home and each room. So get this amazing air purifier for your home and be in your comfort zone.