The American family-owned business Bissell Inc., commonly known as Bissell Homecare, specializes in producing air purifiers and vacuum cleaners.
The business was established in 1876 and is based in Michigan. The company has the expertise to build air purifiers, and their in-house HEPA filter is high-quality.
As a result, the company is the top floor care product maker in North America based on sales.
If you're looking for the best air purifier, Bissell is a choice you need to consider. I reviewed their top 5 air purifiers in no particular order. 
5 Best Bissell Air Purifiers
---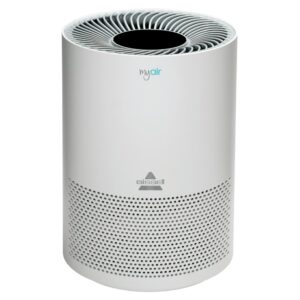 Pros
A Lightweight, Compact Design
360⁰ air intake
Quiet performance
Night light on/off
Cons
No smart features, not even a monitor for air quality
---
Design And Size
Bissell's Myair provides a small-scale air purifying solution with little fuss. The cylindrical, all-white device can be placed on a tabletop, or it might also fit in a corner.
It is also available in blue, purple, and grey colors.
12 inches tall by 8 inches in diameter, and less than 5-pound it is compact and lightweight. 
Filters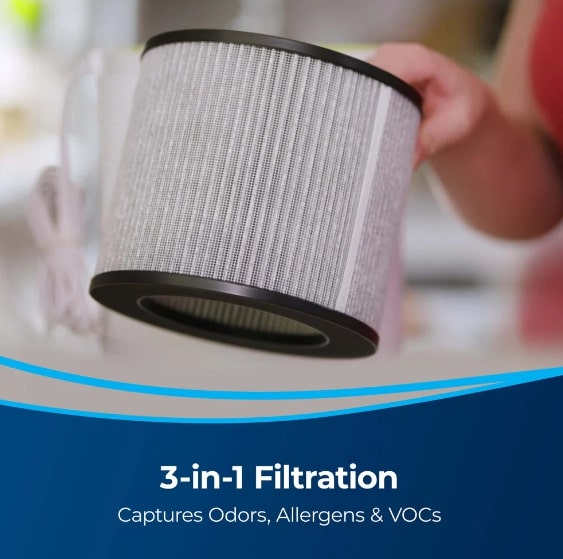 Bissell MyAir air purifier uses a small, cylindrical, combined activated carbon and H13 HEPA filter that snaps into place through the bottom of the air purifier.
This filter also fills the pre-filter function. So as there are no separate pre-filter and this 3-in-1 filter can't be washed or cleaned, you will have to replace it with a new one more often than those models with separate pre-filter. 
Bissell recommends replacing the filter once every 3 months, and it costs around $20 or cheaper if you buy it in a bundle.
Replacing the filter is easy and fast, so you won't have to spend much time on maintenance.
Coverage Area
Bissell MyAir purifier is undoubtedly designed for small spaces.
CADR ratings are:
Pollen 67 CFM
Dust 69 CFM
Smoke 57 CFM
According to the 5 times per hour air change, the air purifier is rated to clean 85 square feet. With 2 times per hour air change, it can cover 212 square feet of large spaces. 
Other small air purifiers I can recommend to check out are Afloia Gala (90 sq. ft.), Purezone Breeze (70 sq. ft.), and Happi My Happi (117 sq.ft.).
Noise Level
The device is nearly silent at its lowest speed. Still, when set to its fastest mode, it rises to a robust 46dB, making it significantly louder and probably too loud to sleep next to. 
You can still use it in your bedroom. Just avoid the highest fan speed.
Power Consumption
The air purifier uses 26 watts of energy on average.
So if you use it 8hrs per day, that would be 6kW per month. So that's around $0.72.
If you use it 24 hrs per day, that's 18,7kW and $2.2.
My calculations were based on $0.12 per kWh.
Features
Small enough to fit in small spaces in your home, yet it still has a lot of air-purifying capability for maintaining indoor air quality. 

The device's 3-in-1 high-efficiency filter collects at least 99.7% of 0.3-micron particles, including dust, pollen, and pet dander. 

It draws air from all directions to filter out irritants and odors.

Three fan speeds can be selected using the simple-to-use led display.

Night light button to turn off a bright blue color.
The timer can be set to 1, 4, or 8 hrs.
The filter replaces indicator will signalize when it's time to replace it.
Verdict
Overall, the BISSELL MYair Personal is the most giftable product. It is small, sleek, and priced under $100.
It works well in dormitories, nurseries, bedrooms, home offices, and even the tiny living room! 
For larger spaces with worse air conditions, I recommend choosing one of the further reviewed Bissell air purifiers.
---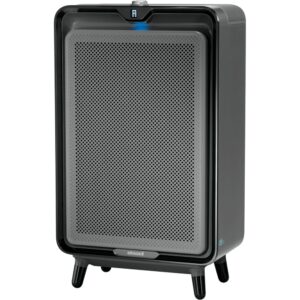 A top low-range air purifier from the Bissell family that toes the high-end line is the Bissell Air Purifier Air220.
An effective tool with a traditional design aesthetic, it's an excellent choice for improving the air quality within your home.
It is a well-built low-range air purifier that is intended to give you the appearance and feel of an expensive classic air purifier while omitting some inside components to keep the price far lower than top-end models.
Pros
Excellent construction and timeless style
Practical cord wrap
Clever sensor
Almost silent
Simple controls
Cons
No wheels to move it
No wifi or remote controls
---
Design And Size
Bissell Air220 is a high-end black air purifier that feels firm and dense. These two characteristics give a gadget the impression of being constructed of solid metal. 
With a height of 24 inches and a width of 14.5 inches, the Bissell air220 is substantial in size.
In addition, the four-accent mid-century contemporary legs add to its stability. These legs and the rectangular shape of the Bissell air220 give the raised platform and air purifier stability.
The weight is 18.7 lbs which is OK for such a size air purifier, but some of you may want casters to move it instead of lifting it.
Filters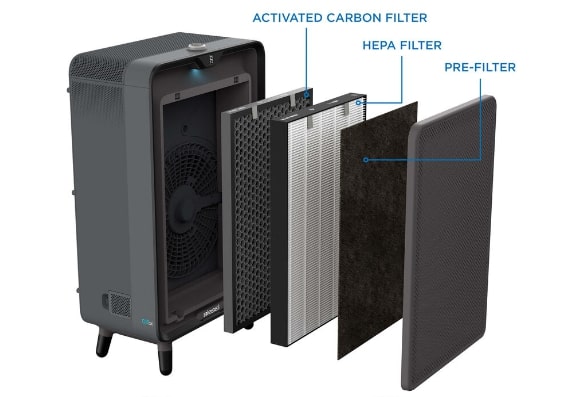 By using a proprietary internal air filter, Bissell only manufactures air purifiers that are completely ozone-free. As a result, a 3-stage air cleaning mechanism is present in this Bissell air220.
So it has a pre-filter attached to the HEPA filter and traps larger airborne particles such as dust and pollen.
H13 HEPA filter filters out most other airborne particles as small as 0.3 microns, such as pet dander, bacteria, and more.
A carbon filter eliminates smoke and odors.
On average, filters must be replaced once every 6 months. All filters pack cost around $50. So that's around $100 per year.
Coverage Area
Bissell Air220 has a CADR of 177 Dust, 167 Smoke, and 178 Pollen (CFM). This air purifier has sufficient fan power to cover the required area.
It can cover 250 square feet of large spaces with air change 5 times per hour. Alternatively, 625 square feet every 30 minutes.
From competitors, I can mark AirDoctor 2000, which covers the same area and costs the same, and AirDog X5, which covers a bit larger area and is slightly more expensive.
Another air purifier to look at is Airthereal APH260, which covers similar are but is slightly cheaper.
Noise Level 
Although you can hear sound from this operation, and the Bissell air220's peak noise level is 51 dB, it is not irritating.
On the contrary, the Bissell air220's noise level is shallow for an air purifier with such a sizable fan.
Power Consumption
Bissell air220's fan power rating is 75 watts, which is relatively high. 
On 8hr daily use, it will consume 18 kW and cost you around $2 monthly.
On 24/7 use, it will consume 54 kW every month, costing you $6.50.
Features
CirQulate® System automation to maintain consistently clean air, a VOC sensor monitors indoor air quality and offers color-coded input.

5 fan speeds to choose from.
Night mode, which turns on automatically when it's dark.
Verdict
The Bissell air220 flirts with the high-end in a few areas, such as its classic premium design, and a low-range air purifier.
It has only one soft touch control dial and a small display that dims automatically at night. Very easy to operate, it is also quiet and perfect for bedrooms.
---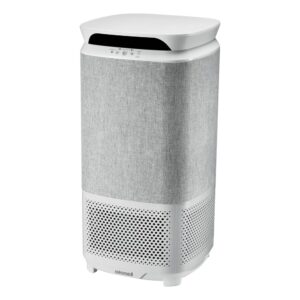 This high-end HEPA air purifier has three layers of 360-degree filtration, including a pre-filter, activated carbon filter, and medical-grade HEPA filter.
By purchasing a BISSELL Air280 Max, you also support the rescue of animals since they are intended to help eliminate pet accidents, odors, and homelessness.
Pros
The Air280 continuously modifies the air quality
The fan speed adjusts itself accordingly
Guarantees maximum effectiveness while simultaneously reducing energy use
Wi-fi capabilities and an app
Simple controls
Cons
No sleep mode
Only VOCs, not smoke or dust, can activate the automated feature
---
Design And Size
The air purifier has a fashionable cloth exterior and draws air in from all sides to remove allergens and contaminants.
An air purifier is 24 inches tall and 13 inches wide, weighing 15lbs. So it is quite tall but narrow. We can call it a tower air purifier because of the measurements.
It doesn't have any handles or casters, but it is still easy to move it around thanks to its low weight.
Filters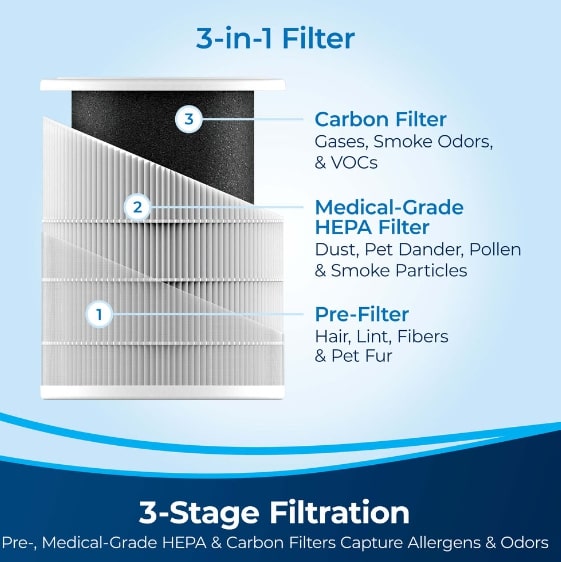 Clean air is released from the top of the air cleaner after being filtered three times through dirty air drawn in from all sides.
Independently examined under the AHAM Standard for Indoor Air Purifiers and the AHAM Verified for Clean Air Delivery Rates (CADR) of 180 CFM smoke, 204 CFM pollen, and 180 CFM dust.
Bissell Air280 Max has one filter, which includes a pre-filter, HEPA filter, and carbon filter. Together they filter hair, lint, mold, pet fur, dust, pollen, smoke, odors, volatile organic compounds such as formaldehyde, and more.
To guarantee optimum performance, it is advised to change filters with genuine BISSELL replacement filters every 6 to 8 months.
Coverage Area
The Bissell Air280 Max has the following coverage:
280 square feet with five air changes per hour

350 square feet with four air changes per hour

700 square feet with two air changes per hour
Despite the limited coverage, the Air280 Max may be utilized successfully in living rooms, kitchens, bedrooms, and other sizable living spaces. 
It has similar coverage as Bissell AIR220, so competitors are the same, as I mentioned before.
Noise Level
It has five fan speeds, the quietest of which operates at 31 dBA (as silent as a library), and an automated night mode that dims the panel lights for a restful night's sleep.
The highest fan speeds are noticeably producing around 50 dB of noise.
Power Consumption
On average, it consumes 54 watts of energy, less than model Air 220.
8hr daily use will consume 13 kW monthly and $1.56 in your electricity bill.
24/7 daily use will consume 39 kW monthly and $4.50 in your energy bill.
Features
Users may monitor indoor air quality and manage the air purifier from anywhere with the help of the air purifier's pairing with the Bissell Connect App.

The air purifier has a dual-purpose tabletop design that allows customers to select airflow direction and converts the appliance into an end table.

The air280 Max offers five fan speeds instead of four, allowing for more versatile airflow.

The CirQulate Smart Auto Mode feature now includes color-coded feedback indicating whether the air quality is good, moderate, or poor.

The Air280's Automated CirQulate System feature provides an interior quality monitor and real-time readings, and the fan speed is automatically adjusted to maintain consistently clean air.
Verdict
Customers can rely on Bissell air purifiers to deliver safe, functional, and easy results because the brand is well-known.
I discovered that the Air280 Max checks all the proper criteria. This air purifier is for you if you want wide-ranging and adequate coverage, Wi-Fi connectivity, easy filter change, and a dual-functional design.
---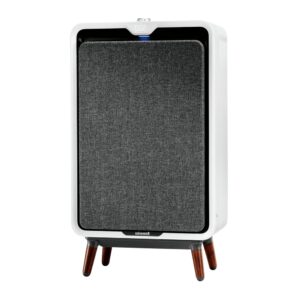 The Bissell Air320 intelligent air purifier with HEPA moves enough air to fill a 366-square-foot space every 12 minutes.
This makes it ideal for bedrooms, living rooms, basements, and dining rooms.
Its Automated CirQulate System continuously checks indoor air quality, offers measurements in real-time, and modifies the fan speed as necessary.
Pros
Rated by Energy Star, certified by CARB
Simple layout, one-button operation
Air quality sensor
Night mode
Cons
Fewer features, including no timers or kid locks
No app or remote control
---
Design And Size
The design has a modern, sleek appearance and feels and appears to be a fully premium unit. Elegant with wood trim, rounded edges, and a tidy appearance. It is a somewhat large device, measuring 15.5′′ (W) x 8.5′′ (D) x 25′′. (H).
The understated cord wrap on the back is advantageous since it highlights the space without creating a tangled mess of exposed cords.
Everything is controlled by a single dial with a button in the center, and the PM2.5 levels are shown on a large dot matrix display on the front that is concealed by plastic.
In addition, an invisible color-changing light that produces a glow right beneath the display and changes color to indicate the general air quality, from green to red, is also incorporated.
Filters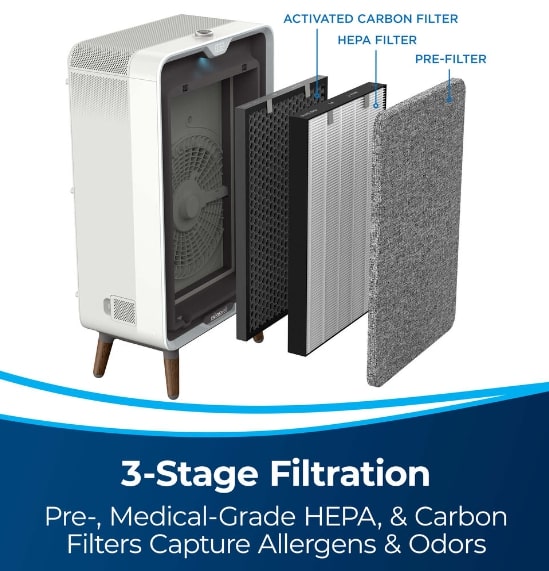 It features a vast, thick HEPA filter, a similar carbon filter, and a fabric mesh front cover.
Filters may be changed quickly without the use of any tools. Instead of the air quality reading, the machine features a filter replacement indicator for each filter: F1 or F2.
The HEPA filter catches allergens and other pollutants.
Coverage Area
For a bigger room, the Bissell Air320 is a fantastic air purifier. The Air320 model is the superior choice given that it is only one inch taller and covers 100 more square feet than the Air320 model.
Bissell Air320's CADR is 247 Dust, 236 Smoke, and 264 Pollen (CFM). 
Bissell Air 320 covers 366 square feet of large spaces every 12 minutes or 5 times per hour. In addition, Alen Breathesmart FIT50, Alen BreatheSmart 45i True HEPA, Coway AIRMEGA 200M, Coway Ap-1512HH, Levoit LV-PUR131, TRACS Portable UV-C Air Purifier, and many other air purifiers cover the same area.
Noise Level
The noise range of the Bissell Air320 is 24 to 50 dB. Compared to the previously mentioned air purifiers, almost all are in the same range except TRACS, which is the noisiest one with a 44-59 dB noise level. 
Power Consumption
The Bissell air320 uses 116 watts of power while operating normally. In reality, the Bissell Air320 has an Energy Star air purifier license.
You must pay $41 annually if you use the Bissell Air320 for 8 hours daily.
That's more than competitors. Levoit consumes only 40 watts, and Coway air purifiers consume less than 100 watts. Alen consumes even less: 1-50 watts.
Features
Using a PM2.5 particle sensor, smart sensor technology measures allergies

Three stages of filtering. HEPA filter collects 99.97% of 0.3-micron particles

Filter reset indicator
Night mode
5 fan speeds to choose from, or pick auto mode
Verdict
Overall, BISSEL Air320 is a genuinely outstanding tool after looking at what it has to offer.
It operates as advertised by grabbing airborne particles visible to the naked eye and those that aren't — and holding them indefinitely captive in its fine-mesh, high-efficiency filter.
The indoor air quality sensor's ease and ability to automatically choose the proper speed are outstanding, but its noise is slightly off-putting. The good news is that the Air320 won't interfere with a restful night's sleep.
---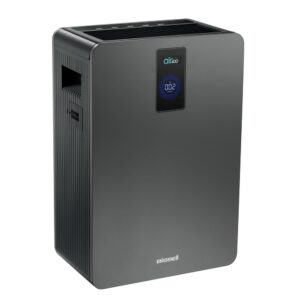 The Bissell air400 features a high-end design and is less expensive than you might anticipate.
It's lovely modernizing your home, which Bissell wants to emphasize. Even after the recent releases of the Bissell air220 and air320, it is still this family's most potent air purifier in every way.
Pros
Modern style
An outstanding air filtration system
Covers large spaces
Lovely air quality display
Cons
Quite obtrusive at top speed
---
Design And Size
This Bissell air400 is enormous, measuring 27.2 inches in height and 18.9 inches in width.
It undoubtedly has a considerable fan within. It is colored titanium and has a rectangular shape.
Since it creates the impression that the air purifier is made entirely of metal, it is like this product's matte black appearance.
However, Bissell offers the appearance of something much less expensive in the body of their most popular air purifier.
The Bissell air400 is incredibly heavy at 26.5 lbs. You need two carry handles to move this air purifier to another room.
Filters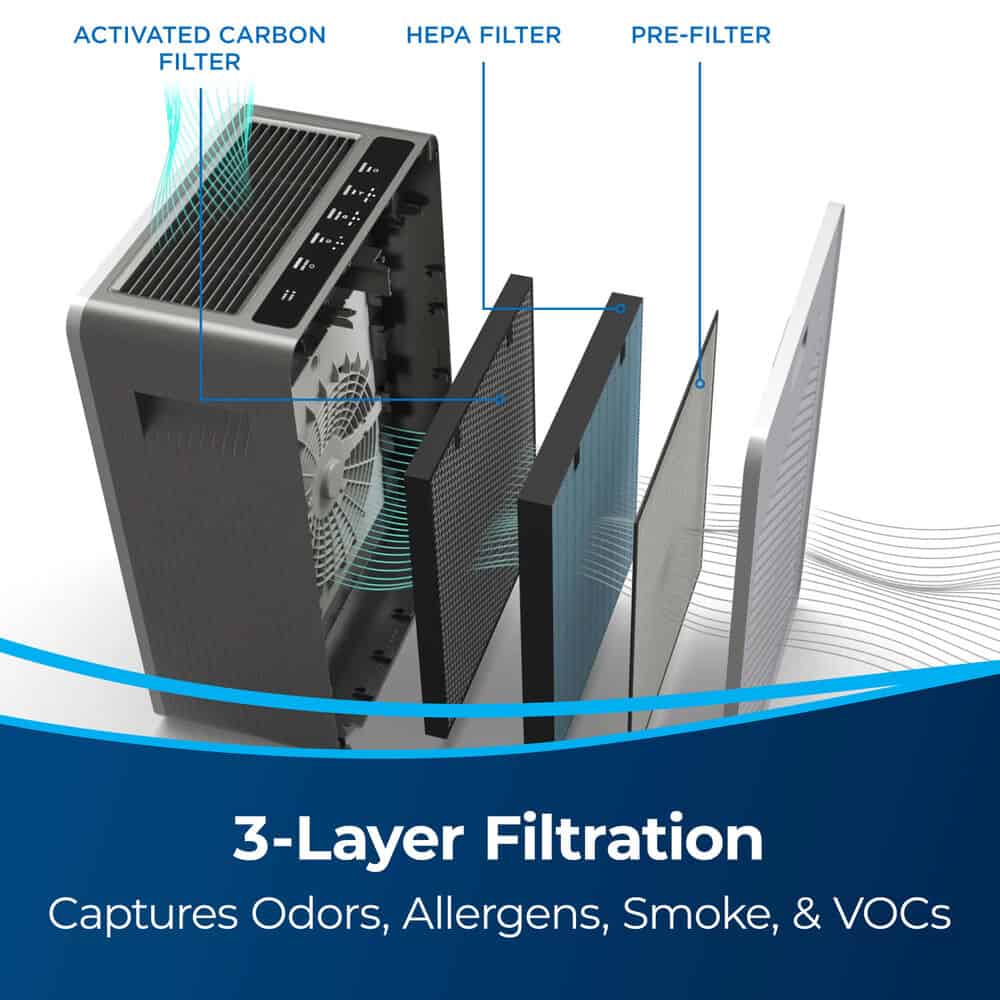 Because it uses only mechanical filters and is approved for safe ozone emission by the California Air Resources Board (CARB), the Bissell air400 is dependable.
The Bissell air400 is still the most potent air purifier in the series, operating on a straightforward 3-stage air filtering technology.
You can see that the air purifier achieved a 99.9% efficiency rating for capturing particles as small as 0.3 microns in just one hour.
Coverage Area
The Bissell air400 is suitable for medium to huge rooms measuring 485 square feet, which it can cover 5 times every hour. 
In addition, the Bissell Air400 can cover spaces up to 1200 square feet if used with 2 air changes per hour. 
There are not many air purifiers that can cover almost 500 square feet 5 times every hour.
AirDoctor 3000 covers 505 sq. ft., Happi Our Happi covers 480 sq. ft., and both cost the same price as Bissell Air400.
Alen BreatheSmart 75i True HEPA handles the same but is a lot more expensive air purifier.
Honeywell HPA300 Air Purifier covers almost the same area but is very loud and consumes more electricity.
Noise Level
Of the three console air purifiers produced by the American manufacturer, the Bissell Air400 has the most delicate Sleep Mode.
Its lowest sound pressure level (dB) is just 30, the same as a whisper. So without a doubt, you won't notice the air purifier working.
The highest fan speed is very loud, 65dB, which is more than most other air purifiers. For example, AirDoctor 3000 has 59 dB on the highest fan speed, and Alen has 49 dB.
Power Consumption
The energy-saving feature of the Bissell Air400 is one of its primary features. Even so, the power consumption is excessive for an air purifier with such a standard fan power.
In addition, you must pay $39 annually if you use the Bissell air400 for 8 hours per day.
Features
Five variable fan speeds, including a Max Mode for rapid cleaning and a Silent Mode for quiet operation in libraries. 

Night Mode is turned on by a light sensor, similar to the Bissell air320

White lights on the control panel and the air quality indicator 

A simple timer to remind you when it's time to replace the air filters
Verdict
Overall, the Bissell Air400 continues a trend where you can get decent air purifiers for much less money than you might imagine. It provides good value for the money.
It boasts a dependable holistic yet upscale design, excellent fan performance, and a wonderful Sleep Mode experience.
The performance of the air purifier's HEPA filter and its high-power consumption leaves much to be desired.
---
Bissell FAQ
Are Bissell Air Purifiers Good?
Bissell is one of the original American household name brands. This brand also produces high-performance air purifiers.
In addition to their excellent job of deodorizing the air, their affordable price also contributes to positive customer reviews.
How Do I Clean My Bissell Air Purifier Sensor?
Filter and front cover inspection

Sanitize the machine

Reinstall the screen and particle sensor

Test the equipment
What Do the Numbers Mean On Bissell Air Purifier?
3-digit numbers on display show air quality. Numbers show the density of particles. The more particles, the dirtier the air.
Blue denotes good indoor air quality (002–099)

Yellow indicates intermediate indoor air quality (100–274)

Red represents poor indoor air quality (275–999)
How To Reset Bissell Air Purifier?
Each model has its way of resetting the air purifier.
Air 400 has a separate filter reset button. Just hold it for 3 seconds to reset the air purifier.
Air 280 Max also has a separate button that needs to be pressed for 5 seconds to reset the air purifier.
To reset Air320 and Air220 models, you must press and hold the power button for 3 seconds.
Bissell MyAir Personal air purifier has a separate button that needs to be pressed until a beep sound is reset to the air purifier.
Can You Wash Bissell Air Filters?
If your Bissell air cleaner (such as air320 air purifier and air320 Max air purifier only) contains a cloth pre-filter, you can occasionally remove dust buildup by softly vacuuming the filter.
However, all additional filters should be changed based on the suggested schedule.
How Long Does a Bissell Air Purifier Filter Last?
It all depends on how frequently you will use your air purifier.
Ideally, filters should be changed every six months. 
While the filter in HUB air purifiers needs to be updated every four months, the filter in the Bissell air cleaner should be changed every three months.
How Do You Clean the Filter On a Bissell Air Purifier?
It is best to rinse a washable HEPA filter under cold water. 

Be careful to keep your hands away from the filter material and only let it come in contact with water. 

Then, before reinserting the filter, let it fully dry. 

Certain filters come with specific instructions. 

Many canister-style vacuum filters should only be washed on the outside with caution to prevent getting the canister's interior wet.
---
Overall Bissell Assessment
Ultimately, Bissell is the right one if you're looking for a straightforward and stylish machine that offers vital air purifying performance.
It has an automated circulate system that can't be found on other air purifier brands.
In addition, it has a reliable three-stage filtration system recommended for asthma and allergies.