An air purifier is a powerful machine that cleans the air in your home using filters. This device traps dangerous particles like smoke, pet dander, pollen, mold spores, and other pollutants. Air purifiers are also used in homes with air quality problems.
Today, there are myriads of air purifiers on the market. As a result, choosing the best one can be challenging.
If you're on the market for the best air purifier, you may want to consider the Coway AP-1512hh Mighty. Keep on reading to find out what this air purifier has to offer.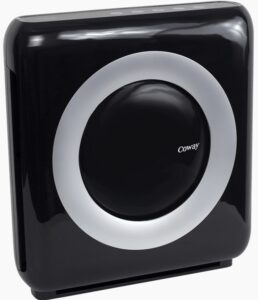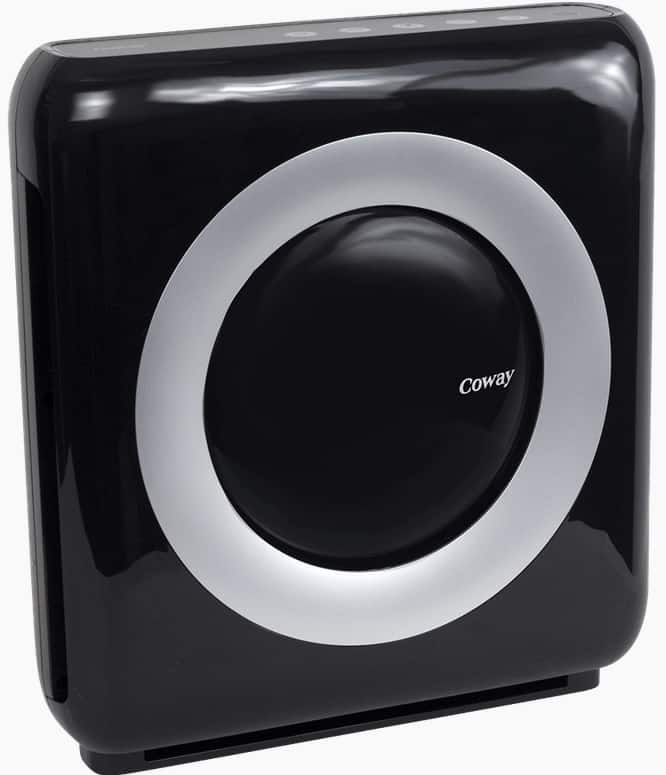 Pros
Innovative design
Powerful performance
Large room coverage
It has an air quality indicator
Cons
The top light can't be turned off
The highest speed is quite loud
---
Coway Ap-1512HH Review
Ease of use
This air purifier is one of the most user-friendly devices on the market. The Coway AP-1522hh has a clean and no-frills interface. A couple of buttons can also be found on top of the device, allowing you to cycle over fan speeds and switch the ionizer on/off.
The air purifier has an inbuilt air quality meter that automatically lets you set the fan's speed. It also carries handles, making it easier to move from one place to another quickly.
Cost
When it comes to the price, the Coway Ap-1512hh is pretty expensive. However, considering its features and specifications, this air purifier can be a great option.
Room Coverage
This air purifier from Coway can effectively cover rooms of 360 square feet 5 times per hour. Moreover, considering its price, the Coway AP-1512hh is more affordable than other air purifiers.
For example, Alen BreatheSmart 45i True HEPA Air Purifier, Hathaspace HSP002 Air Purifier, and TRACS Portable EZ-Air Purification System cover the same area but are a couple of hundred dollars costlier.
Competitors don't sleep, so there are few similar prices or cheaper options with similar performance – Winix C545, Levoit LV-PUR131, and Okaysou AirMax8L air purifier.
Power Consumption
If you are looking for an air purifier that only consumes less power, the Coway AP-1512hh can be a great option.
You will be surprised that this device's power of consumption can be as low as 4.9W, owing to its great Eco mode. This feature places the purifier in standby mode each time it senses good air quality.
Moreover, it is safe to say that it is one of the most-energy saving purifiers today. Even top brands like Rabbit Air only achieve a minimum of 5W.
At the highest fan speed, it consumes 77 watts. 
Customer Service
In case you didn't know, Coway is someway as big as Samsung. The good thing about this air purifier brand is that it doesn't simply carry out clean and great innovations for people but delivers their bearing as Coway trust. This is why they focus on their community as well as customers.
With regional dealerships and global subsidiaries that serve more than 60 states, there is no reason to doubt the three-year warranty offered for this product.
---
Coway Ap-1512HH Design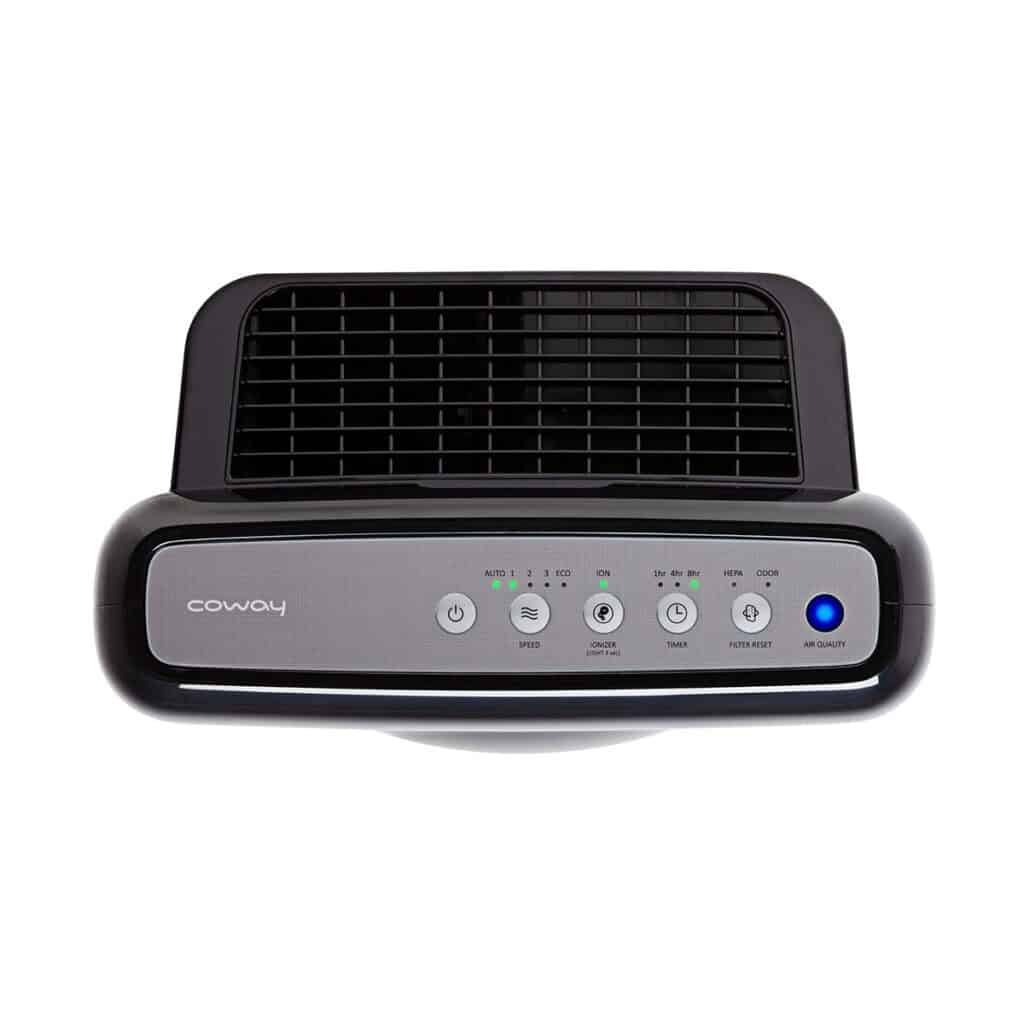 The Coway AP-1512 air purifier comes in two colors: white and black. Both the back and front are enclosed in plastic. If you place this air purifier next to your iPod, you will be surprised to see the resemblance.
There are many intake air outlets below the plastic plate to help bring the polluted air to this air purifier's air filtration process.
It also has five function buttons on top of the device. Like classic cleaners, an air outlet grill also helps release the fresh out into your surroundings.
Size
Out of the box is an air purifier width, with a width of 16.8" and a height of 18.3". And with 12.3 pounds, the Coway AP-1512hh is one of the lightest air purifiers on the market these days.
Placement
You can place this air purifier inside your bedroom, living room, and other spaces where you want clean and fresh air.
---
Coway Ap-1512HH Noise Level
The Coway AP-1512hh is one of the quietest air purifiers out there. In its highest setting, this device will produce a medium to high sound that's pretty loud, but the tone tends to disappear to the background.
It would not disrupt audio-based amusements such as watching TV and listening to music. If we talk about numbers, 24-53 dB is the range where this model works. 
On the other hand, using the cleaner inside your bedroom might double as an enjoyable white noise machine. 
---
Coway Ap-1512HH CADR, CFM
The CADR of this air purifier is very impressive. It has 240 pollen CFM, 246 dust CFM, and 233 smoke CFM.
---
Coway Ap-1512HH Maintenance and Upkeep
Aside from the features mentioned above, another good thing about this air purifier is that it comes with an indicator light that will tell you when to replace the filters.
While homeowners should anticipate filters every 5 to 6 months, households with smokers and many pets must change their filters more frequently. Better yet, every month.
---
How it Works and What Sources Of Indoor Pollution It Can Destroy?
Filtration System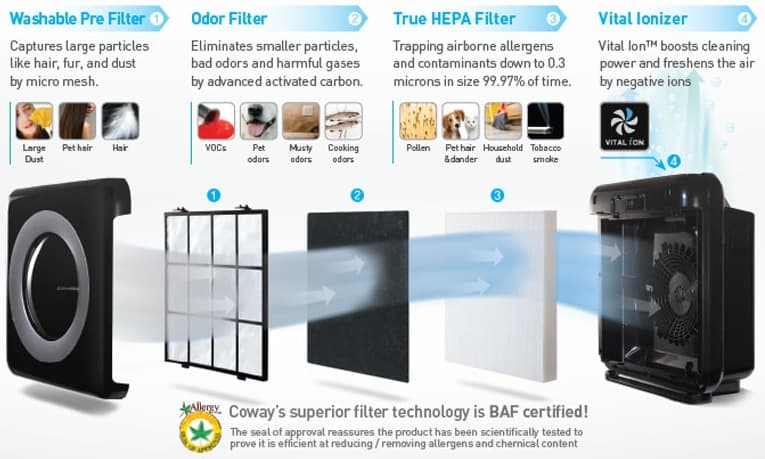 Unlike other air purifiers, the Coway AP-1512hh comes with a four-stage filtration system.
Ionizer – this will freshen the air and boost the cleaning power.
Pre-filter helps capture large particles from mold, pet hair, and human hair. It is also worth mentioning that you can wash the pre-filter.
Activated carbon filter – this works to deodorize and catch dangerous gas to keep your place odor-free and, at the same time, fresh.
True HEPA filter captures 99.97 percent of fungi particles, pollen, virus particles, and allergens.
This one has a True HEPA filter and a carbon filter similar to other cleaners. However, it has two additional steps that most cleaners don't possess. The Coway AP-1512hh has an ionizer and a micro-mesh layer.
The micro-mesh is made using metal, and it is utilized to trap pet hair, large particles, and dust. As a result, the layer is effortless to wash and clean. Moreover, it helps extend the life of the HEPA and carbon filters.
On the other hand, the activated carbon filter traps dust bunnies, pollen, and other larger particles. However, the main goal of this layer is to remove bad smells.
Nevertheless, the air will move through the HEPA filter. This phase performs the heavy lifting by filtering out smoke, dust, and pet dander.
The ionizer is the final step where the air will pass through before being emitted back to your room. This layer charges air particles negatively.
These particles are then combined with positively charged particles floating around, which will become too weighty and sink to the surface.  Since the ionizer runs, you will see more dust on the surface.
---
Summary
The Coway AP-1512hh air purifier is a top player in all classes.  It's a rare item that does not require you to pay premiums to achieve a high-end performance.
In addition to that, it is a great device that is made for just about anyone. Its fantastic features, such as extensive coverage, Eco mode, ionizer, auto mode, four-stage filtration system, and low power consumption, are enough to include this air purifier on people's top five list.
We highly recommend this air purifier to anyone with ample open space and those who want an air purifier with automatic mode.
Check Coway Airmega line air purifiers – Airmega 200M and Airmega 400.
---
Available also in white color.