Keeping indoor air quality in check is of prime importance. It is directly associated with your family's health. But most people still don't take an active part in making the indoor air quality better.
It would help if you had an air purifier in your home and a smart one to manage the air quality. Alen has introduced some top-quality air purifiers, but BreatheSmart 75i and 45i have taken the market by storm.
Today, we'll compare BreatheSmart 75i True HEPA Vs. 45i True HEPA Air Purifier to determine if all the hype is real.
Let's find out.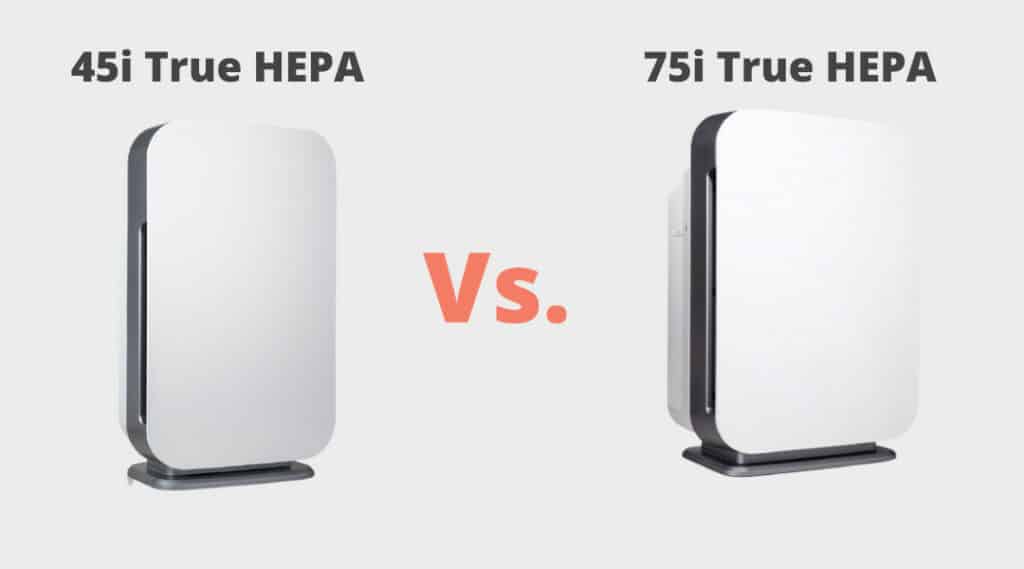 ---
---
Alen BreatheSmart 75i True HEPA 
The 75i air purifier model comes with a smart sensor. It senses the particles in your indoor air and shows the air quality of your home.
As soon as any harmful particles are detected, it will turn the automatic mode on to get rid of them. This one comes with a pretty powerful CFM of 280, with turbo being 350 CFM. It can easily cover up to 1300 square feet of area.
This Energy Star unit features HEPA filters that can last for 12 months if the unit is used daily for 24 hours. However, it only produces 25 dB at low speed, and its noise level rating is 49 dB at high speed.

Pros
Suitable for larger rooms of up to 1300 square feet.
It comes with an Energy Star rating.
Can remove 99.99% bacteria and airborne particles.
Quiet operation.
5 different speed settings.
Cons
Not suitable for small rooms.
---
Alen BreatheSmart 45i True HEPA
The BreatheSmart 45i is definitely the smaller unit as compared to 75i. This unit is best suited for smaller rooms as compared to the 75i. That's why it is rated for rooms of up to 800 square feet.
This unit comes with a maximum CFM of 215 CFM without any turbo mode. In addition, this Energy Start unit comes with a filter that can last for 12 months. It also comes with a filtration rate of 99.99% of particles of over 0,1 macrons.
This unit is a bit quieter than the 75i as its low-speed noise rating is 23 dB. However, at high speed, it has the same noise level rating of 49 dB.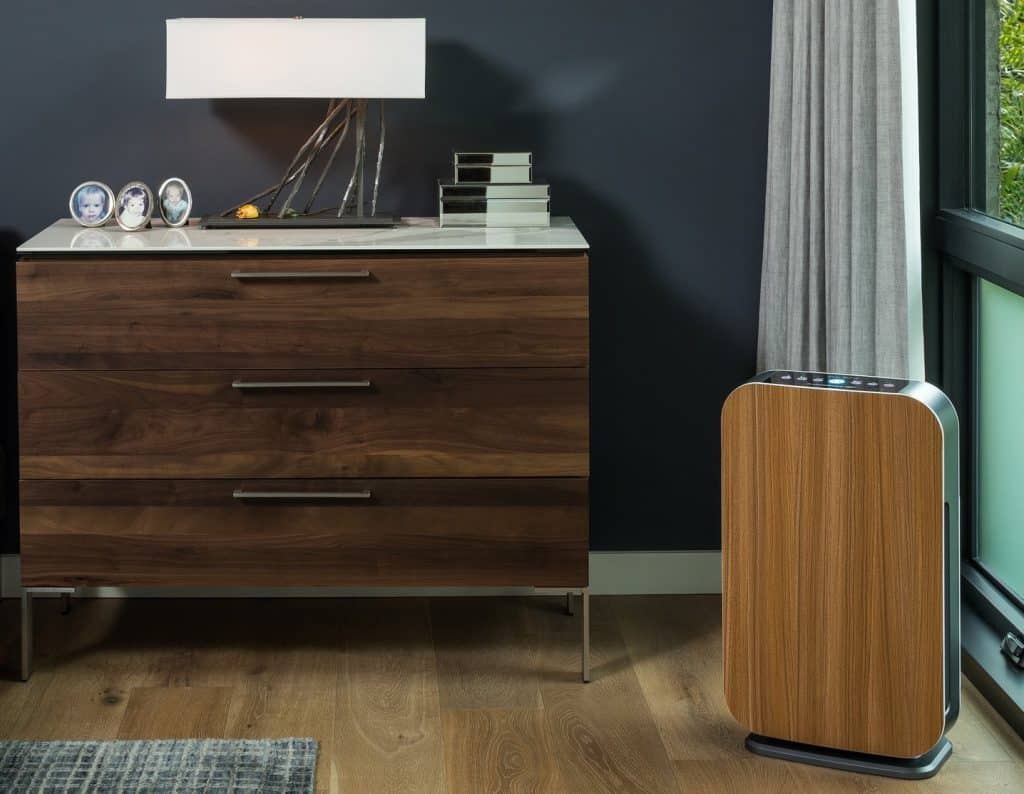 Pros
Suitable for rooms of up to 800 square feet.
Handles all dust particles over 0.1 microns.
Whisper-quiet operation at low speed.
The smart sensor is there that indicates the quality of air.
Cons
It only has four speeds (no turbo mode).
---
Alen BreatheSmart 75i vs. 45i – The Ultimate Showdown
We already see that both models differ in terms of coverage area. The 75i is suitable for large rooms, and 45i is better for small rooms. But is it the only difference?
In this section, we are going to compare and review the top features of both models.
Alen BreatheSmart Design & Size
In terms of design, there is no difference between the two because they both belong to the same series by the company. However, there is a major difference in the size of both these units.
The 75i is a much bigger unit as its dimensions are 27-inch x 18.5-inch x 11.5-inch, and its weight is 27 lbs. On the other hand, the 45i's dimensions are 25-inch x 15-inch x 8.5-inch, and it only weighs 15 lbs.
The 75i is much bigger and has an almost double capacity as compared to the 45i. In addition, the 75i is designed for larger rooms that measure to be 1300 square feet. In comparison, the 45i is suitable for 800 square feet of rooms. So the 75i has a definite edge over the 45i when it comes to design and size.
Both air purifiers look simple, but that doesn't mean Alen is boring. There are plenty of face designs available. You can pick the right one based on your interior.
---
Alen BreatheSmart Portability
This one is a brainer. The 45i model is much smaller and much easier to move from one place to another. In addition, it only weighs 15 lbs, while the 75i weighs 27 lbs. So, the 45i is much more portable than the 75i because of its small size and easy handling.
If portability is your top priority, you need to go for the 45i. It's pretty small, and you can move it around. But the same can't be said for the 75i model. This powerhouse is designed to take on a wide coverage area without impairing its performance.
---
Alen BreatheSmart Purifying Power
There will be a tie here because both the units come with a long-lasting True HEPA or H13 filter. This medical-grade filter can capture up to 99.99% of germs with all particles over 0.1 microns. Both units are capable of doing this, so you are not missing out on anything here.
However, the primary difference lies in the operating cycle. The 45i can run for about 4 to 6 minutes of cycle per hour.
In contrast, the 75i goes 6 to 7 times per hour. It means that the 75i is much more capable of providing clean air.
---
Alen BreatheSmart Key Features
The 75i is a much better option if you are looking for power and CFM. This is because it comes with a turbo speed that can easily reach up to 350 CFM. The 45i doesn't come with any of such turbo modes.
But both these units can extract up to 99.99% germs that are all 0.1 macros or above. In addition, the smart sensors on both these units will allow you to see the current status of air quality with the color LEDs.
There are three different cleaning stages in the 45i. First, the air passes through a pre-filter, then it passes through the HEPA filter and comes to the ionizer that removes any bacteria for germs.
The 75i also works in the same manner. The only difference here is that the latter has much bigger filters.
---
Alen BreatheSmart Noise Level
There are five different speeds and an automatic speed adjuster. On the other hand, the 45i comes with a top speed of 215 CFM, so it's pretty mild. Due to this, the 45i also comes with a slightly lower noise level rating at low speed. However, at high speed, both the units produce a similar amount of noise.
In most cases, both these machines are quiet, and they don't make much noise. You might not notice a unit running around you unless you turn its turbojet on-air and run it at full CFM. It means that you can take a nap while your air purifier is working and don't bother the boat waking up from the noise.
The 45i comes with a noise level rating of 23 dB at low speed and 49 dB at high speed. On the other hand, the 75i comes with a slightly high noise level rating of 25 dB, but the high-speed noise level is similar to the high speed if you compare it with 45i.
The units are generally quite soft in their operation. Just for reference, human conversation comes with a noise level rating of 60 dB. It means that these units are quite low, and they are barely noticeable when running.
---
Alen BreatheSmart Power Consumption
The 75i comes with a power supply 120AV and has a 7 feet long power cord attached to a 3-prong power plug. This power consumption is 1.8W to 45W. On the other hand, the 45I also comes with a 120AV power supply and a 2-prong power plug attached to a 7 feet long cord. The power consumption of this smaller unit is 1.1W to 50W.
Obviously, the bigger unit is going to be much more power-hungry as well. But you don't have to worry much about this factor because both these units are Energy Star rated, so your wattage will be kept low. Both units come with this rating, and it means that the unit is designed to optimize the use of electricity fully.
---
Alen BreatheSmart CADR, ACH, Room Coverage
The 75i comes with a CADR rating of 347, while that of the 45i is only 245. As far as air changes per hour or ACH is concerned, the 45i does around 4 to 6 times per hour based on the weather and requirements.
But the 75i does that even better, and it can change the air around 6 to 7 times. In addition, the 75i comes with an area coverage of 1300 square feet, while the 45i comes with 800 square feet.
---
Alen BreatheSmart Maintenance and Usage
There is not much difference between these two models, and they are almost identical. As far as the file is concerned, it will last for at least 12 hours if you use your air purifier daily for 24 hours. They both come with automatic sensors designed to handle the air quality independently and different colors indicating different air qualities.
One of the biggest advantages of going for Alen is that you don't have to go through maintenance. And the best part is that you can use it in every room and it will become part of the interior of that room.
---

---
FAQs
How long do these filters last in BreatheSmart units?
They can last for about 6 months if you are using your units normally. If you don't use your purifier a lot, it will certainly increase the usage tenure. But weather conditions can also dictate the use of a purifier unit. During those humid days, these purifiers work a lot. Therefore, you have to replace the filter a bit quicker than usual.
Can these units work in the rooms that are slightly bigger than what these units are rated for?
Yes, these units can work, but the purification process will drop down. For example, if you place your purifiers rated for 800 square feet in a 900 square feet big. It will continue to work, but its ACH or air change per hour will reduce.
How accurate is the smart sensor of these units?
Both the BreatheSmart 75i and 45i come with a smart sensor on them. Now, these smart sensors show different colors based on the air quality inside our homes. Here, people are the worst-case scenario, and Blue is the best-case scenario. In terms of quality, the measurement of the smart sensor is pretty close to reality. In addition, it means these units are highly reliable.
Is Alen a good quality brand?
If you are looking for a good quality air purifier, there is no better brand than going for Alen. One of the best features of this brand is that they stand behind the quality of their products. And for that, they offer a lifetime warranty. So no matter how many years have passed, you can get in touch with the brand if your unit falters, and they will either repair or replace the products.
---
---
Final Thoughts
Both Alen BreatheSmart 75i and 45i are pretty good units. The 45i is a good option for anyone who likes to go for a small unit and focuses more on portability. It also consumes less energy.
But the 75i is a better option if you are looking for a quick cleaning operation and have a big coverage area. Both these units are very similar in noise, while the 45i is only slightly lower in noise at low speed. But no doubt the 75i reigns superior because it is a much better option for bigger areas. For smaller rooms, you should consider going for the 45i.