If you have asthma, sinus problems, or allergy, having a hassle-free purifier that you can count on every day is important. Further, if you want to improve your home's air quality, an air purifier is also a great choice. After all, indoor air quality is frequently much worse than outdoor air quality.
Having said that, if you are in the market, in the looks for a good & affordable air purifier, the Levoit LV-PUR131 air purifier is one of the most appealing candidates there for you to choose from. We will discuss this air purifier. Is it really worth its price? Check it out!
TheLevoit LV-PUR131: Pros and Cons
The Levoit LV-PUR131 has a commercial, elegant-looking True HEPA filter, which is being tested rigorously to meet the highest standards. That alone says a lot about this product. It has the same price as its rivals, but it is the best amongst the group.
It features the latest technology, as well as lifetime support. It truly is a great option if you are searching for a bigger air purifier, which may supply fresh air to medium-large-sized rooms. It uses a three-stage filtration system that includes a fine mesh pre-filter, a True HEPA filter, and an activated carbon filter, capturing VOCs or foul odors.
This is all you need for a spotless environment at an affordable cost. Furthermore, it also has no permanent filters, extravagant lights, or ionizers that may plague you with the worries of ozone –that is a great plus!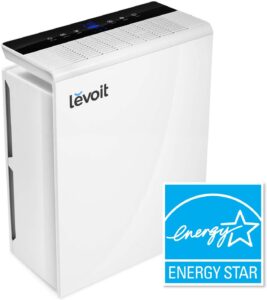 Pros
It comes with a timer for programmed running cycles.
It has an automatic mode that may detect the quality of the air in real-time and respond consequently.
It can create up to 322 sq. ft. of living space.
It helps with allergy symptoms.
Removes odors & refreshes the air.
Cons
It has a hulking body style compared to some other comparable air purifiers.
It is a bit awkward to reset its filter button after replacing them.
Filters are expensive to change.
---
Levoit LV-PUR131 Design, Size, Placement
The Levoit LV-PUR131 air purifier measures 14.5-7.2-18.5 inches and weighs about 15.8 pounds. It isn't the smallest nor the biggest air purifier available in the market. Nonetheless, Levoit claims it's a convenient size.
Furthermore, its simple, boxy design won't really make it a head-turner, but it looks spotless & sleek. The front of the device features the Levoit logo on the top-right corner, and that's pretty much it.
Its controls are all at the top, together with the air vent and they're well laid out. The center part of the control has an indicator light. This goes from red, yellow, green to blue. The color changes as the quality of the air improve.
The air intake is on the side so that you may place it right against your wall. However, Levoit suggests that there must be at least a 15-inch clearance on all the device's sides to assist with the air circulation.
---
How Levoit LV-PUR131 Works
The Levoit LV-PUR131 air purifier is made for a room up to 322 square feet. It utilizes three-stage filtering, where the air goes into the pre-filter, True HEPA filter, and the activated carbon filter. The pre-filter traps large allergens like pet hair that leaves the True HEPA filter in taking on the smaller particles.
This is essential in improving the lifetime of the True HEPA filter as it does not need to do all of the filtering tasks all by itself. With the True HEPA filter, it might trap up to 99.97% of pollen, pet dander, dust, mold spores, smoke, as well as some other allergens with about 0.3 microns diameter.
You'll notice a noteworthy decrease in dust hovering all over your home or sticking into your drapes, furniture, and almost everything.
---
Levoit LV-PUR131 Key Features
The Levoit LV-PUR131 includes numerous features, all while keeping at a practical price point. Some of the key features of it include the following:
Three Stages of Filtration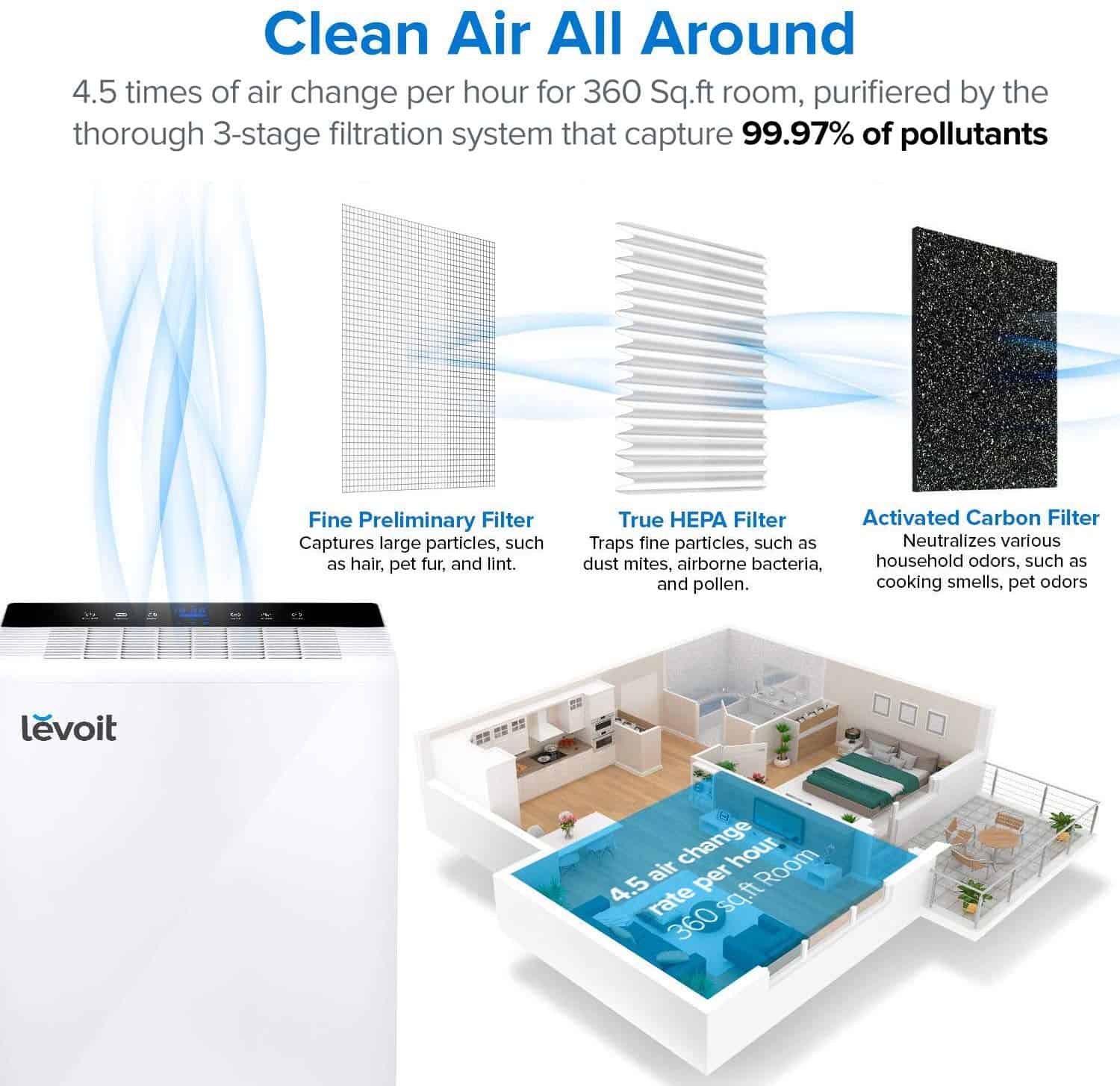 It uses three levels of filtration to help in purifying the air. It includes:
Pre-Filter

True HEPA Filter

Activated Carbon Filter
These allow the device to clean a maximum of 322 sq. ft. of space.
Auto Mode
It allows you to adjust the fan speed manually, depending on all your needs, or you may set it to Auto Mode, where the device can detect the quality of the air in any room and choose the proper fan speed for it.
Performance
In less than 60 minutes, this device will be able to produce much cleaner air quality. This is an excellent performance for an air purifier.
Timer
It has a convenient timer that is accessible from its touch controls at the top of the purifier. Further, the LED display screen at the top also allows you to adjust the timer manually for whatever time you need.
Sleep Mode
Aside from Auto Mode, it also has Sleep Mode, which allows the device to operate at its lowest possible decibel level so your sleep will not be disturbed in any way. You may also turn its LED display off when the extra light is annoying you at night.
---
Levoit LV-PUR131 Noise Level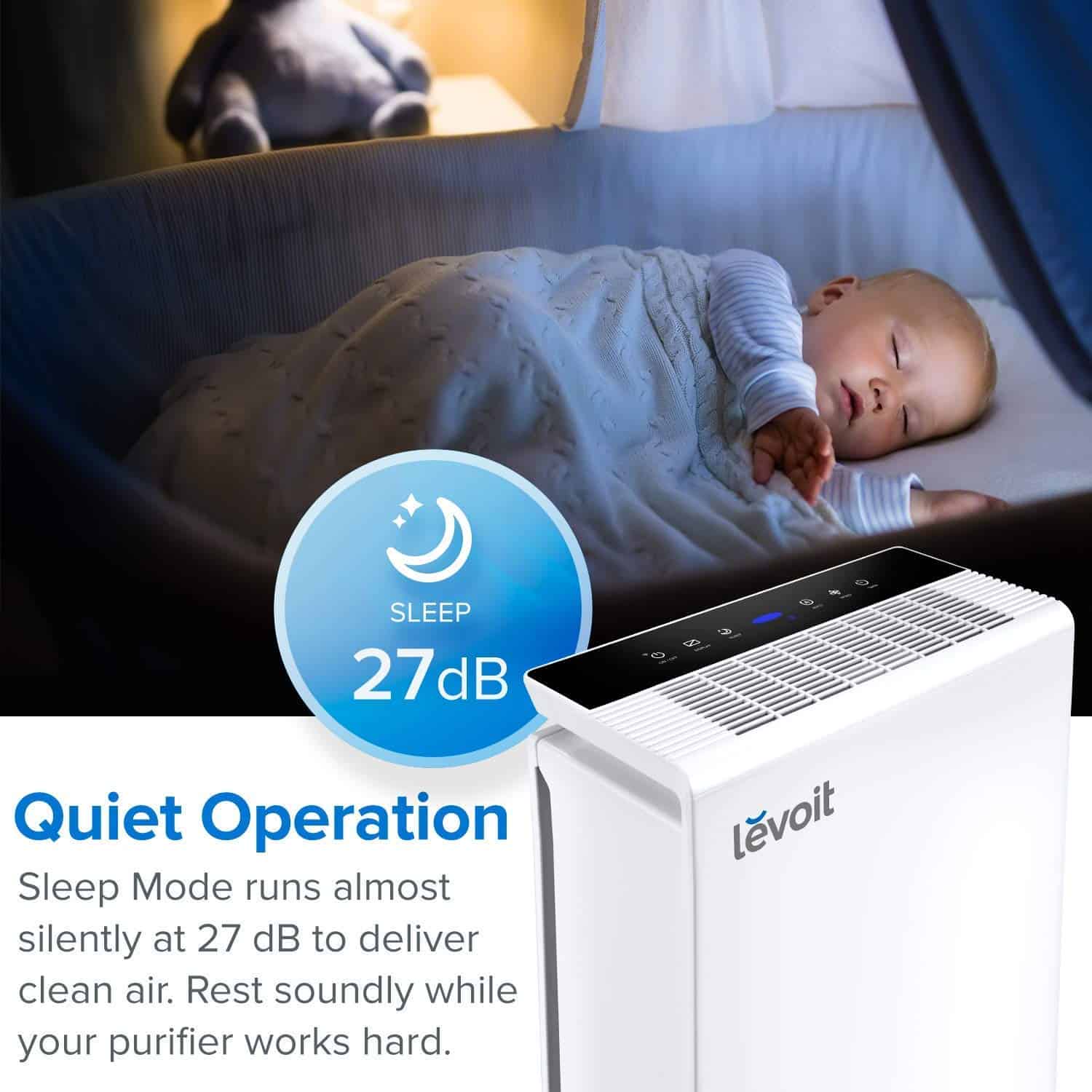 Levoit LV-PUR131 air purifier's well-constructed fan & noise-reducing body is what makes it one of the most silent/quietest models there is. On high, the device generates a low sound that's so inconspicuous. In fact, you can read a book without being disturbed by it at all. Moreover, on low or medium, it is even quieter yet noticeable.
If you are going to use it in a bedroom, you can set it to Sleep Mode. In this mode, the device will even be much quieter than the Low Mode. You will not have any problem sleeping through the night while it is running.
---
Levoit LV-PUR131 Clean Air Delivery Rate (CADR)
The Levoit LV-PUR131 air purifier has a CADR rating of 135+ –it stays at 135 CFM generally. This particular number states that the unit can reduce dust, pollen particles, and smoke levels to the same concentration as if it is adding more than 135 cubic feet of clean air every minute.
With its CADR spec, it has sufficient power for 200 sq. ft. rooms. It is likely sufficient for most bedrooms, yet it might be slightly on the weak side for living rooms. What's more, with its CADR rating, it is hassle-free for it to refresh your air in just 10 minutes.
---
Levoit LV-PUR131 Maintenance & Upkeep
Because you cannot clean or wash its filters manually, the cleaning necessary for the Levoit LV-PUR131 is very minimal. The filters should be changed and can't be cleaned –if you did, they will be ruined and of no use.
Perhaps, the only cleaning involved in this device is the dust sensor and the unit's exterior. To clean the dust sensor, you should have a Q-tip soaked in water. This will give it a quick, easy clean that will help remove any dust on the device. The unit itself only needs a wipe down using a damp cloth to keep it shiny and nice –nothing else more.
---
Final Say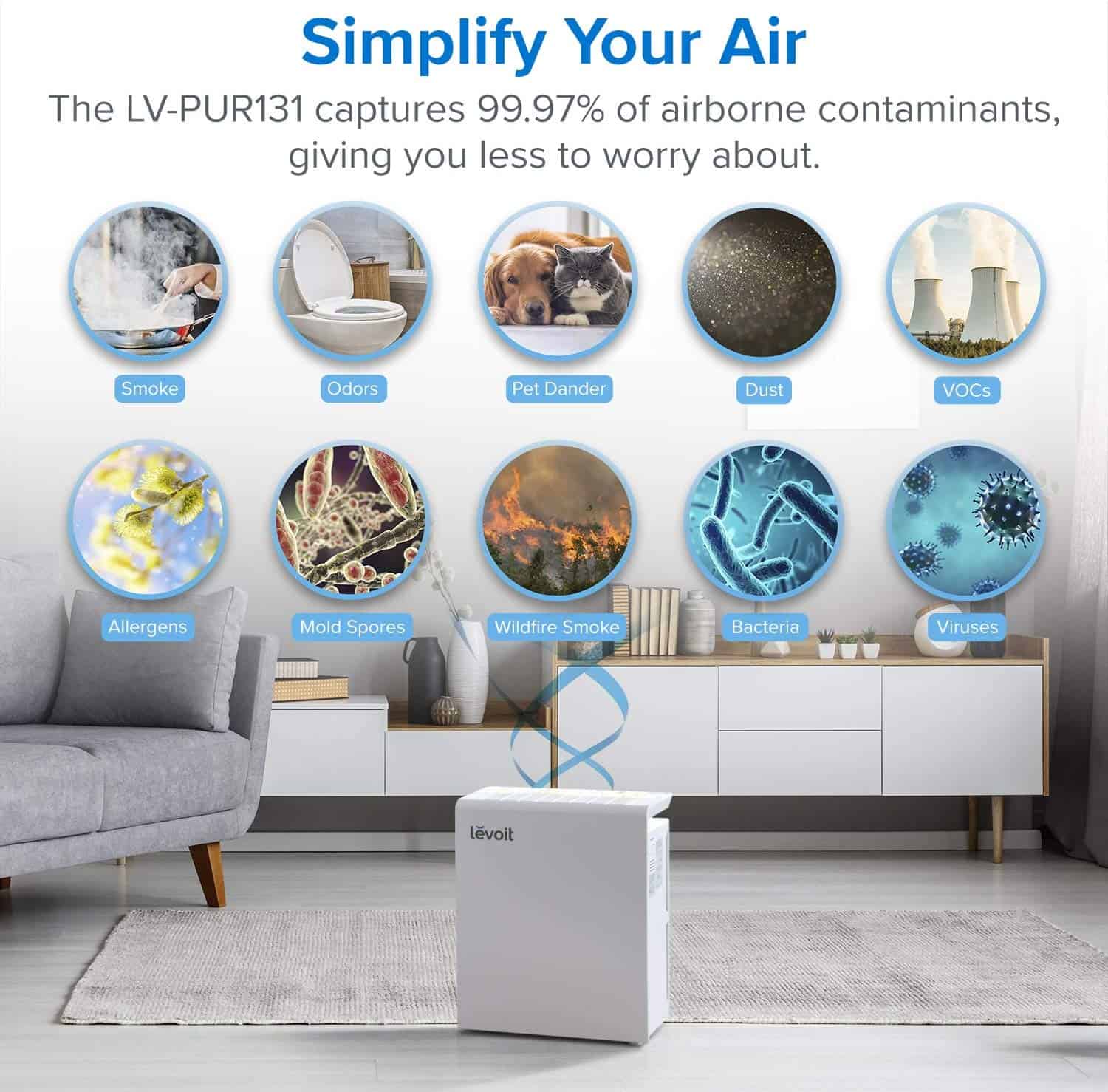 Levoit has effectively made an exciting offer with the Levoit LV-PUR131 air purifier. It looks so good and so easy to use. The whole cost of ownership is reasonable, as well. If you need an air purifier that costs below $200, with a pre-filter, True HEPA filter, and an odor-reducing activated carbon filter, this is for you.
Overall, it is an amazing air purifier perfect for a medium-sized room up to 322 square feet. With it, you will immediately notice an improvement in the overall air quality in your room. That just means –less asthma, sinus problems, and allergy for you and your family!