AirDoctor 2000 is the newest member of AirDoctor's family. It covers larger spaces than the AirDoctor 1000 but is smaller than the AirDoctor 3000 and 5500 models.
Based on specifications, it is very similar to AirDoctor 1000, but the design is identical to AirDoctor 3000.
---
AirDoctor by Idealliving
September 13th – 27th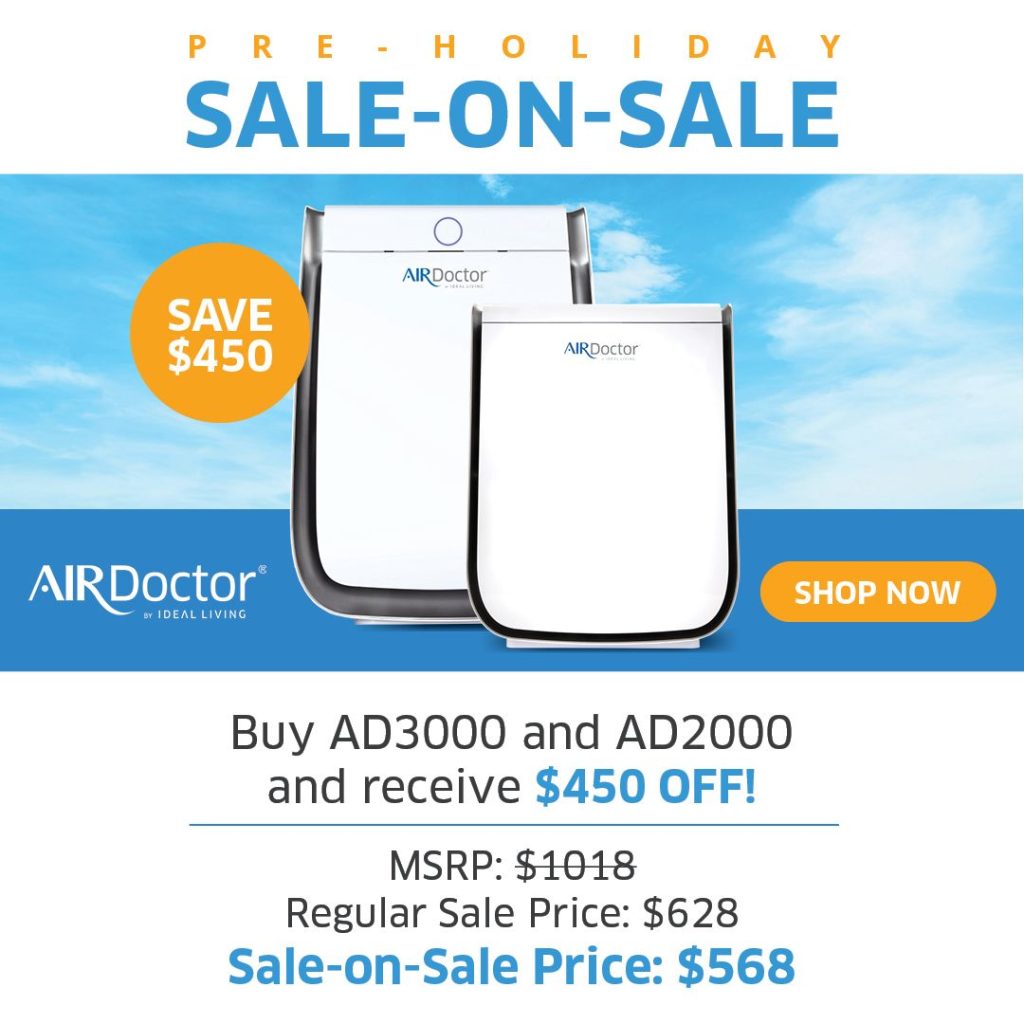 ---
So, who will it fit best? Let's find out.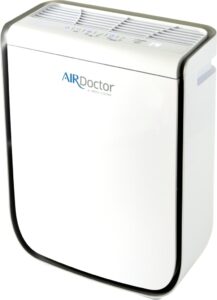 Pros
Quiet but Powerful
Perfectly working auto mode
Air Quality Monitor
Filters 100 times smaller particles than the standard HEPA
Lightweight – easy to move around
Night Mode
Energy Efficient
---
AirDoctor 2000 Design, Size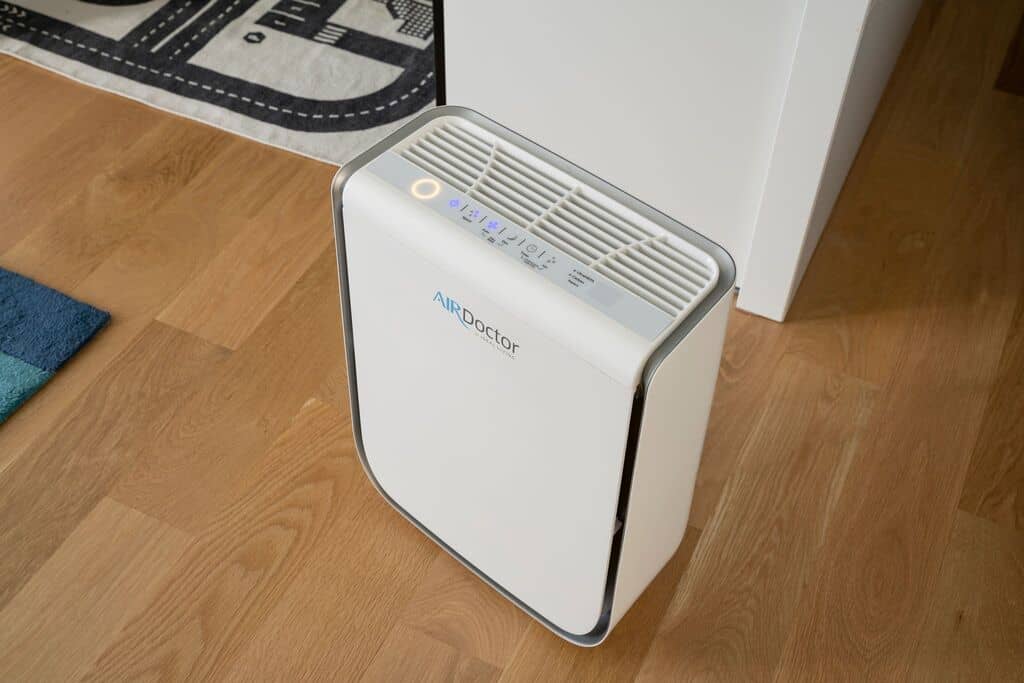 AirDoctor 2000 design is very similar to the AD3000 but smaller. AirDoctor 2000 dimensions are 13.85″ (W) x 6.6″ (D) x 18.72″ (H).
The air intake is through the front, and the outlet is through the top behind the control panel. The touchscreen panel is large and has symbols, so it is easy to understand. Next to the controls are two filter change reminder lights.
On both sides of the air purifier are built-in handles to quickly move apart this only 10lbs unit.
On one side is also an air quality sensor hidden behind the cover.
The overall design is nice and clean and would fit in any interior.
---
How Does AirDoctor 2000 Work, And What Sources of Indoor Pollution Destroy?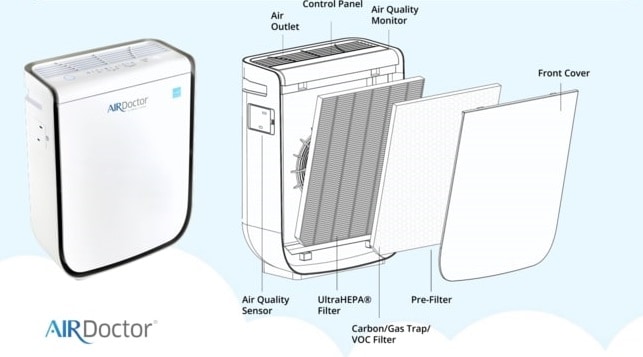 AirDoctor 2000 works similarly to most of the best air purifiers. First, the fan moves dirty air inside through the filters, capturing airborne particles. Then clean air is distributed out through another side.
AirDoctor 2000 has three filters – pre-filter, carbon filter, and UltraHEPA filter.
The pre-filter is attached to the carbon filter. It captures the largest airborne particles, such as hair, mold spores, pollen, and heavy dust.
Carbon/Gas Trap/VOC filter removes toxic ozone, gas, odors, and volatile organic compounds like formaldehyde.
UltraHEPA filter, also called the H13 UltraHepa filter, is independently tested and proven to capture 99.99% of airborne particles as small as 0.003 microns. So that includes dust mites, bacteria, viruses, Covid-19, the smallest dust particles, pet dander, and more.
Most particles are larger than 0.003 microns, so AirDoctor 3000 can remove virtually 100% of airborne particles.
AirDoctor 2000 also has an ionizer that emits negative ions to help capture airborne particles. However, most people try to avoid using them because they emit ozone.
Here are my 2 cents regarding ionizer. First, it emits less ozone than there is around you in a typical environment, so you won't feel any difference. Second, you can turn it off with one press of a button.
---

AirDoctor 2000 Key Features
Nowadays, I can't imagine using an air purifier without certain features such as filter replacement indicators, auto mode, timer, etc. Of course, many are available, but this is not the case.
AirDoctor 2000 comes with many great features. So, let's take a look closer at each of them.
Auto Mode. Please turn it on and forget about touching the control buttons. AD2000 model is equipped with a professional-grade air quality particle sensor, which measures air quality around the air purifier and adjusts fan speed automatically.
Air Quality Indicator. It is just a light showing you 3 colors – blue for good air quality, orange for moderate, and red for poor.

Filter Change Indicator. AirDoctor 2000 has 2 indicator lights – one for the Carbon filter and one for the UltraHEPA filter. When the light comes up, it is time to change filters.
Dim Mode. What this feature does is turn off the lights. It's simple, but not all air purifiers have it. It is a must-feature at night if you want to keep the air purifier on but don't want to see bright lights.
A timer lets you turn off the air purifier after a particular time. For example, you can set up a minimum of 1 to maximum 24hrs.
Control Lockout. When this setting is activated, controls are no longer able to be pressed. This is handy for those who have a child or pets who could accidentally push buttons.
Are there any features missing?
Yes, AirDoctor 2000 doesn't have a wifi and remote control. However, there are many models out there that can be controlled through the phone remotely.
Yes, you can live without these features, but I like new technologies, so I would love to see this on the following AirDoctor air purifiers.
---
AirDoctor 2000 Noise Level
AirDoctor 2000 noise level is 40 dB at the lowest speed and 55dB at the highest.
I know many brands call their units quiet performers, and AirDoctor does the same, but that's the industry's average. If the air purifier goes below 60dB on the highest fan speed, that's very good.
But 40dB on the lowest fan speed is a bit too noisy. But that's because it is powerful even with the first fan speed. Other air purifiers have the same power using 2nd or even 3rd fan speed.
So is AirDoctor 2000 a quiet performer? Compared to the air conditioner or a dishwasher, yes. You will always hear noise from it because it is moving air, and that's impossible without some noise.
---
AirDoctor 2000 Energy Consumption
Energy consumption depends on the fan speed. For example, AirDoctor 2000 consumes 11 watts on the lowest fan speed and 110 on the highest setting.
Here is the estimated monthly electricity cost if you use AirDoctor 24 hours per day. I took the average kWh price in the USA, around $0.12.
| | |
| --- | --- |
| Speed 1 | $0.85 |
| Speed 2 | $1.70 |
| Speed 3 | $3.90 |
| Speed 4 | $8.00 |
If you use AirDoctor on auto mode, which I recommend, you should expect your electricity cost somewhere in the middle—around $4 per month.
That's very similar to what a refrigerator consumes.
---
AirDoctor 2000 CADR And Room Coverage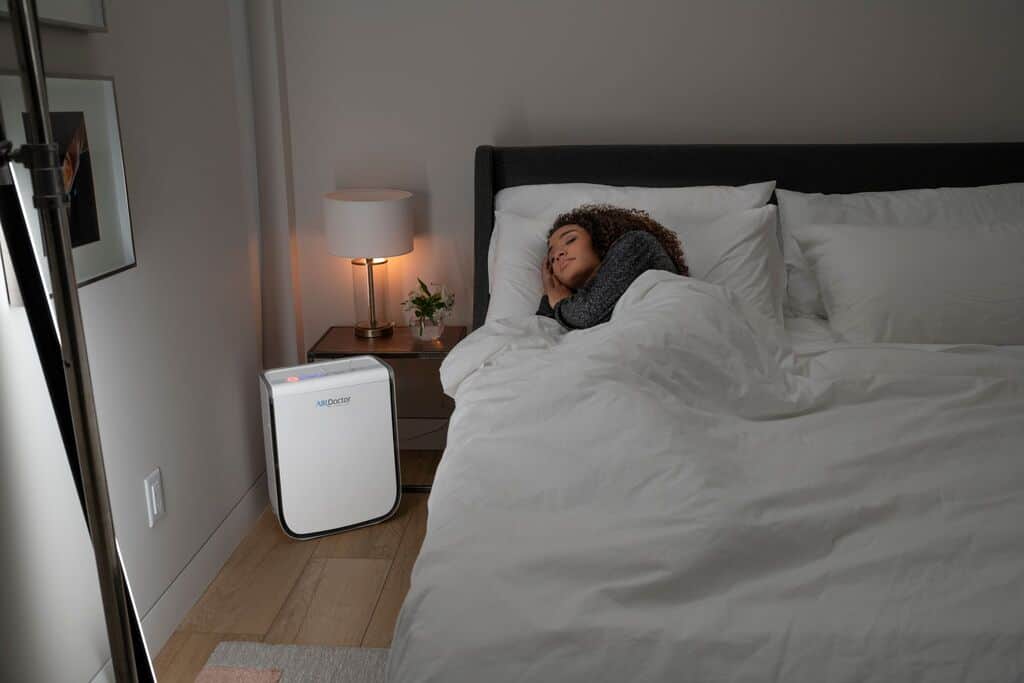 Room Coverage
AirDoctor is only one of many brands showing coverage area based on ACH (air changes per hour). Why does ACH matter? Here is why.
When someone says their air purifier handles 1000 square feet and doesn't show ACH, it can mean that it can clean 1000 sq. ft. once per hour, twice per hour, or even five times per hour. So, they are misleading consumers.
Here is how large space Airdoctor AD2000 can clean based on ACH:
| | |
| --- | --- |
| 1 ACH (1x/hour) | 1,220 sq. ft. |
| 2 ACH (2x/hour) | 610 sq. ft. |
| 3 ACH (1x/hour) | 406 sq. ft. |
| 4 ACH (4x/hour) | 305 sq. ft. |
| 5 ACH (5x/hour) | 244 sq. ft. |
Getting an air purifier that can turn around time in your room 4 times per hour is recommended, so AirDoctor is best for spaces up to 305 square feet large.
You can also use it in larger spaces, but remember that it will be most effective in smaller areas such as bedrooms, nurseries, home offices, and more.
CADR
AirDoctor 2000 CADR (smoke) is rated 162 CFM (cubic feet per minute).
---
AirDoctor 2000 Maintenance and Upkeep
AirDoctor 2000 is almost maintenance-free. All you have to do is clean the pre-filter occasionally and change the other 2 filters when necessary.
The more often you clean Pre-Filter, the longer the carbon and HEPA filter life will be. AirDoctor recommends cleaning the pre-filter once every month.
That's easy and simple – unplug the air purifier, remove the front cover, and vacuum the pre-filter without even removing it.
A carbon/Gas/VOC filter must be changed every 6 months, but UltraHEPA must be once yearly. That may vary from the usage and dirtiness of the air, but AirDoctor recommends those.
Besides filters, you must clean the air quality particle sensor, which may also become dirty over time. The cleaning process is simple; you can read more about it in the user manual. The main thing is to do that carefully so you don't scratch it.
---
AirDoctor by Idealliving
September 13th – 27th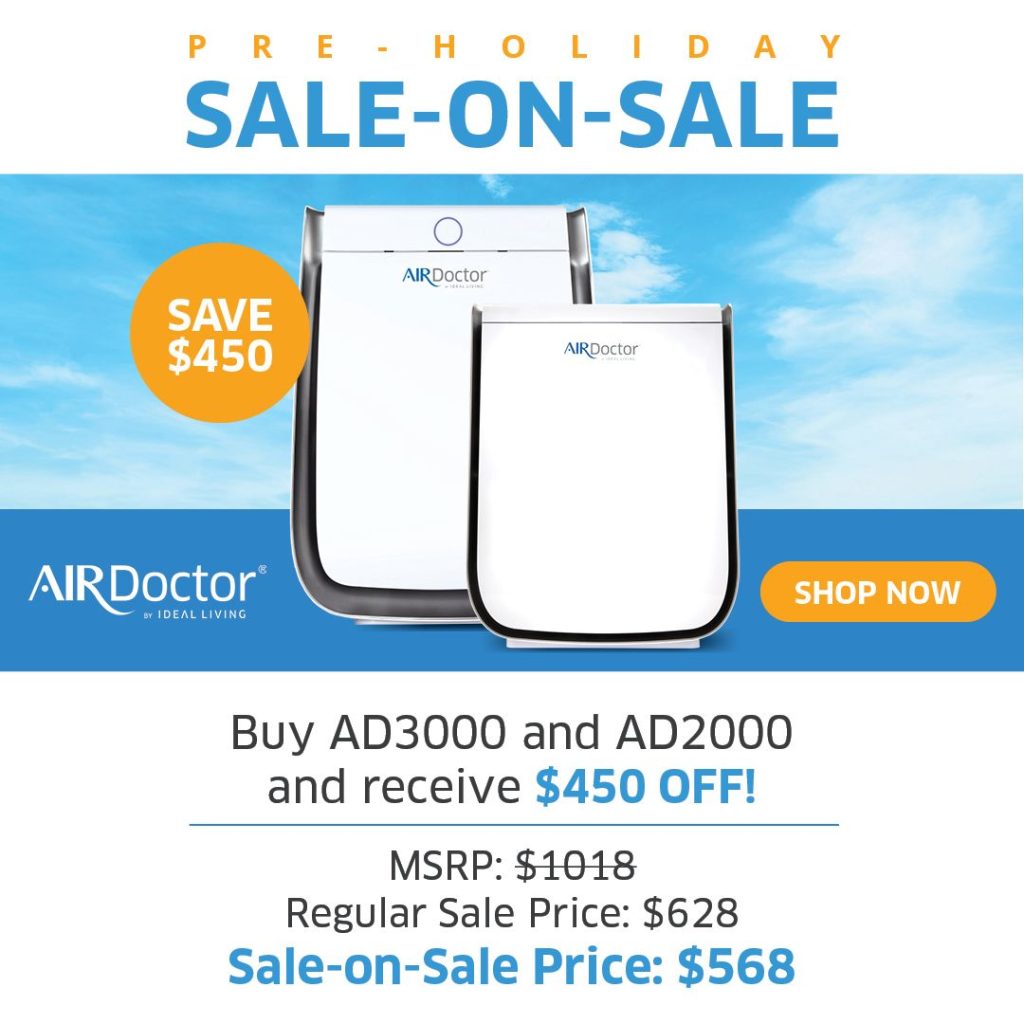 ---
Summary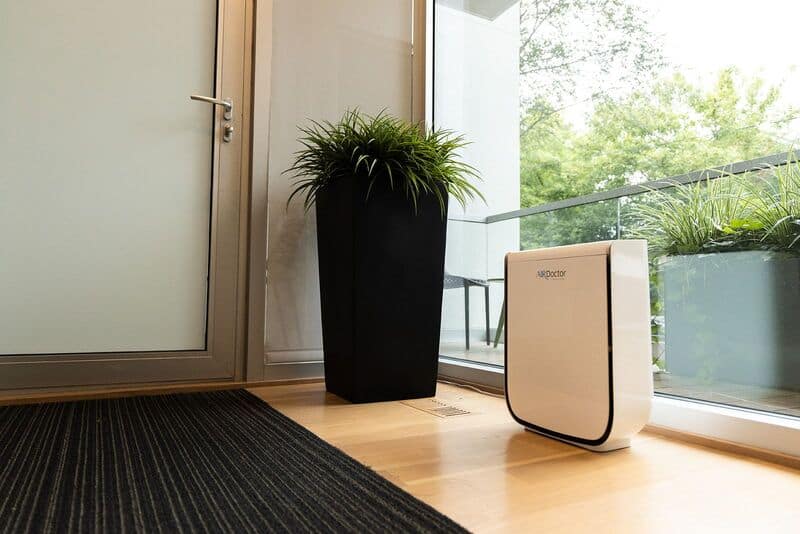 AirDoctor 2000, besides its smaller size, is powerful in removing microscopic particles from the air, VOCs, and odors.
It is suitable for smaller spaces below 300 square feet for people who don't want to consider air purifiers daily. Just set it to auto mode and breathe healthy air.
For larger spaces, take AirDoctor 3000 or AirDoctor 5500 air purifier.
---
AirDoctor 2000 compared to AD1000, AD3000, and AD5500.