Scorching summers would force you to move to a hilly location or work out coolly inside your swimming pool. But what if you have to be at home or office all day long?
Well, an air-conditioner does the job for you. But how to find out an AC which not only keeps you cool throughout the day but is also cool to your pocket?
Well, the window ACs provide the solution. However, these ACs produce disturbing noise.
A split AC, finally, solves all these problems at once. They are cool as well as hot when needed and quiet inside always.
The Pioneer WYS018GMFI22RL Mini Split Air Conditioner is no exception. It provides just the right temperature to your room, optimum load to your pocket, and it is quiet. Besides, the sleek and soothing design offers good aesthetics while enhancing the interior of your decorated room.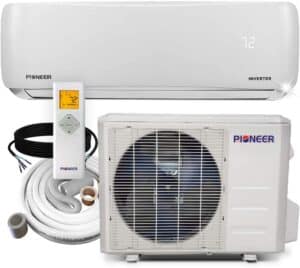 It has many more features than what we discussed above, and we will go through each of them in detail right here.
Pros
18,000 BTU capacity

Quieter operation inside

Serves a dual purpose of cooling as well as heating

Made of High-Quality Material

High energy efficiency
Cons
More expensive compared to portable ACs
---
Design, Size & Warranty
This wall-mounted AC has a compact design; thus, not only does it save space on the ground, but it also doesn't occupy a large space vertically as well. Moreover, the simple yet soothing design blends well with any wall color.
The unit is designed to meet Energy Star certification requirements and thus is more energy-efficient than many other AC in the category.
The compact size AC has a dimension of 13.13" x 41.5" x 8.88". At 29 lbs, it makes for one of the lightest ACs in the category.
The AC comes with a 2-tier warranty-
For Parts- 2-year limited warranty

For Compressor- 5-year limited warranty
---
Product Features
Refrigerant Leakage Detection
As soon as the refrigerant develops a leakage, the AC detects it and displays the corresponding code on the LED Screen. This feature protects the internal parts of the AC from any damages.
Temperature Compensation
The PIONEER AC features a unique temperature compensation function to avoid larger temperature differences between the room's ceiling and floor. 
This way, the cooling time is reduced to a great extent. Moreover, extra energy is conserved during the operation.
All-Weather Usage
You can alter the operation mode of the AC into heat, cool, auto as well as dehumidification mode. This feature allows you to experience great comfort throughout the year, irrespective of the outdoor climatic conditions.
Remote Controls
The PIONEER AC includes a highly user-friendly remote to control the unit's performance with more convenience. The remote is durable and efficient and comprises a top-quality LED display for even more comfort.
You can also control the unit from indefinite ranges using the optional Pioneer USB Dongle (not included with the unit) by attaching it to your smartphone, laptop, or tablet.
Follow Me
The AC also features a highly convenient follow me function. Using this feature, you can convert your remote control into a portable thermostat. With this feature, the unit automatically attains the desired temperature and fan speed according to the remote's surrounding environment.
Other Basic features
Auto Restart which automatically starts the unit after a power outage and reinstalls the previous settings

Programmable Timer for delayed start/stop of the unit

Short cut function to quickly restore to the previously installed settings.

Sleep Mode for gradual movement towards desired temperature and comfortable operation

Self Clean to clean and dry the evaporator

Fine filter to trap the smallest of dirt and dust
---
Noise Level 
With an impressive noise level roaming around 45-46 dB, this outstanding AC offers a pretty quiet and soothing operation that neither disturbs you while working nor does it wastes energy in the dissipation of unwanted sounds. 
However, the outdoor unit of the AC produces significant noises as loud as 61 dB. Nonetheless, this would not be a matter of your concern, though it might affect the product's energy efficiency to some extent.
---
Energy Efficiency Ratio (EER) And BTU Cooling Capacity
The Energy efficiency of this remarkable AC is a class apart. It has a highly satisfying Energy Efficiency Ratio of 13.0, which means that it does not put any heavy impact on your electricity bills and remains kinder to the earth. 
Also, the SEER of this appliance rises to an exceptional value of 20.8. The Cooling Capacity of this powerful AC is 18000 BTU making it suitable for most of the spaces.
---
Installation and Usage
The lightweight of the AC allows for an easy installation. It is equally supported by the obvious and easy to understand the installation manual's step-by-step installation method.
The unit does not require a professional to install it, thus saving a great deal on installation costs.
All the parts required to install comes along with the AC unit, and you do not need to look out for any of the fittings from outside. Moreover, the product comes with a complete 16' installation kit for added convenience.
Besides, the 2-way drain system further eases the installation process as you do not need to worry about the direction of the drain while installing.
It can be used for cooling, heating, and also for dehumidification. This makes it suitable for homes, offices, and even basements.
The unit can get the temperature in the range of 62 to 90oF and give the required temperature even at ambient temperature as low as -15oC.
---

Final Thoughts
With its extraordinary performance and smart features, the PIONEER WYS018GMFI22RL Ductless Mini Split Air Conditioner finds its place in almost all the top categories of mini-split AC. It is a quiet AC with smooth and eco-friendly operation.
So, if you're keenly interested to spend a little more for comfort and enjoy one of the best mini-split ACs, this AC is surely a perfect match for you.
---
Read also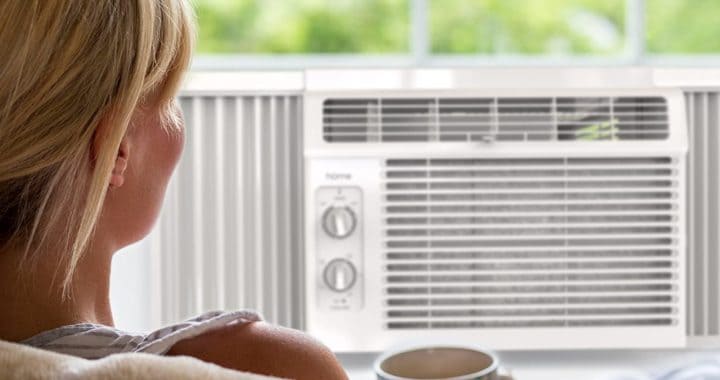 Air Conditioners are modern appliances that help in providing a comfortable environment in extreme weather. They can be divided into two broader categories viz. Window ACs and Split ACs. Split ACs are luxurious and aesthetics while their counterpart Window ACs are economical, user-friendly, and slightly more efficient. Window ACs, as the name suggests, are installed […]
0 comments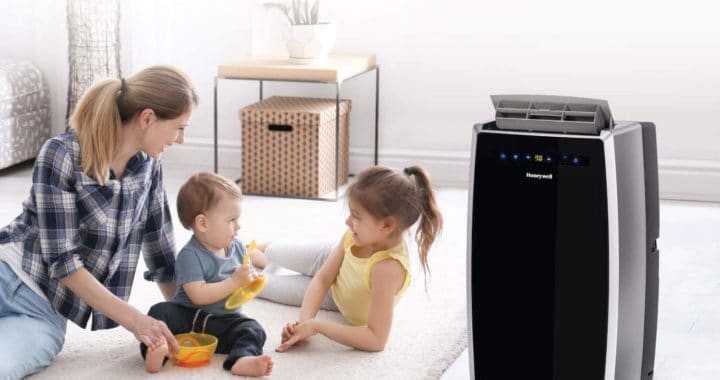 Honeywell Condition MN12CES is the best portable air conditioner to use in an environment that encounters weather fluctuations. Nothing beats owning this powerful unit with a cooling capacity of 12,000 BTUs. On top of that, this unit has a compact body with a sleek modern design. This makes it ideal for use in larger rooms […]
0 comments
An unmatched ease-of-use with absolutely excellent quality, the MrCool Mini-Split AC is one of the most stunningly efficient cooling machines of all time. This technically advanced with a pile of features up its sleeves is a considerable value for money. This terrific appliance is highly reliable for all seasons. Moreover, it offers extreme convenience through […]
0 comments