Our body requires the right level of humidity to perform at peak efficiency. On the one hand, dry air can cause various medical conditions like cough, congestion, asthma, and allergies.
On the other hand, a high moisture level promotes the growth of disease-causing bacteria.
A hygrometer measures the humidity level and guides us in deciding the correct type of appliance required to create a healthy and comfortable environment around us.
But to decide the best hygrometer is also pretty challenging.
To help you select the best hygrometer, we are sharing the top 12 best hygrometers available.
Top 12 Best Indoor Hygrometers 
1. Best Overall: ThermoPro TP50 Indoor Hygrometer
The hygrometer with a 2.7" size smart display is very easily readable from a distance. The portability of the meter makes it move from place to place without difficulty.
It monitors humidity level & temperature regularly and records the highest and the lowest records for both the parameters.
The humidity level indicator indicates Low, Comfort, and Wet conditions depending on the monitoring area's humidity level.
The kickstand and magnetic mounting help mount it at convenient angles and locations.
Pros
Low-cost option
Smart easily readable display
Accurate reading
2 Years Warranty
Cons
The display does not glow at night
Verdict
If you wish to have a handy, accurate, and easy-to-read hygrometer that can record the maximum & minimum readings, ThermoPro TP50 would be an excellent choice for you.
---
A durable, top-quality device that boasts a classy and durable body, the Homidy 360-degree HD is one of its kind. It has environment-friendly machine parts and efficiently offers some must-have features.
This attractive hygrometer bag in a wide variety of features with exceptional accuracy in measuring temperature (+0.3%). It also offers an accurate measurement of humidity (+3%).
Also, the unique 360o operation of this efficient product adds to its value. Also, it features six comfort and mood levels to give you the perfect idea of your ambiance.
Pros
360o operation
Included stand
Top-quality HD screen
3-year warranty
Cons
Update frequency of 3 seconds
Poor user manual
Verdict
Overall, Homidy 360o HD, with its attractive quality and unit, this wonderful hygrometer, with its unique performance, is sure to win your hearts.
---
3. Best Budget Option: AcuRite 00325 Indoor Thermometer & Hygrometer with Humidity Gauge
If you are looking for an easy-to-use & multitasking hygrometer that fulfills all your requirements in terms of performance, AcuRite 00325 is perfectly suitable for you.
The manufacturers have focused mainly on the device's performance against the looks. The unit can display humidity levels in the wide range of 16%-98%. The temperature range is around 32-122 degrees Fahrenheit, making it suitable for all surroundings.
Besides, this unit features a convenient magnet back and a clip for easier placement.
Moreover, the display is easy to read. Thanks to its ideal dimensions of 3" x 2.5" x 1.3". The design is simple and basic.
Pros
Highly Affordable
Easy to place
Easily readable
Multifunctional
Cons
A bit crowded display.
Looks might be too essential for some.
Verdict
Overall, the portable and multipurpose AcuRite 00325 is a perfectly suitable choice for all types of customers. It is affordable and easy to use.
---
4. ThermoPro TP67 Waterproof Weather Station
With its advanced remote sensor and unmatched quality, the ThermoPro TP67 is one of the most impressively performing hygrometers. It is a waterproof device with a long battery life of more than a year.
Moreover, it comprises a large 4" LCD that offers remote monitoring with various indicators and readings. It has a sizeable wireless thermometer that can efficiently measure indoor and outdoor temperatures.
It can even record the minimum and maximum records of your surroundings.
Pros
Waterproof
Remote sensor
Large screen
Record storage
Verdict
Overall, the ThermoPro TP67 is a good quality product with a wide variety of features, making it suitable for all categories of customers.
---
5. ThermoPro TP65 Digital Wireless Hygrometer
The 4" large LCD shows the humidity and temperature readings. The numbers' size is extra large and can easily be seen from a distance.
Also, the screen displays a low battery indicator.
The meter stores past 24-hours reading. You can use this feature to know the trend of humidity & temperature and take the required actions.
The backlight allows reading in the dark through manual activation.
You can connect the meter with 3 remote sensors. So, the meter can display humidity and temperature readings for 3 different areas.
Pros
Extra-large display
Backlight for reading in the dark
24 hours reading record
May connect 3 remote sensors
Cons
Outdoor sensors are not too sturdy.
The backlight is not bright enough
Verdict
The ThrmoPro 65 is a beautiful product having an extra-large display for easy readability with 3 remote sensors in a single device.
---
A big jumbo size LCD is the key feature of Meade Instruments TM005X-M hygrometer.
The readings are displayed in big sizes and can be toggled between humidity & temperature readings very easily.
The meter can receive data from 3 different sensors. The sensor can send data to the meter from as long as 100 feet.
The meter records & stores the highest and the lowest readings of humidity & temperature.
Pros
3 remote sensors readings
Data transmission from 100 feet distance through wireless sensors
Very easy to read LCDs
Verdict
This convenient and user-friendly hygrometer, with its impressive features, is a suitable choice.
---
La Crosse Technology 302-604B is a top-quality product that bags some advanced features in addition to the most basic ones. Moreover, it can save the minimum and maximum records of your ambiance.
It features a 'comfort icon,' indicating a comfortable humidity level of 40%-60%.
The operational range of this device is -4oF to 122oF. The unit includes an easily changeable CR2032 button cell battery for added convenience.
Pros
High accuracy (+3%)
Comfort-level indicator
Quite Affordable
Appealing design
Cons
Slightly confusing AM/PM display.
No backlight
Verdict
If you are looking for a handy hygrometer that efficiently checks your room's ambient conditions, the La Crosse Technology 302-604B is perfect.
---
Habor GEHM118AB is unique due to its quick response feature. Its 24 VENTS monitor humidity & temperature in a quick interval of 10 seconds.
It can measure temperature between 32 to 122oF and humidity between 20 to 95%, with accuracies of ±2.7℉ & ±5%, respectively.
The unit indicates 3 different conditions, viz. Comfortable, uncomfortable, and normal.
The easy-to-read LCD allows reading from far distances.
The multiple mounting options, viz. magnetic, table-top, and hanging on the wall, make it convenient to mount anywhere with ease.
Pros
Short interval (10 seconds) readings
Bright panel with easy-to-read LCD
Multiple mounting options
3 comfort level indication
Verdict
The Habor GEHM118AB has many unique features up its sleeve. There are multiple reasons to keep it on your top priority list of good-quality hygrometers.
---
The Bengoo BEN-TM6-1 is a well-finished, efficient, and user-friendly hygrometer with high readability and impressive performance.
It is a multi-tasking device that works with both Celsius and Fahrenheit scales. Moreover, it features a massive 4-inch LED screen, a durable back stand, and a magnetic strap.
The variety of icon indicators allows remote and convenient monitoring of the device.
Besides, the operational range of this device is -4 to 158oF. Furthermore, the humidity display range is 10-99%, which is also very high compared to other such hygrometers.
Pros
User-friendly
Large screen
Wide operational ranges
Easy-to-place
Cons
Slightly low accuracy
Not quite an attractive design
Verdict
The Bengoo BEN-TM6-1 is an easy-to-use product that best suits those looking for a large hygrometer with wide working ranges.
---
It is a luxurious device that can make Wireless connections with your smartphone's Bluetooth. Also, it offers an exceptional variety of functions, including weather, indoor ambiance, outdoor ambiance, large memory storage, alarm clock, timer, low battery indicator, date, and whatnot.
This AAA battery-powered device displays unique icons for presenting your area's indoor/outdoor conditions.
It is a top-quality tabletop hygrometer with an extra-large colorful LCD screen that allows easy remote monitoring.
Pros
Wireless connectivity
A wide variety of functions
Top-quality display
Luxurious quality
Cons
Quite Expensive
Slightly tricky to use
Verdict
For those looking for a top-quality hygrometer that brings in many advanced features with a large and good-quality screen, Brifit Wireless is a perfect choice.
---
With its awesome portability and reasonable price, the AcuRite 00613 is a great choice, especially for first-time users. It is a suitable quality device that can easily fit in your pockets and offer high convenience.
This compact device can keep track of the maximum and minimum readings. Besides, it can rate the current humidity of your ambiance as 'High,' 'Low,' or 'OK.'
As far as the body design is concerned, this device comprises a durable and sturdy frame. The display has compact dimensions of about 1.3" x 2.5," which is ideal for simultaneously displaying multiple factors.
Pros
Compact & Portable
Long Battery life
Durable
Easy to use
Cons
Lacks a backlight
Smaller size hinders remote monitoring
Verdict
If you want a portable, affordable, and durable hygrometer, AcuRite 0613 would be a perfect choice for you.
---
Govee Thermometer Hygrometer is an advanced Hygrometer that brings in some of the most convenient features.
The excellent feature list of this Hygrometer includes cloud storage of records.
Moreover, this hygrometer can be operated with a single command by connecting it through your Amazon Echo (Alexa) devices.
You can also pair it up with your smartphone using the "Govee App," which allows quick access to your ambiance stats. This way, you can also export the data storage in CSV format.
The unit has a cute and alluring design with an elegant frame surrounding the compact LCD.
Pros
Compatible with Amazon Echo
Govee App for smart controls
Attractive design
CSV format data export
Cons
Lacks remote monitoring
Slightly Expensive
Verdict
If you are looking for a luxurious hygrometer, your search ends with the Govee Thermometer Hygrometer.
---
What Is a Hygrometer Used For?
A hygrometer is an apparatus that gauges the air's relative humidity or the amount of vaporized water that is invisible to the naked eye in a particular location.
They range from straightforward instruments like the psychrometer and hair hygrometer to more intricate gadgets like the cooled mirror dew point hygrometer, which measures humidity using condensation temperature.
Modern electronic devices may detect dampness by sensing changes in electrical resistance and capacitance. As a result, hygrometers are helpful in various environments in addition to meteorologies, such as saunas, museums, domestic settings, and the HVAC sector.
Reduce Health Issues
Exposure to insufficient humidity levels has health concerns. Therefore, maintaining the proper degree of humidity is crucial.
The likelihood of bacteria and mold growth will be greater if your home has excessive dampness. Some of these things are poisonous and can harm people and animals.
Increase Home Comfort
You may take the required action, such as turning on the ventilation or the heating system, by using a reliable hygrometer to determine the amount of moisture present.
You can always keep your home at a pleasant temperature regardless of the outside conditions by using dehumidifiers and humidifiers.
Weather Prediction
A hygrometer is frequently used to record weather patterns and use those observations to forecast the future.
For example, humidity can aid weather forecasting by combining barometric pressure, wind speed readings, and temperature. With these forecasts, you may worry-free schedule activities like walks outside and travels. 
Prevents the Damage to Expensive Property
Your home's moisture levels can be controlled using a hygrometer. When humidity levels are too low, furniture can easily bend and crack. 
---
Where Should You Put Hygrometer?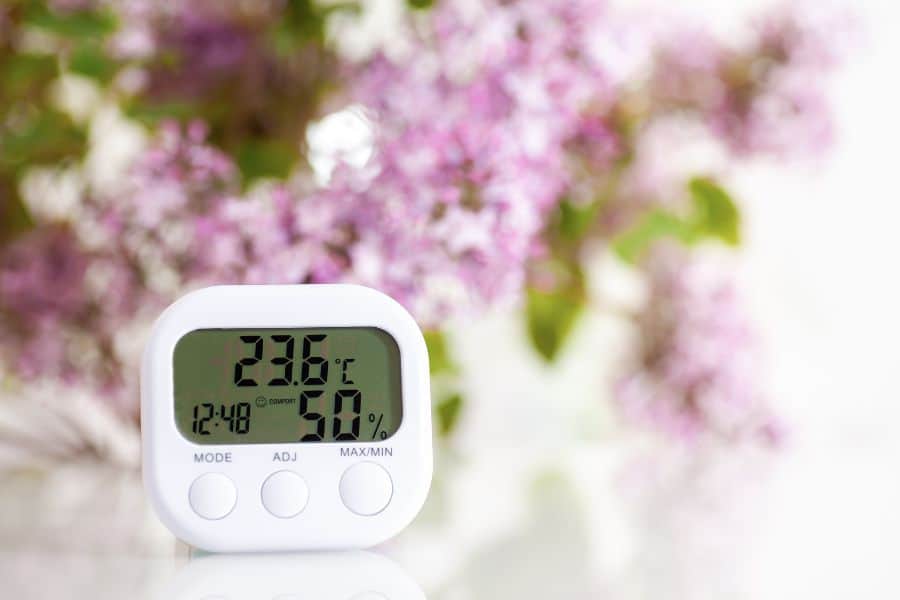 A hygrometer works best near the top of the building, far from any windows or entrances. Because it won't be influenced by outside elements like wind, rain, snow, or sunlight, it will provide you with an accurate estimate of the humidity levels in your home.
Try to maintain your home's temperature and relative humidity at 65 to 80 degrees Fahrenheit as a general guideline (RH).
Hygrometer Placement Caution:
A hygrometer should be installed in a room of your home that is not too hot or cold but is nonetheless simple to get to. Placing it in the center of the home is excellent for many people.

The hygrometer's results could become erroneous if any electronics are placed nearby. For instance, data from humidifiers and air conditioners will be distorted by microwaves, and cell phones have been reported to create variations when put nearby.

Because of the absence of ventilation and the proximity to outside elements like pollen or tree sap that can impact humidity levels, placing one close to an open window may result in a misleading measurement.
---
What Is a Normal Hygrometer Reading?
According to the EPA, a residence's ideal relative humidity range is between 30 and 50 percent. This indicates that between 40% and 50% of the air is made up of water. So there probably won't be any moisture in the air, and your throat or nose won't get dry either.
Summer
The humidity in your house should range between 40 and 50 percent throughout the summer to be within a suitable range. Your home will get damp and clammy if the humidity level rises above 60%.
Winter
The humidity in your home must be between 30 and 40 percent throughout the winter months to be within a suitable range. In the winter, humidity levels under 40% will prevent condensation from developing on your windows and generating excessive moisture.
---
Which Type Of Hygrometer Is Most Accurate?
The most accurate hygrometers are dew point hygrometers, frequently employed in locations where even the tiniest amount of moisture must be determined.
Usually, the metal surface of these hygrometers is polished. Therefore, moisture condenses on the surface when humidity increases, which is how humidity is currently being measured.
By looking at the dew point temperature, you can predict how comfortable it will be outside. It will feel hotter and more humid when the dew point rises because sweat is more challenging to drain from your skin.
Less than 50 degrees is considered dry, 50 to 68 degrees is pleasant, 69 to 76 degrees is uncomfortable, and more than 77 degrees is excruciating.
---
Are Cheap Hygrometers Accurate?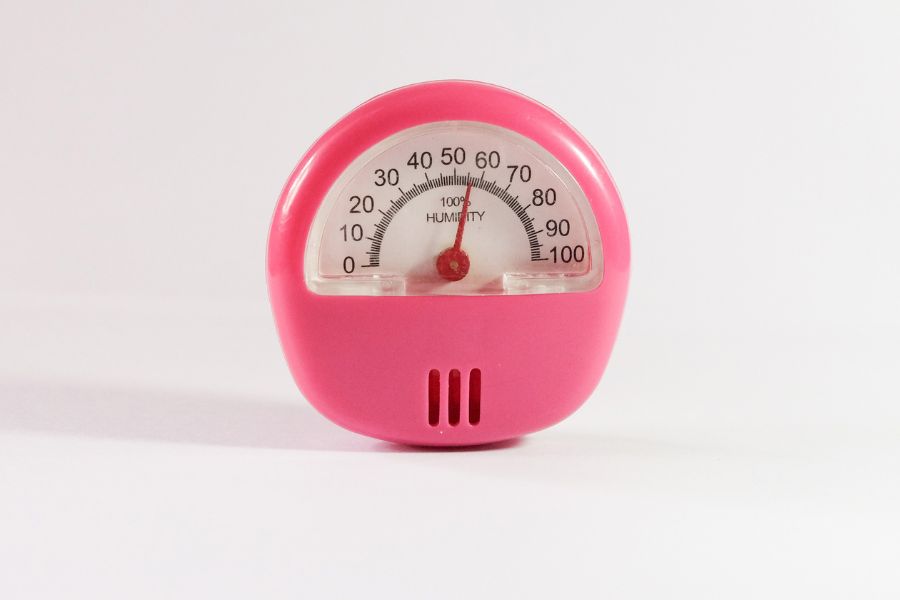 Cheap hygrometers are frequently dependable and, to a certain extent, accurate instruments.
Most inexpensive hygrometers have an accuracy range between 5% and 7%. Of course, they could still be higher than those, despite everything. But until you purchase and use them, you can't test them.
An RH margin of 5% is generally acceptable if you are not testing a sensitive region. However, you will need more accurate tools for delicate areas like your wine cellar, greenhouse, or cigar case readings.
Most inexpensive hygrometers are frequently simple and lack added functions like remote monitoring or alerting.
While inexpensive does not necessarily mean it is inferior, it could not be as advanced as the more expensive varieties.
To determine whether your hygrometer is correct, utilize calibration kits. For the task, we advise the Boveda One-Step Calibration Kit. 
---
What Is the Difference Between a Hygrometer And Humidity Meter?
Functions
A hydrometer is a tool that moves through a liquid and determines its density or specific gravity.
A hygrometer is equipment that measures the humidity or how much water vapor is present in the air.
Measurement
A hydrometer determines the specific gravity of a particular liquid, which measures the liquid's density.
A hygrometer calculates the humidity by counting the water vapor in the air.
Working Principle
The hydrometer's working principle is often determined by measuring how much an object sinks in a liquid.
Hygrometer has numerous types, each using a unique law and a modified concept to determine the air's humidity supply.
Factors that Support Accuracy
The hydrometer preserves accuracy, including temperature, cleanliness, and correct immersion.
Hygrometer achieves precision that must be standardized, including pressure, temperature, mass, and electrical charge.
Main Distinction
The primary division between the two is that a hydrometer determines a fluid's relative gravity or density. In contrast, a hygrometer determines the amount of moisture in the air around it.
---
Conclusion
So, these were the best hygrometers you'll find in the market. With their unmatched quality and surprising features, all these products claim to be better than the others.
We hope we can help you resolve your confusion regarding purchasing a perfect hygrometer with this information.