Air health Skye air purifier is not just a filter or a fan but the next-generation air purifier. It helps purify the air around you, keeping the home fresh with clean air.
You will love this air purifier because it comes with effective technology allowing it to work smartly. It helps capture mold spores, dust, allergy, pollens, etc. 
The best thing about the Skye air purifier is that it helps reduce viruses, germs, bacteria, and dust mites. The Skye air purifier helps destroy chemical pollutants and odors for people suffering from allergies or breathing issues. 
This smart air purifier is beautifully designed with a smart machine taking air purification to the next level. It is an active, automatic air purifier with five health purification stages. It comes with a pre-filter, HEPA filter, carbon filter, UV-C light, and Procell.
Get rid of all the air pollutants from your home and breathe fresh clean air.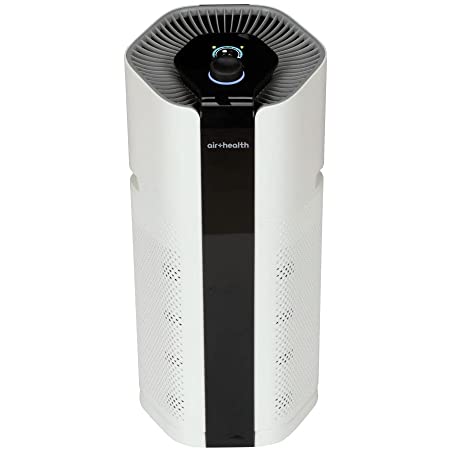 Pros
Features five-stage air filtration.
Comes with decent air cleaning.
Removes all the allergens from the room.
Offers easy-to-change lamps and filters.
Allows speed selection.
AHAM verified.
Energy-star certified.
Comes with a child lock and auto mode feature.

 
Cons
It comes at high maintenance
It lacks sleep mode
---
Air Health SKYE Design and Size

 
Skye air health purifier system has seven sensors and a smart monitoring system. It offers real-time air quality monitoring with automatic adjustment of fan speeds to keep air quality healthy and purified 24/7. 
It comes with the Skye app, which is convenient and easy to use, allowing you to monitor air quality. You can manage this portable air purifier at all times and set schedules.
The self-purification system is designed in five stages utilizing the innovative technology of germicidal and filtration systems that are well tested, ensuring that you enjoy clean air.
With the impressive dimensions of around 11.3″ x 11.4″ x 26″ with the weight of 30 pounds and an incredible 420 CFM, you can now indulge in the clean, fresh air.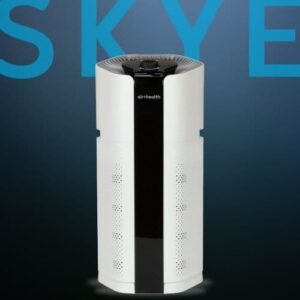 How Do Air Health SKYE Work and What Sources of Indoor Pollution Destroy?
To help you understand how the Air health Skye works and what sources of indoor pollutants it destroys, you need to look further at all five air purification stages in this air purifier. 
The 5 stages include:
The first stage is the pre-filter which captures particles like hair, dirt, or dust.

 

The next stage is the activated charcoal filter, removing the odors and gases.

 

3rd stage is the true medical-grade HEPA filter which captures the micro-irritants.

 

And Fourth Stage is the Procell innovative technology manufactured with Titanium dioxide, which removes all the chemical odors.

 

The last stage is the 254nm, 16-inch UV-C light which reduces the activity of fungi, molds, viruses, and bacteria. This light converts gases, VOCs, and chemicals into carbon dioxide and water vapors.
---
Air Health SKYE Key Features
The features of the Air Health Skye portable air purifier system include:
It features 99.9 7% filter efficiency with 5-stage air filtration technology.

 

It has a filter life of around 6 months for HEPA and carbon filters.

 

The lifespan of a UV-C lamp is around 12 months.
The CAGR ratings include 293 for smoke, 301 for Pollen, and 288 for dust.

 

This Air Health Skye portable air purifier is AHAM-verified with a maximum airflow of around 420.

 

It comes with the auto mode feature and Child lock.

 

With this air purifier, you can change around 10 different speed settings.

 

You will love this air purifier because it has three particle sensors with VOC and inorganic gas sensors.

 

This air purifier detects temperature and humidity.

 

With this air purifier, you can connect through Wi-Fi, and it also comes with an app.

 

Enjoy using this air purifier which is Energy-Star certified.

 
---
Air Health SKYE Noise Level
The noise level of the Skye air health purifier varies between 22- 59db.
At the lowest speed, it comes with the inaudible noise of around 22db, while at the highest speed, it sounds similar to a refrigerator.
The noise level at the highest rate is about 59 dB which is audible. 
---
Air Health SKYE CADR, ACH, Room Coverage
Air Health Skye portable air purifier went through the CADR testing, and the results are as follows:
Pollen at 301 CFM.
Smoke at 293 CFM.
Dust at 288 CFM.
You can efficiently utilize the ACH calculator to determine the effectiveness of the Air Health Skye air purifier for the room. Dive in to have a look at different room sizes and how long it will take:
272 sq ft room size requires cleaning in 13 minutes by the air purifier at 8 ACH level.
435 sq ft room size requires cleaning in 12 minutes by the air purifier at 5 ACH level.
550 sq ft room size requires cleaning in 15 minutes by the air purifier at 4 ACH level.
720 sq ft room size requires cleaning in 20 minutes by the air purifier at 3 ACH level.
1200 sq ft room size requires cleaning in 32 minutes by the air purifier at 1.9 ACH level.
People who suffer from allergies and have breathing issues should consider the ACH number as it should not be less than 4, and it is recommended to be 5 or above. 
If we compare how Air Health Skye looks between competitors, then it looks as follows.
Smart performer AirDoctor 3000 can handle 505 sq. ft. based on 5 ACH and is also cheaper.
Alen Breathesmart Classic captures airborne particles in 440 sq. ft. large spaces every 12 minutes or 5 times per hour and costs similar to Air Health Skye.
The most powerful air purifier from Bissell model AIR400 can handle 485 sq. ft. in large areas 5x per hour. And it costs a lot less.
---
Air Health SKYE Maintenance and Upkeep
The maintenance cost for replacement filters is around $80 for a single replacement filter every six months.
The filters include the carbon pre-filter layer, h13 HEPA, and the pre-filters layer. The maintenance cost for the UV-C replacement bulb is around $30 for each replacement of the lamp after every 12 months. 
The electricity cost for the air purifier is about $24 each month when running for around 12 hours, and that too at the maximum speed.
As it is an Energy Star-certified air purifier, you can use an energy consumption calculator to estimate the electricity cost and usage based on the local electricity rates in your area.
According to the breakdown, the overall cost for the entire year is around $220.
---
Conclusion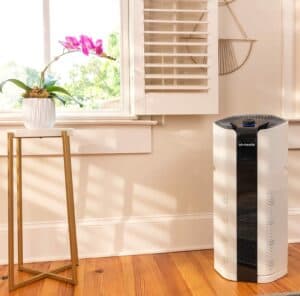 Get clean, fresh air for your home with the advanced technology of the Skye Air health care purifier.
No more suffering from allergies or breathing issues, and promote a better living with the air purifier, which starts cleaning the air immediately as soon as you switch it on. It is a portable air purifier that makes sure to give you the cleanest air possible. 
It is verified and tested for effectiveness with AHAM verification, the California air resources board, and innovative bioanalysis.
So, what are you waiting for? If you seek to get rid of air pollutants in a room area of around 400-600sq ft, you can opt for this air purifier; otherwise, for huge rooms, you might need to seek other options.