hOmeLabs is a reliable brand for producing very durable and high-quality air conditioners.
Their 14,000BTU portable air conditioner unit is one of the finest in the market and will be the focus of this review.
It has a very catchy design, functions efficiently via its multiple operational modes, and is easy.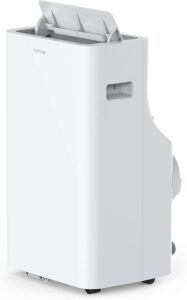 Pros
Easy Maintenance: The brand has put a robust system to help with maintenance or repairs in place. All the customer has to do is contact the brand directly or reach out to approved sellers.
Stress-Free Installation: Unlike some other air conditioners that are so difficult to install, this one from the stable of hOmelabs is easy. It is done on a level surface to reduce vibration and noise near a grounded plug. It is also located a minimum of 30 minutes from the closest wall to get the maximal effect.
Variable Fan Speeds: With the fan button, you can control the fan speed, which comes in three modes – auto, low or high. A fan speed indicator lights up to show the various fan settings unless in automatic mode.
Timer Function: This cheap portable air conditioner is very easy for a user to set the unit's timing. There is also a timer on and off indicator light which shows the timer on or off settings.
Environment-Friendly: To activate its environment-friendly feature, the user must press the Sleep (Eco)/Filter button.
Cons
Price: With the selling price going for hundreds of dollars, some buyers feel the price is on the high side.
No Heating: It lacks heating function and comes with only two fan speeds when it could have had a lot more.
---
hOmeLabs 14,000 BTU Portable Air Conditioner Design, Size & Warranty
This portable air conditioner measures 17.9 X 15 X 30.7 inches. It is designed to be not just sleek and noiseless but also to function optimally.
It comes with an automatic vertical swing mode to ensure perfect airflow through all parts of the room.
hOmelabs air conditioner units come with a two-year warranty in addition to free return or exchange within 30 days of purchase. It comes mainly in shiny and attractive white.
---
hOmeLabs 14,000 BTU Portable Air Conditioner Features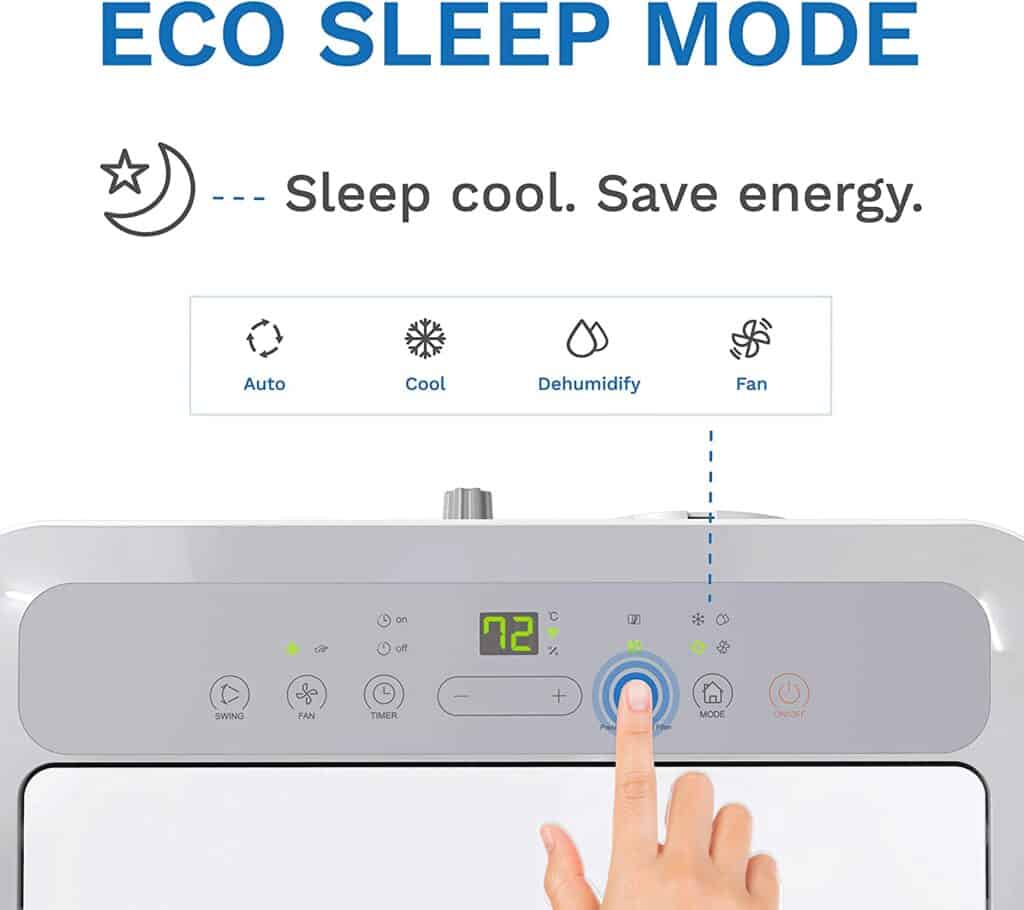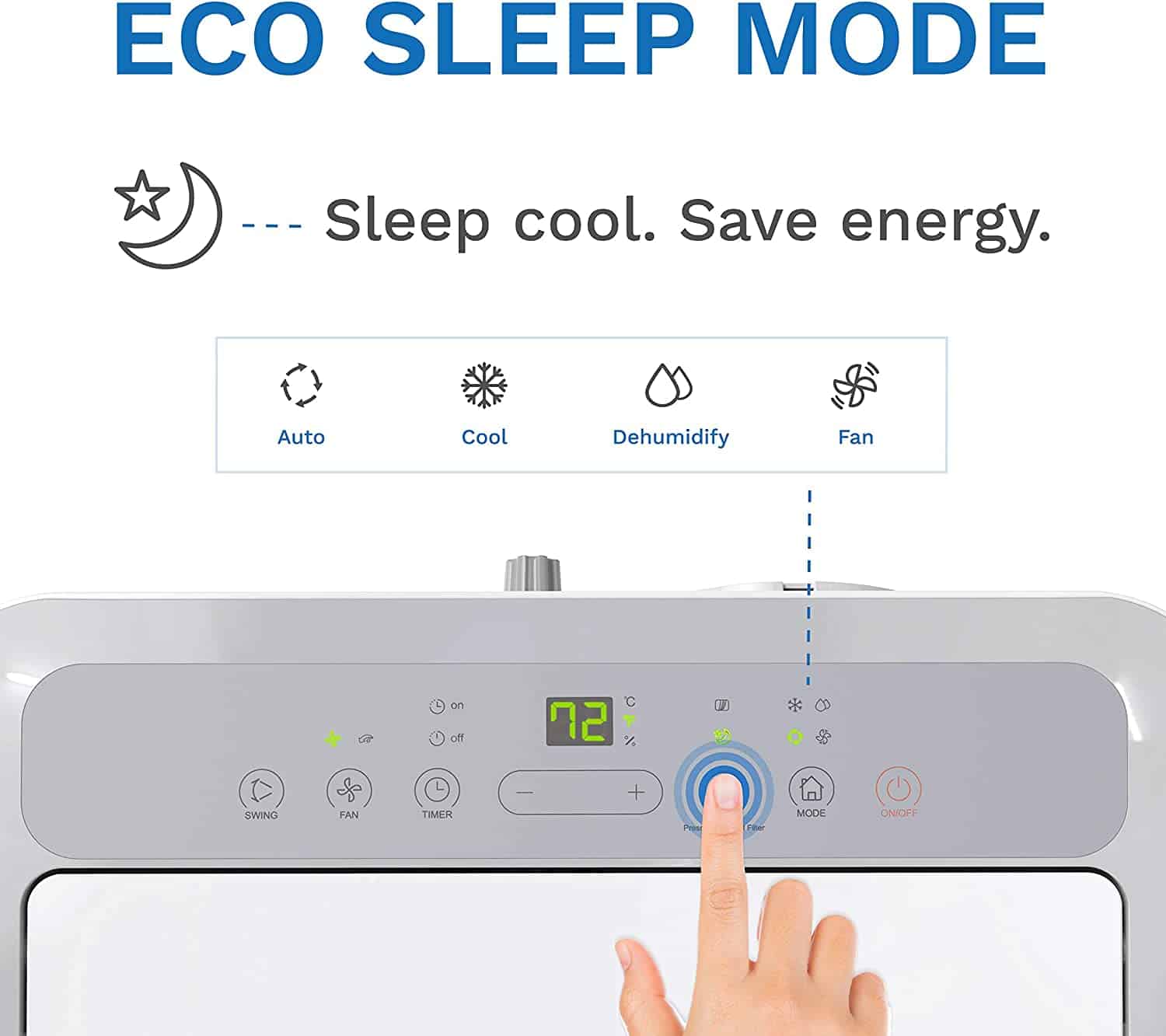 Dehumidifier Feature: Unlike what is seen with many conventional dehumidifiers that release extra heat into the room, this air conditioner removes hot air via the exhaust hose.
It does this while also ensuring that your room is cooled. Those who live in areas with very humid summers will find this perfect. It cools the room and eliminates all the extra moisture that is not needed.
Washable Air Filter: You get to purify your air and ensure the proper functioning of your portable AC by using the washable filter. You know the time to clean the filter as it has an indicator light that comes on when necessary. The cleaning is typically around once in two weeks.
Remote Control Feature: The air conditioner unit has a remote control that allows the user to set the temperature quickly. Other things that can be set as desired include fan speed, activation of the environment-friendly sleep mode, or even the cooling modes.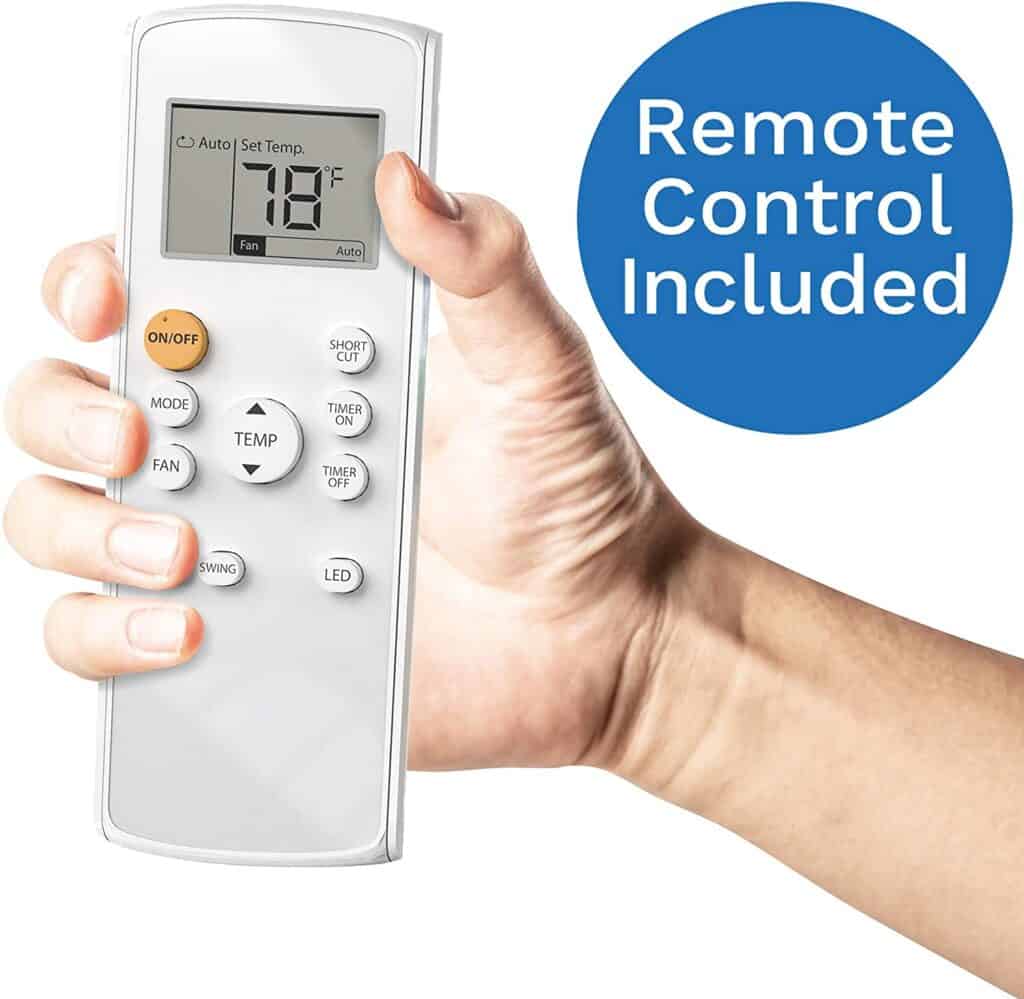 Temperature Maintenance: Those with small or medium-sized spaces will find this air conditioner beneficial. It does an excellent job when it comes to maintaining a steady temperature in these spaces. Compared with other space-rated products, it is the best in cooling capacity.
Real Cooling: Unlike other air conditioners that release what is not expected, this machine churns out some frigid air, and it is so cool that working in a hot environment has nothing on you when using it. Users have reported enjoying it even inside their hot garages.
---
hOmeLabs 14,000 BTU AC Noise Level
This air conditioner unit is not only portable but also hushed, and you can be sure to enjoy a very relaxing and cool day in your apartment or office with it.
The noise level clocks in at a comfortable 55 dBA. It is much quieter than many traditional window air conditioners, and you can be sure of uninterrupted sleep or work while using this.
---
hOmeLabs 14,000 BTU AC Energy Efficiency Ratio (EER) And Cooling Capacity
With an energy efficiency ratio of 9.8, this is one of the market's most impressive portable air conditioner units.
Honeywell MN12CES EER is 9.55, SereneLife 10,000 BTU EER is 9.6, and Zero Breeze Mark 2 EER is 9.6, but this one is from another category.
As the title says, this Homelabs portable air conditioner has a 14,000 BTU (ASHRAE) cooling capacity equal to 10,000 BTU (new CEC/DOE) measurement.
With such capacity, you can cover rooms up to 600 square feet large. Not many portable air conditioners are capable of doing that. A few examples are LG LP1417GSR, SPT WA-1420E, and Whynter ARC-14S portable air conditioners. 
---
Installation and Usage of hOmeLabs 14,000 BTU Portable Air Conditioner
Installation of this air conditioner unit is straightforward, and in fact, there are no heavy window units that you have to carry.
It is portable and has wheels to move it around without stress to any room with space for a window.
The installation is as easy as attaching the hose and the adapter for the window slide; then, you connect to the power supply; it is as easy as that.
For many buyers, the installation can be done in minutes. Then, when you are not putting the air conditioner to any use, you can remove it from the unit and keep it in your store or basement – very easy to install and use.
An easy-to-use drainage facility must be installed because the unit releases water at work. Use the drainage hose with the product because it does not come with its reservoir tank.
---
Final Thoughts
With a series of functions that make operation easy for the user, the hOmelabs 14,000 BTU portable air conditioner is a good investment.
In addition, you get quality, excellence and reliability, and the best customer service from the brand. The unit is definitely worth its price.