Honeywell HWM705B is well designed warm mist humidifier with a moisture output of around 1 gallon per 24 hours. That is enough for rooms up to 250 square feet.
Honeywell HWM705B is filter-free. It provides soothing, a visible warm mist that helps make you and your home more comfortable.
Also, the Honeywell HWM705B price is amicable.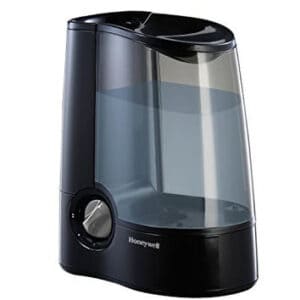 Pros
Well designed
Strong handle for water tank
A medicine cup for added relief when used with liquid inhalants
Easy to fill water
Refill light
No filters
Cons
Only 2-speed settings could be more
Before refilling, the water has to wait for it to cool down
It makes a bubbling sound
---
Honeywell HWM705B Design and size
Honeywell HWM705B looks like a classical humidifier. It has a transparent water tank with a top-fill design. Filing the top-fill tank is as easy as spraying a plant. The water tank is also removable.
The humidifier is small; height x width x depth is 12 x 10.5 x 6.2 inches, and the weight is only 5 pounds. So the best place for it is a table or rack.
---
Honeywell HWM705B Features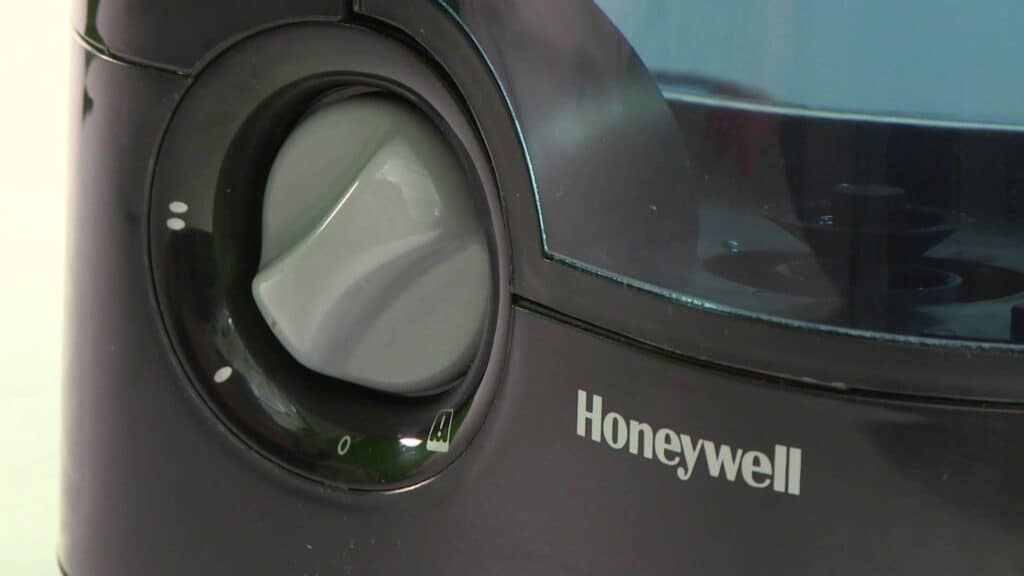 Auto shut-off when empty. This means you don't have to bother if the water in the reservoir falls below minimum levels.
For your convenience, a refill light illuminates when the water container needs to be filled.

2 moisture output settings allow you to choose the best option according to your comfort levels.

A deep and narrow medicine cup enables you to put in essential oils for aromatherapy.

Easy to use manual knob control.

Illuminated power switch.

The boiling water kills bacteria in the water. Cool mist humidifiers do not do that.
---
Honeywell HWM705B Noise level
For a warm-mist humidifier, it is hushed.
It makes some noise when water boils, and when the water level falls and allows water to flow from the tank, you get a gurgling noise as air replaces the liquid in the reservoir.
The good thing is that the design is very clever, and the unit blocks most of the noise, beginning with the plastic baffle and then through the cooling tower.
---
Honeywell HWM705B Performance
Honeywell HWM705B can output 0.33 pints of warm mist every hour or 1 gallon daily. It has a 1-gallon large water tank, so with a full tank, it can operate for up to 24hrs.
Not many humidifiers have warm mist, so there are only a few competitors, including Vicks V745 Warm Mist humidifier. It also has a 1-gallon water tank but a more powerful mist output so that it can work fewer hours with one fill.
Another competitor is TTLIFE Ultrasonic humidifier, a slightly larger humidifier that can output both cold and warm veils of mist. 
---
Honeywell HWM705B Maintenance and upkeep
Effortless cleaning. Soak the unit in vinegar for about 15 minutes. Then brush off the scale with a toothbrush like a large tooth.
Plastic parts are also easy to clean.
The water tank is large, and the unit works 24 hours. So you don't have to refill it often. Also, refilling is super easy.
---
Honeywell HWM705B Summary
Honeywell HWM705B is a great warm mist humidifier. It has all you need and even more.
No crazy cleaning, no refilling every hour. Plus, it has a medicine cup, and you can use it as a diffuser.