Dyson HPO4 Air Purifier Review: The Air Purifier For All Seasons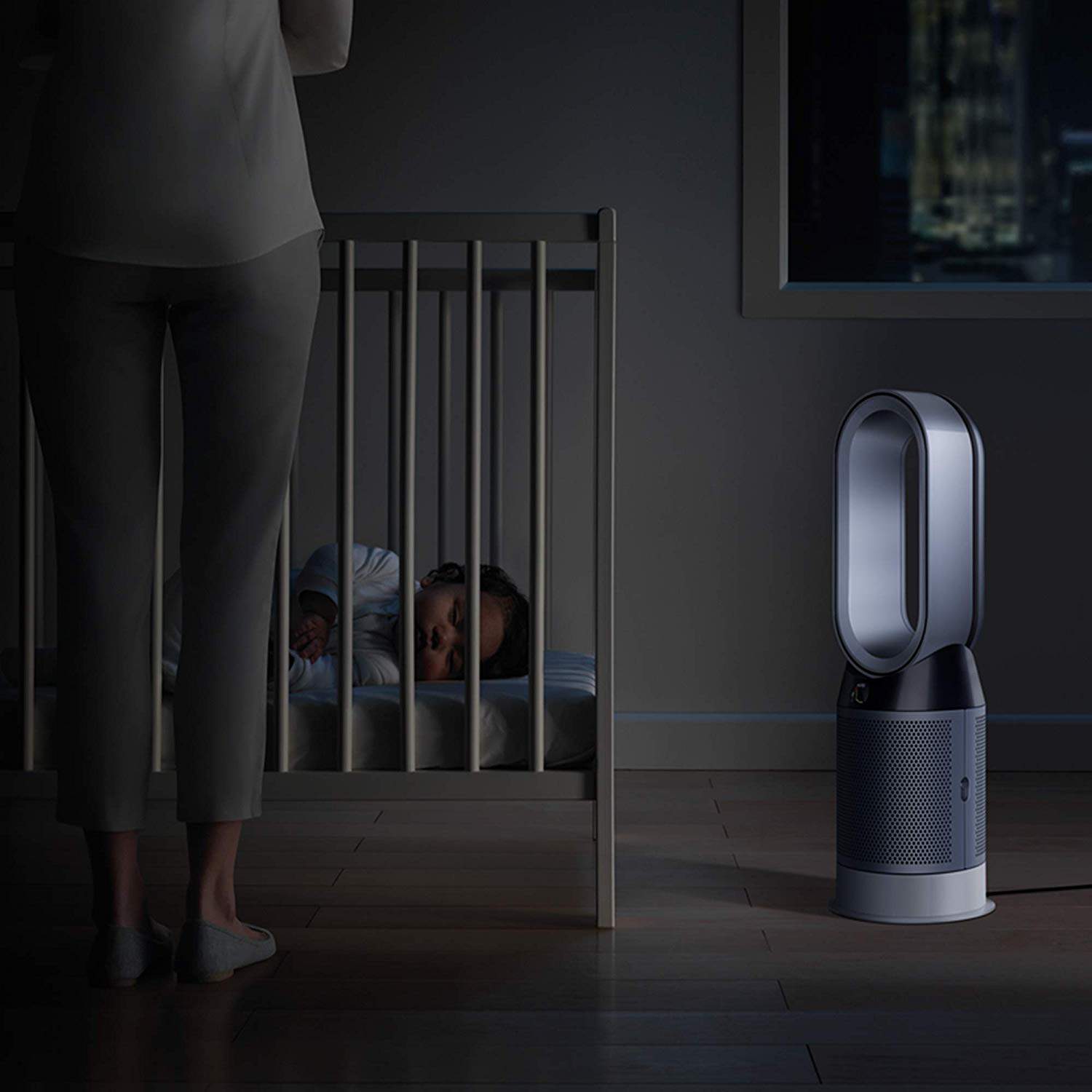 Are getting tired of heaters and fans in & out of the loft? Well, if that's the case, having an air purifier that can be used all-year-round, in any season is what you need. What exactly is what the Dyson HP04 Pure Hot + Cool Air Purifier does.
It is currently the only model series from Dyson, which works as an air purifier, a heater, and a fan. This is surely one of the manufacturer's more expensive models, yet when it's multi-function, it tends to increase its own overall value.
Let us see how this Dyson HP04 Pure Hot + Cool Air Purifier compare to other air purifiers out there. It might just be the right air purifier for you!
Dyson HP04 Pure Hot + Cool Air Purifier: Pros & Cons
The Dyson HP04 Pure Hot + Cool Air Purifier is the latest version of the Dyson Pure Hot + Cool series. Unsurprisingly, the device is so popular. One of the reasons for it is that it can do three jobs even though it's only one. Even though its price is somewhat expensive, the upgraded fan power it has is enough reason to not think twice paying more.
Furthermore, the device's claim to fame is its purification mechanism. It doesn't just trap 99.95% allergens like pollens and dust, but also different volatile organic compounds, diesel or petrol fumes, as well as those that stem from flat pack furniture & cleaning products.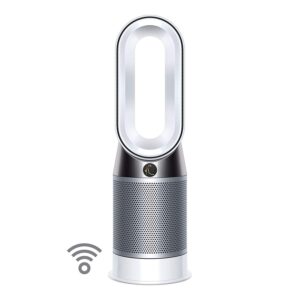 Pros
Controllable with a smartphone through a mobile application.
It can be controlled via remote or voice control –through Google Assistant or Amazon Alexa.
It can detect indoor air quality automatically and appropriately adjusts.
It may function as a cooling fan, a heater, and an air purifier –all in one system.
It has a unique & sleek design.
Cons
The device is very pricey.
The air purifier produced high-pitched whir after months of use.
The compatibility of the application that comes with the device isn't usable on some versions.
---
Design, Size, Placement
The design of the Dyson HP04 Pure Hot + Cool Air Purifier is just the same as the other compact air purifiers that are part of the Dyson lineup. It has this amazing all-white body with some silver-colored accents –just like as accent trim and at its base.
Unlike other oval-shaped air purifiers that take lesser space than the round amp, yet cannot move the same amount of air, the Dyson HP04 is more powerful. It's also taller compared to its predecessors, as it is 30 inches in height. Further, the diameter of the amp may increase up to 8 inches, rather than the 6 inches in the past.
What's more, the LCD display of the device is now placed on top of the air intake grill, and it's overall clean and detailed compared to the previous models. In its new LCD display, any information regarding the current indoor air quality and level of humidity is displayed.
With its new size, the unit is also much heavier –up to 12.35 lbs. nonetheless, it's light enough for you to move all-around your home.
---
How It Works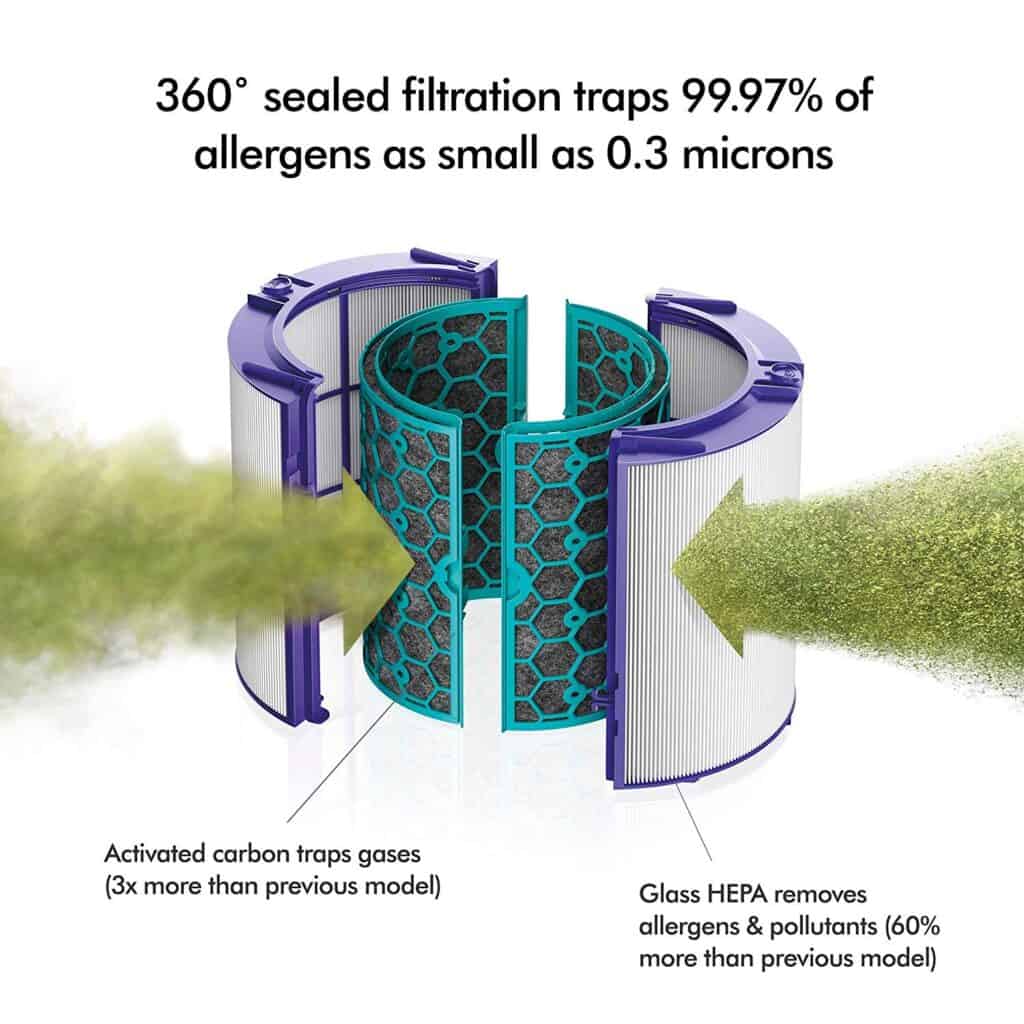 The Dyson HP04 Pure Hot + Cool Air Purifier breaks down different allergens and contaminants in four (4) buckets. The first two (2) are microscopic particles, PM 2.5 and PM10. The third is Volatile Organic Compounds that are potentially dangerous chemicals like formaldehyde or benzene. And the last is the nitrogen oxide or NO2 that may contribute to conditions, like asthma.
Moreover, Dyson HP04 features the latest glass HEPA filter. Just like the older Dyson air purifier models, the Dyson HP04 Pure Hot + Cool Air Purifier will just utilize one air filter is doing its task of cleaning the air. It also includes an improved 2-stage air cleaning system.
True HEPA Filter –With its glass HEPA filter, Dyson HP04 has the capacity to capture 99.97% of any airborne particles –even those as small as 0.3 microns, including pet dander, bacteria, and pollen.
Activated Carbon Filter –With this, the Dyson HP04 is able to neutralize household odors and gases like benzene, nitrogen dioxide, and formaldehyde.
In addition, it has a strong fan power, which may easily clean a room of about 400 sq. ft. using it will leave you with a room free from dust and foul odor, not to mention the different allergens that may harm your health.
---
Key Features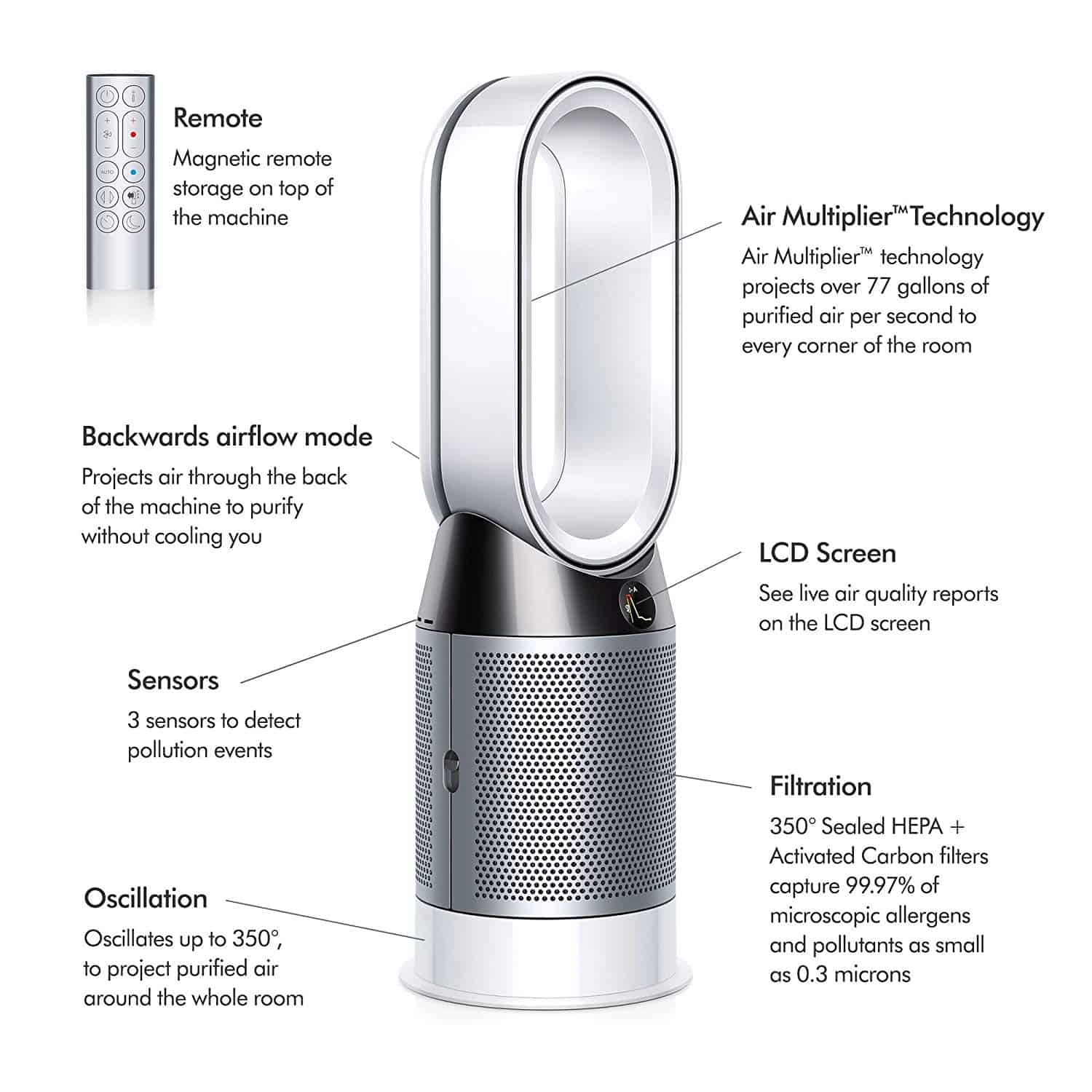 The Dyson HP04 Pure Hot + Cool Air Purifier has a lot of amazing features, including the following:
Multi-Functionality
It works as an air purifier, a heater, and a fan. It also features an astounding purification mechanism. It does not only trap 99.95% allergens like pollens and dust but also trap various volatile organic compounds –VOCs, diesel or petrol fumes
Multiple Control Methods
It can be controlled via different control methods. You may control the Dyson HP04 air purifier using the following:
Remote control

Smartphone-based application control through Dyson Home app

Voice Control through Google Assistant or Amazon Alexa
It also has a digital screen that displays the current settings of the device. This includes the current air quality, as well as the room temperature, so you may see realtime results.
Auto Mode
When in Automatic or Auto Mode, the Dyson HP04 will use its built-in sensors in detecting the current air quality automatically and adjust the settings as necessary. This might include increasing or reducing the fan speed.
Night Mode
When in Night Mode, it can operate at a lower decibel level and may dim all the lights & digital screens. This mode is a very useful one, especially when you want to sleep peacefully.
Custom Mode
In this mode, you will be able to adjust the heat settings or fan speed manually by using the arrows on its remote control or by setting the target temperature. You may also adjust the direction of the airflow, and even the oscillation angle from 0 to 350 degrees.
---
Noise Level
One great benefit of having the Dyson HP04 Pure Hot + Cool Air Purifier is its super silent operation. Its noise level is measured to be just in the 40-57 decibels range. That is considered 'silent'. Unquestionably, this isn't the best quiet air purifiers, yet it sure is a promising one.
Furthermore, the airflow is also smooth and it is even awarded for its improved sound and quality with the 'Quiet Mark'.
Having said that, the Dyson HP04 is a great air purifier to use in nearly anywhere –be it your office or bedroom.
---
Clean Air Delivery Rate (CADR)
The Dyson HP04 Pure Hot + Cool Air Purifier promotes 83 gallons per second airflow. That is its air output, including the Coanda effect at a maximum fan speed of 10. We may safely say that on 1 to 5fan speeds, the efficiency of Dyson HP04 is 1 to 5 times.
Nonetheless, what Dyson doesn't state is its real air intake or CADR. In an estimate, since the maximum airflow of Dyson HP04 Pure Hot + Cool Air Purifier is at 83 gallons per second, then its CADR is at 665 cfm.
---
Maintenance & Upkeep
The maintenance and upkeep on the Dyson HP04 Pure Hot + Cool Air Purifier are also quite easy –thanks to its intelligent self-assessing design. Particularly, the device's filtration system is being monitored by a certain internal system, which may alert you when it's already time to replace it.
Furthermore, in maintaining its filter, you may also wipe down the body of the Dyson HP04 Pure Hot + Cool Air Purifier in order to keep everything running in order.
---
Final Say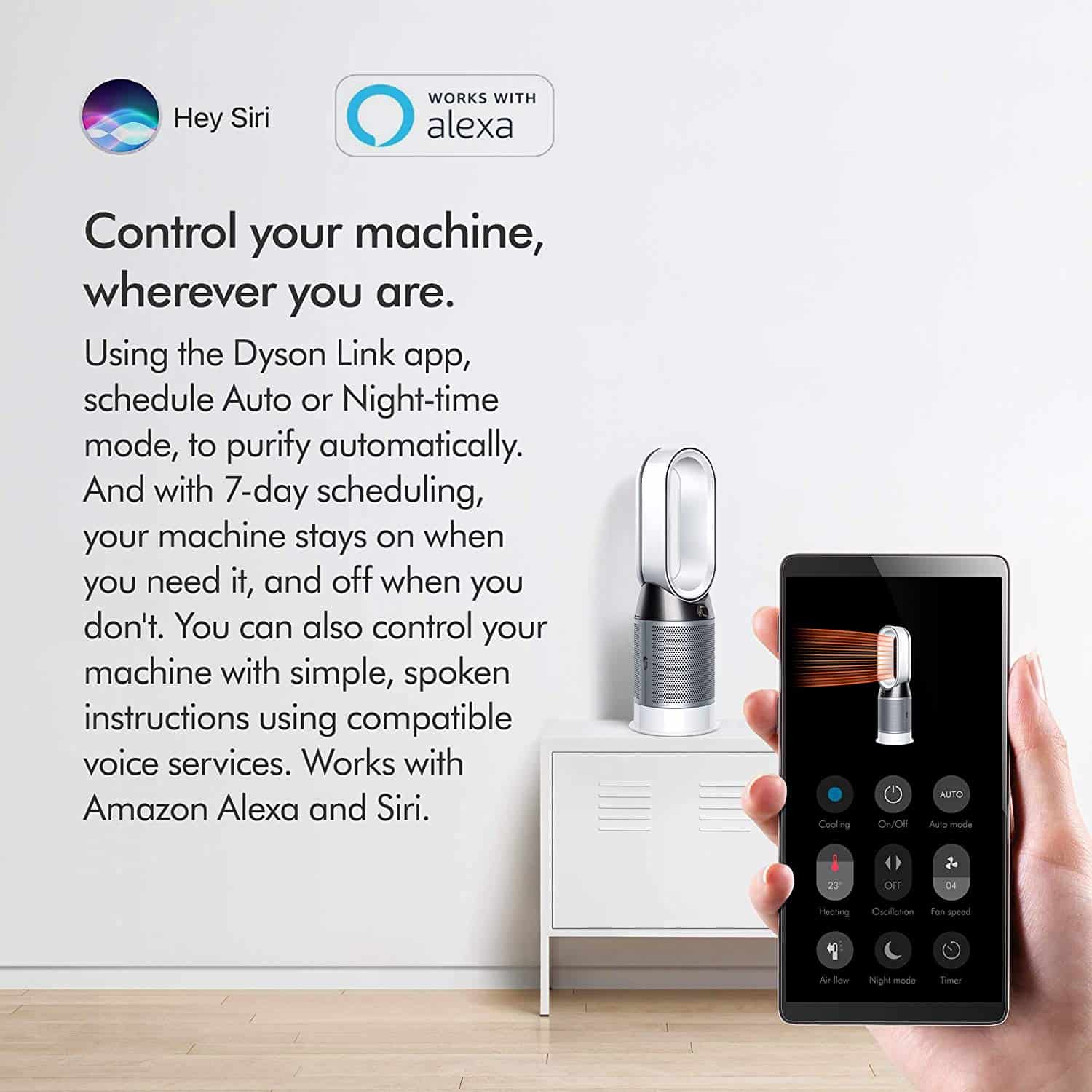 Overall, considering all its specs, its performance, and features, the Dyson HP04 Pure Hot + Cool Air Purifier is truly a good air purifier. The major drawback probably about this is that it is quite expensive. Having said that, just like the case with most of Dyson products, you will surely get what you pay for.
With it being multi-functional –having the capacity to purify air, cool, and heat, all in one unit, which might be controlled through your smart devices, via remote control, or with the automatic mode is for sure a solid package and is truly worth your money.
---
Read more Air purifier reviews: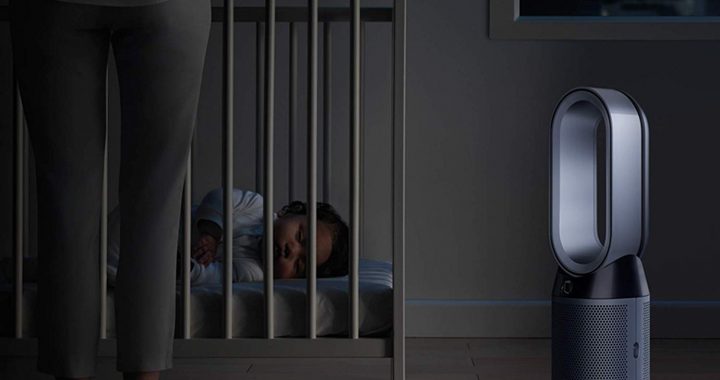 Are getting tired of heaters and fans in & out of the loft? Well, if that's the case, having an air purifier that can be used all-year-round, in any season is what you need. What exactly is what the Dyson HP04 Pure Hot + Cool Air Purifier does. It is currently the only model series […]
0 comments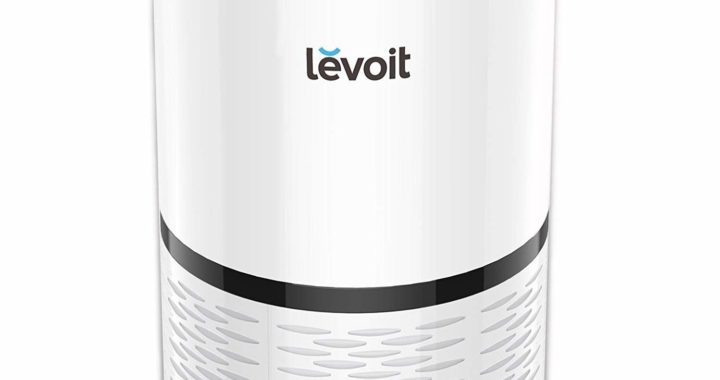 Air Purifiers are great devices, this is because they serve a lot of useful purposes. One of such purposes is in treating Allergies. In this buying guide, you will find the best air purifiers for allergies and other useful information you need to know concerning air purifiers. Top 5 Air Purifier for Allergies 1. LEVOIT […]
0 comments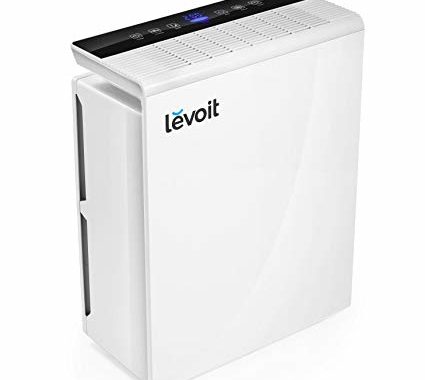 You may not like to dust, but it has to be done. Otherwise, you may face several dust allergies and have your house looking like it's abandoned. However, no matter how much you dust, you know that some of it is always lurking around. It could get into your books, knickknacks, and even upholstery. If […]
0 comments