One of the best small dehumidifiers is the Vremi 1 pint compact portable dehumidifier. It is a lightweight, good-looking dehumidifier.
It removes 1 pint of water daily, and because of the 3.2 pints water tank, you will need to empty it only once every 3 days.
Let's take a closer look at the Vremi dehumidifier.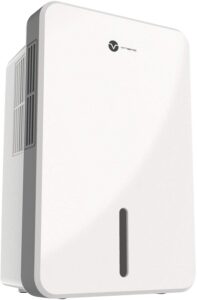 Pros
Very light at only 4 pounds, which means you can move it from one spot to another easily
A tiny dehumidifier so you can place it anywhere and forget about it until you have to empty the tank.
Extremely quiet while it is running compared to other dehumidifiers
Automatic shut-off when the tank is full
LED light to let you know the tank is full and needs to be emptied
Easy to remove the tank by grabbing a handle
Stunning design that is modern, sleek, and stylish
Simple to use with the control panel on the top of the dehumidifier
Cons
Works better in the smaller spaces than in larger rooms
No continuous draining feature
---
Vremi 1 Pint Compact Portable Dehumidifier Performance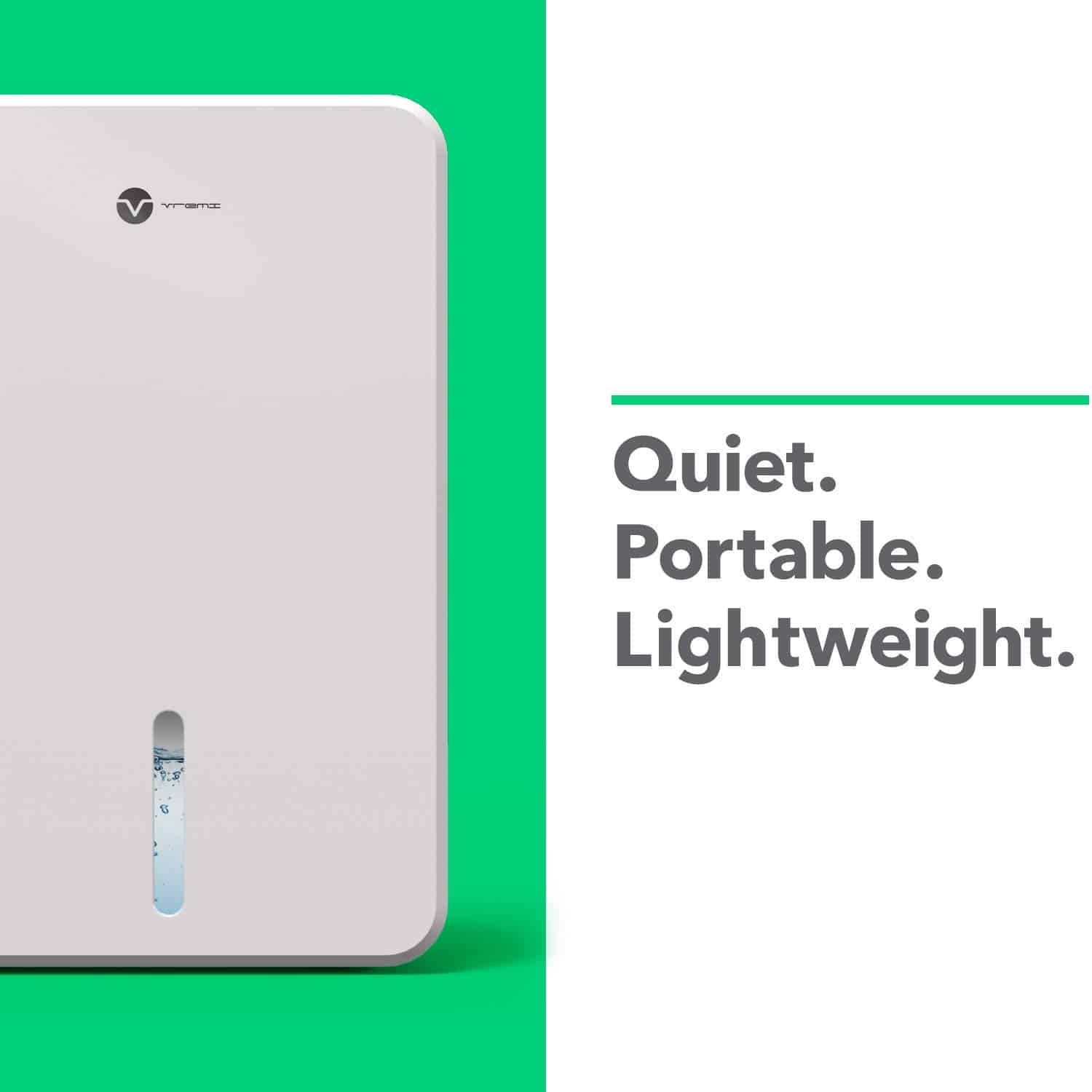 Energy Efficiency
This dehumidifier is extremely energy efficient because even though you can't change the settings for how long it runs, it will turn off when the tank becomes full.
Since the Vremi 1 pint compact portable dehumidifier is a smaller dehumidifier, it also doesn't use nearly as much energy as the larger dehumidifiers. This is great for saving money in all areas. It consumes 36 watts per hour.
For example, Afloia T8 Plus 1.8 pints dehumidifier consumes 23 watts, and Latitop 1.8 pints dehumidifier consumes 60 watts. 
Noise level
This is a much quieter dehumidifier since it is a smaller option than other dehumidifiers. If you are searching for something that you could easily put in your bedroom or that of your children, this one would be a good option.
Moisture Removal
The Vremi 1 pint compact portable dehumidifier is perfect for small rooms around 150 square feet, and it has a tank of 1 pint to collect the water. It should be emptied once every 3 days to ensure the water can collect easily without the dehumidifier turning off.
---
Vremi 1 Pint Dehumidifier Key Features and Functionality
Small size – This is an extremely small-sized dehumidifier, which means it will be perfect for small rooms, for example, bathrooms. You can turn it on and forget about it until you need to remove the tank and throw out the water.
Automatic shut-off – Another great feature that this dehumidifier, along with the others, has is an automatic shut-off. This means that when the tank is full, it will automatically shut itself off to prevent water overflow.
Humidity settings – You can also set the level you want the humidity to be, which allows you to pick how much water you want to get out of the air.
Easy to remove tank – The tank on this is also extremely easy to remove since you need to grab the handle in the front of the dehumidifier, pull it out and empty what water has collected.
Clean air – This dehumidifier also makes sure to clean the air simultaneously, which means you aren't breathing in dust, mold, mildew, and so much more. This is great since they can remove moisture and other problematic items in the air.
---
Vremi 1 Pint Dehumidifier Ease of Use, Maintenance, And Upkeep
The Vremi 1 pint compact portable dehumidifier is extremely easy to use since you need to plug it in and set the humidity level.
This doesn't require much maintenance or upkeep since you will need to clean the tank regularly. You will also want to ensure that you regularly brush off the air intake space to keep the dirt and debris from building up.
---
Final Thoughts
Vremi is a great dehumidifier if you are looking for something small which won't set you back much money.
It is good since it is also easy to use, and you can ensure that you are setting the humidity level to where you want it to be.
It is also simple to carry around and even store away when you don't need to use it. It gets rid of the water in the air and other contaminants or irritants like dust, mold, and much more.