Experiencing migraines, colds, skin rashes, and more have become common, and have you ever thought about why? All these problems and severe breathing problems result from inhaling polluted air.
You would agree because the outdoors that we thrive on is highly polluted. Go anywhere; the outdoor air, dust, and more are polluted.
Thanks to the increase in the sources of pollution and the decrease in the number of trees around. This imbalance is something we all know.
However, what we don't know is about indoor air quality. Wondering about indoor air, considering that you keep your houses and offices clean and neat.
That's where the problem lies. The indoor spaces are equally filled with impure air. Indoor air carries and circulates the carbon dioxide we exhale, the odor and invisible particles released from cooking the pet fur, and more invisible particles.
Tapping on this unseen impure source has led to the introduction of air purifiers. Air purifiers are one of the pathbreaking technologies that have proved to be the saviors in the current pandemic.
Since its introduction, many brands have launched air purifiers of different variants. This article compared two air purifiers for smaller spaces – Air Doctor 1000 and Levoit Core 300.
Product
Filters
Filters
Pre-Filter, Carbon/VOC filter, UltraHEPA Filter
Pre-Filter, H13 True HEPA Filter, Carbon Filter
Coverage 5x/hour
Coverage 5x/hour
235 sq. ft.
219 sq. ft.
Coverage 2x/hour
Coverage 2x/hour
589 sq. ft.
547 sq. ft.
CADR (Smoke)/CFM
Fan Speeds
Power Consumption
Power Consumption
7 - 40 watts
45 watts
Noise Levels
Noise Levels
34 - 54 dB
24 - 50 dB
Dimensions
Dimensions
9" (W) x 9" (D) x 23" (H)
8.7 x 8.7 x 14.2 in
Weight
---
AirDoctor 1000 Vs. Levoit Core 300 Air Purifier – Design Comparison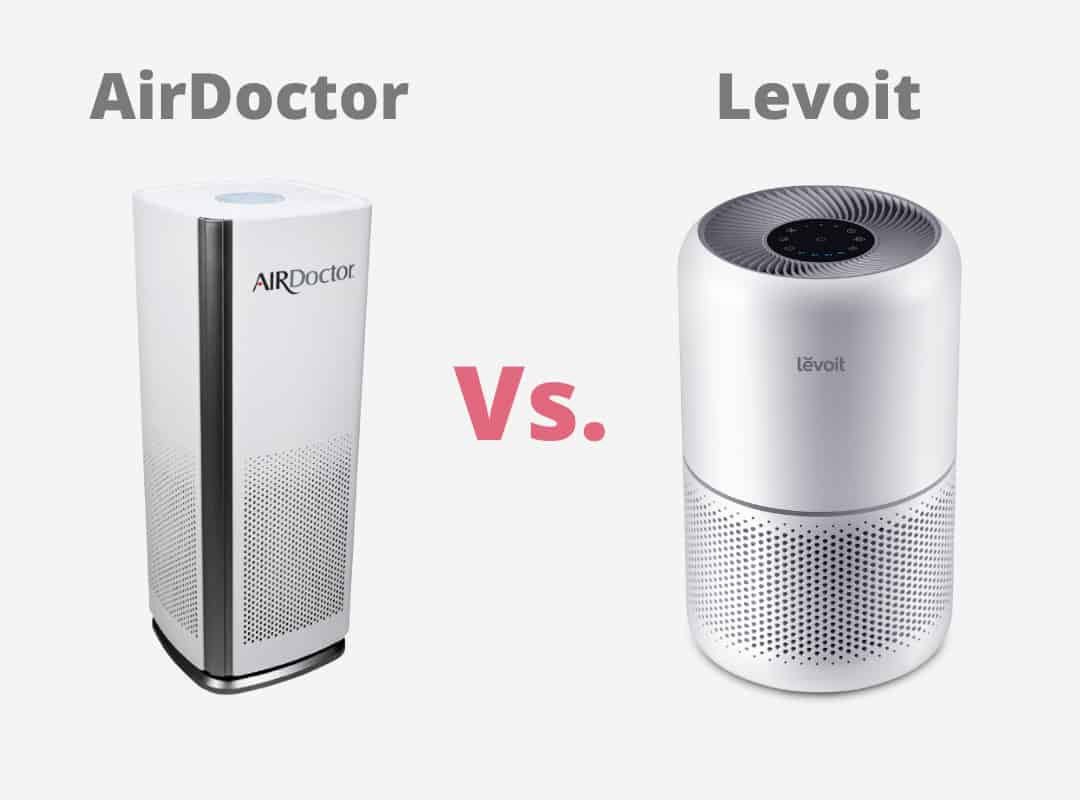 AirDoctor 1000 
AirDoctor 1000 can be called small in design but mighty in purification. This air purifier is cute, compact, and designed in a sleek, perforated, mat-finish silver body. It is perfect for smaller spaces like bedrooms, laundry rooms, etc.
The dimensions of the AirDoctor 1000 are 9" (W) x 9" (D) x 23" (H); reinstate that this machine is a little wonder. But, on the other hand, it weighs only 10 lbs, so pretty easy to move around.
Levoit Core 300
Levoit Core 300 is designed in a cylindrical concept with a smooth finish. It comes in a glossy white and black color.
With a height of 14 inches and dimensions of 8.7 x 8.7 x 14.2 in, the Levoit Core 300 air purifier is compact and stylish creation. The control panel is on the top, so easily reachable. And it weighs only 7.5 lbs.
Conclusion
As for design, both air purifiers have modern designs; they look perfect and will fit in every room.
The width and depth are almost identical; AirDoctor 1000 is taller. Also, the weight is very similar for both units.
For me, there is no winner here. But if you want to give a point, it goes to Levoit because of bit smaller dimensions and weight.
---
AirDoctor 1000 Vs. Levoit Core 300 Air Purifier – Functionality And Features
AirDoctor 1000
AirDoctor 1000 air purifier is perfect for small spaces of size 235 sq. ft. 5x/hour and 589 sq. ft. 2x/hour.
AirDoctor 1000 can be called a smart one. With an air quality particle sensor installed, It turns on when it senses the air quality is dropping. It also adjusts the fan speed based on the air quality.
It also has an air quality monitor, which shows you how dirty or clean the air is in your room.
Top Features:
Air intake from all 4 sides
Dim mode (Mode for nighttime)
Timer control
Ion generator
2 Filter change indicators – separate for UltraHEPA and Carbon filters
The machine is a sealed system that ensures all the pollutants captured are locked inside.
It has 4 fan speeds
Long power cable
AirDoctor 1000 noise level is between 34-54dB. The power consumption of the purifier at the lowest speed is 7 watts and 40 watts at the highest. If used 24/7, that's between $7.40 – $42 per year, depending on your speed.
CADR (smoke) 152cfm.
Levoit Core 300
Levoit Core 300 is perfect for room sizes 219 square feet 5x/hour and 547 sq. ft. 2x/hour.
It comes with a 360° air intake grill. It has a touchscreen panel with buttons placed in a circle form.
Top Features:
Panel lock to avoid changing settings
Sleep mode
Timer
Filter indicator.
And a separate button to turn off display lights.
Levoit Core 300 noise level is between 24-50dB thanks to QuietKEAP™ Technology, and it uses 45 watts of energy on average. If used 24/7, that's around $40 – $50 per year, depending on your speed.
CADR (smoke) 140 cfm.
Conclusion
Both air purifiers are perfect for small rooms. AirDoctor 1000 can purify 235 sq. ft. large rooms every 12 minutes, but Levoit Core 300 – 219 sq. ft., so that's pretty close.
Noise level and power consumption are very similar. Also, the CADR rating is pretty close.
Both units have touch controls on the top – which are easy to understand and use. They have very similar features. Levoit model has 4 options for the timer – 2, 4, 6, or 8hrs; on AirDoctor, you can set anything between 1 to 24hrs by adding 1 hour at each step. So that's a point for AirDoctor.
A big plus for AirDoctor 1000 is the auto mode with an air quality monitor. It will show the light and adjust the fan speed based on air quality. So you can turn it on and forget about it. This function also saves energy consumption—so another point for AirDoctor.
---
AirDoctor 1000 Vs. Levoit Core 300 Air Purifier – How Do They Work?
AirDoctor 1000

AirDoctor 1000 uses a high-powered filtration system – a pre-filter attached to the outside of the UltraHEPA™ filter. Complementing this, it also has a Carbon/VOC Filter.
Combined, they can remove most air pollutants, such as dust, pet fur, smoke particles, mold spores, pollen, and odors.
Despite AirDoctor 1000 having 2 filter indicators, one for HEPA and one for Carbon filter, you must change them because you can't buy them separately – they come together as one filter set. However, you can remove the carbon filter from the HEPA filter and change it individually.
But AirDoctor specialists say they both last a similar period and if used under normal environmental conditions and 24/7, last around 6 months.
To make them last longer, you should clean the pre-filter frequently.
Levoit Core 300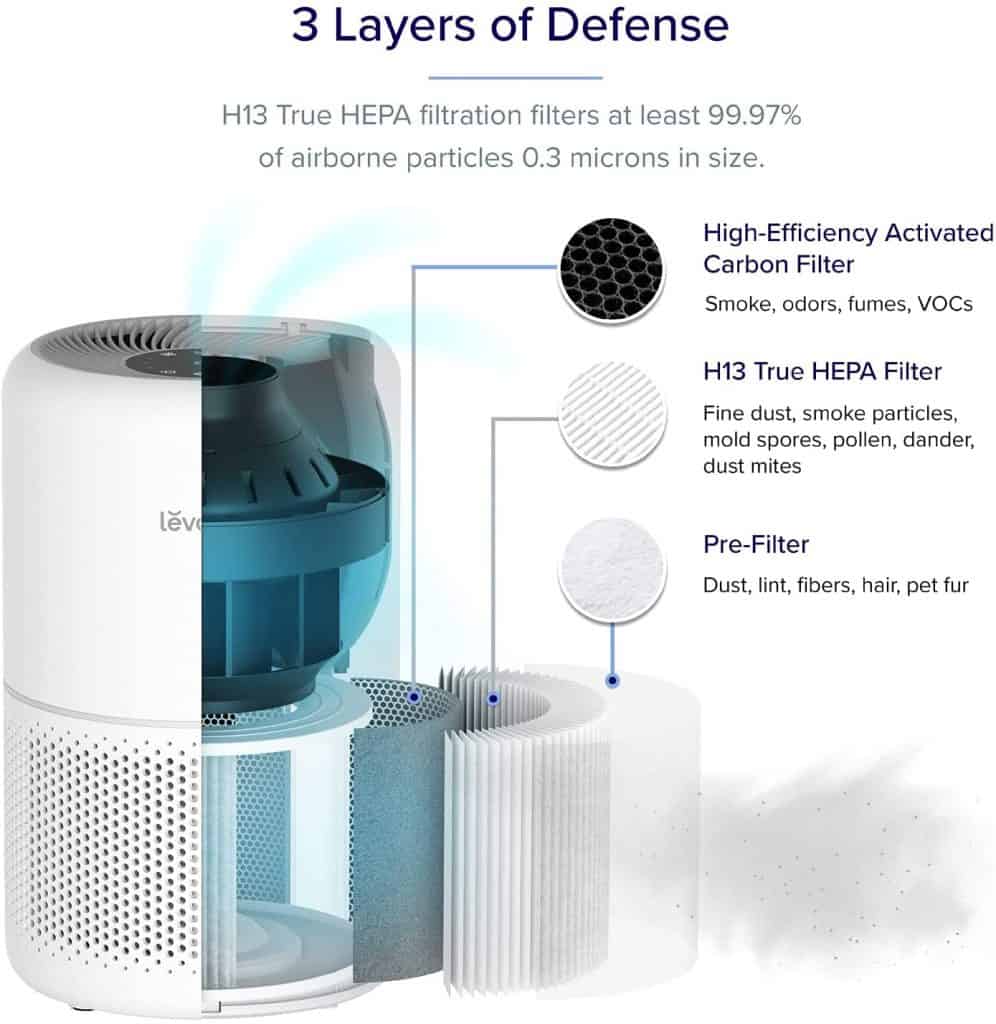 Levoit Core 300 comes with a pre-filter, H13 True HEPA filter, and carbon filter. As you can see from the picture together, they can remove most airborne particles.
The air purifier, by standard, comes with a True HEPA 3-Stage Original Filter but has different filters for dedicated air cleansing.
Levoit True HEPA 3-Stage Pet Allergy Filter – includes a more robust carbon filter, so it works better for eliminating odors.
Levoit True HEPA 3-Stage Toxin Absorber Filter – made for high air pollution and smoke
Levoit True HEPA 4-Stage Mold and Bacteria Filter – the name already says it all. Use it if you have musty environments.
As this may be good for people with such conditions so they can get a specific filter for their needs for overall air purification, it makes a bit mess to understand which filter I should use. So I believe most will use the standard one.
Similar to AirDoctor, Levoit filters last around 6 months if used daily, and by regularly cleaning pre-filter, you may increase other filters' life.
Conclusion
As for purification, both air purifiers perform similarly. As a result, they both can trap most of the indoor airborne particles.
Filter change is simple on both units as well.
The difference is in filter prices. Levoit filters are almost half as cheaper. So one point goes to Levoit.
---
AirDoctor 1000 Vs. Levoit Core 300 Air Purifier – Which One Is Better?
Overall they both work excellently in smaller spaces; they have a lot of great features and thoughtful designs.
Levoit Core 300 doesn't have an auto mode compared to AirDoctor 1000, which turns on when the air quality deteriorates.
Levoit Core 300 takes a bit less space due to its cylindrical design when it consumes space.
Considering that both the models are designed for small spaces, what to choose would depend on where you wish to use them and how much you want to spend.
If you have a specific environment, then go for Levoit Core 300, which has more filter options.
However, if you want to set it and forget about it, go for AirDoctor 1000, thanks to its auto mode.
---
If you want AirDoctor for larger spaces, check my AirDoctor 2000, AirDoctor 3000, and AirDoctor 5000 review or read all AirDoctor air purifier models compared.
If you want Levoit Core 300 with more options, check Levoit Core 300S, which you can control with your phone.