Experiencing migraines, colds, skin rashes, and more has become a common phenomenon. Ever thought why? All these problems and severe breathing problems are a result of inhaling polluted air.
You would agree because the outdoor that we thrive on is highly polluted. Go anywhere; the outdoor air is filled with pollution, dust, and more. Thanks to the increase in the sources of pollution and decrease in the number of trees around. This imbalance is something we all know.
However, what we don't know is about the quality of the indoor air. Wondering what about indoor air, considering that you keep your houses and offices clean and neat. That's where the problem lies. The indoor spaces are equally filled with impure air. Indoor air carries and circulates the carbon dioxide we exhale, the odor and invisible particles released out of cooking, the pet fur, and more such invisible particles. Shocking isn't it?
Tapping on this unseen source of impure has led to the introduction of air purifiers. Air purifiers can be called one of the pathbreaking technologies that have proved to be the saviors in the current pandemic. Since its introduction, a lot of brands have launched air purifiers of different variants. This article compared 2 air purifiers made for smaller spaces – Air Doctor 1000 and Levoit Core 300.
See a short overview of both air purifiers and read the full review below.
Product
Filters
Filters
Pre-Filter, Carbon/VOC filter, UltraHEPA Filter
Pre-Filter, H13 True HEPA Filter, Carbon Filter
Coverage 5x/hour
Coverage 5x/hour
589 sq. ft.
219 sq. ft.
Coverage 2x/hour
Coverage 2x/hour
235 sq. ft.
547 sq. ft.
CADR (Smoke)/CFM
Fan Speeds
Power Consumption
Power Consumption
7 - 40 watts
45 watts
Noise Levels
Noise Levels
34 - 54 dB
24 - 50 dB
Dimensions
Dimensions
9" (W) x 9" (D) x 23" (H)
8.7 x 8.7 x 14.2 in
Weight
---
AirDoctor 1000 Vs. Levoit Core 300 Air Purifier – Design Comparison
AirDoctor 1000 
My Readers Get $120 Off
This machine can be called small in design but mighty in purification.
Designed in a sleek perforated and mat finish silver body, this machine is cute and compact.
The machine is perfect for smaller spaces like bedrooms, laundry rooms, etc.
The dimensions of the machine are 9" (W) x 9" (D) x 23" (H); reinstate that this machine is a little wonder.
The machine weighs 10 lbs
This machine is a pick and plug model.
Levoit Core 300
The machine is designed in a cylindrical concept with a smooth finish all around.
The machine comes in a glossy white and black color
With a height of 14 inches, this machine is compact and a stylish creation
The control panel is on the top.
The machine weighs 7.5 lbs.
---
AirDoctor 1000 Vs. Levoit Core 300 Air Purifier – Functionality
AirDoctor 1000
As mentioned, this machine is perfect for small spaces of size 235 sq. ft. 5x/hour and 589 sq. ft. 2x/hour.
With an air quality particle sensor installed, the machine can be called a smart one. It turns on the moment it senses that the air quality is dropping. It also adjusts the fan speed based on the air quality.
Comes with a 6ft long cord. Plug it anywhere.
The power consumption of the purifier is Lowest Speed: 7 watts and Highest Speed: 40 watts.
Levoit Core 300
Though it is a compact model, it comes with a 360° air intake grill normally seen only in high-end air purifiers.
The machine is perfect for room size 215 square feet.
It has a touchscreen panel, but you need not use it much. The machine has an auto mode and also panel lock to avoid any changes of settings.
Equipped with QuietKEAP Technology, this machine is a silent performer. The noise level is 64.9 dB at the maximum speed, and the lowest is 46.4 dB and 40.7 dB in sleep mode.
---
AirDoctor 1000 Vs. Levoit Core 300 Air Purifier – How Do They Work?
AirDoctor 1000
The machine uses a high-powered filtration system and must be placed 6″ away from the walls for effective performance.
The machine uses an H13 UltraHEPA filtration system that is medical grade. Complementing this, the machine also has a Carbon/VOC Filter.
Th whisper jet fan makes it a silent killer.
The noise levels are 34dB at the lowest speed and 54 dB at the highest speed.
The machine should be turned off when not in use.
Levoit Core 300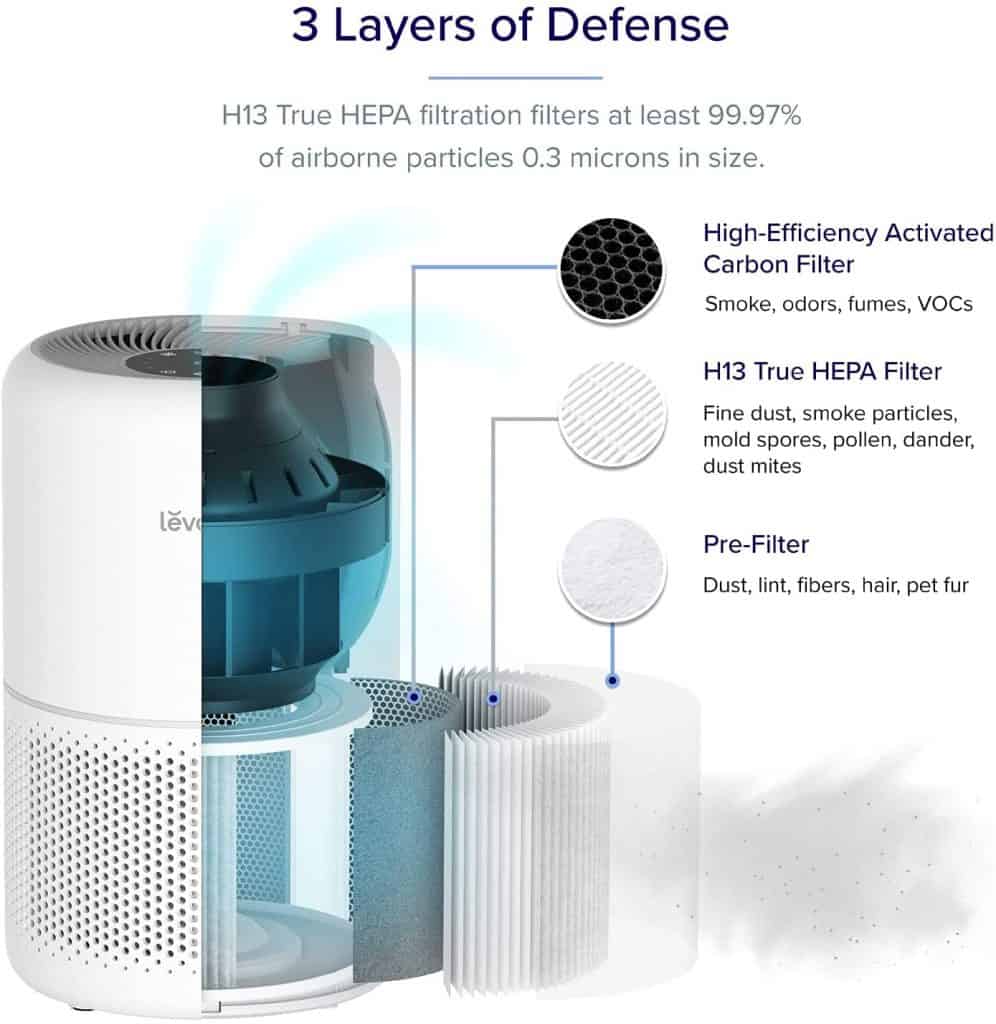 The machine has different filters for dedicated cleansing of air.
The Core 300-RD (Toxin Absorber) aims at removing remove VOCs and toxic gas
The Core 300-RF (Pet Allergy) aims at removing pet allergens
In addition to the above two, the machine also has a True HEPA Filter and Activated Carbon filter.
---
AirDoctor 1000 Vs Levoit Core 300 Air Purifier – Features
AirDoctor 1000 features
The machine is a sealed system that ensures all the pollutants captured are locked inside.
It has 4 fan speeds
Long power cable
Indicators for filters change
Mode for nighttime
Timer
Auto mode
Levoit Core 300 features
360° air intake
It comes with a sleep mode that performs in silence.
The LED panel indicates when the filters need replacement and what is the air quality.
The machine comes with a timer mode wherein you can set it for 2, 4, 6, and 8 hours, and it will automatically switch off and on.
---
AirDoctor 1000 Vs. Levoit Core 300 Air Purifier – Which One Is Better?
When we compare the exterior design element, Levoit Core 300 looks better and has more color options.
If we compare the room coverage, then both are equal and effective.
When it comes to noise levels, Levoit core 300 wins over AirDoctor 1000 with a slight edge.
Levoit Core 300 doesn't have an auto mode compared to AirDoctor 1000 that turns on when the air quality is deteriorating.
Both the machines are plug and play minus wifi capability and app support.
When it space consumption, Levoit Core 300 takes lesser space due to its cylindrical design.
---
Conclusion
Considering that both the models are designed for small spaces, what to choose would depend on where you wish to use and how much you wish to spend. If your requirement is for your house and you have a pet and live city side, then Levoit Core 300 should be your bet. However, if you are fine with a simple design and are particular about cleaning the air, AirDoctor 1000 is the best.