Due to an increase in air pollution, air purifiers are becoming essential for every house. The rise in demand has made the market highly competitive. There are so many options, and it becomes overwhelming to find the right one that meets your needs.
But after sifting through the products both online and in-store, we have found the Alen BreatheSmart Classic True HEPA air purifier provides real value for money.
It's a top choice when it comes to large spaces. Plus, it has been proven to help with various conditions like asthma and allergies as it fights to reduce dust, odors, mold, germs, etc.
But is it that good? We are going to find all about it in this in-depth review.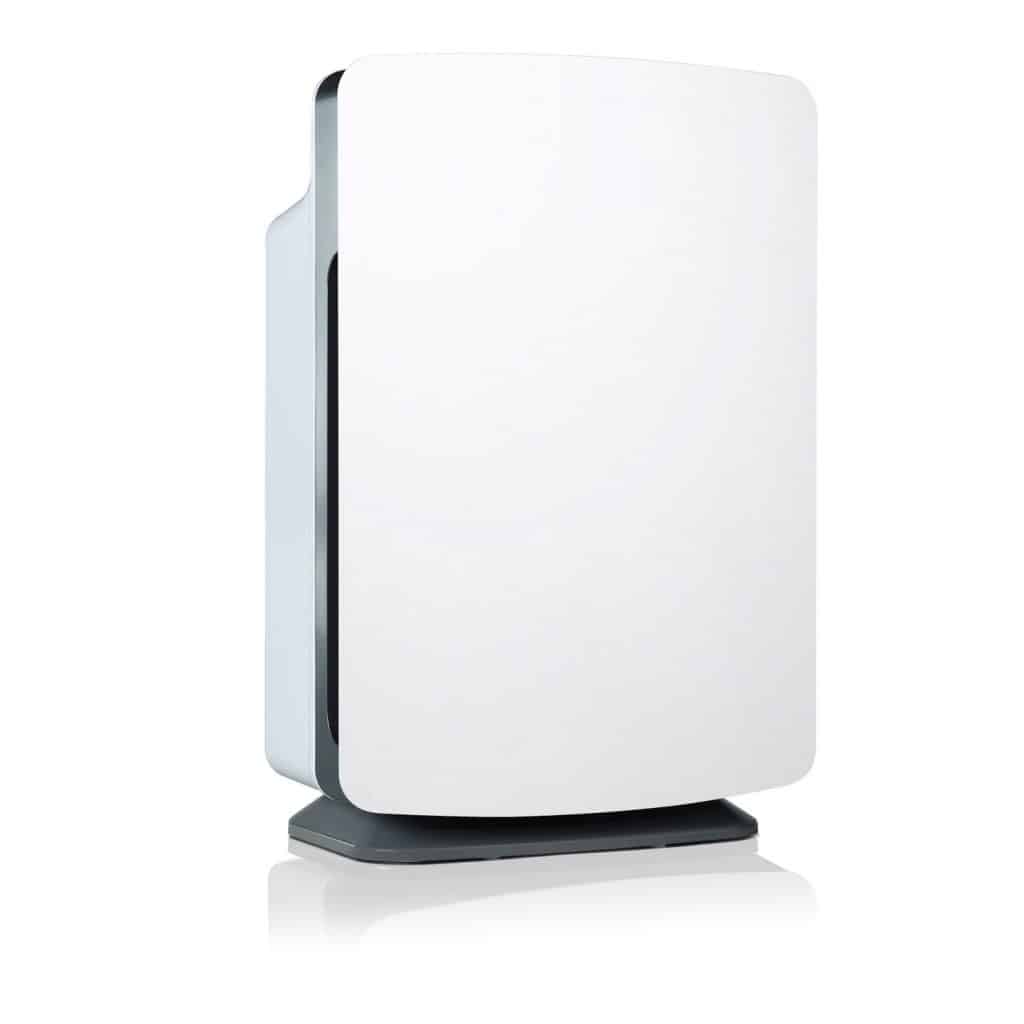 ---
Our readers get 20% Off with code CLASSIC20 until 06/01/22
---
Pros
Suitable for large spaces.
Works excellent in open-space concept homes.
Reduces allergens, bacteria, dust, fur, dander, odors, and pollen.
Air quality sensor.
The automatic fan setting runs without any user input.
---
Alen Breathesmart Classic True HEPA Air Purifier Design and Size
It has a simple design with a flat front, but it comes with a large footprint. And that's pretty much normal for the units of this size. After all, it's for larger spaces. It measures to be 26.75-inch x 17.75-inch x 10-inch.
But it weighs around 21 lbs, and you can comfortably move it around. So, it is still a decent size for a larger space, but if you use it in a smaller area, it will take more room.
Moreover, it has a very comfortable display to read from a distance, thanks to the Smart Sensor. It is there to gauge the level of impurities in your space so you can adjust the settings. Otherwise, it will do that for you on its own.
---
Alen Breathesmart Classic True HEPA Air Purifier Portability
As we have just mentioned, this unit weighs around 21 lbs. Therefore, it is not going to be that difficult to move around. Of course, any casters would have helped here, but none seems to be slightly disappointing.
However, if this is a matter of mobility, this weight can quickly move from one room to another. It stands tall on its feet, so not going to cover much floor area as well. It just needs a tight corner where it can continue to do what it's supposed to do.
---
Alen Breathesmart Classic True HEPA Air Purifier Purifying Power
This unit comes with good purification power. It can remove up to 99.99% of particles that are greater in size than 0.1 microns.
It can get the most out of pollutants present in the air of your room. Most of its competitors can only catch particles up to 0.3 microns, and their purification power is around 99.97%. So, this unit does its jobs pretty well.
---
Alen Breathesmart Classic True HEPA Air Purifier Key Features
Some of the key features that separate this unit from the competition include Smart Sensor, wider coverage area, True HEPA, and lifelong guarantee. With the intelligent sensor, you don't have to wonder if your Alen air purifier is working or not.
With these sensors, all doubts eradicate once and for all. This unit comes with particle sensor technology that will allow you to find out exactly about the current air quality. This sensor uses different colored light rings. As soon as any harmful particles are detected, the unit's auto-mode starts working.
It also comes with a large coverage area, and we will talk about it in the following sections. It also features medical-grade air purifications, thanks to its True HEPA H13 filters. These filters are long-lasting and can capture 99.99% of the contaminants down to 0.1 microns in size.
In addition to that, if anything goes along with your unit, Alen's support staff is right there to help you out. If the problem persists, they will ship you a replacement free of cost. Now that's pretty impressive.
---
Alen Breathesmart Classic True HEPA Air Purifier Noise Level
This is where Alen has to improve a little, and this is the only area that needs some improvement. At low speeds, the unit produces a noise that is at 42 dB.
This might not be that much of a problem, but as soon as you run your unit at high speed, the noise level goes up to 56 dB, and the unit starts to make noise.
All of a sudden, it makes its presence felt by everyone in the room. This is something that Alen needs to improve on because this is the only problem that this unit has.
---
Alen Breathesmart Classic True HEPA Air Purifier Power Consumption
When it comes to power consumption, this unit handles it very well. It only consumes 1.6W while running at low speeds to 105W while running at high speeds. This is very low for a unit this size, so it will save some utility costs.
Too bad that the unit is not Energy Star certified; otherwise, it would have worked, but it will not use your power efficiently. Whenever it sees that there are harmful particles in your air home air space, it will turn on the auto mode, which will add to your bills.
---
CADR, ACH, Room Coverage
This unit comes with a CADR or Clean Air Delivery Rate of 300. The highest possible rating score is 450 for pollen and smoke and 400 for dust. So, the BreatheSmart doesn't score that bad at all.
When talking about the ACH rating, which is air changes per hour, this unit can manage a max of 6 ACH per hour running at high speeds with a room coverage of 1100 square feet. We think these are pretty good numbers, especially if you compare them with competitors in the same category.
---
Alen Breathesmart Classic True HEPA Air Purifier Maintenance and Usage
One of the best features of using this unit is that it comes with True HEPA filters H13. It means that this unit is not going to need any filter changes at all. So, you will only have to do some cleaning once in a while, and that is all there is to do.
When it comes out, the controls are straightforward, and you don't have to be a tech expert in using this air purifier. Or you can leave the auto function on, and the air purifier can keep working by assessing the current air quality in your space. This is arguably one of the most precise units to use available out there.
---
FAQs
Will it work in an area bigger than 1100 square feet?
Typically, the efficiency of an air purifier unit is measured in terms of air exchanges per hour or ACH. This unit comes with an ACH rating of 6. It means this unit can exchange the air inside your space six times per hour. This number is pretty good and meets most requirements and needs.
If you want to use it in a bigger space than 1100 square feet, then the unit will still work, but its ACH will decrease, and when it drops to a certain degree or rating, you won't get all the benefits you get from this unit.
These benefits include the likes of breathable, allergen-free air. So naturally, therefore, you need to go for a unit rated for more than how much your space is. So, this unit will work great for any room that is under 1100 square feet.
Does this unit emit any ozone?
No, all air purifier units by Alen, including this unit, come with an optional Ozone Safe Ionizer. This feature is there to improve the overall filtration efficiency. Therefore, all these units by Alen are ozone-free and are certified under CARB or California Air Resources Board which have an ozone emission concentration of 0.05 parts/million.
Can I leave this unit turned on all day?
Air pollution is a persistent and pervasive problem. Therefore, it is good practice to leave your air purifier turned on all day. As a result, you won't have to turn it to the highest speed and save some on your utility bills.
How long does it take for an air purifier unit to clean the room?
It usually takes anywhere between 30 minutes to 2 hours. But this unit by Alen can clean air in a 110 square feet room in just half an hour, which is quite fast.
---
Our readers get 20% Off with code CLASSIC20 until 06/01/22
---
Final Thoughts
Alen has done a fine job with this unit. It does cover vast space and is lightweight to move around. This unit is for a 1,100 square feet area, so it's a highly recommended option for open-concept houses. In addition, you can run it all day long to keep breathing fresh air without any impurities.
The only downsides with this unit are the high noise at high speeds, which is not Energy Star certified. Apart from that, this unit is suitable for every home with an open-space concept because it is highly effective in its function and comes with a lifetime warranty.