Are you looking for an efficient air conditioner to use in your room? Nothing beats owning the Honeywell MN10CESWW AC system. A portable air conditioner with a sleek design to offer comfort and convenience. This unit is popular for its powerful performance, as it produces 10,000 BTUs of cooling power. Its design enables it cool rooms of up to 450Sq.Ft.
One of the benefits of using this AC is its quiet operation. Irrespective of its high-powered airflow, this unit has silent or quiet attributes. You can control the airflow in three stages, with the higher side making some little noise. However, you can reduce the noise using the quiet or silent operation modes. This feature allows you to sleep or relax without disturbance.
The other advantage of this unit is its three-in-one technology and electrostatic filter. These ensure you enjoy three functionalities from this system. Apart from cooling your room, you can use it to dehumidify and filter your air. However, unlike its competitors, this AC does not have water to drain due to its auto-evaporation system.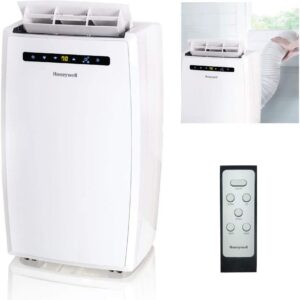 Furthermore, this unit is easy to set up and maintain. You can start using it immediately after removing it out of the box.  It features four caster wheels that make its mobility easy. In short, Honeywell MN10CESWW features all you would need in a portable air conditioner. These include LED controls, a programmable timer for saving energy, a remote control, and a flexible exhaust hose.
Pros
Easy installation- you do not need an expert to install this unit.

Quiet operation-the The noise level of this unit is 51-54 decibels, which is quiet.

Highly portable-it has four caster wheels for easier movement. You need to push it to your desired room.

Full control- you have full control of the settings using either the remote control or the feather touch LED display.
Cons
Warranty issue- according to most verified customers, the company failed to honor their warranty after their unit stopped functioning.

Lack of sleep mode- despite its higher performance and comfort, this unit lacks sleep mode function.
---
Design, Size & Warranty
This system has a classic design that is elegant and dependable when it comes to comfort. The materials used are durable and easy to maintain. In regards to size, this unit has 15.2 x 18.1 x 12.4 inches in dimensions, which is ideal for use in small and medium rooms. Furthermore, it weighs 61.7 pounds and it is available in three colors that combine with its simple design to make it attractive. This air conditioner comes in white, black/silver, and black colors.
Due to its design, size, and weight, this AC is easy to move. The manufacturer of this AC is JMA Honeywell. A US-based company that is famous for quality products. For this product, they offer a one-year limited warranty.
---
Product Features
One unique feature of this air conditioner is the washable electrostatic filter. Cleaning dirt from the filters is easy as you remove it from the back area of the conditioner. Furthermore, you clean and re-use the filter as many times as advised. This washable filter has a fine mode of operation. You do not need professional services in cleaning the filter.
Honeywell MN10CESWW has a full LED display with feather touch buttons. These buttons give you the ability to control adjustment settings through touch. On the other hand, the LED display allows you to see your air conditions, changes, and settings. Besides, this unit comes with a full control remote that you can use to operate it from a distance in your room.  
In most dehumidifiers and air conditioners, you need to perform manual draining of the unit once collected moisture fills the water tank. However, the Honeywell MN10CESWW air conditioner has an auto-evaporation system. The moisture passes via an exhaust hose for evaporation by itself. This makes this unit's maintenance minimal, as you do not require a drainage bucket to handle the water.
The mobility of this air conditioner is easy because it has four caster wheels. Therefore, you do not need to lift it but instead push it to your desired place of use.
The dehumidification feature in Honeywell MN10CESWW is interesting. This built-in dehumidifier collects 66 pints when running 24hours. This feature is great if you live in a place where the heat is wet. Other portable air conditioners do not have this feature. This air conditioner cools and dries your air, giving you more comfort.
Although this feature is common in many portable air conditioners, some models lack the self-timer. This timer allows you to set the time to control the climate of your room before getting home.
This system comes with a window venting kit, which fits in many standard windows. In case you want to use it with other different openings, you need to implement some minor modifications. This feature is not permanent, giving you the ability to remove it when your system is not used.
Due to its flexibility, you can fix this pipe anywhere. However, it would help if you placed this exhaust hose at a height that allows the air to flow easily. Such placement is easy because of the flexibility—this pipe alongside the window vent kit.
---
Noise Level
Honeywell MN10CESWW has a maximum noise level of 51-54 decibels. The rating of this noise level is quiet. Its operation is quiet, which means you will enjoy your comfort without disturbance.
---
Energy Efficiency Ratio (EER)
The EER of this unit is 11.1. On the contrary, most of its competitors have an EER of the range 7-10. This means it derives its BTUs using less energy.
---
Installation and Usage
The installation process of this air conditioner is easy, even for children. It is a DIY type because you do not need a professional for the installation. For this AC to work, it only needs a standard outlet. You can use it immediately after you remove it out of the box. It comes with a window venting kit that is easy to install.
Likewise, this portable AC is easy to use. It has an intuitive user interface with electronic controls that are feather touch. Thus, you can either use a remote control or through the display.
---
Conclusion
Honeywell MN10CESWW air conditioners offer great value for your money. Unlike most portable air conditioners, this unit is easy to install and maintain. Besides, this portable air conditioner is effective and environment friendly. If you are looking for an air conditioner to cool a small to a medium room of up to 450Sq.Ft, consider buying this unit.
---
Read Also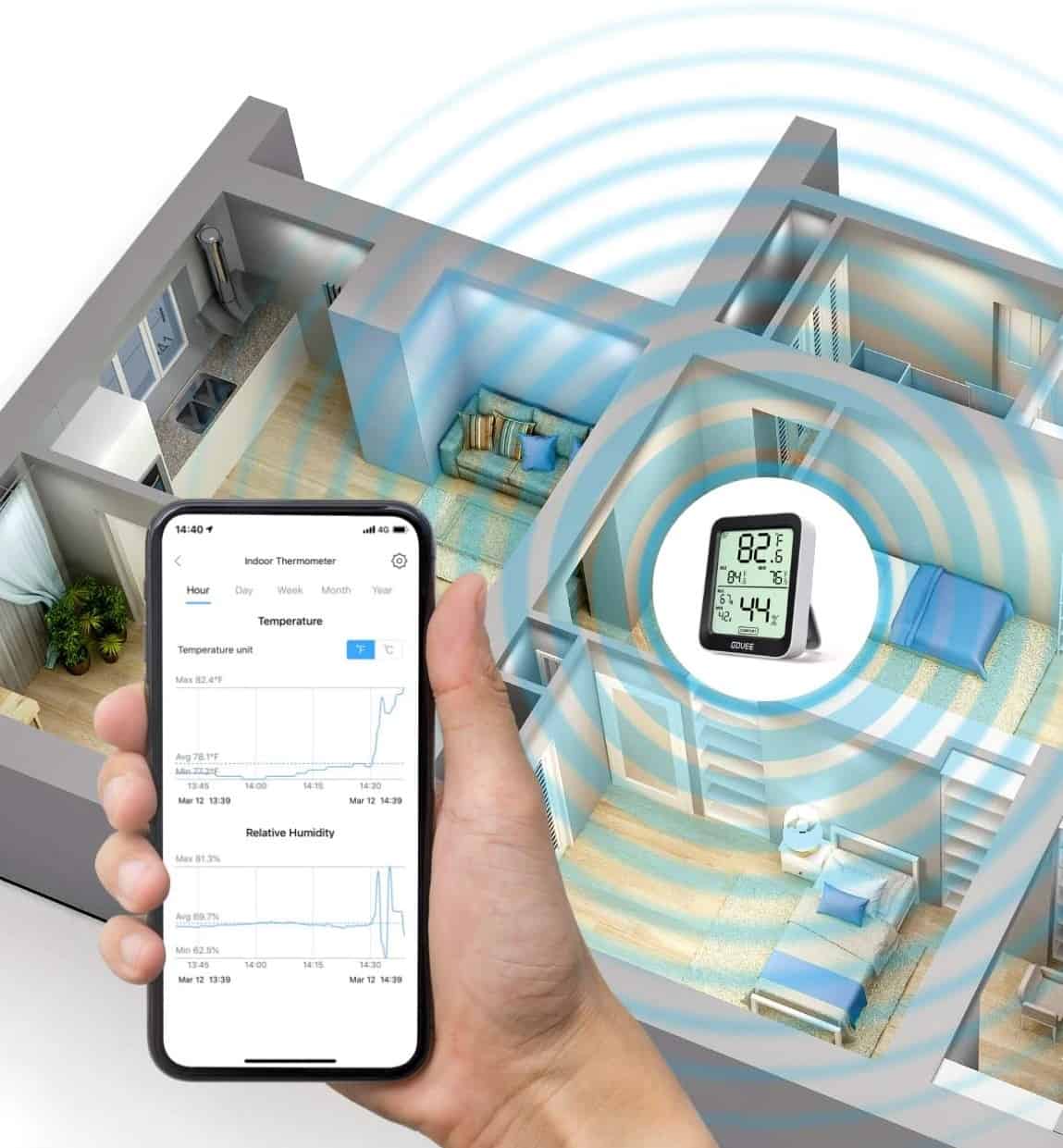 If you are using your iPhone for everything these days, you will want to know if you can figure out the room temperature with it, which means knowing what your phone can and can't do. However, if you purchase the right sensor or temperature system for your house, you can easily see the temperature at […]
0 comments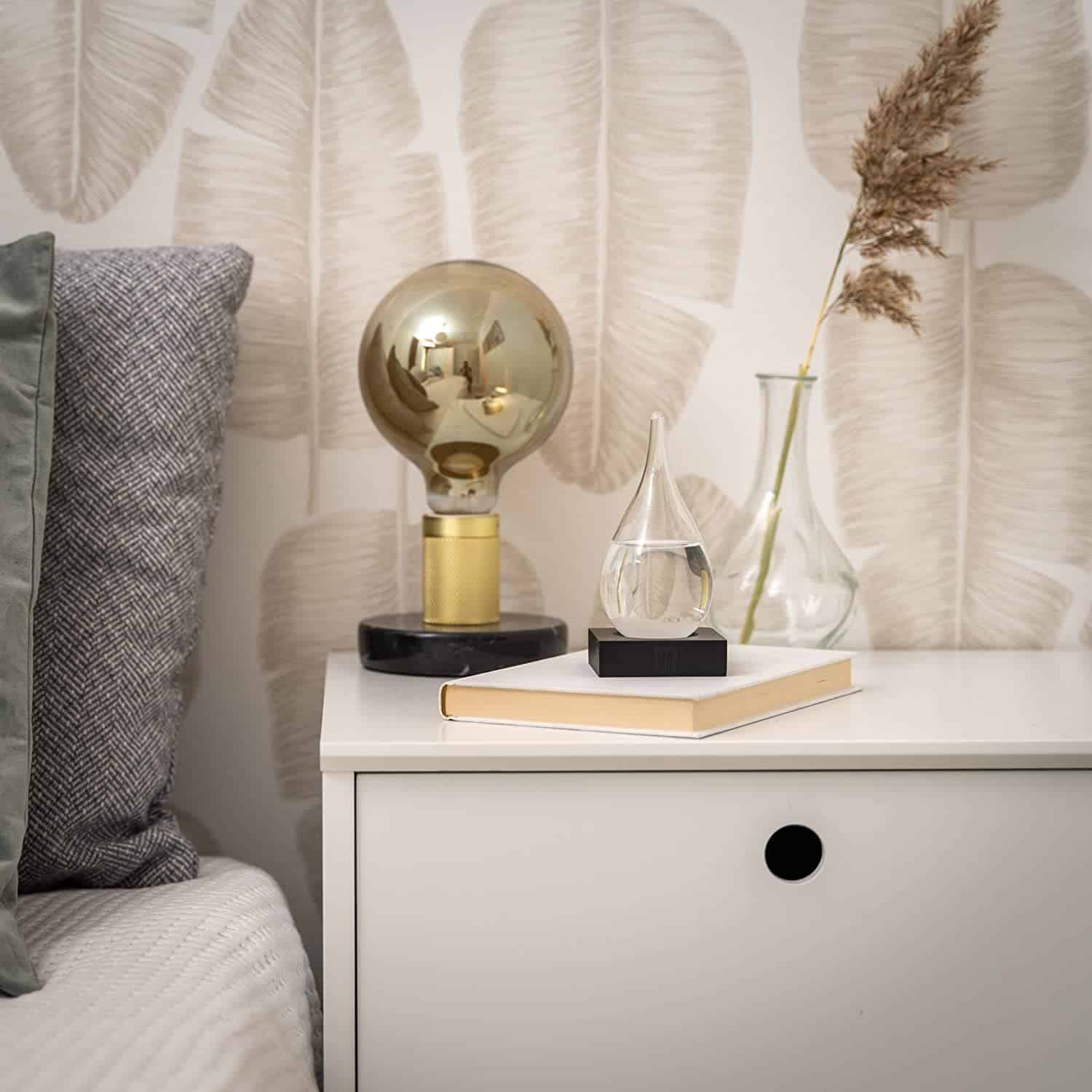 Have you ever looked out the window and wondered what the weather would be like for the day or wish that you could predict it on your own? If so, then you want to have one of the top weather predicting storm glasses that you can look at to see what the weather might be […]
0 comments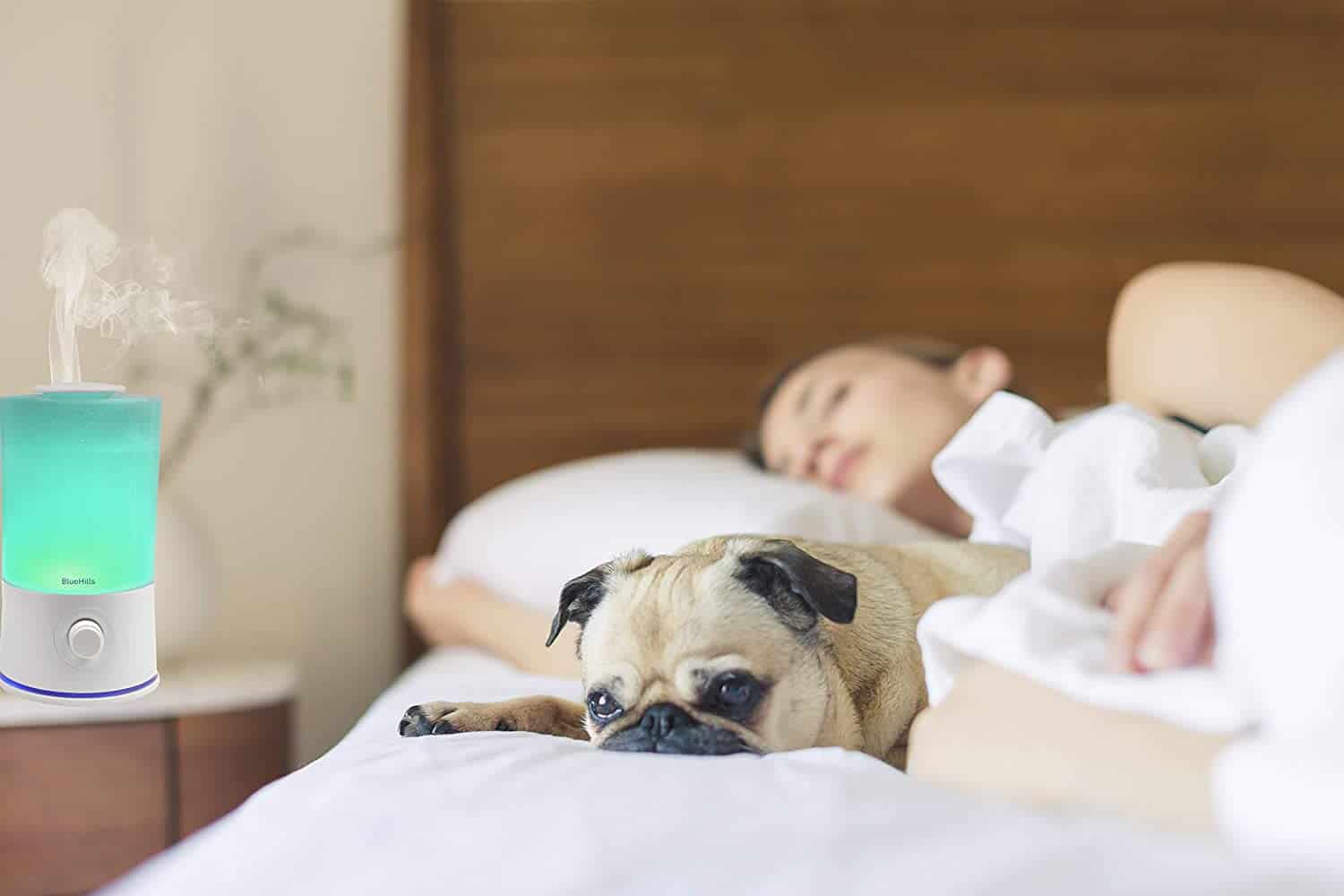 You would be able to use numerous essential oil diffusers for large rooms or spaces, and you should know all about them. There are so many options that sometimes it can be hard to decide which one would work the best for you, but if you know what is, then the decision can be made […]
0 comments