The air pollution level both indoors and outdoors has become an increasing concern of plenty. According to recent reports, it has been found that the air indoors is five times more polluted than the air outside. That is because that indoor air does not circulate like the way outdoor air. As a result, different airborne pollutants continue to thrive inside.
One way to refresh the polluted air inside your house is by using a good-quality air purifier. The chances of health issues caused by the air pollutants inside are way too high. This can trigger neurological problems, respiratory infections, or people living with asthma. A good quality air purifier helps in removing different air pollutants inside the house and keeps us healthy.
---
AirDoctor Summer "SALE on SALE", June 14 to June 28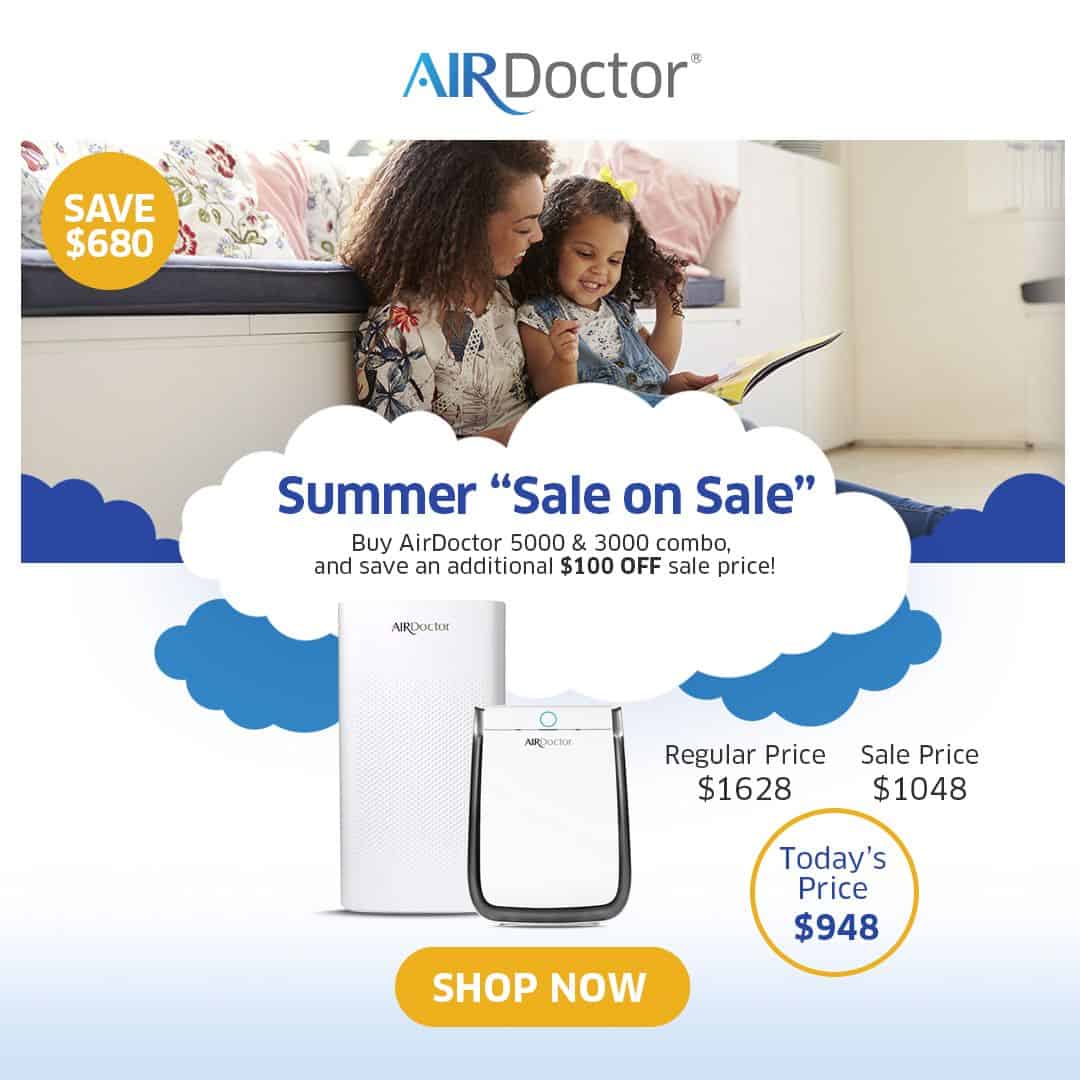 Air Doctor 3000 (formerly known as AirDoctor Pro) has become more and more popular lately, and our readers were asking us how it looks compared to competitors. Full Air Doctor 3000 review read here but in this article, let's compare it to another popular brand and one of their best model BlueAir Pure 211+ Auto Air Purifier.
Product
Product
Blueair Blue Pure 211+ Auto
Filters
Filters
Pre-Filter, Carbon/VOC Filter, UltraHEPA Filter
Pre-Filters, HEPASilent Filtration Sets
Coverage 5x/hour
Coverage 5x/hour
505 sq. ft.
550 sq. ft.
Coverage 2x/hour
Coverage 2x/hour
1262 sq.ft.
1375 sq. ft.
CADR (Smoke)/CFM
Fan Speeds
Power Consumption
Power Consumption
11 - 110 watts
4 - 38 watts
Noise Levels
Noise Levels
39- 59 dB
23 - 56 dB
Dimensions
Dimensions
15.75" (W) x 8.35" (D) x 23" (H)
13 x 13 x 20 in
Weight
---
AirDoctor 3000 vs. BlueAir Pure 211+ Auto Air Purifier Design Comparison
The manufacturers of Air Doctor 3000 have designed their products to provide a beautiful and modern design. These air purifiers are available in dual tones, and they are unique in every way. These purifiers blend quite easily with the overall decor of your commercial or residential place. The design and structure of this air purifier are entirely different from the other air purifiers available on the market. These do not look boxy or give an edgy look.
The Blue Pure 211+ Auto Air purifiers are easy to use. Unlike some air purifiers, these do not have many buttons which can be very confusing for some. One doesn't have to spend hours to learn how to operate it. It has a single-button design. This single button helps you to control the air purifier without any trouble.
These do not have any knob or button to adjust the different features of the air purifier; the single button will help you switch on and off the air purifier and select the speed options. Blue Pure 211+ Auto Air purifier has Wi-Fi control features as well.
---
AirDoctor 3000 vs. BlueAir Pure 211+ Auto Air Purifier – Functionality
These two air purifiers work differently and use different technologies as well. AirDoctor 3000 is constructed using UltraHEPA filtration technology, which helps create a field that kills bacteria and pathogens in the air when they pass through the area. This is why more and more people choose to get air purifiers for their homes or commercial place.
The air purifier also uses a filter that can be washed when needed. These filters are the pre-filters that collect the large particles before the air passes to the filter inside. You will also get notifications when you should clean the pre-filter so that the air filter can do its work in a better way.
The Blue Pure 211+ Auto air purifier helps you trap and eliminate harmful particles to the human body. These particles include dust, dirt, pollen, smoke, and much more. This air purifier performs a three-stage purification system. These also have a pre-filter that can be washed easily. The pre-filter traps the particles that are large, like pet dander or hair, pollen, etc. These particles are harmful to people who have asthma or other respiratory problems.
The two-in-one filter has a lifespan of six months; the air purifier has a built-in led warning system that glows red when you should change the filters.
---
How Do They Work?
The AirDoctor 3000 has a pro filtration process. This air purification has a four-in-one cleaning process. Following are the steps that are included in the process of air filtration done by Air Doctor 3000.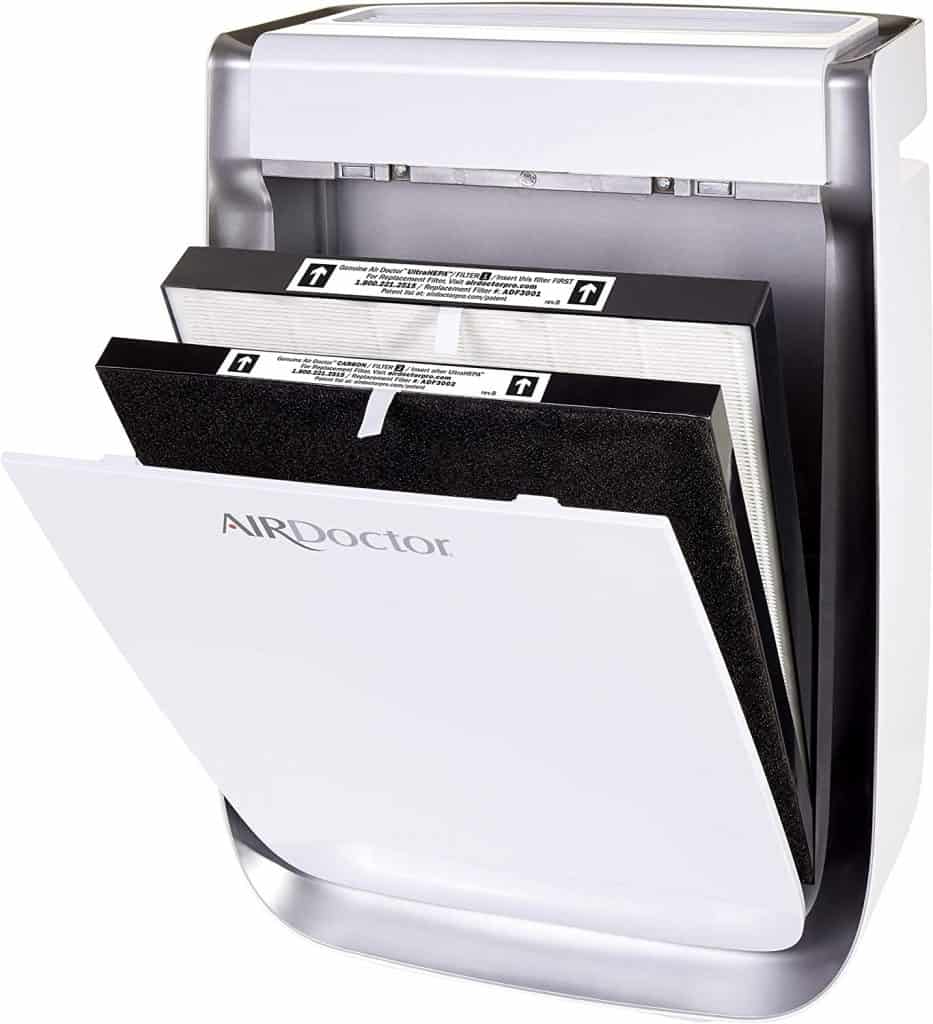 Pre-filter is the first stage that the air has to pass through. In this, the largest particles are collected like hair, dust, and much more. This filter can be washed when necessary. In addition, it helps make the internal filter to be more efficient.
In this air purifier, you will get an advanced HEPA filter. This filter helps capture particles that are even in size of 0.003 microns. These filters are quite efficient and can capture 99.95% of particles.
After the Ultra HEPA filter, the next thing is the activated carbon filter. These are also known as the VOC or dual action gas filters. These perform two functions and are commonly found in many air purifiers.
Lastly comes the ionizers. It is a bonus in this air purifier mainly due to the cleaning feature. Ionizers send the negatively charged ions into the air and help to purify them. These are also called the odor neutralizer and mood changers by plenty of people.
The AirDoctor 3000 is an all in all air purifier that has a fantastic cleaning process. The UltraHEPA filter is what makes these stand out compared to the other air purifiers.
In BlueAir Pure 211+ Air purifier, you get a three-stage filtration process that ensures that all the pollutants and harmful contaminants are removed from the air. The three-stage filtration includes the following: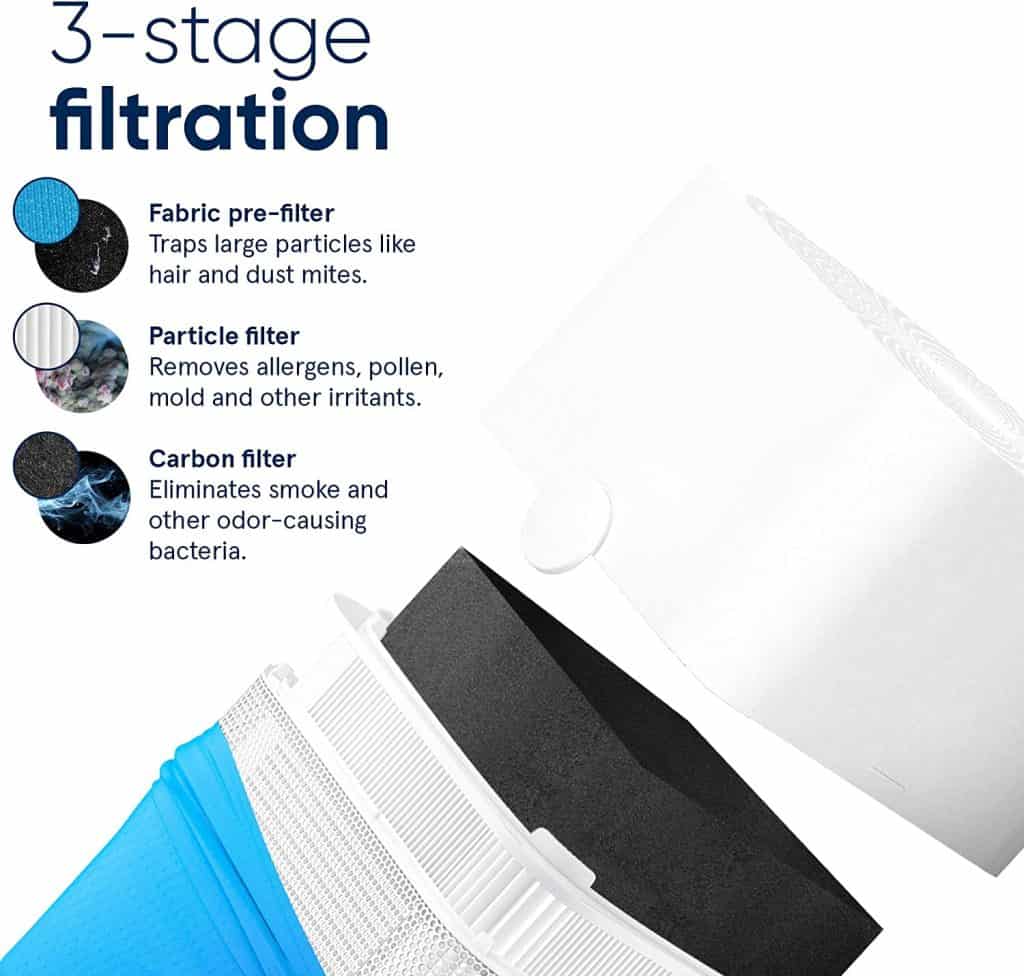 The first stage is the pre-filter which is washable and helps remove the large particles and floats in the air due to its lightweight. This pre-filter that is used in the BlueAir Pure 211+ is available in different colors as well. Therefore one can choose to pick the one they want and purchase the design that they think will suit the decor of their space.
The next stage is the particle filter. This is a polypropylene filter that eliminates the air-borne particles and odors causing pollutants.
Lastly is activated carbon. It is usually used inside the particle filter that helps remove odor, smoke, VOCs, and gases.
---
AirDoctor 3000 vs. BlueAir Pure 211+ Auto Air Purifier – Features
The AirDoctor 3000 air purifier has plenty of features. Some are as follows:
Air Quality Sensor And Indicator: This is on the front of the unit and is a colored circle. The color that you see indicates the quality of the air. For example, if you see blue, that indicates good; orange indicates moderate and red shows poor air quality.
24 Hour Timer: A timer helps you turn the air purifier off after being used for one to two hours.
Four Fan Speeds: You will get four fan speeds in total; they are medium, low, high, and turbo.
Automatic Mode: The Automatic mode helps the air purifier do all the job on its own. It checks the quality of the air and then cleans the air accordingly.
Night Mode: This dims the control panel and turns off the light when you are sleeping.
Filter Change Alert: This tells you when you should change the filter and clean the pre-filter so that the air purifier can work properly.
The BlueAir Pure 211+ Air purifier has the following features.
LED Air-Quality Display: You will be updated with the air quality by the LED display that is AQI or air quality indicator. This display changes the color to indicate the air quality, and you will learn whether it is good, moderate, or poor.
One Button Design: You will get a single button design when you choose to buy a BlueAir Pure 211+ air purifier. When you pick this one, you do not have to learn about the different knobs on other air purifiers. One button will help you control all the features of the air purifier.
Easy To Change Filters: These air purifiers have a built-in feature that helps you learn when to change the air filter.
---
Air Doctor 3000 Advantages Over BlueAir Pure 211+ Air Purifier
AirDoctor 3000 has plenty of features that make these advantageous and easy to use. These are built with the use of an Ultra HEPA filter. These filters make these air purifiers powerful and far more impressive than the other air purifiers available in the market. These are efficient in capturing and killing pathogens that are even 0.003 microns in size.
Especially when new viruses are coming up and harming the health of our near and dear ones, these air purifiers are the best. It helps viruses, airborne germs, and bacteria to a great extent. In addition, these filters have dual-action carbon or gas filtration that helps to filter faster and easier.
---
BlueAir Pure 211+ Auto Air Purifier Advantages Over AirDoctor 3000 Air Purifier
In this air purifier, the particle filter option performs the job of reducing allergens and contaminants from the air. However, these do not have the UltraHEPA filter system in them. Though the UltraHEPA filter is suggested by plenty of people, the absence of the filter is not a flaw of this air purifier. It is tested that the air purifier can capture around 99.97% of air pollutants and make the air pure and clean.
These are also easy to use due to the one-button setting. In addition, these are designed with a single button that helps control this air purifier's features quite easily.
---
Conclusion
Considering all the features and qualities of these air purifiers, we understand that both can make the air pollutant-free in your house. If you want a user-friendly and straightforward air purifier that can be used easily, you should choose the BlueAir Pure 211+ Auto air purifier. On the other hand, if you are looking for an air purifier capable of cleaning the air in a similar area, also good value for money but has a different design, choose to get Air Doctor 3000. The choice depends on your need and preference.
---
Air Doctor 3000 Compared to Other Brands