Many brands offer a variety of air purifiers with different technologies promising effective and better functioning.
With so many options, you may think about a better option.
---
December 2023
Early Christmas SALE
---
Therefore, we closely look at the two most successful air purifier models, i.e., AirDoctor 3000 and Dyson Pure Cool™ TP01.
Product
Filters
Filters
Pre-Filter, Carbon/VOC Filter, UltraHEPA Filter
True HEPA Filter, Carbon Filter
Coverage 5x/hour
Coverage 5x/hour
505 sq. ft.
160 sq. ft.
Coverage 2x/hour
Coverage 2x/hour
1262 sq.ft.
400 sq. ft.
CADR (Smoke)/CFM
Fan Speeds
Power Consumption
Power Consumption
11 - 110 watts
up to 56 watts
Noise Levels
Noise Levels
39- 59 dB
40 - 62 dB
Dimensions
Dimensions
15.75" (W) x 8.35" (D) x 23" (H)
40 in (H) x 4.4 in (L) x 7,5 in (W)
Weight
---
AirDoctor 3000 Vs. Dyson Pure Cool™ TP01 – Design Comparison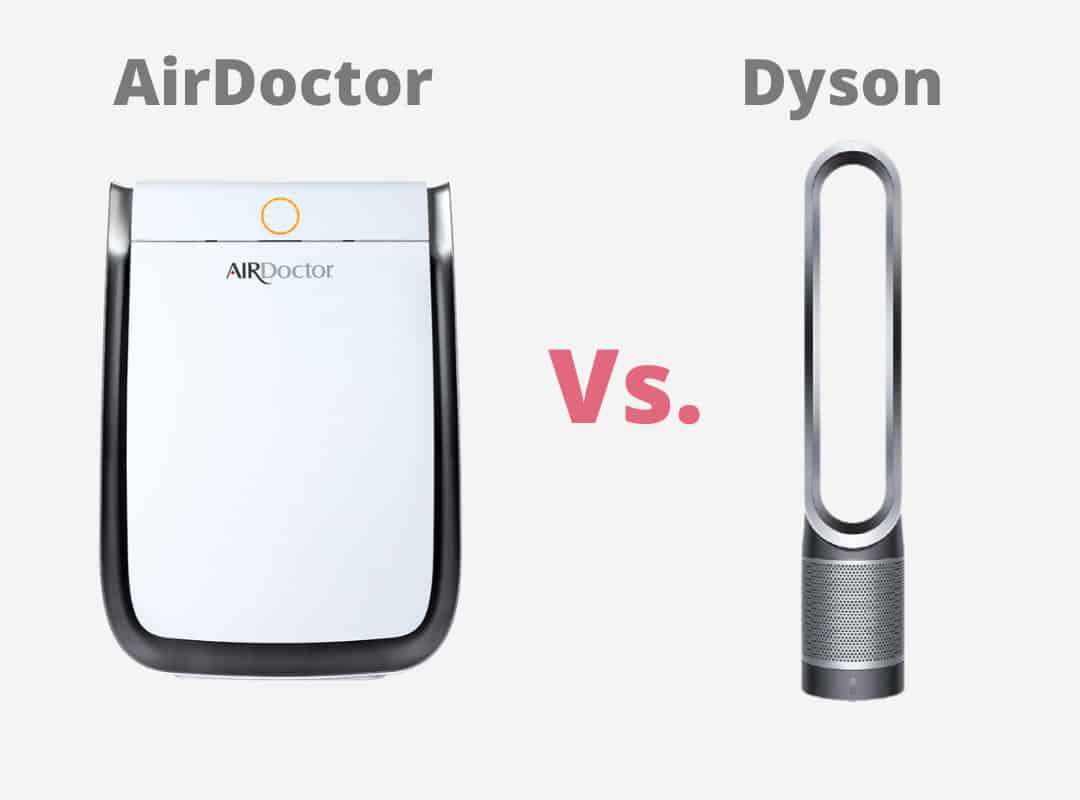 AirDoctor 3000 
AirDoctor 3000 comes in a white finish with a rectangular, curved body.
The model's dimensions of 15.75″ (W) x 8.35″ (D) x 23″ (H) and weight of 18 lbs make it compact and easily maneuvered around. In addition, it comes with in-built handles that make it portable.
It has a 6-long power cord length that helps you place it in any part of the room.
---
Dyson Pure Cool™ TP01 
The Dyson model, when seen, would seem like a large Bluetooth speaker. However, with a compact, meshed cylindrical bottom, a huge oval-shaped ring is mounted on the cylindrical bottom.
The weight of the purifier is around 8 lbs. It is compact in width but taller in length. So ideally, you need to place it in a space with enough height.
It comes with built-in handles that help you easily move it around. In addition, the cleaner comes in two color variants, i.e., white/silver and iron/blue.
---
AirDoctor 3000 Vs. Dyson Pure Cool™ TP01 – Functionality
Functional Details Of AirDoctor 3000
The AirDoctor 3000 purifier can clean air 505 sq. ft. 5x/hour and 1262 sq. ft. 2x/hour.
It has an air quality particle sensor that turns on the purifier automatically when it observes polluted air.
AirDoctor 3000 has an indicator light that changes depending on the quality of the air.
It has 4 fan speeds.
The power consumption is 11 watts at Lowest Speed and 110 watts at the highest speed.
Functional Details Of Dyson Pure Cool™ TP01
Dyson TP01 can be placed in any corner of the room. It cleans the air 360 degrees.
Like AirDoctor, Dyson also has an indicator that shows RED when the air is highly polluted and moves to GREEN when purified.
You can also use it as a portable fan and keep it in auto mode. The purifier will self-start when it feels the air is below the expected purity level.
It has a cute little remote control that makes it easy to access the purifier anywhere in the room.
---
AirDoctor 3000 Vs. Dyson Pure Cool™ TP01 – How Do They Work?
AirDoctor 3000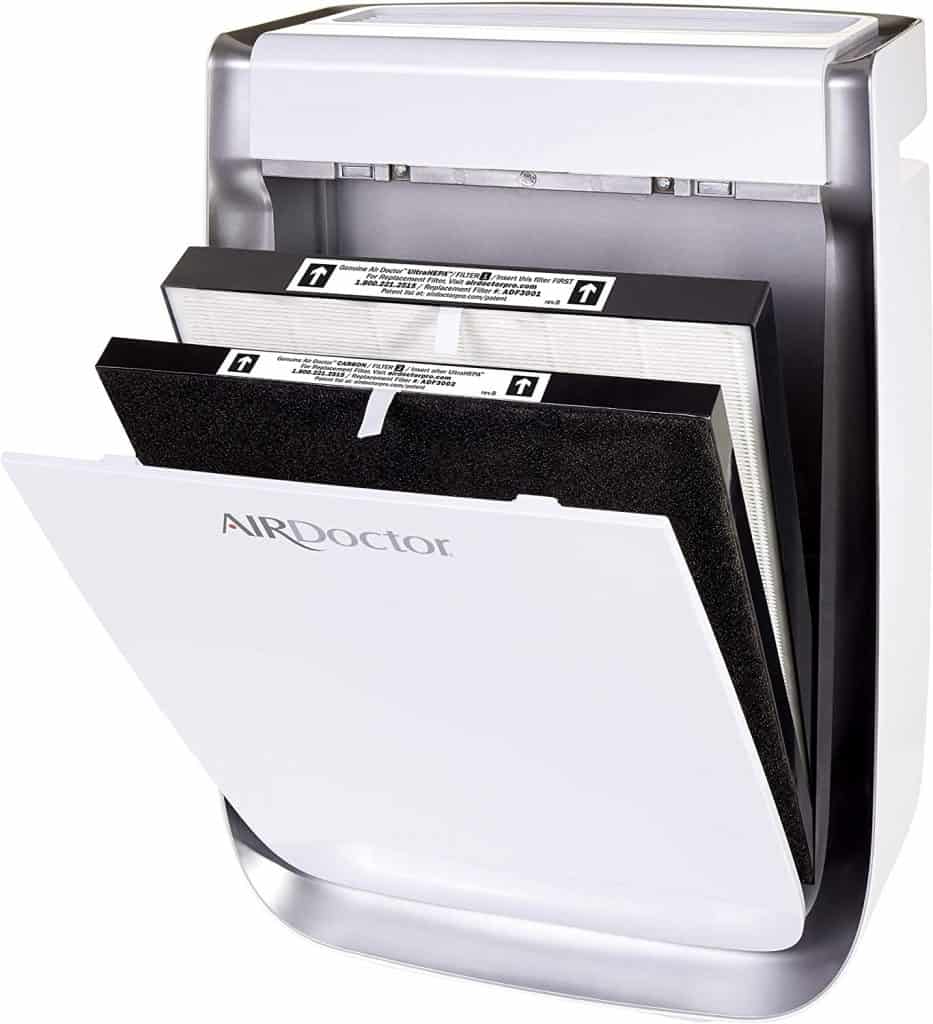 AirDoctor 3000 air purifier comes with a three-level purification technique.
A pre-filter removes dust, animal fur, and other particles from the air at the first level.
2. Then, a Dual gas trap filter cleans odor and other elements released by the fumes/gas from the kitchen.
3. The last but the most effective is the Ultra HEPA filter that removes the tiniest dust and allergen particles from the air, making the air almost 100% pure and healthy.
When set to Auto, the machine checks the air quality and starts the purification once any pollutant is detected. You can notice this through the indicators in the panel.
Dyson Pure Cool™ TP01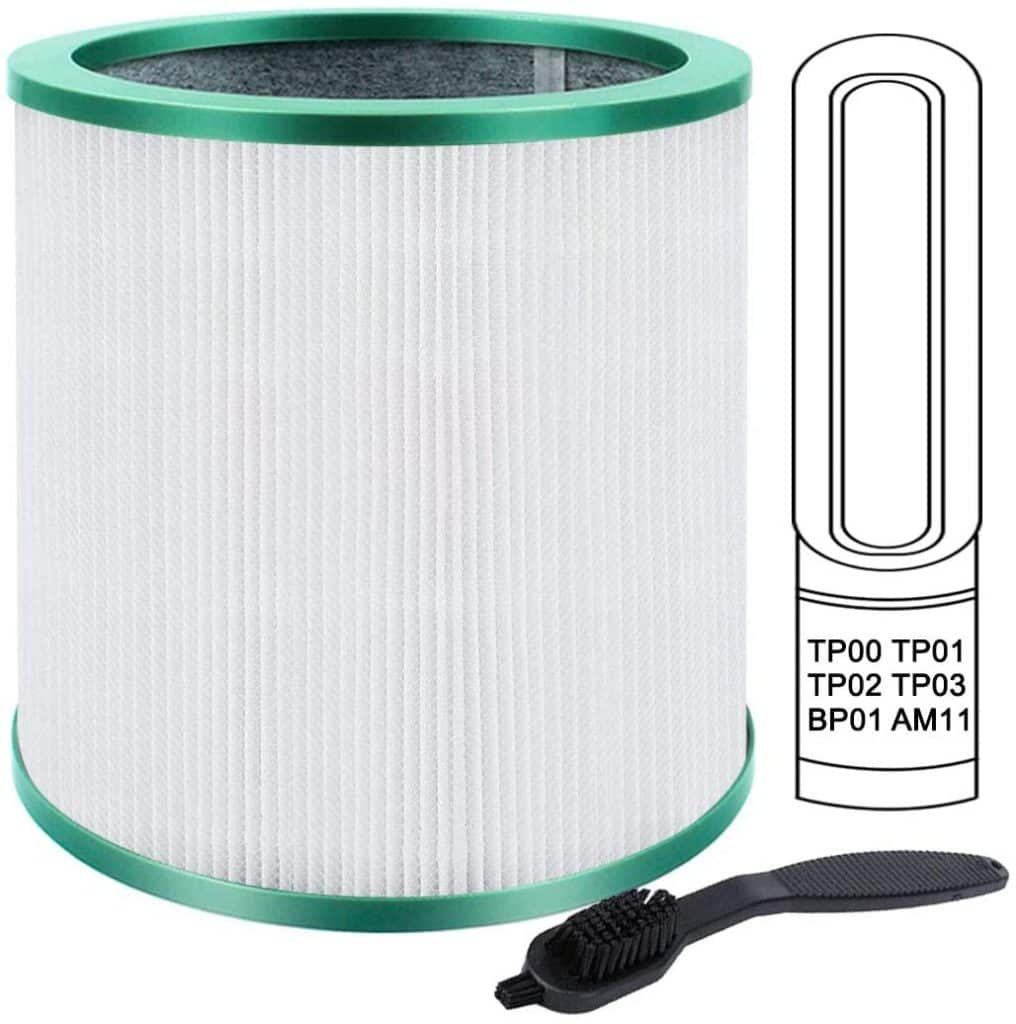 Dyson TP01 air purifier comes with a 360° filtration system that uses activated carbon to remove gases and odors and a HEPA filter to capture 99.97% of pollutants as small as 0.3 microns.
Set the air cleaner on auto mode, and the purifier will adjust its speed depending on the air quality. The poorer the quality of air, the higher the speed.
Dyson Air Purifier has a fan speed of up to 10 levels, 10 being the highest speed when the space is filled with complete pollution.
The air purifier has night mode to keep it silent and smooth while using it at night.
---
AirDoctor 3000 Vs. Dyson Pure Cool™ TP01 – Features
Air Doctor 3000
Touch control panel.
The sealed body gives it a classy look.
Auto-mode.
4 fan speeds to choose from.
Air Quality Sensors.
Dim Mode turns off lights during the night
ION generator (can be turned off)
Filter change indicator
24-hr timer
Dyson Pure Cool™ TP01
This air purifier can be called an intelligent machine. The moment you turn it on, it gets connected to the app. Then, using wifi/Bluetooth, you can operate it. So, you can operate the cleaner with the remote or the app.
The display is small, but the display is quite clear and visible.
Sleep Timer
Ten fan speeds
Oscillation up to 70 degrees
---
Dyson Pure Cool™ TP01 Vs. AirDoctor 3000: Which One to Choose?
If you are looking at effective purification, then AirDoctor 3000 has an edge.
If you are looking for a technology-driven cleaner, Dyson is your choice.
When it comes to pricing, Air Doctor 3000 is worth the price.
---
December 2023
Early Christmas SALE
---
Conclusion
Both the cleaners are equally good and worthy in terms of design and features. However, when choosing if you are super sensitive to air, AirDoctor is the best as it clears 99.99% of the airborne particles.
However, if you are a techie and are particular about design, then Dyson is the best.
Therefore, you can choose between the two based on your requirements, cost, and space.
Note! Since October 2023, Airdoctor has improved its air purifier, and there is now an updated version, AD3500i, with a wifi connected app available.
---
If you are looking for AirDoctor, check AirDoctor 1000, AirDoctor 2000, and AirDoctor 5500 reviews.
If for Dyson, check the Dyson HPO4 Air Purifier Review.
I compared Dyson and AirDoctor to other brands as well; see below: