Afloia is one of the best-selling brands for air purifiers and dehumidifiers. These units are for sustainability, and all the components used in constructing these units are made of eco-friendly materials. 
Among the best features of these units is that they have an almost imperceptible carbon footprint and are energy smart. These aspects make Afloia units among the best-performing units on the market. 
If you are looking for the best Afloia dehumidifiers, you are in luck because we have developed a list of all the best dehumidifier units by the brand and reviewed them.
For your convenience, pick the best unit for your home or office according to your needs and preferences. 
Top Afloia Dehumidifiers
---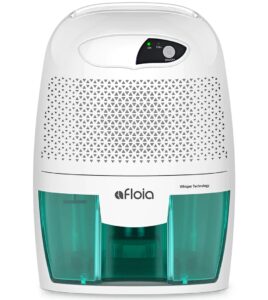 The Afloia 600B is a small unit that weighs over two and a half pounds, so it is easy to carry and relocate from one place to another. 
It is a small unit, ideal for smaller spaces up to 161 square feet. So, this unit is an ideal choice for smaller rooms or even your large motor vehicles. A perfect ambient temperature for the best operation ranges between 10C and 50C.
The smaller unit is also a budget-friendly option. But you won't have to compromise on efficiency and performance at all. It comes with a 16 oz tank that can remove up to 9 oz of moisture from the space while providing you with comfortable and clean air to breathe. If you need something a bit more powerful, check Vremi 1 Pint dehumidifier. 
And just like its big brother, the 800B, this unit also comes with auto deactivation. It will automatically shut off when the water level is not sufficient. This way, you won't have to worry about overflow, and it will automatically activate once you have cleared the tank.
Another feature that the 600B has is its noise level; the smaller unit is also pretty quiet and only produces 30 dB of sound while operating. So it can peacefully continue to perform its duties right next to you. 
The unit is pretty easy to set up and use. You will only have to plug it in and push its start button. You can go wrong from there. Apart from all that, this unit is also covered under a lifetime warranty by Afloia. 
If you run into some issue with this unit, you can send it back to the company, and they will repair or replace it for you, depending upon the situation. It's just the peace of mind that you need. 
Pros
Compact design.

 

Automatic shut off.

 

Super quiet.

 

Very easy to operate.
---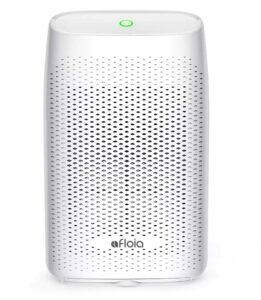 Afloia is the most popular company that manufactures the world's best dehumidifier. The Afloia T8 plus dehumidifier is the most efficient and powerful. It comes with 1.6 pints (2-liter) water tanks that absorb a maximum of 26 oz of water per day. 
The company uses thermoelectric technology that eliminates the need for a compressor. This technology makes it ultra-quiet. Thus, you can use it in your office, home, garage, or anywhere.
The quiet operation unit also gives you a good night's sleep experience. This dehumidifier does not disturb you during work due to the noiseless unit. 
You can easily remove the water tank to refill it and conveniently activate it again. A good feature is that it comes with an indicator flashlight. This flash tells you when your dehumidifier and the water tank are full. Plus, it automatically shuts off the unit. 
The design of this T8 Plus dehumidifier makes it environmentally friendly, which increases moisture extraction. It also consumes minimal energy (23 watts per hour) and makes it an energy-smart dehumidifier. It is accessible in three colors: cyan, black, and white. 
The unit comes with a handle that makes it portable. You can easily carry it and place it from one place to another. The portability is an excellent feature of this dehumidifier during traveling. 
Furthermore, it is ideal for small-sized rooms such as a garage, bedrooms, bathrooms, closets, and kitchens. This is also a lightweight option. It works perfectly in all situations, such as extreme temperatures and normal temperatures.      
Pros
More powerful and efficient.
Thermoelectric technology makes it ultra-quiet.
Auto shut-off presents a convenient dehumidifier.
Portable and compact option.

 
Cons
A little bit noisy unit for offices.
---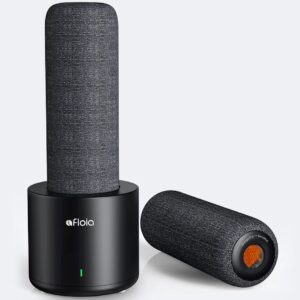 If you are looking for a compact and wireless dehumidifier for your living room, you should invest in an Alfoia MiniGun dehumidifier. This dehumidifier comes with a cylinder and cordless design that maximizes the absorbing area of moisture. It also circulates at 360 degrees to make moisture absorption efficient. 
Furthermore, the company uses silica gel that is safe and non-toxic in the form of beads that absorbs moisture and dampness from the air. The top window of this dehumidifier tells the status according to time. 
The cylinder design dehumidifier is ideal for small spaces such as wardrobes, gun safes, gym bags, RVs, cars, boats, bookcases, cabinets, etc. It can remove more than 4 oz of moisture and dehumidifier more than 54 sq. ft. 
The best advantage of using this MiniGun dehumidifier is that it works without a battery. This wireless unit consumes low energy than the above dehumidifier. 
This is also safe for your pets and children. You can also place it in your children's bedroom to keep their room dehumidifier. The silica beads also change their color to indicate full charging. When the orange color beads convert into dark green, you must put your unit on the heating base for almost 2 hours. 
Once you finish the healing process, it automatically shuts the unit to prevent overcharging. You will never experience a water leakage problem because it contains a non-woven layer.    
Pros
Auto shut-off makes it energy-efficient.
MiniGun style makes it more convenient to place.

 

It is equipped with non-toxic silica-gel beads.
Wireless dehumidifiers make them eco-friendly.

 
Cons
Not a long-lasting dehumidifier.
---
Final Word
Afloia is a top-notch brand with top-notch products, and they also come with a lifetime warranty, which shows that the brand stands behind all its products.
So, bring in your Afloia dehumidifier today and raise your indoor air quality index.