That time has come – famous air purifier manufacturer AirDoctor has released wifi-connected units.
So now, 3 models – AD2000, AD3000, and AD5500 – have clone versions but with a Wi-Fi connected app – AD2000i, AD3500i, and AD5500i. 
I hope you will be even more amazed than me at how good the app is. 
---
December 2023
Early Christmas SALE
MOST AFFORDABLE
Coverage (5x/hr): 244 sq. ft.
Coverage (2x/hr):610 sq. ft.
Fan Speeds:4
CADR (Smoke)/CFM:152
Wattage:

11

-110 watts
Voltage: 120V/60Hz
Noise levels: 38 - 59 dB
Dimensions:14" (W) x 6.6" (D) x 18.7" (H)
Weight:10 lbs
TOP PICK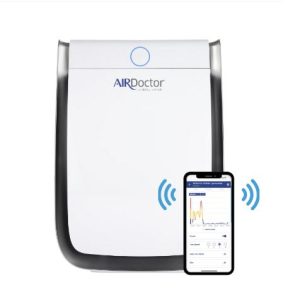 Coverage (5x/hr):505 sq. ft.
Coverage (2x/hr): 1262 sq. ft.
Fan Speeds: 4
CADR (Smoke)/CFM:326

Wattage

: 11-110 watts

Voltage:

120V/60Hz

Noise levels:39 - 59 dB
Dimensions: 15.75" (W) x 8.35" (D) x 23" (H)

Weight: 18 lbs
MOST POWERFUL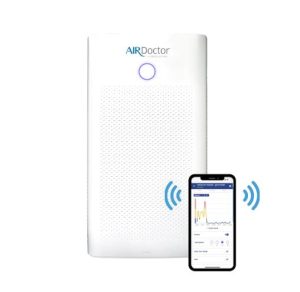 Coverage (5x/hr): 868 sq. ft.
Coverage (2x/hr):2170 sq. ft.
Fan Speeds: 6
CADR (Smoke)/CFM:560
Wattage: 10-100 watts
Voltage: 120V/60Hz
Noise levels: 30 - 50 dB
Dimensions:16" (D) x 16" (D) x 29.75" (H)
Weight: 33 lbs
AirDoctor 2000i: The Perfect Purifier for Smaller Space
Pros
Effective air purification.
Quiet and automatic operation.
Real-time air quality monitoring.
Portable and easy to move.
UltraHEPA filter technology.
Cons
It has a limited coverage area.
AirDoctor 2000i – this "small and mighty classic" is a game-changer. The new Wi-Fi app keeps tabs on air quality, changing filters, and even easily sharing control. I've seen it respond to the slightest changes, like cat litter or a spritz of Febreze, instantly clearing the air.
The machine's quality is top-notch, and it's eerily quiet. It adapts to the air, staying quiet when it's clean and revving up when needed. 
It excels in my dusty neighborhood and during ongoing construction, leaving the air noticeably fresher. Plus, the option to dim the lights in the bedroom is a thoughtful touch.
The UltraHEPA filter, capable of capturing particles 100 times smaller than standard HEPA, truly sets it apart. AirDoctor 2000i, the little purifier that could, indeed!
AirDoctor 3500i: A Breath of Fresh Air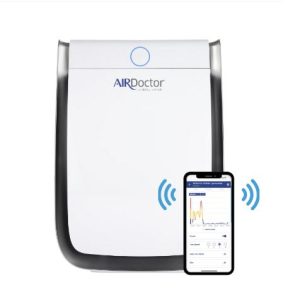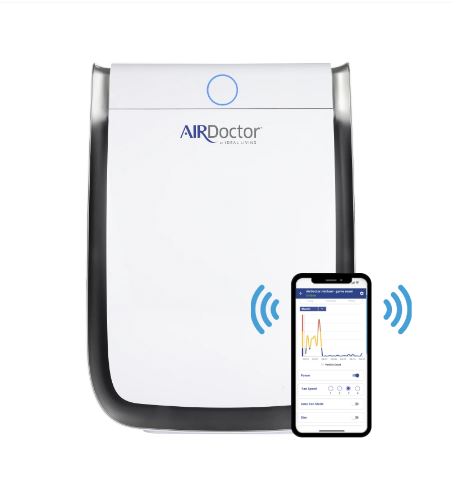 Pros
Quieter than competitors.
Effective against odors.
Easy to set up.
Handles wildfire smoke well.
User-friendly and versatile.
Cons
Large, not best for bedrooms
I had the privilege of trying out the AirDoctor 3500i, and it's nothing short of a classic defender. The addition of the Wi-Fi app brings real-time air quality updates, filter change alerts, and device control right to your fingertips.
One of the most impressive aspects of this cleaner is its ability to handle large spaces. It effectively circulates the air, making it an excellent fit for living rooms and kitchens.
I was particularly impressed with its performance in my kitchen, where cooking odors and smoke are common. The AirDoctor 3500i didn't disappoint, quickly returning the air to a fresh, clean state.
While some air purifiers claim to be quiet but fall short, this one truly lives up to the "whisper quiet" promise. It's easy to forget it's even running.
AirDoctor 5500i: Unleash the Power of Pure Air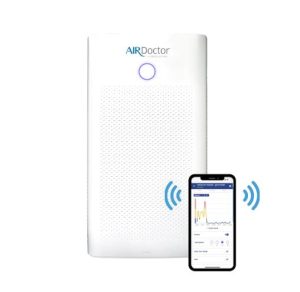 Pros
The noticeable difference for allergies.
Quiet operation, almost inaudible.
Easy mobility with wheels.
Effective against kitchen odors.
Cons
Louder fan of higher settings.
AirDoctor 5500i is a game-changer. This purifier, known for its powerful performance and quiet operation, now has a Wi-Fi app for real-time air quality alerts and control at your fingertips.
It's perfect for extra-large spaces, high ceilings, and open concepts. I was skeptical about its claims of quiet operation, but it truly lives up to it. I can enjoy a peaceful environment even as it circulates the air in my spacious living area.
The AirDoctor 5500i stands out with its immense coverage, making it ideal for my large home. The Wi-Fi app is a convenient addition, providing timely filter change alerts and control options. It's not just an air purifier; it's a complete air quality solution.
If you're looking for the best power, quietness, and smart features, the AirDoctor 5500i is the ultimate choice for clean and fresh air.
---
Wi-Fi Connected App Review
All 3 air purifiers are great for all kinds of room sizes, but what about the new app?
There is no difference between all 3 units regarding the app, so the following information is common for all 3 air purifiers. 
AirDoctor Connect Setup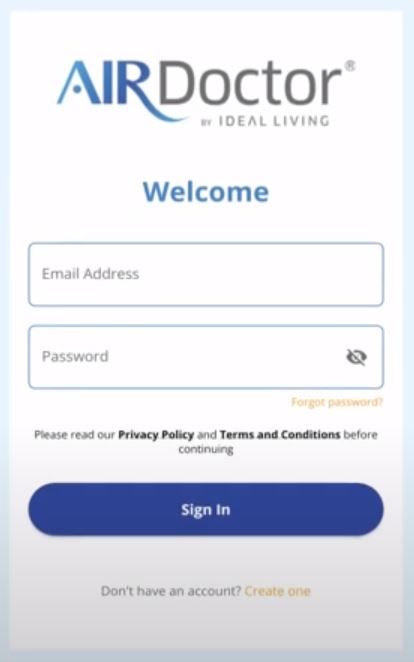 Installing the app is very easy. Creating an account takes just a few steps.
Here is a step-by-step guide to set up your AirDoctor and get it connected to your Wi-Fi network.
Step 1: Create an Account
Begin by downloading and installing the AirDoctor App from AppStore or Google Play. Open the app and tap 'Create one' on the main screen.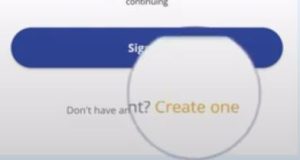 Follow the prompts to create your AirDoctor account.
Step 2: Connect to the AirDoctor
Once your account is set up, you'll see the current outdoor air quality in your area provided by IBM/The Weather Channel.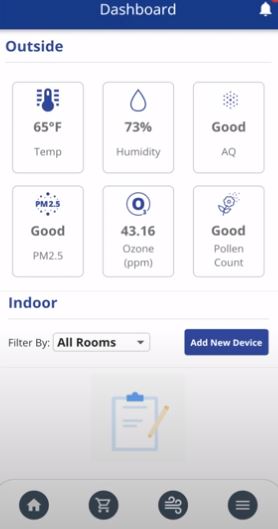 Tap 'Add New Device' and hold the Wi-Fi button on your AirDoctor purifier's control panel until the Wi-Fi symbol blinks blue.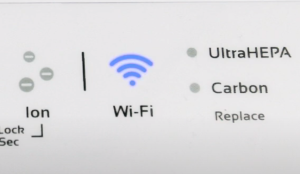 Select or create a room category (e.g., bedroom or whole home) and let your phone search for your AirDoctor. Once found, select your unit, and your phone will connect with your AirDoctor.
Step 3: Connect to a Wi-Fi Network
Your AirDoctor will search for nearby Wi-Fi networks. Choose your preferred network, name your device, input your Wi-Fi network's password, and click 'submit.'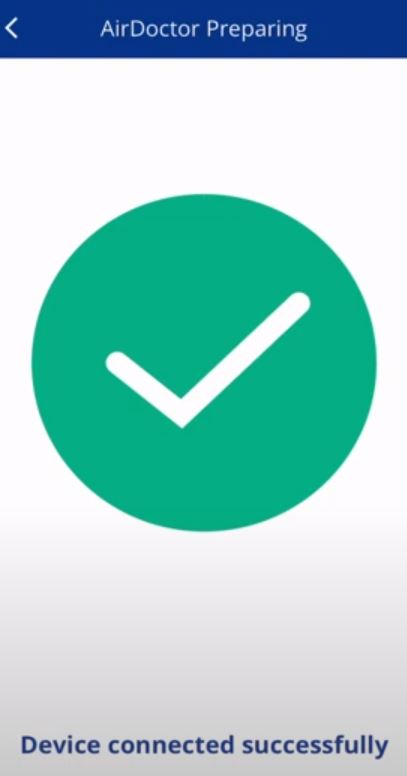 Step 4: Completion
Once your AirDoctor is fully connected, you'll see a confirmation screen.
The connection process may take up to 5 minutes if an update is required. 
AirDoctor made a video guide as well. Very helpful.
AirDoctor Wi-Fi Connected App Functionality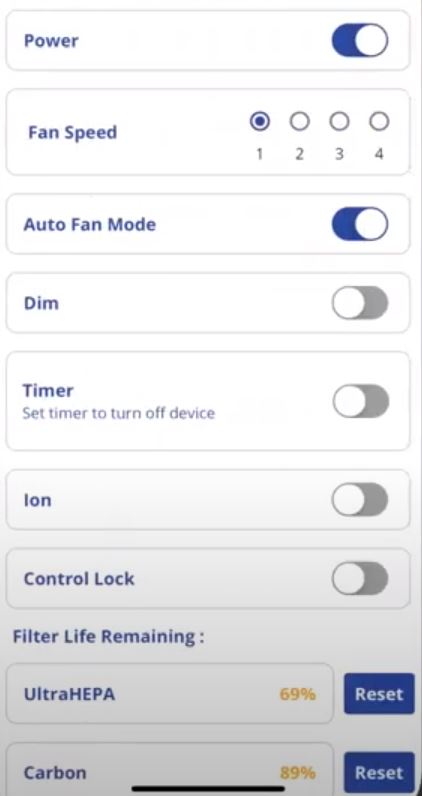 With the app, you can turn on/off your AirDoctor unit. You can choose the fan speed you want or enable auto mode. 
You can dim lights, turn on or off the timer, and Ion the generator control lock. Every button you have on your AirDoctor device is controllable through the app. 
The app shows Filter life remaining in percentage. You get filter change alerts as well. And the cool feature is that you can shop for new replacement filters from the app. 
Another feature I liked is Schedule Boosts. You can pick a time, for example, 6 a.m., and the air purifier will boost. You can repeat that for other days as well.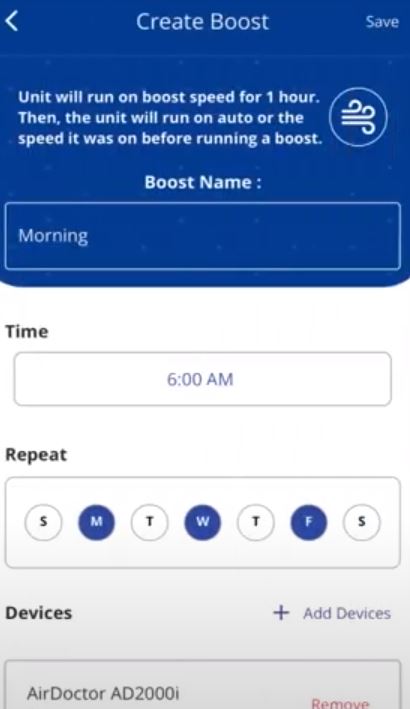 You can even share your device with friends or family and let them control your air purifier. 
Give them read-only or full access.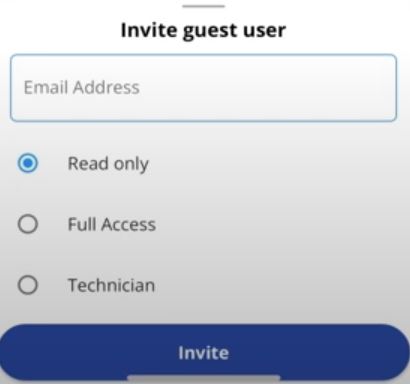 The app lets you view live data about your room's air quality, pollen count, PM count, and more.
It is one of the best apps I have seen on any air purifier. Easy to install, easy to understand each function. 
---
December 2023
Early Christmas SALE
---
AirDoctor AD2000i, AD3500i And AD5500i – Worth It?
AirDoctor's air purifiers were among the best, even without a WiFi-connected app, but now the company has moved to another level with its air purifiers. 
I know people love to talk about prices. But the new Wi-Fi-connected units will cost only $100 more than the original ones. 
So, in the end, it might not even be fair to judge these air purifiers as I fell in love with them.
For a smaller living room or bedroom, go for AD2000i.
Larger living room or kitchen? Go for AD3500i.
Have extra large space? Get AD5500i.
Or combine them and control them all from your phone.