Who wants to live in an ill-smelling home full of mold, mildew, and an allergic and unhealthy environment? Absolutely, no one!
But what to do if you have a big basement or live in an area with annoyingly high humidity levels? If mildew, mold, dust mites, and the unhealthy environment are bothering you, this is the perfect time for you to buy a large capacity dehumidifier.
And the Kenmore KM70 Dehumidifier can be a good choice to dehumidify basements and large spaces with its 70-pint capacity.
Kenmore KM70 Quick Review Summary
The Kenmore KM70 is a sleek and handsome dehumidifier. It draws less power and quieter than other 70-pint dehumidifier brands. It boasts a lot of features, with some that are unique to Kenmore. However, unlike any other things, Kenmore KM70 also has its negative side. Compared to other 70-pint dehumidifiers, it is a poor performer in moisture removal and comes with an expensive price tag.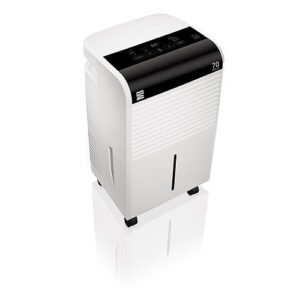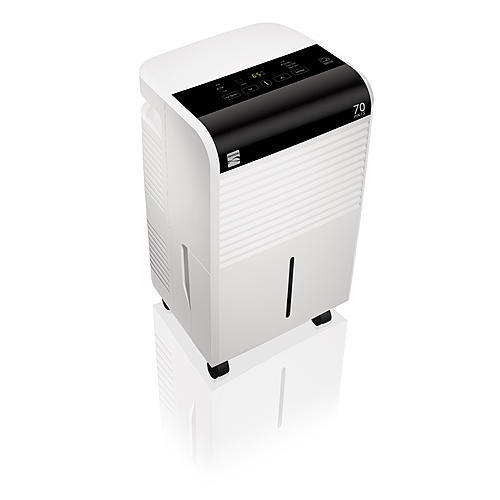 Pros
Large capacity
Fully equipped with lots of features
Good energy efficiency
Cleancel antimicrobial bucket
Cons
Expensive price tag
Poor moisture removal
Short warranty
Smaller room coverage
Loud
---
Kenmore KM70 Performance
In terms of energy efficiency, the Kenmore KM70 is a good performer with the Energy Star label but not that great when combined with other factors. Measuring for its power draw, the KM70 dehumidifier draws 590 watts at 50 percent relative humidity.
However, both moisture removal and power draw rate are important in determining a particular dehumidifier's overall energy efficiency. The problem is that, even though the Kenmore has a lower power draw than other dehumidifiers, the rate at which it can remove moisture is much lower than the average. The overall energy efficiency of Kenmore then suffers because of this.
The KM70 is also a good performer in terms of noise levels. Although most buyers claimed that the compressor is way too loud and can be unbearable, given its big size, it is much quieter than other large dehumidifiers.
Low fan speed at long range will give you the quietest noise output possible for this dehumidifier, making it a good choice for basements. The takeaway here is that if you are looking for a quieter dehumidifier you can use other than the basement, there are better options available.
The Kenmore KM70's moisture removal is poor. Placing it in a 50 square foot room with a humidity level of 90 percent, the KM70 lowered humidity levels to only 41 percent after 11 minutes and then quickly went back up to the high 40s. The KM70 can't dehumidify a room below 40 percent of relative humidity and tends to go back up immediately until it completes its cycle and starts dehumidifying again.
When compared to other dehumidifiers, Kenmore really is a poor performer. With other models, humidity levels can drop as low as 40 percent or less. Kenmore can't dehumidify a room down to 41 percent relative humidity is already a big disadvantage. Plus, the test environment was only a mere 50 square feet smaller than the average bedroom.
---
Kenmore KM70 Key Features, Functionality
In terms of features and functionality, the Kenmore KM70 has a lot on its sleeve. Here are some of its key features and functionalities:
The KM70 humidistat can be set in 5 percent increments— a standard for all compressor-based dehumidifiers.
The Kenmore unit has a timer that can be set in 1-hour increments for up to 12 hours. It can only be set to a delayed start, but not a delayed stop.
The Kenmore model features 3 fan speeds— auto, low and high. The auto fan speed automatically sets the fan speed depending on the difference between the room's actual humidity and the preferred humidity levels.
If the difference is substantial, then its fan speed will be set to high, automatically. On the contrary, if the difference is very little, then the fan speed is automatically set to low.
The unit also comes with a defrost control, which automatically turns the compressor off while still running the fan in case frost build's up on the evaporator coils. This is actually helpful in ensuring the proper functioning of the unit as well as prolonging its lifespan.
The Kenmore KM70 dehumidifier features both auto mode and continuous mode. Pressing its down arrow beyond 35 percent of humidity level will activate the unit's continuous mode, displaying "Lo" on the Led display.
Pressing "Settings" until the "Auto" LED illuminates sets the unit to auto mode, setting the desired humidity level of 50 percent and fan speed to auto.
Note that the fan speed can be set auto even on the manual mode while the desired humidity level is manually set.
Kenmore is also fully equipped with the "Cycle Timer" Settings. This allows you to set the unit's cycle to 12, 6, or 3 hours. For instance, if set for 6 hours, the dehumidifier will dehumidify for 6 hours then cycle off for another 6 hours.
Cancel Antimicrobial Treatment
This special antimicrobial treatment on the unit's water bucket prevents bacteria from multiplying and thriving in the standing water.
Like most dehumidifiers, the Kenmore 70-pint dehumidifier requires an external adapter to install the unit's drain outlet before connecting a standard garden hose for continuous draining. The adapter is then threaded and screwed to the draining outlet at the back of the unit. There are no tools needed for installation.
---
Kenmore KM70 Ease of Use, Maintenance, and upkeep
The Kenmore unit features a really nice control panel. Its LED display is of good quality and clear as day. The only concern is that it does not display the ambient humidity as well as temperature. Only the set humidity level is displayed. Also, no check filter light illuminates to alert you when to replace or clean the air filter, so you could keep on guessing when to do the unit's maintenance.
Fan speeds are easy enough to select. Other settings, however, are more difficult to understand. For instance, setting the humidity manually will have to press the "Settings" button until "Humidity" illuminates. You will then press the up and down arrow buttons to set the humidity level. Labeling a function that allows you to set the humidity manually as "Humidity" is somewhat ambiguous.
The KM70 features a bottom slide-out filter that is fairly standard for its size. And while other dehumidifiers have more easily accessible filters, with the KM70, you will not be removing or replacing the air filter so often, so air filter removal works just fine.
The included manual of the dehumidifier is obvious and on point with lots of troubleshooting solutions. It also contains good diagrams that describe maintenance, care, and the general operation of the KM70 dehumidifier.
---
Final Thoughts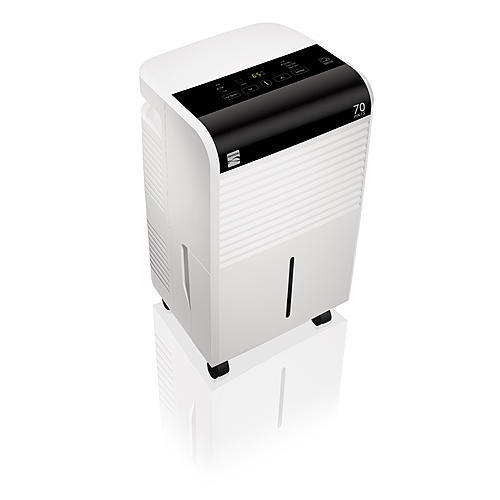 At approx. $300 price tag, the KM70 is definitely a very expensive dehumidifier that you might think twice about buying it. Compared to other dehumidifiers of the same class, there is nothing about the KM70, which justifies its high price.
Other than some unique features like the "Cycle Timer," its features are mostly standard. Plus, it performs poorly in terms of moisture removal, which, in its essence, is a dehumidifier's job. We can't recommend this dehumidifier for even the Kenmore brand loyalist.
However, if you think you can afford the high price tag and its features will do in your opinion, then we can't stop you in your decision.