There are plenty of Air Purifiers in the market today. However, it isn't easy to choose one.
This article will help you learn about two popular air purifiers in the market that are highly in demand.
---
December 2023
Early Christmas SALE
---
We already wrote about AirDoctor 3000 before and compared it to the Hathaspace model HSP002.
Product
Filters
Filters
Pre-Filter, Carbon/VOC Filter, UltraHEPA Filter
Pre-Filter, Carbon Filter, Antibacterial Filter, True HEPA filter, ionizers
Coverage 5x/hour
Coverage 5x/hour
505 sq. ft.
300 sq. ft.
Coverage 2x/hour
Coverage 2x/hour
1262 sq.ft.
750 sq. ft.
CADR (Smoke)/CFM
Fan Speeds
Power Consumption
Power Consumption
11 - 110 watts
40 - 100 watts
Noise Levels
Noise Levels
39- 59 dB
30 - 60 dB
Dimensions
Dimensions
15.75" (W) x 8.35" (D) x 23" (H)
16.5" L x 9" W x 27" H
Weight
---
AirDoctor 3000 vs. Hathaspace HSP002 Air Purifier Design Comparison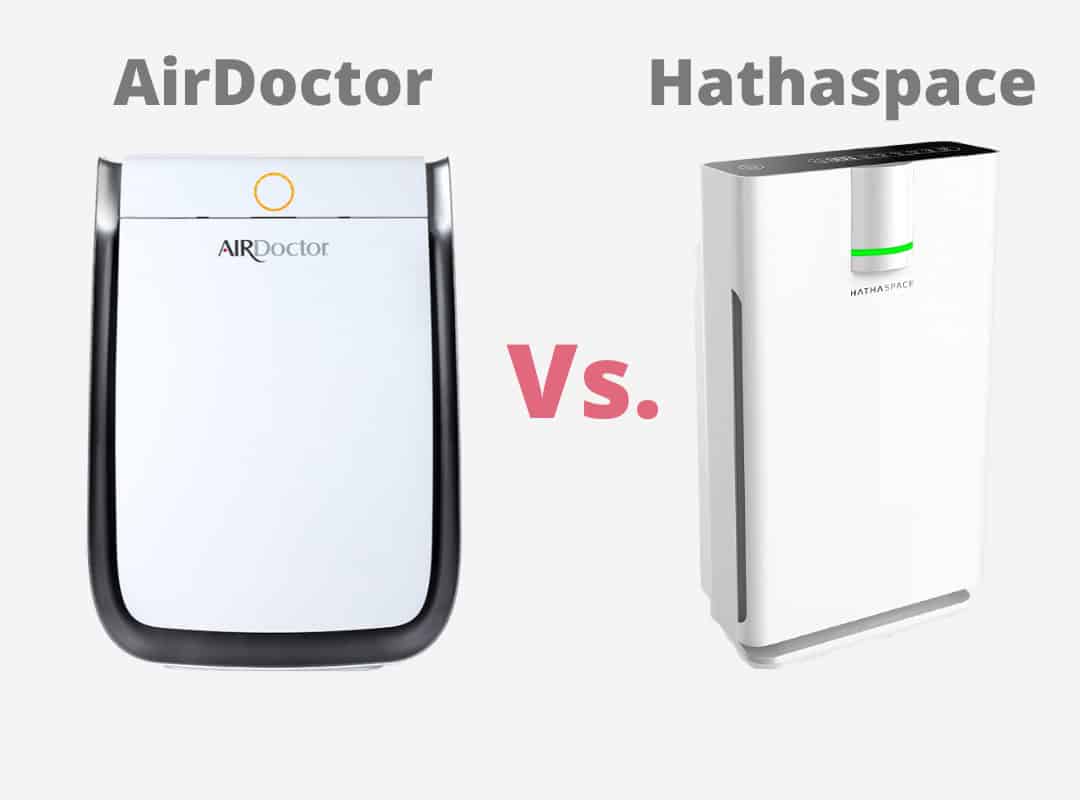 AirDoctor 3000
AirDoctor 3000 is extremely popular for its compact, beautiful, modern construction and design. You will be amazed by the colors of these air purifiers that brilliantly suit all kinds of decor.
These fit your surroundings and don't look out of place. The manufacturers construct these air purifiers to be unique and distinguishable. The corners of the air purifier are more rounded and look classy.
Hathaspace HSP002
The Hathaspace HSP002 air purifier also has a modern and sleek design. These are smart purifiers and can intake air from all sides.
These suck in the unfiltered air, and then the air passes through the filtration system. After the air is cleaned and filtered by the system, the clean air is distributed all around the room.
In addition, these air purifiers are light in weight, and the base is wide, which gives them more stability.
You will get a touchscreen panel on the top of a Hathaspace HSP002 with six controls. The display will also show you the air quality score and the touch controls.
These air purifiers are built with three fans to spread cleaner air to every corner of the room.
---
AirDoctor 3000 vs. Hathaspace HSP002 Air Purifier – Functionality
Every air purifier more or less does the same type of work; they clean the air.
However, these are built using different technologies and have different processes of filtration that they use to clean the air and make it fit for breathing.
AirDoctor 3000
In AirDoctor 3000, you will get an UltraHEPA filtering system. UltraHEPA filtration differs from the normal HEPA filtration system in ordinary air purifiers.
This technology cleans the air in the best way possible. It is so powerful that it kills and eliminates pathogens and other pollutants that are 0.003 microns in size.
AirDoctor air purifiers have a four-stage filtration system that cleans the air inside your room faster and makes it safe for adults and kids.
Another thing that one cannot neglect is the pre-filter filtration system. This system captures larger particles and is easy to clean. These can be washed as well and reused without any trouble.
Hathaspace HSP002
Let's talk about the functionality of the Hathaspace HSP002 Air purifier.
It has a five-stage filtration process and has excellent performers based on the quantity and quality of the air filters inside.
Hathaspace HSP002 is safe to use and is certified. These also have an ionizer that kills pathogens and viruses and protects your house's air.
The mechanical filters used in these air purifiers are 100% ozone-free as well.
---
How Do They Work?
AirDoctor 3000
The AirDoctor 3000 air purifiers follow the pro-filtration process. The pro-filtration process has four main steps.
These four steps help clean the air faster and easier. The four steps of filtration that occur are below: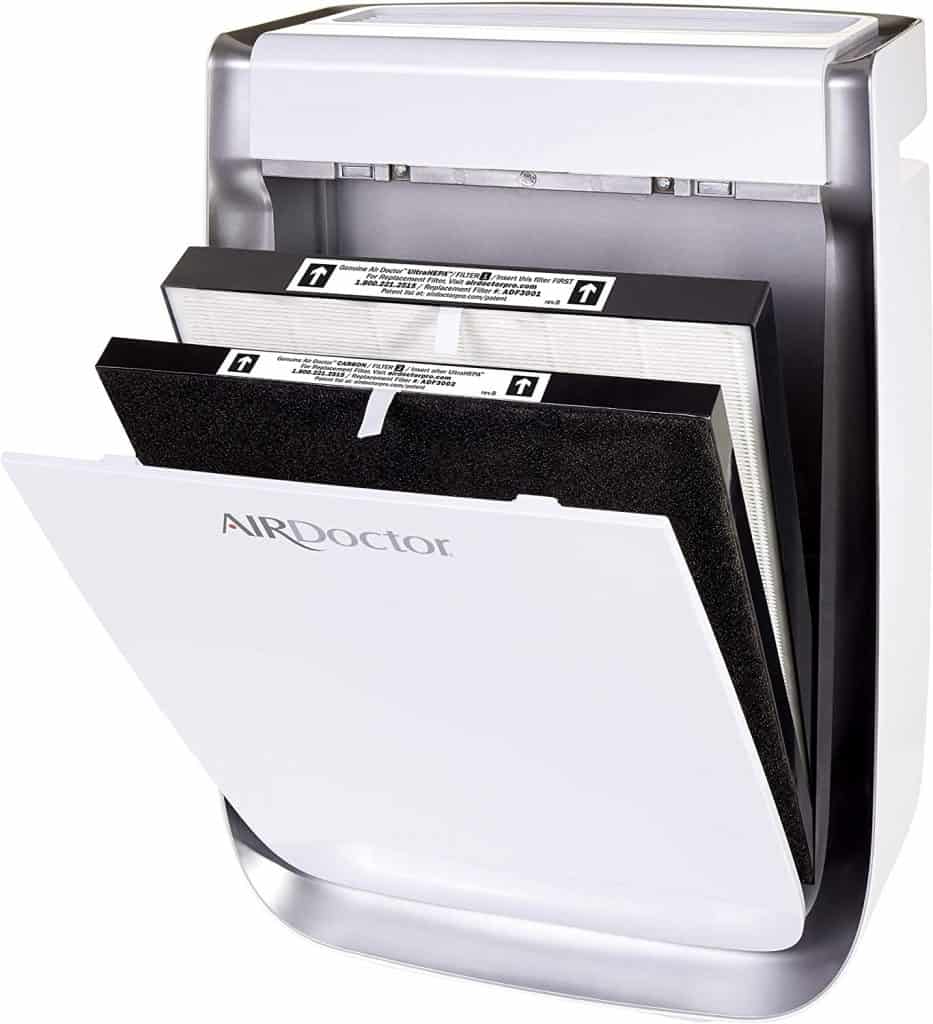 The first step in the pro-filtration process is removing large particles from the air, such as dust, dirt, pollen, pet hair, and much more. The pre-filter does this.
When air passes from this filter, the large particles get trapped, and the rest goes to the next step. These pre-filters are reusable and can be washed when it is filthy and need to be cleaned so that the air filtration doesn't stop.
After the pre-filters come the advanced HEPA filter, this filter makes AirDoctor 3000 highly in demand compared to the air purifiers with normal HEPA filters.
The small particles with 0.003 microns are collected in this filter, and the air is filtered. These filters are efficient and kill 99.95% of bacteria and airborne viruses.
The third stage is the activated carbon filter. You will get the dual-action Carbon, gas, and VOC filters that make the air cleaner and safer in this filter.
Finally, the fourth stage has the ionizers. This is one of the best cleaning features found in AirDoctor 3000. In this system, the air is passed through a negatively charged ion that removes odor and other kinds of smell from the air and helps you get cleaner and fresh air in your house.
Hathaspace HSP002
The Hathaspace HSP002 Air purifier has a five-stage purification system. These are effective in removing all kinds of air pollutants that you want to remove.
Following are the steps you will see in this air purifier.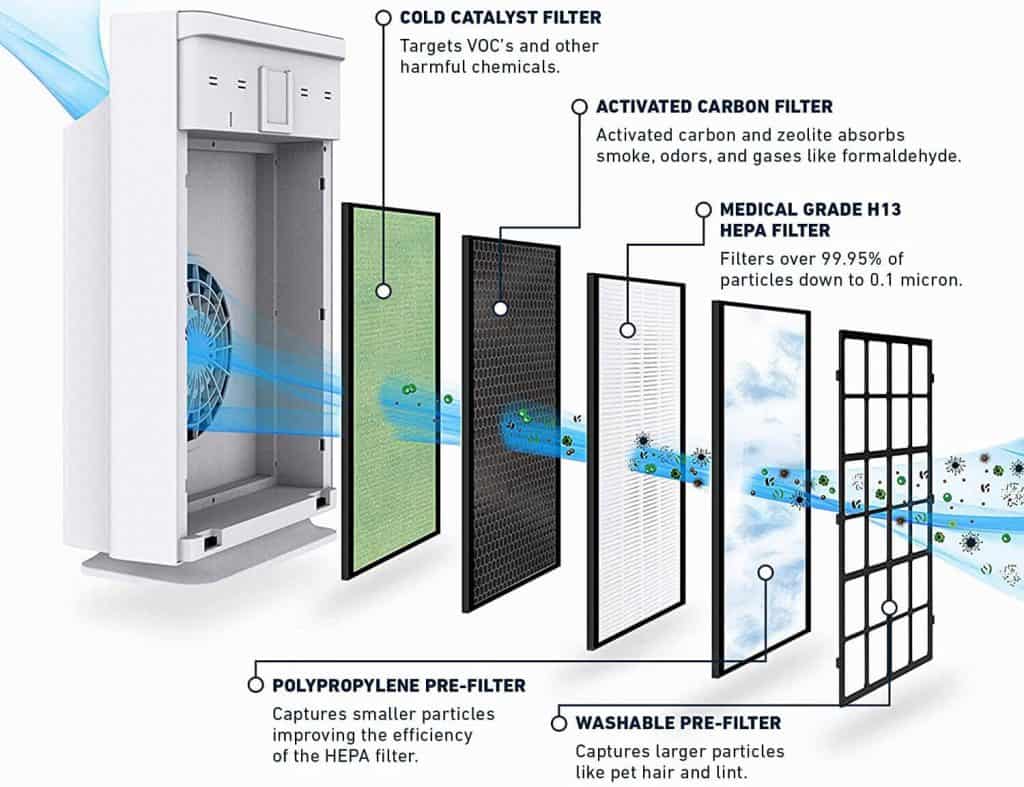 Pre-filters are the first stage that removes larger air pollutants like mold, pollen, hair, spores, pet dander, etc.
Next comes the cellular-activated carbon filter. This filter absorbs and removes all the gaseous pollutants in the air. These gas pollutants can be smoke, odor, VOCs, and smell.
The third is the antibacterial filter that most air purifiers do not have. This filter mostly targets germs and bacteria and cleans the air.
The fourth stage is the true HEPA filter. This is one of the essential filters that help remove small particles and pollutants of 0.3 microns in size.
Finally comes the ionizers. This filter cleans all the remaining air pollutants from the air.
---
AirDoctor 3000 vs. Hathaspace HSP002 Air Purifier – Features
AirDoctor 3000
The AirDoctor 3000 air purifier has an amazing list of features that make it popular among people. Some of the features are as follows:
AirDoctor 3000 has a timer that helps you turn off the unit when the work is done. This is efficient for forgetful people who easily forget to switch it off after one to two hours of use.
The next fascinating thing in these air purifiers is the sensors that help you learn about the air quality inside the room. These gave different colored lights that show you the quality of the air; for example, orange shows that the air is moderate, red shows that it is poor, and blue shows that the air is good.
One can also change and regulate the speed of the fan. There are three modes: low, medium, and high.
The Automatic mode helps the air purifier to perform all its duties alone.
The most amazing feature is the filter change alter, which helps you learn when to change the filters and clean them so that the air purifier can perform its duty in the best way possible.
The updated version of AD3000 – the new AD3500i model- also has a WiFi-connected app, making it a more modern air purifier.
Hathaspace HSP002
Hathaspace HSP002 also has some cool features compared to AirDoctor 3000. Some are as follows:
These are capable of covering large areas quite easily. Furthermore, these manufacturers exchange air four times an hour. Therefore, you get clean and pollutant-free air every time.
This air purifier doesn't cause any noise and has a whisper-quiet operation to keep noise levels low.
The energy consumed by these air purifiers is extremely low compared to the other air purifiers available.
---
AirDoctor 3000 Advantages Over Hathaspace HSP002 Air Purifier
These air purifiers have UltraHEPA air purifiers, whereas Hathaspace HSP002 has only HEPA filters. These are extremely powerful and impressive as they can easily eliminate smaller particles that pollute the air.
Though these have a four-stage filtration process, they purify the air faster and make it safe for the people inside the room. These also have dual-process filters, such as carbon or gas filters, that help remove VOCs, smoke, and other harmful gases.
---
Advantages Of Hathaspace HSP002 Over AirDoctor 3000
This air purifier has H13 HEPA as the core particle filter. In addition, there is a thick layer of pelletized activated carbon filter along with zeolite in these air purifiers.
The pre-filters that are used in these are reusable and washable. These can effectively reduce the odor in the air and clean air even in larger rooms.
In addition, it is easy to control touch panels, making it user-friendly. Also, you get five years of warranty.
---
December 2023
Early Christmas SALE
---
Conclusion
Comparing and learning about these air purifiers' features, functionality, and performance, we can say both are powerful.
Choose the UltraHEPA filter air purifier – AirDoctor 3000 if you need cleaner air. If you need that combined with smart features, go for the updated AD3500i version.
But if you want something that looks sleek and classy, does the work well, and suits smaller rooms, choose Hathaspace HSP002.
---
If you like the AirDoctor brand, read the AirDoctor 1000, AirDoctor 2000, and AirDoctor 5500 reviews.
If Hathaspace suits you better, read Hathaspace HSP001 Air Purifier Review.
I compared AirDoctor to other brands as well; see below: