The relative humidity level in your home should be between 30 to 50 percent, with the ideal level being about 45 percent. If the humidity in your home is below 30 percent, then your house's air is dry. But if the humidity is above 50 percent, then your home is in uncomfortable muggy conditions.
Why too high or too low humidity in your home should be avoided? Read below.
Too High humidity
If the humidity level is higher than 50 percent, then there is a great condition for mold and mildew to grow.
Molds produce irritating substances that can act as allergy-causing elements (allergens) in sensitive persons. Some molds create toxic substances known as mycotoxins, but mold itself is not dangerous or toxic. The mold may not generate any health impacts, or it may lead to symptoms in people who are sensitive to molds.
High moisture can increase common household allergy triggers like dust mites, mold spores, and airborne bacteria. Dust mites are harmful when breathed in since they irritate nasal passages and respiratory tracts.
Pests, for example, spiders, cockroaches, silverfish, centipedes, love moist conditions.
Moisture damages your home, for example, support beams, buckling floorboards, hardwood floors, etc.
---
Too Low humidity
Dry indoor air can lead to:
Bloody nose

Cracked lips

Dry, scaly skin

Dry sinus passages

Sore, scratchy throat

Aggravated respiratory ailments
Dry air can also affect your home's furniture and interior. For example, dry conditions can wreak havoc on the wallpaper, causing it to peel at the edges. Wood floors and wood furniture items may lose moisture and contract, leading to ugly cracks, warps, and separations. Besides, static electricity can increase, causing sudden and painful shocks and potential damage to electronic equipment.
---
What to do if humidity is too high or too low
If the humidity level is below the recommended 30 to 50 percent, you should use a humidifier to increase humidity to this level. Humidifiers increase indoor humidity by adding moisture into the dry air as an invisible mist.
As there are many humidifiers in the market and hard to choose the best unit, I have made a full in-depth humidifier buying guide for you. Also, read my humidifier reviews. From reviews, you can start with Honeywell HCM 6009 humidifier and Honeywell Germ-free cool-mist humidifier HCM 350.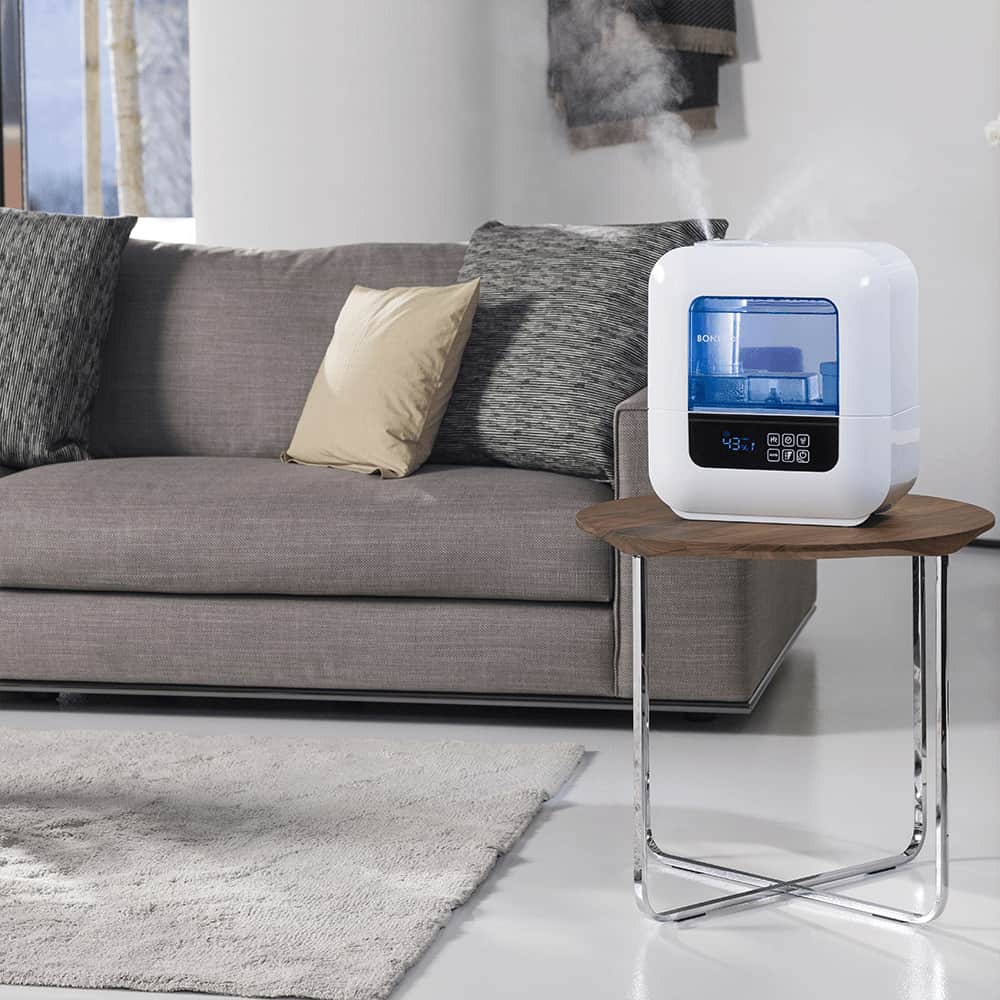 If a humidity level is higher than 60 percent in your home, then you should use a dehumidifier. These appliances remove moisture and help keep the desired humidity level.
Dehumidifiers also are very much in the market. Read our dehumidifier buying guide, and check our dehumidifier reviews to make your selection easier.