A dehumidifier helps remove moisture from the air, reducing the number of water vapors in the environment. They also help remove nasty odors from your surroundings and prevent the growth of molds inside homes.
Two types of dehumidifiers are currently on the market; condensate and desiccant. Their working principle is different, but they serve the same purpose.
This model by Vremi works under the principle of Condensation. First, moist air is sucked in and passed over a refrigerated evaporator coil with a fan; water gets condensed, and the dried air is released back into the room.
Vremi has been manufacturing appliances for quite some time, and this model is very well suited for medium to large apartments or offices. It would help if you got an overview with all the detailed information before getting started.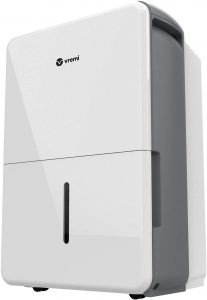 Pros
Turbo Mode
LED display
Many smart features
Sleek design
---
Vremi 50 Pints Dehumidifier Design and Size
The Vremi dehumidifier has an exquisite design; it is white; hence its presence would not be overwhelming for your space.
Besides the white color, the crime dehumidifier has an elegant quadrangular design. It is just the appropriate size (Dimensions: 16.6 x 11 x 24.3 inches) to easily fit in any corner of the house, office, or other space you want to use.
It weighs around 42 lbs, so it is difficult for just one person to shift it from one place to another, but with some help, that will not be an issue.
On the front, the dehumidifier has a digital control panel that has multiple options, a bucket for collecting water, and a water level window that lets you know when you need to empty the bucket.
The rear has two handles on each side to help you shift it from one place to another or lift it. Below the handles, the air filter is present, and the air outlet is current just above it.
There is a drain hose outlet for the water below the air filter. The power cord buckle is placed in the bucket, whereas the power cord exits just near the bottom.
It comes with:
This comes with some specific models only.
It is a part of the package of all the models.
It also comes with a few models only.
---
Vremi 50 Pints Dehumidifier Performance
Energy Efficiency
The dehumidifier works quite well on the standard voltage. Just be very careful and make sure proper grounding is available.
On full power, it consumes 570 watts of energy. Other 50-pint dehumidifiers consume more; for example, hOmeLabs 50 Pints dehumidifier consumes 750 watts, but Friedrich D50BPA 50 Pints even 900 watts.
The only model which consumes less is Stadler Form Albert 45 Pints dehumidifier.
Noise removal
Dehumidifiers can get noisy at times, but this can be avoided by not using them continuously. Vremi dehumidifier noise level is similar to other brands.
Moisture Removal
Vremi dehumidifier is very efficient at removing moisture from the atmosphere. It can cover an area of 2,200 square feet and remove up to 50 pints of moisture daily. It has a large water tank of 17.3 pints, larger than its competitors.
---
Vremi 50 Pints Dehumidifier Key Features 
The product may have been placed upside down or in a tilted position when shipped, so put it in an upright position for at least 24 hours before using it for the first time.
You have to be mindful of the surrounding temperature before turning it on; it has been designed to work in an environment where the mercury is between 41°F (5°C) and 95°F (35°C).
Some models come with four casters at the bottom for ease of mobility. Please do not force them over the carpet or floor.
These dehumidifiers come with many innovative features like:
This model works on the principle of decondensation, so frost is produced during its operation.
As a result, frost may build up on the evaporator coils, affecting their working.
To prevent this, when ice is detected on the evaporator coils, the compressor shuts off on its own, and the fan remains on till the frost disappears.
The dehumidifier will shut down if the water bucket is complete and is not emptied. Similarly, if the desired humidity settings have been reached, it will shut down.
This way, there is no chance of spilling water or excess electricity use. This feature helps in conserving resources.
If there is an interruption in your electricity supply, the dehumidifier will shut down and resume its normal functioning as soon as the electricity is back.
Also, it will not run on the default settings. Instead, it will function according to your settings before the power outage.
Once a single cycle has been completed, the dehumidifier will not work. It will shut down so that any damage does not happen to it. Then, after 3 minutes, it will start on its own. This is a great protective feature.
---
Vremi 50 Pints Dehumidifier Functionality
Let us look at the digital control panel and what it offers. First, the LED display shows the humidity and the time. Second, the Control panel has seven buttons, each with a different function.
This button reminds you that you need to clean the filter. The light turns on automatically after 250 hours of use, and you can turn it off only when you have cleaned the filters. This way you will never forget to clean.
If you want the humidifier to run continuously, press this button and activate the mode.
You can press this button and turn the comfort mode on or off. Once this mode is activated, the humidity will not be adjusted manually.
Instead, it will be adjusted to a safe environmental level depending on the temperature. The dehumidifier has some pre-fed data that help in this operation.
TIMER button
This button has two control buttons too. One can be used to turn it on, and the other one is an off button. The timer works in conjunction with the left-right buttons, and the various ways these can be used are all described in the user manual.
It is used to control the speed of the fan. You should set fan control from high to maximum for the utmost removal of moisture. Once humidity has been significantly reduced, it is recommended to return to normal settings.
These can only be used when the Vremi dehumidifier is not in continuous mode. It goes into the constant mode by default when it's turned on, so switch off the constant way. These two buttons can be used to set a range of humidity.
This button is for turning the device on and off.
Four indicators are also present on the control panel. These are:
It shows that the timer is on.
This one indicates that the timer is off.
This indicator turns on when the water bucket is ready to be emptied.
This indicates that the dehumidifier is on defrost mode.
---
Vremi 50 Pints Dehumidifier Ease of use
The Vremi 50 pints dehumidifier is very user-friendly and can be easily operated by kids older than 8. Physically or mentally challenged individuals can also use it without hassle if the instructions are followed correctly.
---
Vremi 50 Pints Dehumidifier  Maintenance and upkeep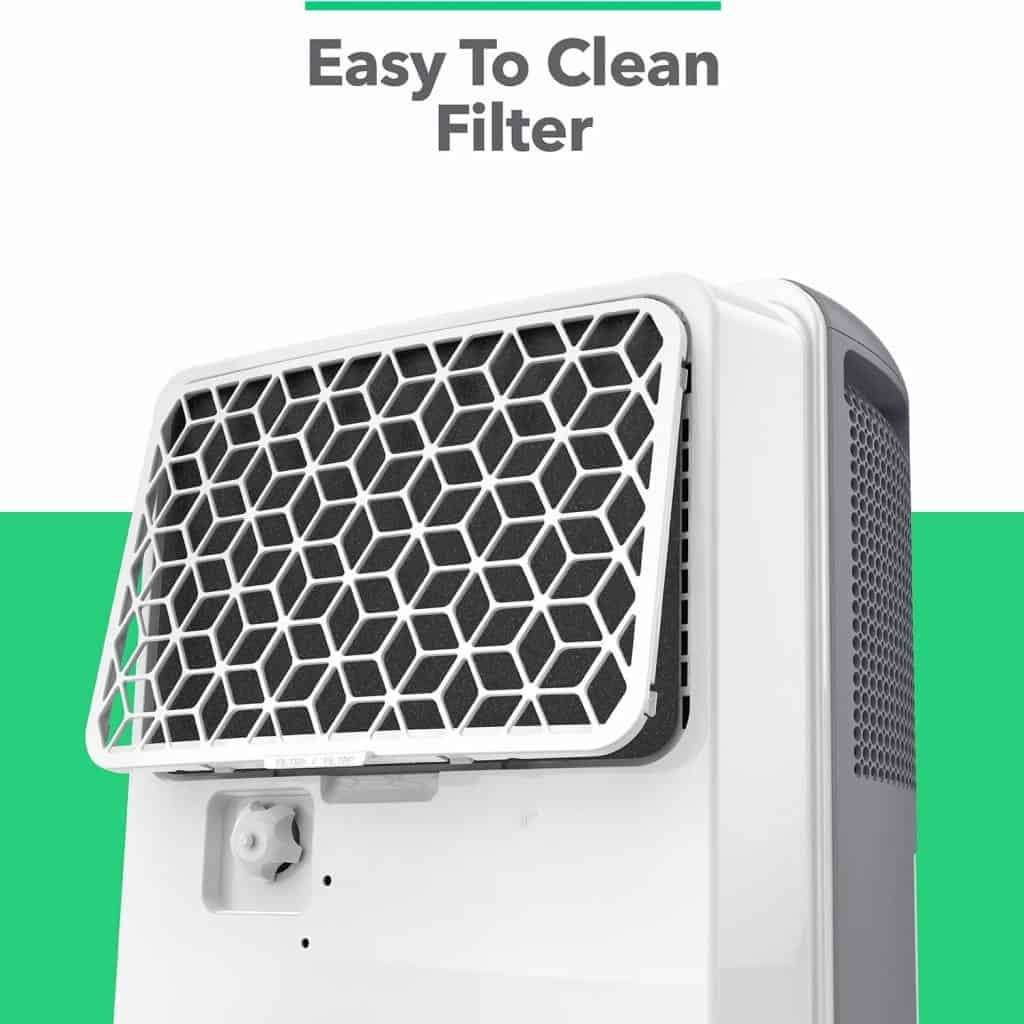 For cleaning purposes, do not forget to turn off the appliance. Unplugging it from its socket is also very necessary.
It is recommended to clean the air filters once every 30 days. The bucket should be washed after every two weeks.
If you need to store the dehumidifier, switch it off. Empty the bucket after 24 hours and clean the filters, the bucket, and the appliance. Wrap the cord and cover the dehumidifier with a plastic bag. Please keep it in an upright position in a dry, well-ventilated place.
Warranty
This product comes with a 12-month warranty. It covers any problem that arises during this period. However, the warranty is not applicable if the product has been manhandled or there was normal wear and tear, or instructions were not followed on using it properly.
---
Final Thoughts
If you have allergies in your household or pets around you, or your place is damp, you must think about getting the Vremi dehumidifier.
It will keep your environment humid according to your needs, free of all the bad odors, and remove pet dander. It has good reviews and ratings on Amazon, and you should consider making it a part of your home.