What's better than a subtle hiss that sucks all the undesired moisture out of your sticky drenched room to offer you a clean, warm, and dry breeze to inhale?
Sounds overwhelming, right?
So, here comes one of the most powerful and reliable dehumidifiers of all time, the MIDEA MAD50C1ZWS. It is a 70-pint humidifier with unmatched area coverage and superior quality.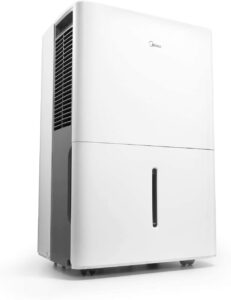 Apart from the robust and speedy performance, this strong dehumidifier brings with it some outstanding & innovative features. Now, let us look at the detailed aspects associated with this awesome appliance.
Pros
High Affordability
Huge Coverage Area
Ultra-Quiet
Large working temperature range
Longer warranty period
Cons
Improper maintenance can trigger mold growth
The delicate hose can develop leakages quite easily
---
MIDEA MAD50C1ZWS 70 Pint Dehumidifier Performance
Energy Efficiency
The MIDEA dehumidifier is an ENERGY STAR-certified appliance. It cleared almost all the tests initiated by the EPA in giving an appliance this recognition.
In addition, this dehumidifier proved to be about 15% more efficient than other dehumidifiers in its category. It consumes 690 watts of electricity.
Its competitor Delonghi DD70PE 70 Pint consumes 680 watts, Friedrich D70BP 70 Pints consumes 840 watts, Haier DE65EM 65 Pints consumes 700 watts, and Honeywell TP70PWK 70 Pints consumes 759 watts. 
Noise level
In terms of Sound generations, this product certainly stands out against any other 70-pin dehumidifier.
It produces noises as low as 49 dB and keeps the maximum dissipation loudness above 50 dB. The sole quality offered by this appliance is enough to attract many customers.
Moisture Removal
Being a 70-pint dehumidifier, this dehumidifier has a huge moisture removal capacity and can collect around 7-8 gallons of water daily. This large moisture-sucking capacity suits rooms with higher moisture levels and spaces like basements, storerooms, and even living rooms.
It is perfect for usage in places with 35% and 85% humidity.
---
MIDEA MAD50C1ZWS Key features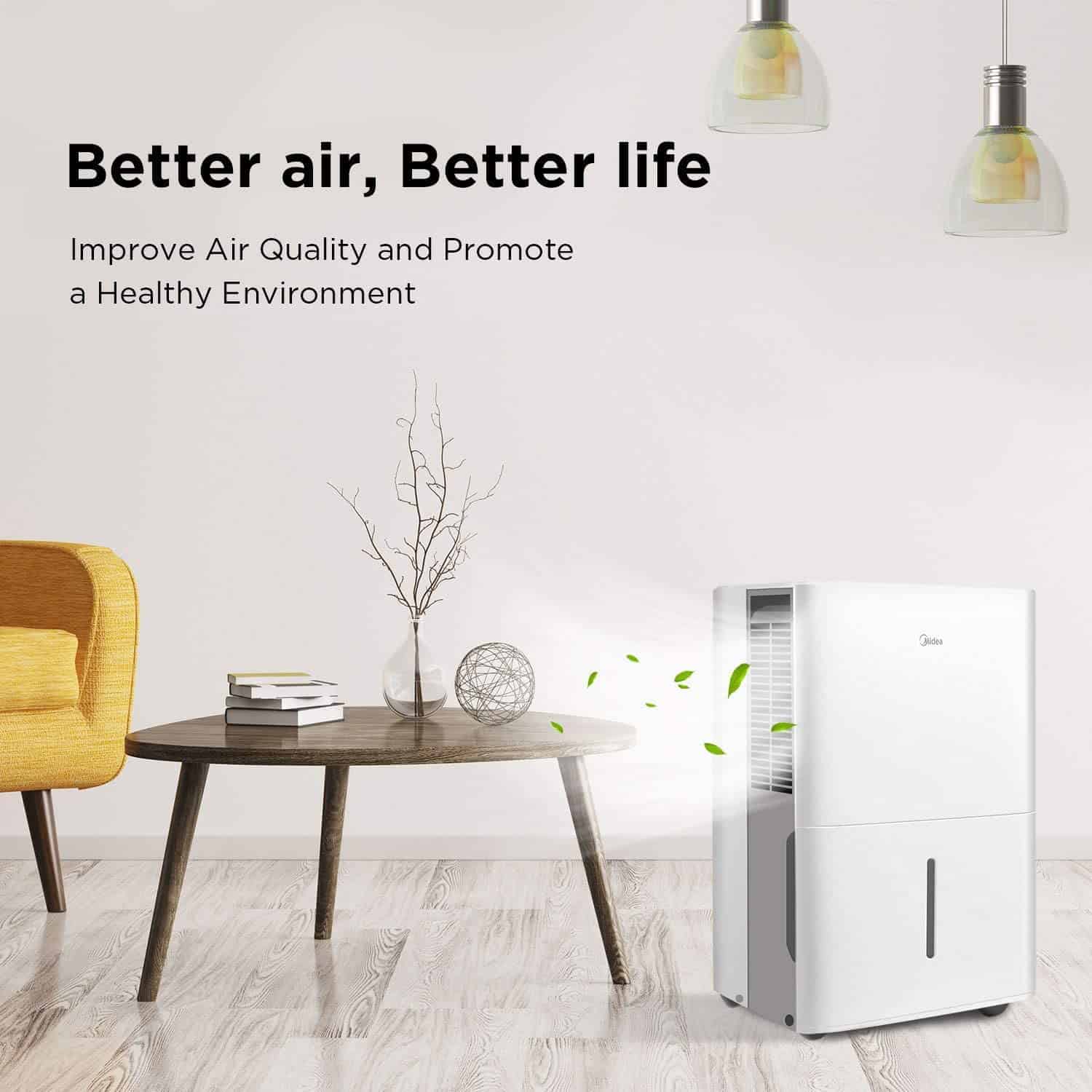 Auto-Defrost
The MIDEA dehumidifier features an auto-defrost function to prevent icing over the appliance's coils that may damage the internal working.
In this mode, all unit operations except the fan shut off. The fan then continuously blows air to melt the icing, and the operation restarts with previous settings installed.
Timer Function
This appliance's timer function allows you to set delayed operations in 0-24 hours. This feature offers great convenience for usage in basements and other such remote spaces.
Turbo Fan
While the turbo mode is on, the unit's fan works faster to remove moisture more efficiently and quickly. This feature can be used in case of quicker relief from higher relative humidity levels.
'Clean-filter' indicator
The 'Clean-filter' indicator light placed above the control panel alarms you to clean the air filters to avoid the accumulation of excess dust over filters that can hurt the unit's performance.
Auto-restart function
In case of an unexpected power outage or inconsistency, the unit may have to shut off. But when the power returns, the auto-restart function allows the unit to restart and start operation along with the previously installed setting. This makes it very comfortable to use in remote spaces.
Continuous Operation
This is a unique feature associated with this particular product. In this mode, the unit performs a continuous and hurdle-free operation for smoother and more comfortable use.
Auto-Comfort
The unit automatically selects the ideal humidity level for a highly comfortable and pleasing environment in the Auto-comfort mode.
Visible Tank Level
The tank comprises a visibility display to check the tank's water level and get an idea about the time it will take to fill.
---
MIDEA MAD50C1ZWS 70 Pint Dehumidifier Functionality
The working of the MIDEA dehumidifier is exactly like any other dehumidifier system. First, the unit sucks the moist air through the fan; this air is cooled down by the cooling system (condenser) to liquefy and separate water vapor from the air.
This water is then transferred to the water bucket, from where it has to be manually removed. The heating system then heats the dry residue air, and this warm air is then released after passage from the air filters.
Below we'll discuss some of the features of this dehumidifier related to its design and functionality.
Huge Coverage Area
This powerful and effective dehumidifier can slurp water from areas as large as 2,200 sq ft making it extremely suitable for larger halls and offices.
Soothing Aesthetics
The manufacturers keep the unit's design simple, smooth, and soothing. Moreover, it comes in a top-quality, attractive white color with superb finishing.
Portable, Compact, and Lightweight
The durable caster wheels, ergonomic handle, and lightweight makes the MIDEA dehumidifier a highly portable product. With compact unit dimensions of 15.31″ x 10.51″ x 19.80 and a super-lightweight of just 30.86 lbs, this product makes the user convenient.
Two-Way Drain
You have two drainage options to choose from. You can either empty the tank by removing it directly from the unit or attach a drainage hose to the unit's nozzle and drain out the water using the gravity-initiated method.
Large Water Tank
The unit comprises a large water tank that can store up to 1.6 gallons of water every day. However, this product being a 70-pint dehumidifier may require frequent emptying of the water tank.
Thus, the drain-hose method would be a much better option to enjoy stress-free dehumidification.
---
Ease of Use
The MIDEA dehumidifier is a highly user-friendly appliance with super-easy controls and easily removable filters and tanks.
The control panel includes the turbo mode, continuous operation mode, auto-comfort mode, & the timer as buttons/switches, the clean-filter indicator, and the LED display—all of which we have already discussed in detail above.
---
MIDEA MAD50C1ZWS Maintenance and upkeep
Maintenance involves two major activities:
Drainage
Draining the 1.6-gallon water tank is easy. To remove the water tank, you have to pull out the bucket handle, empty the tank, and replace it in the exact opposite manner. Then, while using the drain hose, connect the hose to the nozzle and let gravity do the rest.
Filter Cleaning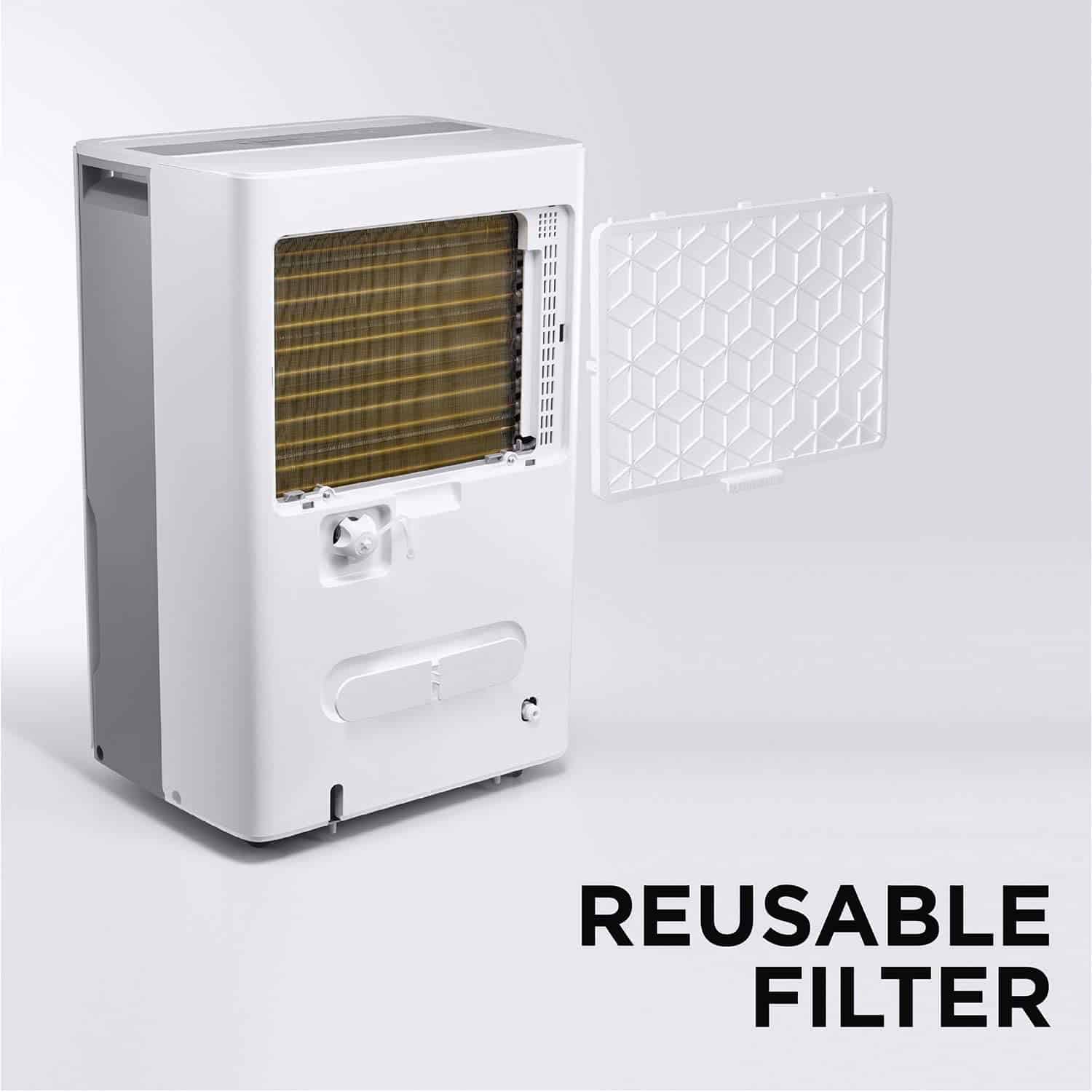 To detach the fine and good-quality air filter, pull it using the side projections. Then, you can wash or wipe it depending on the accumulated dust.
---
Final Thoughts
So, this was all about the MIDEA MAD50C1ZWS 70 Pint Dehumidifier. Overall, this wonderful appliance is an attractive, easy-to-use, high-quality product with superior moisture removal capacity and high energy efficiency.
With its high affordability, this quiet and smooth product is a must-have choice for homes and offices.