If you are looking for something that will take some of the extra water out of the air in any room, you need to look for the right dehumidifier. There are so many options that you can consider when it comes to the larger models that it can be hard to decide which one to go for. However, here is our review of the AlorAir 198PPD 90 pints basement dehumidifier that you can use to help you to make your decision regarding if this is the one for you or not.
This is a straightforward machine to use, and you can change the settings regarding the humidity you want to have. This is 90 pints, and it can last for at least a day before you need to empty the water tank, but you can use the drainpipe to keep it draining continuously if you don't want to keep emptying it. This might be an expensive machine, but it is worth the money you will spend on it in the long run.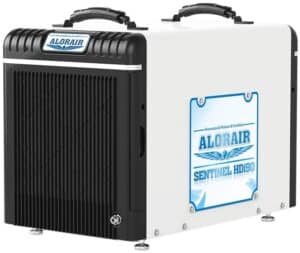 Pros
Extremely quiet
Ideal for rooms up to 1,300 square feet
Small in size
Can be used in homes, museums, bars, restaurants, apartments, shops, factories, and much more
Comes with a remote control that you can use to adjust the settings
Continuous draining compatible
Good 5-year warranty (for various parts) and customer service when required
Replacement parts are sent quickly after contacting customer service
Cons
More expensive machine than other available models
The remote control must be purchased separately
---
Performance
You would also want to make sure that you know the performance levels of this machine and what you can expect from it.
Energy Efficiency – The AlorAir 198PPD 90 pints basement dehumidifier is extremely energy efficient since it only uses 3.6A with COP along with 2.4L per Kwh. It would take out a lot of the water in the air without using a lot of electricity, which would save you some money in the long run when it comes to your utility bills.
Noise level – This isn't one of the quietest machines you can get, but it isn't one of the loudest. It has a sound of 58 dBa. This means that you aren't going to want to put it in your bedroom, but instead, you should keep it in an area where a bit of extra noise isn't going to be missed or even bothersome.
Moisture Removal – This is a good machine, and it would remove around 198 pints of water per day in a room of around 1,300 square feet. This is perfect for a smaller home or even an apartment where you want to get rid of the extra water. It can be done using the tank that would collect the water or use a hose for the continuous draining feature to make it easier to use.
These are just some of the main performance factors you would want to think about, and you need to pick the right one for your needs. This is always something that you would want to consider and compare with the other models that you are thinking of buying to make the right choice.
Key Features and Functionality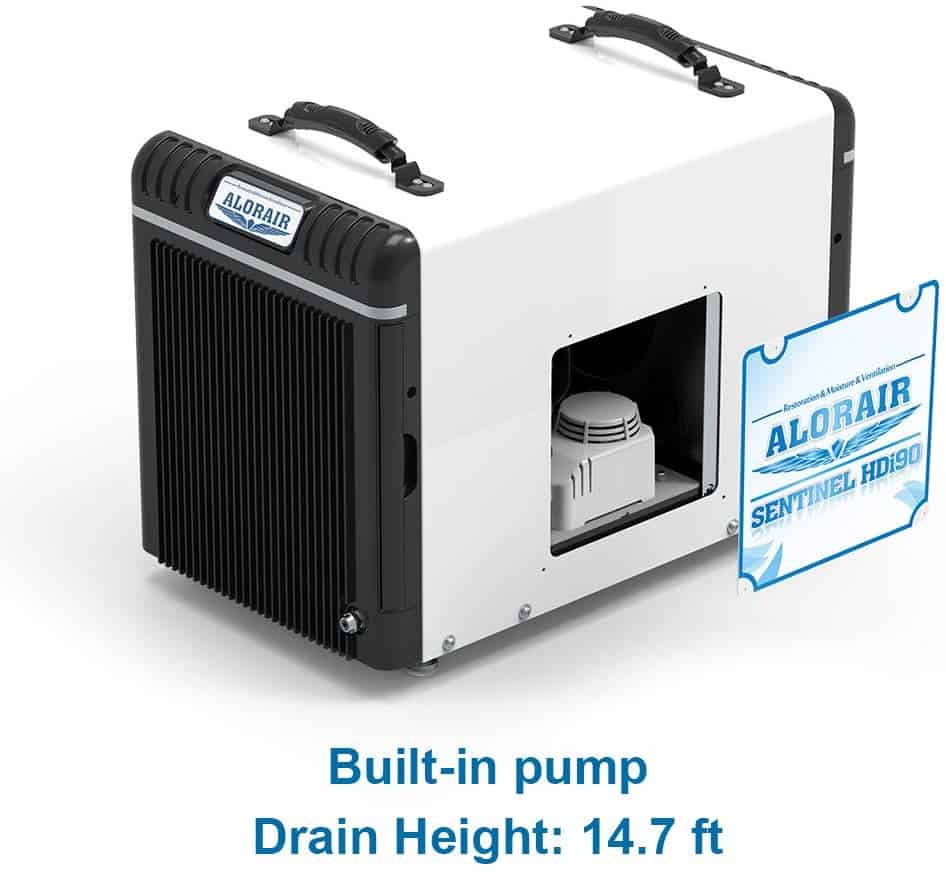 You will need to be aware of some of the AlorAir 198PPD 90 pints basement dehumidifier's key features. There is plenty to be aware of, such as:
Continuous draining – If you don't want to keep emptying the water tank a few times a day, then you should use the continuous draining feature with the included hose.
Remote – There is also a feature that would allow you to use this machine with remote control, but the only thing is that you have to purchase it separately.
Defrosting – Whenever it is cold, the air will get lower in temperature, which might mean problems with your machine. However, this one has a defrosting capability that works at around 36°F, so you don't have to worry about anything.
Corrosion protection – The machine is also protected from corrosion on the inside by epoxy, which prevents anything inside from getting corroded by leaking Freon or even the heat.
5-year warranty – The AlorAir 198PPD 90 pints basement dehumidifier also has a 5-year warranty when it comes to the condenser, evaporator, and compressor, but it doesn't cover the refrigerant or labor.
High quality – The machine is extremely high quality, and it can be used for days and weeks on end without having to worry about a single thing. The machine is small enough. It can be moved to a corner and forgotten about until the tank needs to be emptied or you want to change the settings.
Auto-restart – Also, if the power goes out, your machine would turn back on with the settings that you have already pre-set rather than you having to input them in again. This is important since it might happen while you are gone, and you wouldn't be there to change it.
Energy-efficient – This model is also energy efficient, so you don't need to worry about using it daily all day. It won't run up your utility bill, but instead, it will save you money over time.
Ensure that you are aware of the features to use them to make the right decision for your needs. Knowing the various features for the AlorAir 198PPD 90 pints basement dehumidifier will make it easier to compare it to other models while making your choice.
Ease of Use and Maintenance
The AlorAir 198PPD 90 pints basement dehumidifier will be extremely simple to use, especially if you use the remote control. You can have it installed, and it is protected from all types of corrosion, which means you would need to take the filter out. The coils are epoxy coated, which means that they aren't going to erode or warp because of the heat created while this machine is being used. The filters need to be rinsed, and it comes with an additional 2 filters, so you don't have to buy anything right away.
Final Thoughts
This will be one of the best machines out there if you have nearly $1,300 to spend on it. It is perfect for putting in a basement where you wouldn't have to listen to the machine, and it can get plenty of moisture out of the air daily using either the water tank or the continuous draining feature. Go ahead and think about this option if you are looking for something that can handle a small home or even an apartment that would fit within your budget. We would recommend this if you can handle the price tag, so put this machine on your list.