The climate seems to be changing a bit every year. So each Winter ends up being a little different and unpredictable. But if you forecast that you will have colder winters, air conditioner covers will help protect your air conditioning unit or heat pump for when cold temps are in the forecast. Keeping your AC unit safe from any debris and ice, these winter covers will help ensure no damage is done.
A terminal cover or compressor cover is always a good idea. Manufacturers recommend covering your unit if you cannot keep it at 50 degrees or warmer inside the condenser. Do not worry about searching for the best air conditioner covers because we have listed the Top 6 Best Covers during Winter.
---
Best Air Conditioner Covers For Winter Reviewed
---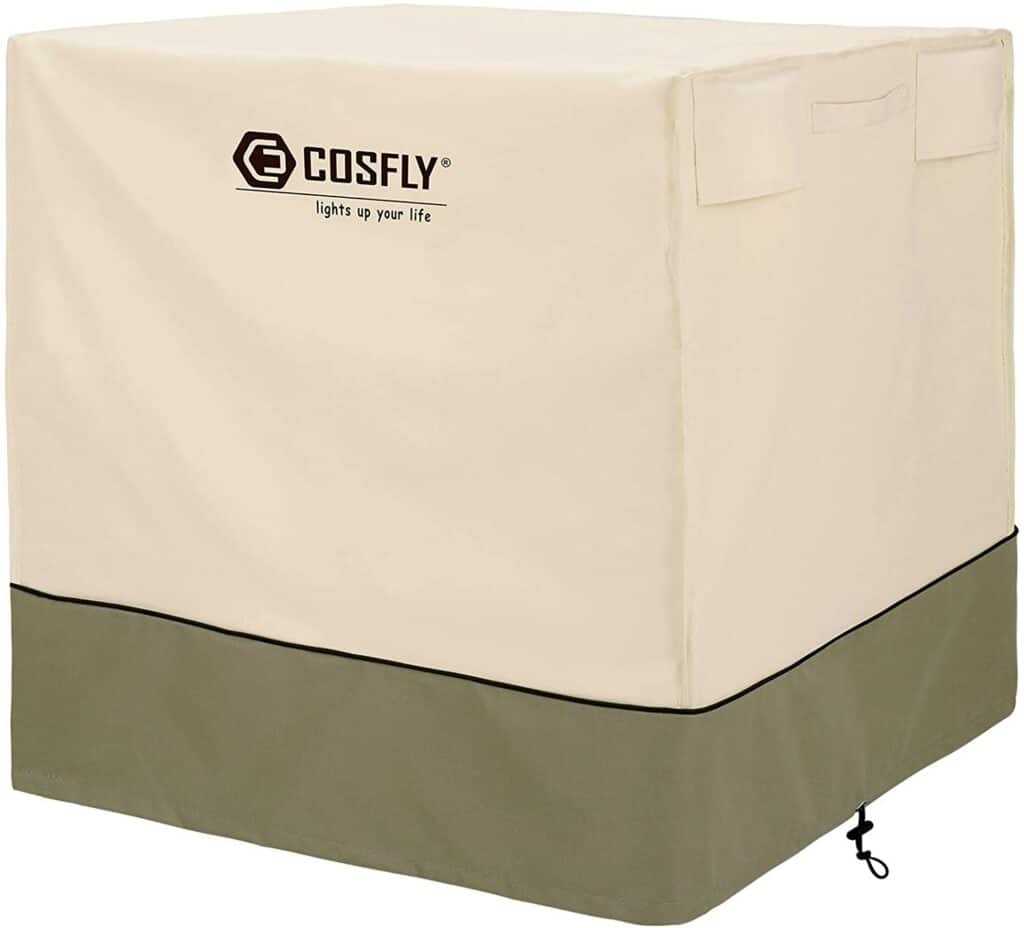 Keep your air conditioner safe from the elements with the COSFLY Air Conditioner Cover. This cover is made of high-quality 600D polyester and is designed to fit AC units up to 40 x 40 x 48 inches.
The Anti-Wind Design prevents wind from blowing your cover off when you need it most, and a pair of buckles ensure that your body stays snugly in place.
They are made to last through heavy winds, rain, sleet, snow, dirt and debris damage, sun exposure, and hail storms. The COSFLY Air Conditioner Cover keeps your AC unit protected through all four seasons of the year.
Pros
Water-resistant

Adjustable click close strap

Reinforces padded handles

Air Mesh vents

Adjustable drawstring hems

Available in 7 sizes
Cons
Maybe challenging to install

Fabric underside is a thin plastic

Slit for tubing not long enough
---
2. Runner-Up Central AC Cover: Ravenna Water-Resistant 34 Inch Square Air Conditioner Cover 
The Ravenna square air conditioner cover from Classic Accessories combines a striking style with durability, fade-resistance, and convenient features. This square air conditioner cover fits square units 34″ long x 34″ deep x 30″ high. 
It is made from a Gardelle One fabric system that is stylish and durable. It has an elegant water-resistant fabric top, a protective waterproof backing, and a protective dark splash guard skirt.
Use in moderate to severe weather conditions, including medium snow loads, hot sun, heavy winds, rain, and dust. The dark taupe color is neutral enough to match most outdoor decors.
Pros
Reinforced padded handles 

Structured vents 

Waterproof 

Elastic hem cords a unique channel for a snug fit

Custom-color buckle to secure in any weather

Adjustable webbing belts 

Striped webbing 

Patent pending
Cons
Not designed to cover the base entirely

The fabric quickly wears away
---
3. Best Indoor AC Cover: BRIVIC Indoor Air Conditioner Cover
BRIC's indoor air conditioner cover is designed to do just that. The cover is a water-resistant fabric to block humid air entering to keep your equipment safe.
It comes in four sizes and has adjustable straps on both sides and elastic cords for a customized fit. You can be confident that it will stay in place, even when working with it. In addition to keeping your equipment safe, BRIVIC's indoor air conditioner cover can help reduce heating costs.
The BRIC Air Conditioner Cover helps you save money on your heating bills and keep your equipment safe from water damage during the winter months.
Pros
Prevent cold air from entering the room

Reduces heating costs

Installation easy effortless

Water-resistant lining

Fitted elastic holds cover in place

An extra drawstring

Quilted outer shell
Cons
Difficult to install

Fabric is slippery

Size not accurate
---
4. Runner-Up Indoor AC Cover: COSFLY Indoor Air Conditioner Cover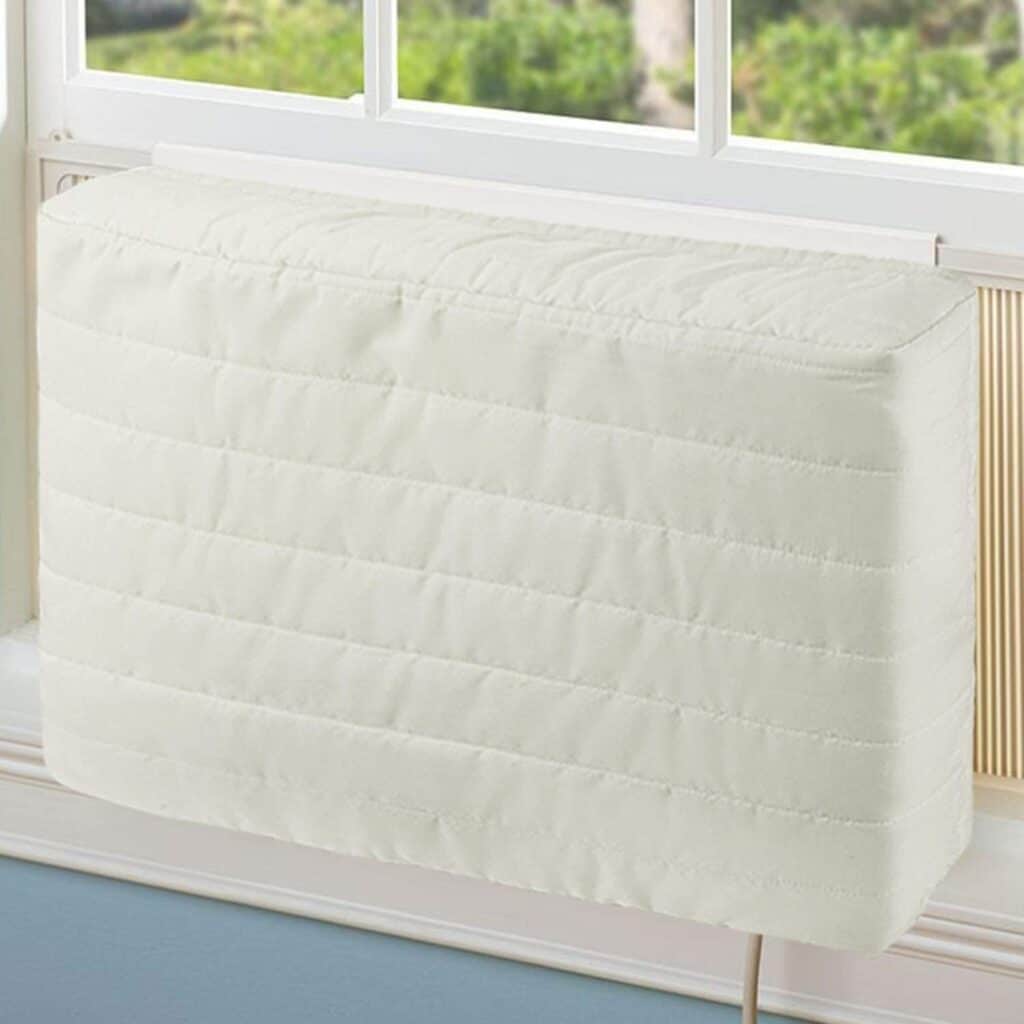 The COSFLY indoor air conditioner cover is the perfect solution to keep your unit protected when it's not in use. This cover is constructed of 210D polyester and is water-resistant, so you don't have to worry about any leaks or weather damage. 
The surface comes in a standard size, 28 x 20 x 3 inches, so it will fit most units. It also features velcro straps to ensure that it stays in place during windy weather.
This product is effortless to install and requires no tools—wrap the cover around your unit and secure the velcro straps for a snug fit! This product is an excellent way to protect your AC unit from dirt, dust, and other outdoor elements to extend its life expectancy.
Pros
Available in 4 sizes

Elastic band

Adjustable drawstrings

Easy to use

Washable and reusable 
Cons
Fabric is too thick

Not airproof

Size doesn't quite fit
---
5. Best Window AC Cover Outdoor: Luxiv Window Air Conditioner Cover 
The Luxor Window Air Conditioner Cover is the best way to protect your air conditioner from wear and tear, rain, dust, snow, and other debris. This cover is made of a 420D waterproof material that will last season after season. A double strap design helps to isolate cold air and keep out dust. It is designed to fit most standard window AC units ranging from 3,000 – to 7,000 BTU.
This window air conditioner cover is a high-quality Oxford cloth durable, washable, and easy-to-use cover. It comes in 4 different sizes, which means you can get one that fits your window air conditioner exactly. It's also black, meaning it will blend in with the rest of your decor while providing quality protection to your unit.
Pros
420D Waterproof oxford cloth

Easy to use, washable and durable.

Size suit for most of standard window ac unit

Two adjustable strap buckle

Protect window ac unit keep from UV and rust

 Isolate cold air, rain, and snow

Reduce heating costs
Cons
One choice of color 

Fabric is too stretchy
---
6. Runner-UP Window AC Cover Outdoor: KylinLucky Window Air Conditioner Cover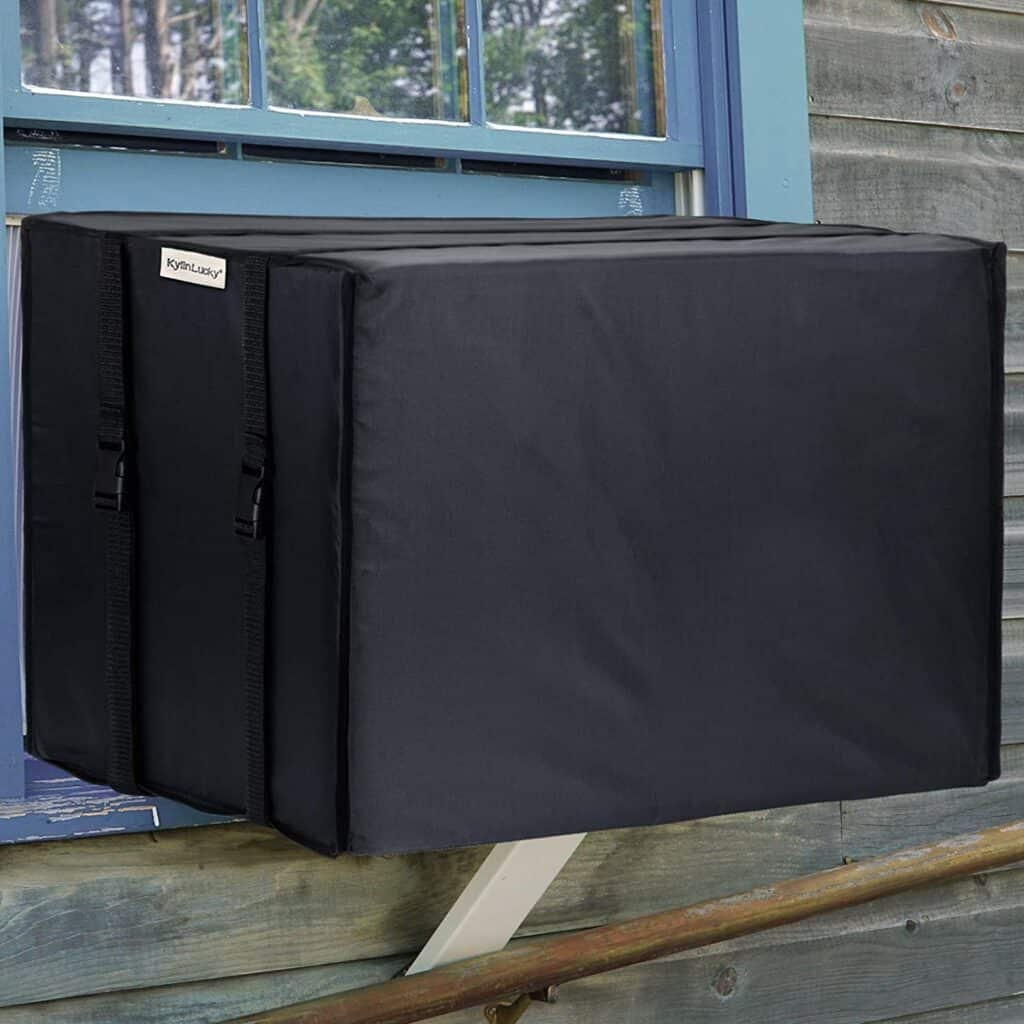 Prevent drafts during the winter months, conserve energy, and protect your window air conditioner unit with KylinLucky Window Unit Defender.
This window air conditioner cover is designed to protect your unit during the winter months when it's not in use. It's made of heavy-duty waterproof polyester, with two sturdy adjustable straps and a Velcro fastener.
The Window Unit Defender is made of sturdy, waterproof 420D polyester and measures 25.5″ wide by 21″ deep by 17″ high—perfect for most standard window AC units between 3,000 and 5,000 BTU. 
Pros
Available in 4 sizes

High-quality hemming sewing

Waterproof Material

Adjustable strap buckle

Elastic strap
Cons
Plastic buckles are weak and thin

Straps are loose
---
Air Conditioner Cover For Winter Buying Guide
---
You might be wondering if you demand a cover for your air conditioner. The simple answer is yes! A good air conditioner cover can protect your unit from damage caused by weather, accidents, and theft. 
Protecting your investment is essential, so let's take a look at choosing the right cover for your air conditioner.
1. Where will the cover be used?
First, decide where you are going to use it. Will you be using it outside or inside of your home? If you are using it outside, you need to know the weather in your area. 
For example, if it gets freezing in the wintertime, you may need a thicker cover that withstands harsh conditions. 
2. How many air conditioners will it cover?
Next, figure out how many units you need to cover. If you only have one, buying just a single piece might be sufficient. However, if there are multiple units in an area, getting several pieces would allow them all to be protected from rain or snowfall during inclement weather.
If you're covering more than one air conditioner unit or want to use the same cover for multiple teams in different areas, look for one large enough to accommodate them all at once.
3. What type of weather do you get in your area?
Finally, ask yourself what type of weather your area gets. Is it cold and snowy during the winter months? Or do we usually experience warm temperatures year-round with occasional rain showers? 
For example, if you live someplace with a lot of snow and ice, you'll need something that can stand up against those elements.
It might not matter if it's warm year-round since the sun won't be beating down on it all day long as it would during winter when temperatures are lower outside than inside your home or office building.
---
Why Using an Air Conditioner Cover?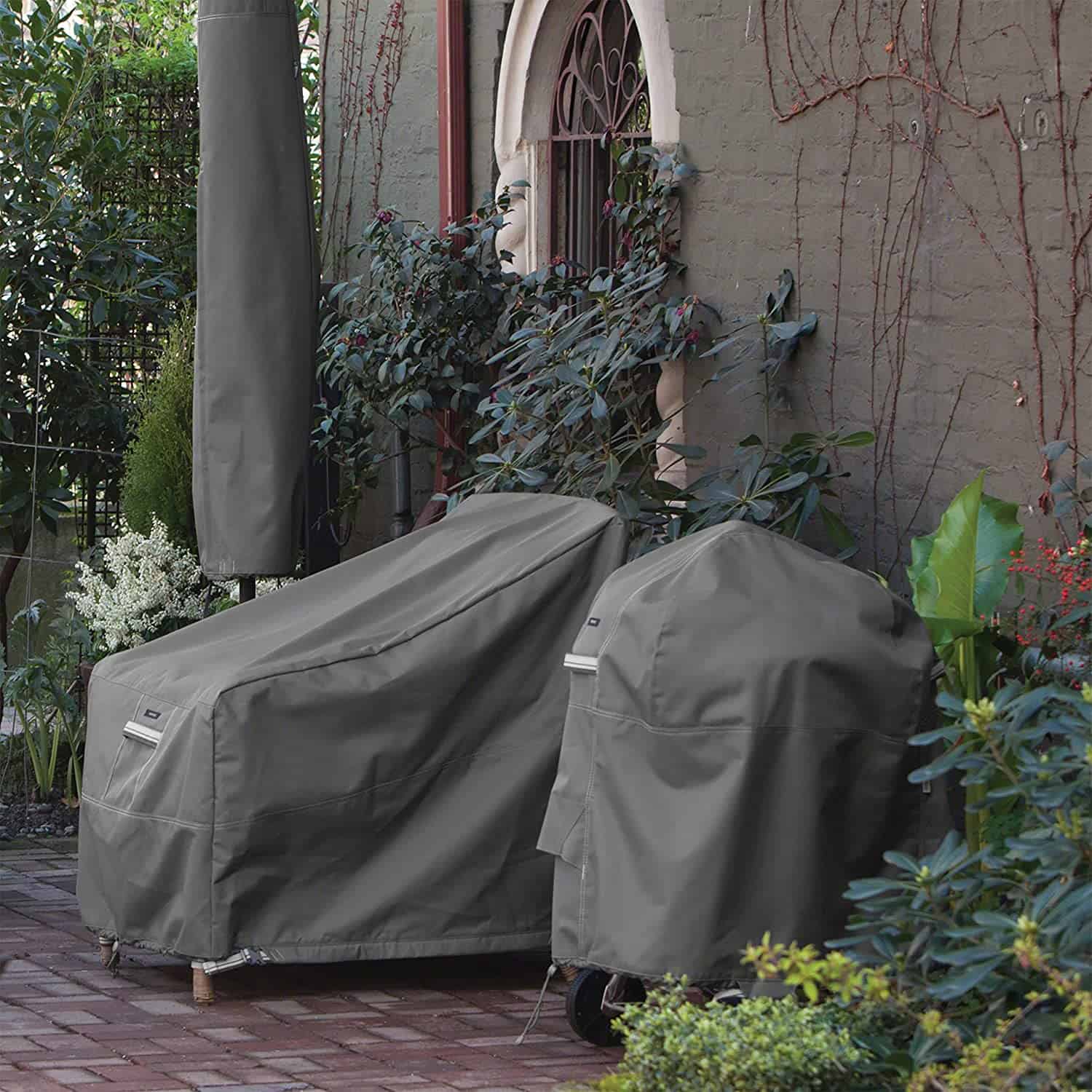 How do you keep it in good repair? One way is to use a cover. After all, a cover can protect your air conditioner from dust, mold, and other potential problems.
Poorly fitted covers can cause damage by preventing proper ventilation or allowing them to blow off during high winds or storms.
Advantages
The cover protects the unit from debris and wind damage during those months when you're not using it.

It will last longer. If you don't use a cover, the unit may become damaged by dirt, dust, and other things that can cause damage during the off-season. 

Covers keep animals out of the unit, which helps prevent damage caused by chewing wires or eating refrigerant lines (which could lead to serious health problems for the animal).

If you have children who like to play near AC units, they may accidentally damage them without realizing what they're doing—a cover helps keep them safe from harm.
Disadvantages
Rust and corrosion are often caused by rain and snow buildup, while mold issues occur when moisture gets trapped inside your AC unit.

Mold issues

. When mold forms outside your air conditioner, it can spread to the inside of the unit. 

Coils freezing together

. The coils that are used in an air conditioner are cooled by refrigerant. When this refrigerant cannot evaporate as quickly because of a cover, it can freeze on these coils, causing them to stick together. 

Moistures on wires. Safety issues with your unit's electrical wiring and circuits. The electrical wiring in any air conditioning system is delicate and needs to be correctly installed not to short out or cause a fire hazard. 

Rodents and other critters are also attracted to the covers, which can create additional problems down the road.
---
Can I Cover My Air Conditioner Through The All Winter?
The short answer – is no. 
Some people believe that heaters and air conditioners must be covered to prevent damage caused by the elements. It is valid for some outdoor appliances and items, but it's not useful for heating and cooling systems. You can confidently leave your air conditioner uncovered this Winter.
Snow Doesn't Hurt Your A/C.

If you live elsewhere that gets a lot of snow in the Winter, you may wonder how much snow can hurt your air conditioner. The good news is that snow generally doesn't harm an air conditioner, even if there's a lot of it. Snow can even help insulate your unit and help it stay warmer during the winter months.

Air Conditioning Units Are Made for Weather Extremes

. You don't need to worry about covering your A/C unit because they are made to withstand extreme weather conditions. They are built with metal exteriors that protect them from rusting or damage from rain or snow. 
---
What To Consider When Choosing an Air Conditioner Covers for Winter
Choosing the right air conditioner cover for your home is incredibly important. After all, you want to ensure that your investment is protected from the elements during the winter months.
Below are the five essential things you should consider when choosing an AC cover:
Materials
Air conditioner covers are generally made from vinyl, polyester, or canvas. The material you choose should be based mainly on how much you want to spend. Vinyl is the cheapest material, but it won't last as long as polyester or canvas. If you're amenable to paying more for something that will last longer, you may want to go with one of those materials.
Water Resistance
Since these covers are meant for outdoor use, water resistance is the main thing you'll want to look for. You don't have to doubt this so much if you live in a drier climate, but if you live where it rains often, make sure your cover has some water-resistant coating or finish on it so that it doesn't rust over time.
Insulation
The ability of the cover to prevent heat from escaping the air conditioner and cold air from entering it. One way to determine how well insulated a surface is is to compare its thickness to that of other covers. The thicker the cover, the better protected it will be. However, one should not rely solely on consistency as a determinant of insulation quality since some materials insulate better than others, even if both covers have the same thickness.
Size
Size matters when selecting an air conditioner cover because you don't want your air conditioner sitting uncovered. If you choose a too-small cover, it will not stay in place; if you select too large one, it will flap around in the wind and could rip from its seams. To choose a size appropriate for your needs, measure your unit and compare those dimensions to those listed with each product listing.
Esthetics
If you have any esthetic concerns, consider getting a cover in a neutral color like black or brown. It won't strike out too much during the winter months. You may even be able to find one green so that it blends in with your yard more efficiently. It is vital if your air conditioner is located close to where people walk around—such as near your patio or porch.
---
People Also Ask
Is It Good To Cover Your Air Conditioner In the Winter?
For most systems, you don't need to cover the whole unit, and you don't even need to cover the top of it.
It is unnecessary to cover your air conditioner in the Winter, and it's dangerous to do so. Many manufacturers recommend that you protect your system, but there are a few things they're not telling you.
According to a study conducted by the National Air Duct Cleaners Association (NADCA), heat pumps lose 15% of their efficiency when they're covered because the cover traps moisture and leads to the formation of mold and mildew. 
---
What Happens If You Run Your AC With The Cover On?
It would be best to never run an air conditioner with its cover on.
When you do this, you put undue stress on your unit. It will likely use more power to cool down your home, but it will also quickly overheat and burn out. In addition, the extra strain will likely cause electrical issues such as tripped circuit breakers or blown fuses, which may be dangerous for you and your family.
The best time to cover your air conditioner is during the fall after you've turned it off for the last time before Winter. Then, make sure to uncover it as soon as spring comes around, and you can start using your AC again. Most importantly, only cover the top of your unit—never completely seal it inside a box or plastic bag.
---
Conclusion
Ultimately, COSFLY Air Conditioner Cover will probably suit your best model AC unit. On the other hand, if you have an older or cheaper AC unit, you can choose between the other five listed above. 
Just remember to keep it covered during the designated seasons. Using an AC cover is a fast and easy way to protect your unit from the elements that cause premature breakdowns.