Millions of people in the United States go camping yearly; many own private cabins and RVs. However, considering the present climate condition and changes worldwide, we have seen a rise in temperature each year.
The heatwaves set in, and people must combat such intense heat waves and climate changes.
People who own cabins with no electricity and who are fond of camping are the ones who have been suffering the most due to this heat.
It is evident that fans do not provide enough cooling in this scorching heat, and having a regular air conditioner is out of the question. The problem is, what must a person do in such conditions?
Well, if you have been using social media for the last eleven to twelve months, there is a high chance that you have stumbled upon the advertisements for the Zero Breeze Mark II.
This device is the solution to all your heat-related problems of outdoor camping.
Zero Breeze Mark II has been getting hype because it provides cordless cooling wherever you go. All you need to do is push a button for cooling.
The engineers had long been trying to figure out how to compose a device that only requires a battery and no cords, lightweight, and can deliver enough cooling.
Due to its small size and lightweight, it is easier to carry on travels and adventures than other portable air conditioners. Aside from that, it's a natural air conditioner; thus, no water or ice is needed.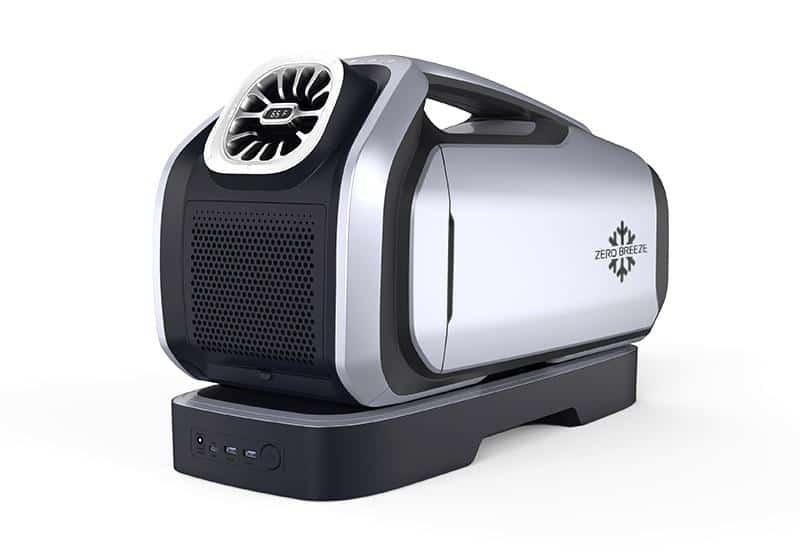 Pros
No worries about light rain or moisture accumulating overnight with IPX4 protection.
Four different modes of operation to help you deal with any issue that may arise.
A relatively quiet system for the amount of cooling it provides.
Ability to completely cool a room in 10 minutes.
The AC's ergonomic design makes it easy to place it in the most convenient places for you.
Cons
The hot air emitted through exhaust exchange mixes with colder air from the unit, causing a less favorable impact over time.
---
Zero Breeze Mark 2 2300 BTU Portable AC Design, Size & Portability
Even though Zero Breeze isn't the first firm to attempt to create a cordless AC unit, they've managed to create one of the most visually appealing systems on the market.
Design by Song Ming and Denni, this portable AC unit features clean lines and an efficient design. It's a great addition to any home or office! As a result of an ergonomic grip, the Mark II is easy to carry, and the controls are easy to reach.
Despite the system's focus on one-button access, the speed, mode, and power buttons are all arranged around the handle. As a result, you can power the system by pressing a single button or removing and reassemble the hose assembly by pressing a second button.
Regarding the Zero Breeze Mark II's design and size, users appeared to agree. Although the battery will add weight to the machine, it's very light compared to other portable systems, weighing 17 pounds.
The Mark II has only 11 inches of height and 10 inches of width despite its 20-inch length. IPX4 protection ensures splash resistance even while the device is not entirely enclosed.
Even though the air conditioner looks excellent, it isn't all that portable or stylish. The Zero Breeze Mark 2 is 20 x 13 x 8 inches as a tiny air conditioner.
It weighs about 17 pounds.
Not to mention the bulky battery and adapter you'll need to bring along with you for this "portable" air conditioner. All told, the box weighs in at 23+ pounds.
With a supercar-like rear end, it has a big fan in front that should help with cooling. To be continued. Zero Breeze Mark 2 is very pleasing.
Okay-ish in terms of design. In the advertising film, the actors and models manage to walk with this hefty AC and make it look easy!
---
How Does Zero Breeze Mark II Work?
The Zero Breeze Mark 2 is a compressor-based air conditioner, like a wall AC, mini-split, or central AC system.
It operates by moving heat out of place. 'Refrigerant,' a particular cooling substance used in the A/C unit, is confined in a closed system.
The coolant absorbs heat from the room and transforms it into a gas, then travels along with the system to the compressor.
Example: The refrigerant is heated and pushed through a system using high pressure. The condenser coil absorbs the heat. To absorb more heat, the refrigerant must cool down before becoming a liquid again and beginning the process all over again.
Finally, heat is removed from the space while dehumidifying the air. This compressor-based cooling method is by far the most efficient.
However, alternative technologies only move 0.6-0.9W of heat per 1W of electricity, while power carries roughly 2.5w worth!
---
Zero Breeze Mark 2 2300 BTU Portable AC Battery Life And Charging Times
For the Mark II, Zero Breeze estimates a 5-hour battery life. Based on verified user reviews, you can expect roughly 3 hours of battery life at full power.
Their figures should hold up even at the lowest settings for a portable device of this size. With a detachable 24-volt Lithium-Ion Polymer battery, the Zero Breeze Mark II provides double the power of its predecessor.
However, the battery must be connected by a short connection to fit into the AC unit. It is possible to purchase additional batteries for this battery-powered air conditioner, but the price may make you pause.
Although the Mark II's three to five-hour battery life is one of its most significant selling points, all battery-powered devices eventually need to be recharged.
Apart from how the system can be charged, the firm doesn't discuss much of this function in its literature. Because the Mark II can't be charged while in use, the battery must be detached when the power runs low.
You'll need an additional power adapter to recharge a battery while your Zero Breeze operates (through AC or another battery).
The converter you choose should be compatible with how you plan to recharge the battery: AC, 12V/Car, or DIY Adapter cord for 24V recharge sources. For continuous cooling, the machine can be powered by an AC adaptor.
However, most people will utilize the approved adaptor, which takes between 5 and 6 hours to fully charge their phone in the car.
---
Zero Breeze Mark 2 2300 BTU Portable AC Key Features
There's a micro-compressor tucked away in the system's core. In terms of size and weight, it's about the size of a drink can. Yet, despite its compact size, it can lower the temperature by 30 degrees in 10 minutes while in power mode.
The Mark 2's built-in dump protection mechanism will turn off the device in the event of a complex outdoor environment, preventing any damage to the system.
It also comes with an extension pipe that can be used to blow cold air towards you quickly. This is ideal for small spaces because the unit's placement is not restricted.
The Zero Breeze mark II's ducting is also unique. As a result of combining their dual-pipe cooling system with a variable frequency centrifugal fan, they can create up to 120 CFM.
They may expand up to 47 inches, yet they are just 11 inches long when compressed. If the cold air duct is fully inflated, it measures 31 inches, the same as the drain hose.
Additional features of this system include Sleep Mode, Power Mode, and USB Charging, among many others.
In the Sleep mode, the air conditioner runs quietly, so you may sleep with it on, while in the Power mode, the air conditioner cools quickly when it's hot outside.
In addition, the battery has a remote control and 12V DC and USB charging connectors on the bottom.
---
Zero Breeze Mark 2 2300 BTU Portable AC Noise Level
The noise level of an air conditioner is one of the most important factors to consider.
Because you want to sleep peacefully while it's on, it's understandable. That's not the case with Mark 2.
The noise level is 52dB, about the same as a fridge. Theoretically, that's manageable.
On the other hand, the noise would be significantly louder if you were in a tent with the device set to the highest level.
There is a Sleep Mode on Mark 2, making the phone more peaceful at night and during sleeping.
---
Zero Breeze Mark 2 2300 BTU Portable AC Cooling Capacity
The cooling effect of an air conditioner is the essential function of this device. A portable or battery-powered device that cannot reduce the temperature will be of little use.
Fortunately, the Mark 2 has a working version of it. No water or ice is required to cool the air. Just remember that the Mark 2 isn't a standard air conditioner that's meant to cool your entire house.
It is possible to struggle to chill in a cabin with its 2,300 BTU rating, especially during hot summer days. Smaller and more tightly sealed spaces (20-40 sq. ft. It can lower the temperature by up to 30°F in just ten minutes).
If the insulation is good or if it's nighttime, the Zero Breeze 2 can be an excellent cooling solution for a cabin in other circumstances.
---
Zero Breeze Mark 2 2300 BTU Portable AC Energy Efficiency Ratio (EER)
When it comes to electricity, the Mark 2 intelligent battery needs a lot of it.
240 Watts, to be precise. The 24V voltage makes the 240W possible; the maximum amperage of the Mark 2 is 10 amps.
Energy economy is the most crucial element when choosing the best portable air conditioner. Mark 2 has an EER rating of 9.6.
Even for portable air conditioners, that's very high energy efficiency. For Zero Breeze and all battery-powered air conditioners, it's a huge plus point.
Using battery-powered technologies, you may save much money on your electricity bill. All battery-operated AC systems have certain physical limits, and that's just the way it is.
Large portable ACs with high EER ratings are Whynter ARC-14S (14,000 BTU) and LG LP1417GSR (14,000 BTU).
---
Zero Breeze Mark 2 2300 BTU Portable AC Maintenance and Usage
We are happy to report that the Zero Breeze does what it says on the box!
It's as simple as pressing a few buttons to change a few parameters (mainly the fan speed), and the unit starts blowing chilly air.
It comes with a manual guide where it is explained how to use this device and maintain it. The device requires charging for at least five hours and needs to be cleaned now and then.
---
Frequently Asked Questions 
Does Zero Breeze Mark 2 work?
Yes, the Zero Breeze Mark 2 works. It works without the need for water or ice and can lower the temperature in minutes.
This combines to make the Zero Breeze Mark 2 a truly working portable air conditioner.
How long does the Zero Breeze Mark 2 battery last?
This battery has a theoretical life of 3.5 hours in vigorous working mode and 5-6 in sleeping mode when fully charged (according to user feedback).
How many watts is the Zero Breeze Mark 2?
The Mark 2 has a 650 Watts / 2,300 BTU cooling capacity, four fan speeds, and three cooling modes.
Does zero breeze Mark 2 use freon?
Yes. Zero Breeze Mark 2 AC uses R134A refrigerant.
How do you charge a zero breeze Mark 2 battery?
This battery can be recharged via the wall with the Zero Breeze AC Power Adapter, using the 12V/Car Adapter, or via the DIY Adapter, which connects a 24V source.
---
Final Thoughts
Ultimately, we believe that the Zero Breeze Mark 2 is an excellent upgrade over the original model in terms of functionality and design. As for the price and its application in compact places, it's a no-brainer.
An excellent solution for cooling relief when you're out camping, in your automobile or a cabin, or in other compact living space