Homelabs has been an established and reputable brand name with the mission to establish user-friendly and reliable products and appliances that are mindful, approachable, and intuitive.
They offer home solutions from kitchen appliances like refrigerators and ice makers to room appliances such as air conditioners, air purifiers, and dehumidifiers.
Amazon's #1 Best Seller in "Dehumidifiers" belongs to Homelabs. This dehumidifier from Homelabs boasts a 4.6-star rating and over 4,000 reviews on Amazon alone and is recommended by most homeowners for its reliability and high-quality performance.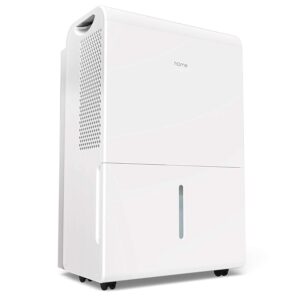 Pros
Quiet Running
Easy to set up and use
Auto shut-off and timer function
Free Return Or Exchange Within 30 Days
Optional non-stop draining
Portable and easy to move around
Sleek, clean design
Cons
The plastic base on the hose screw is attached to the machine and is not a part that can be replaced. Therefore, you will have to replace the whole thing even if it is still working when broken.
---
How Does It work?
This Homelabs dehumidifier helps absorb moisture and reduces allergens and odor by removing bacteria from the humid air via its built-in pump compressor.
It even has a Turbo mode, increasing fan speed from the Normal Air 165 CFM (cubic feet per minute) to High Air 188 CFM for maximum odor reduction and moisture removal. 
---
hOmeLabs 50 Features
Premium and Sleek Design
One of the first striking features of the hOmeLabs dehumidifier is its stylish and elegant look and overall premium design.
Most home appliances can stand out as a huge eyesore in the corner of your home or hanging on your walls.
However, hOmeLabs ensure that their designs are modern, clean, and fit perfectly into your home. Even their color palettes offering are neutral to fit into any home décor or interior.
And this dehumidifier looks simple yet elegant and classic with its clean, smooth white color that fits any home interior and complements any furniture.
Home Comfort Features
The dehumidifier offers excellent flexibility with its 6 various settings and its 24-hour timer to prevent excess humidity and moisture in the air.
It comes with touch panel controls with defrost, restart turbo mode, and auto shut-off that places comfort and convenience at your fingertips.
Large Capacity
This dehumidifier can remove at least 50 pints of moisture daily with its 6-gallon per 24-hour capacity water tanks. Such large capacity makes it ideal for large spaces up to 1,500 square feet.
You can place it in the living room; rest assured that your bedroom is also covered, particularly if you have a middle-sized apartment or home.
It also works well in basement areas to remove mold smells due to the trapped humidity. And even if you need a warehouse, a whole floor, or ample office space to be covered, this single unit is enough to get the job done.
The only dehumidifier you can consider over Homelabs is Vremi 50 Pints, as it comes with a larger water tank and is a newer model with better features. 
Auto Shut-Off Feature
Another cool feature of this dehumidifier is its auto shut-off feature. The dehumidifier automatically shuts off with a beeping alarm once the water tank is full so that it will not overflow to the floor and possibly damage your floor or carpet.
Also, it provides security, which can save lives by preventing overheating. Furthermore, it helps you save more on your electricity bill, automatically shutting off once the capacity is full, even if you forgot all about it.
Portable and Convenient
Homelabs dehumidifier features built-in wheels. This allows you to move the unit quickly from one room to another.
In addition to the wheels, the device also has carefully carved handles on top, making it very easy to handle and transport from one corner of your home to another.
Ease of Use
The hOmeLabs dehumidifier is not that complicated to operate. You only need to adjust it to your ideal moisture setting and allow it to run on a continuous 24-hour cycle until its tanks are full, automatically shutting off.
And if you do not have the time to drain, you can even use the hose outlet for nonstop draining. Although a draining hose is not included in the package, you can use a 5/8 inches diameter garden hose featuring an internally threaded end and a Teflon tape for extra security.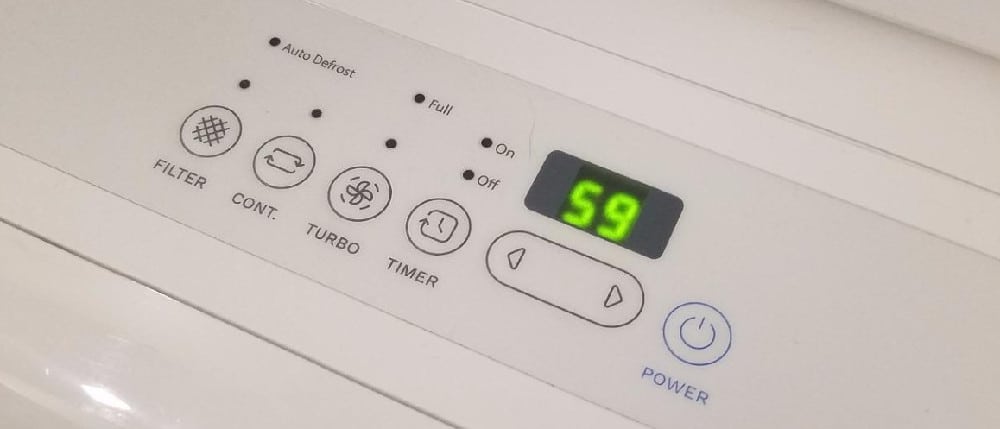 Certifications and Warranty
The dehumidifier boasts UL and Energy Star certifications. This means that this unit allows greater savings on your electricity bill. hOmeLabs also ensures durability on their units.
Thus, this dehumidifier is backed with a 2-year warranty, in addition to an extra 6 months if you register to hOmeLabs' website.
---
hOmeLabs 50 Noise Levels
This 50-Pint dehumidifier from hOmeLabs has acceptable noise levels for its huge size. And although no dehumidifier in the market does not produce any noise or sound, the hOmeLabs dehumidifier does a great job ensuring that it has a minimal, whisper-quiet fan.
The best thing you can compare it with would be modern refrigerators. Of course, this only means that you get to watch your favorite movies and TV shows undisturbed. Also, it allows you to sleep comfortably if you need to place it in your room or even in your kid's bedroom.
---
hOmeLabs 50 Maintenance
To keep the appliance working reliably and efficiently, you will need occasional cleaning. For example, you need to wipe its water tank every 2 weeks, while its filter needs to be washed monthly with a soft cloth and water.
If you need to store the unit, you will need to clean the base first, the water tank, and the air filter. Air-dry the pieces and then cover the dehumidifier with a plastic bag. Ensure that you place it upright in a well-ventilated space.
Like any other appliance, this dehumidifier emits heat when used since that is how they absorb moisture. Thus, this product will not work in the same room as an evaporative cooler and should be used in spacious rooms of 1,500 where the heat has more space to dissipate.
---
Conclusion
hOmeLabs strive towards their goal with people-first engineering and premium products, which are designed to be helpful around you. 
And this dehumidifier from hOmeLabs is worth every penny. Not only is it one of the highest-rated units available on the market today, but it also comes with a lot of high-end features for your comfort and convenience.