Everyone knows that sometimes picking the right dehumidifier to remove the humidity and extra water from the air can be hard.
However, it can be made easier when you have read the reviews of some of the top dehumidifiers, like the Delonghi DD70PE 70 Pint Dehumidifier.
Here we have reviewed this dehumidifier, and you can figure out the pros, cons, and key features, so keep reading to find out more.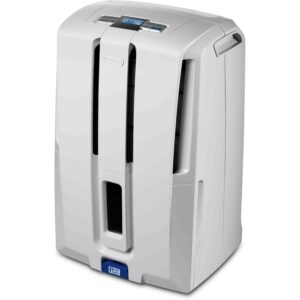 This product is discontinued and no longer being produced.
So alternatively, check the newer Delonghi model: DeLonghi 45 Pint Dehumidifier.
Pros
Built-in pump
Highly durable dehumidifier
Higher quality parts are used than in other dehumidifiers
The pump for continuous draining is connected to the front side of the unit.
It can be set up quickly after opening the box
Capability to empty the water 3 different ways
Holds 6 liters of water
LED display with climate controls
Removable filter
Automatic defrost
Cons
Hard to insert your required settings
Heavier in terms of other models, which means it is harder to move
---
Delonghi DD70PE Performance
Energy Efficiency
Delonghi is a highly energy-efficient model using the 115V standard electrical outlet. It only requires around 680 watts of electricity, which makes it one of the more efficient models.
You can set it to turn itself off, and it can run at lower temperatures to save even more electricity than the standard settings. It has the energy-star rating certification.
Friedrich D70BP 70 Pints, for example, consumes 840 watts, and Honeywell TP70PWK 70 Pints consume s760 watts.
Noise level
This model has a 54.8dB, which makes it a deafening dehumidifier. This means it isn't ideal for putting in your bedroom while trying to sleep, but it would still work if you keep it a bit of a distance from your room.
Moisture Removal
This dehumidifieris one of the better for removing the room's extra moisture. It would work for a room or space of 2,500 square feet, and it can fit into the corner of the room, which makes it easy in terms of storage.
It has 13 pints water tank, which is not the largest available. Check Friedrich D50BPA 50 Pints, Kenmore KM70 70 Pints, and MIDEA MAD50C1ZWS 70 Pints if you need larger tank dehumidifiers. 
---
Delonghi DD70PE Key Features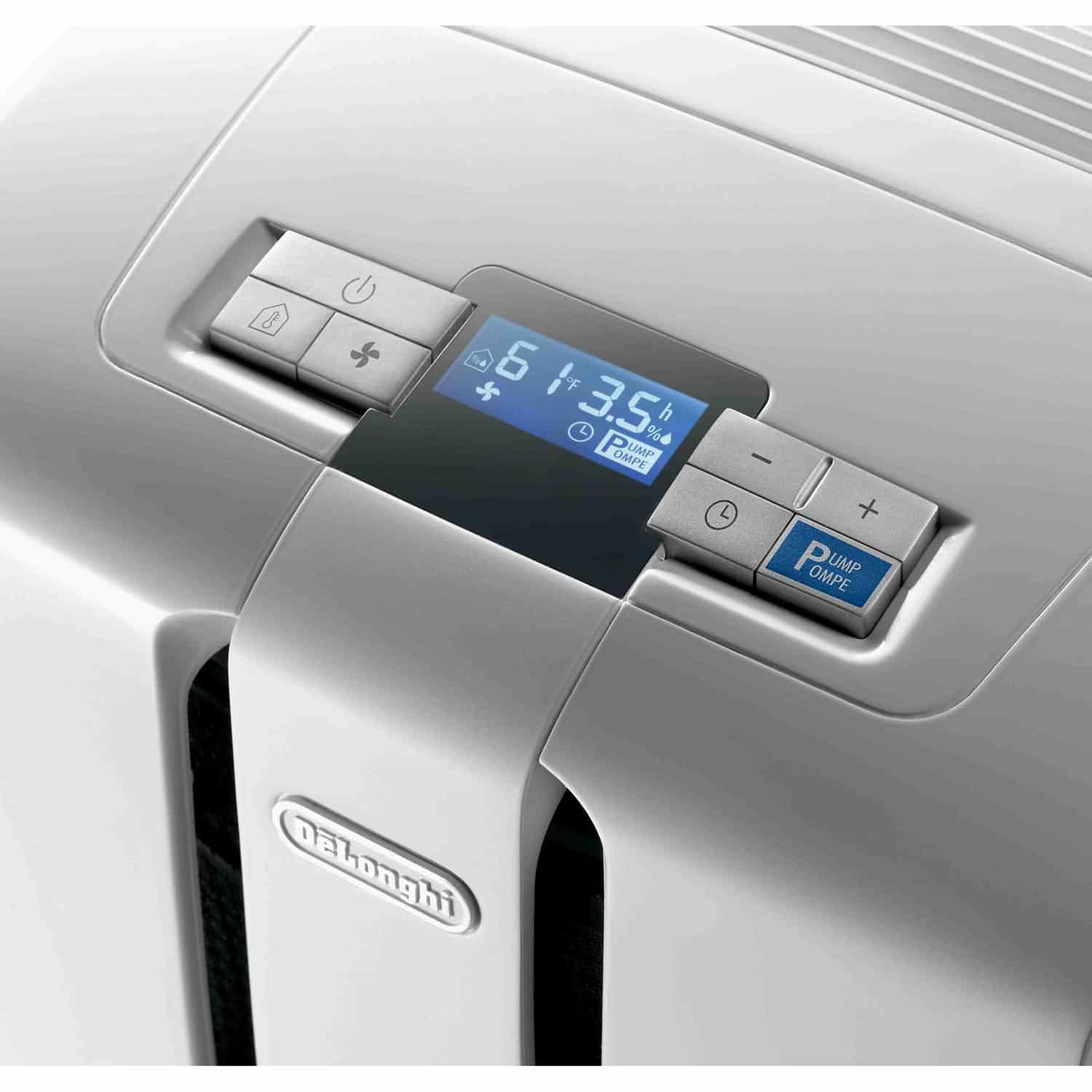 Features of the Delonghi DD70PE 70 Pint Dehumidifier are:
LCD – This display makes it easy to see the machine's current settings and simple to personalize the settings you want to change. You can view the unit operating modes as well as the temperature of the room easily.
Continuous drainage and pump – Another great feature of this dehumidifier is that it allows for continuous drainage and an in-built pump. This means that the water won't collect in the bucket; instead, it can be drained into another container or even a sink to drain easily.
Automatic shut-off – This device also allows for automatic shut-off when the bucket is full, so you don't need to worry about flooding. This is one of the main features of all dehumidifiers, so ensure that you look at this on all devices.
Clear bucket – If you want to use the bucket and keep track of just how much water is in there, you need to see the level. This dehumidifier has a bucket with a transparent marker, making it easy for you to see the current level and gauge when you need to empty it.
Removable filter – This dehumidifier has a removable filter, which means you can take it out when getting dirty and rinse it. You don't need to replace it unless it is broken, making this a great dehumidifier if you want something low maintenance.
---
Delonghi DD70PE Ease of Use
It would help if you thought about how easy the dehumidifier will be to use, including moving it around. This one is around 46.3 pounds, which isn't the easiest option if you are looking for a portable dehumidifier.
These are ideal for keeping the dehumidifier in the corner of their house for regular use without moving it around.
Once you have read the user manual, you can use the LCD screen easily. This makes it easier to set up the specific settings you want and need for your dehumidifier, so make sure you read it.
Removing the bucket is easy, but if you use the continuous draining system available, it is much easier to use, so think about how much effort you will have to put into it.
---
Delonghi DD70PE Maintenance and Upkeep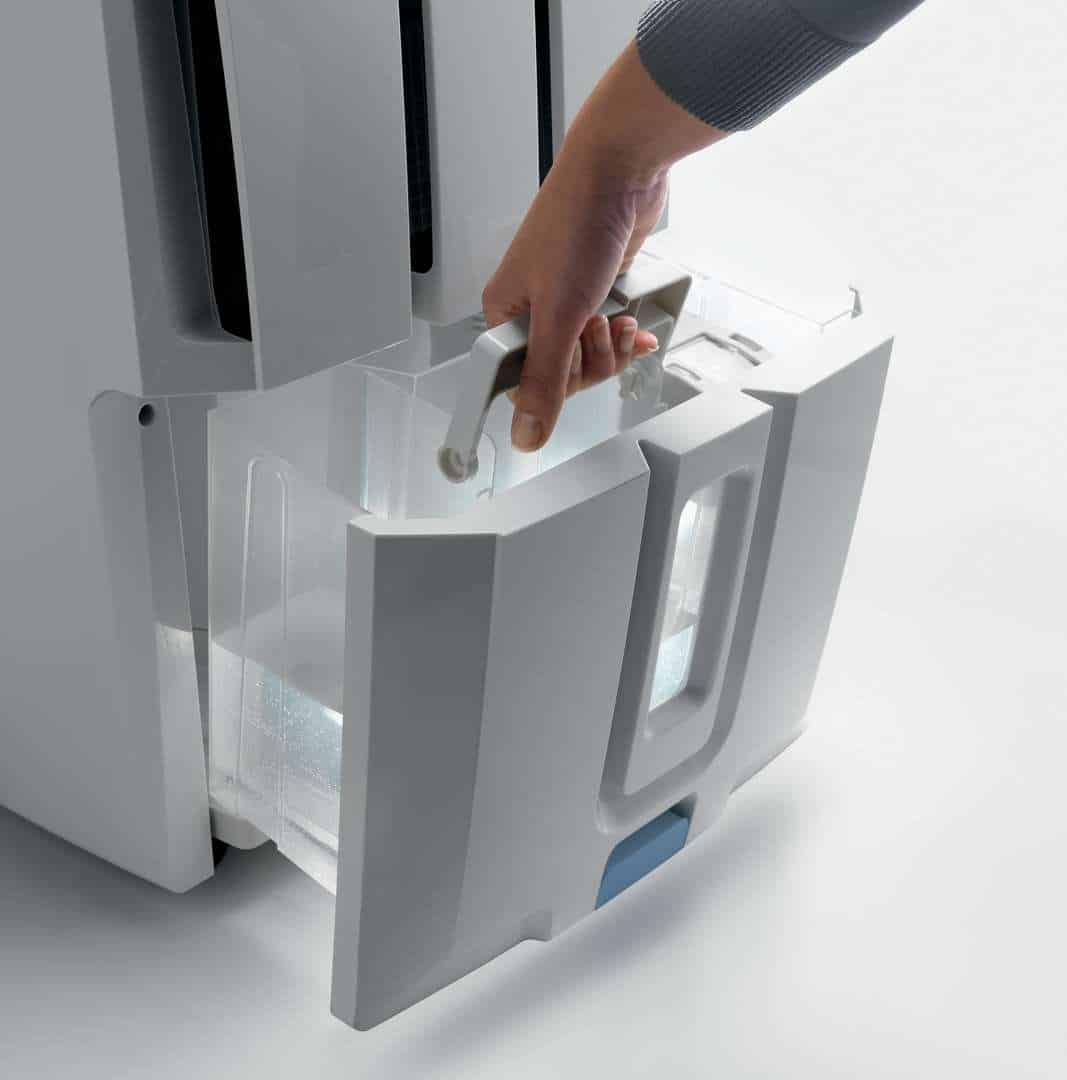 You might think that keeping and maintaining the Delonghi DD70PE 70 Pint Dehumidifier will be difficult, but it is rather easy.
The filter is one that can be removed easily, rinsed off of any dirt and debris, and put right back in. You need to ensure that the fan is running regularly and isn't making any sounds.
It would help if you also thought about the pump and ensuring that it is running properly and has a 1-year warranty. This would cover a few main problems, so consider calling the service center if you have any issues.
This product is discontinued and no longer being produced.
So alternatively, check the newer Delonghi model: DeLonghi 45 Pint Dehumidifier.
---
Final Thoughts
Go ahead and ensure that you find the right dehumidifier for your needs, which means you need to consider everything. You can use this option in the long run, but we wouldn't necessarily recommend it because of the huge price tag along with the portability issues.
However, it is great if you are looking for something that doesn't require a lot of maintenance or a dehumidifier to get the job done quickly.
Update!
Delonghi DD70PE 70 Pint Dehumidifier is discontinued, so alternatively, choose DeLonghi 45 Pint Dehumidifier. It handles 45 pints daily, has 12.6 pints large water tank, 212 CFM airflow, and it consumes 680 watts energy.